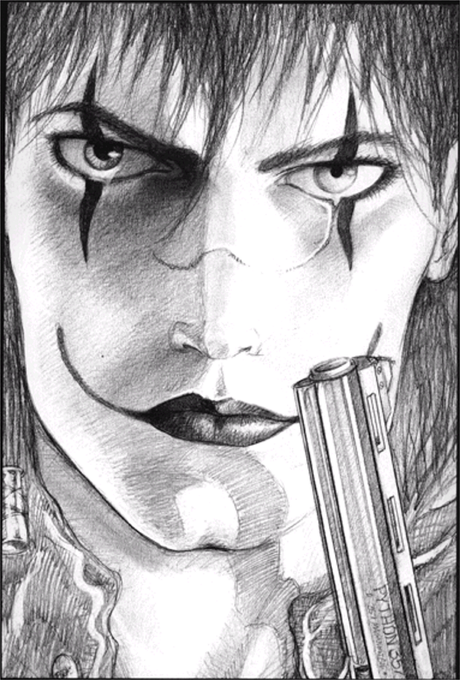 [via]
Despite my appreciation for helmer Alex Proyas' 1994 adaptation, I think there's ample room to reboot THE CROW and present a film of tremendous anguish, intensity, and emotion.
This said, it's becoming harder and harder to believe such a reboot will ever actually make it to screens. Efforts have been underway for a very long time, with approaches and retreats and rethinks becoming a frustrating, even exhausting, MO.
However, one of this seems to be deterring legendary producer Edward R. Pressman (CONAN: THE BARBARIAN, PHANTOM OF THE PARADISE, AMERICAN PSYCHO, WALL STREET: MONEY NEVER SLEEPS, and the previous CROW movies to date).
Regarding the long-gestating return of THE CROW to the big-screen, Pressman...
...said that he hoped production on the reboot of the cult horror would begin "in the spring."
[EDIT]
…described The Crow as "the anti-Spider-Man."
[EDIT]
"It still has a big fan base even though it was so long ago," he said. "But the generation today doesn't even know The Crow."
…says THIS piece at THR.
For a while now, Luke Evans (THE HOBBIT, DRACULA UNTOLD, FAST AND THE FURIOUS 6) has been attached to play the lead and…earlier this year…extolled the crew's desire to be faithful to James O'Barr's source material.
Based on his appearance in DRACULA UNTOLD alone, I'm thinking Evans will make a tremendous Eric Draven. Word on the street says O'Barr is involved with this new theatrical iteration - to what extent we're not yet clear.
So there you have it - THE CROW may finally fly again this Spring. Not much to go on yet, but also a solid indicator that the project is far from dead.
————
Glen Oliver
"Merrick"
- e-mail
- Twitter