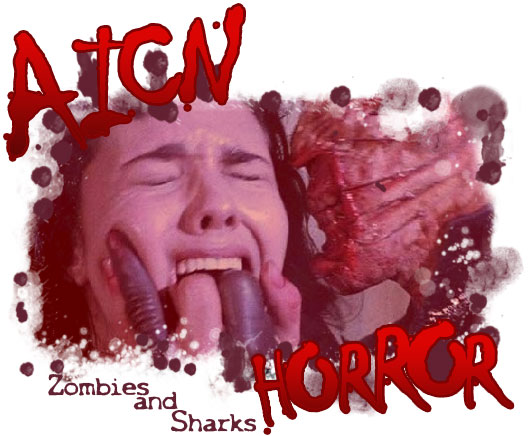 Logo by Kristian Horn
What the &#$% is ZOMBIES & SHARKS?
---
Ambush Bug here with another AICN HORROR: ZOMBIES & SHARKS column. Dr. Loomis had a chance to talk with my namesake, Mark Miller, who has collaborated with Clive Barker on various projects through the years. Mark has participated in a few of my "Horror on the Paneled Page" and "Reinventing Horror" panels at San Diego Comic Con and is an all around swell guy. Here's what Mark had to say about Clive Barker's return to his horror roots with THE SCARLET GOSPELS!Hey, it's Dr. Loomis here. Clive Barker's THE SCARLET GOSPELS is a book that's been teased for so long, and in so many incarnations, it's almost hard to believe that it's finally finished, with a real publication date (http://us.macmillan.com/thescarletgospels/clivebarker) and everything. As far back as 1993, Barker talked about a new book of short stories that would include a sequel to "The Hellbound Heart," the novella that introduced the world to the Cenobites. That soon morphed into a short novel pitting the most famous Cenobite, Pinhead, against another iconic Barker character, the occult detective Harry D'Amour. Check out the section on THE SCARLET GOSPELS on Barker's website for the full, mind-boggling rundown on the book's metamorphosis.

Mark Miller, vice president of Barker's production company Seraphim, has worked closely with the creator on a number of projects, including as an in-house editor on THE SCARLET GOSPELS. An accomplished writer himself (most notably on several Barker-related comics projects such as HELLRAISER and NEXT TESTAMENT), Miller played a vital role in helping Barker corral thousands of handwritten pages into the novel we'll be seeing soon. Miller was kind enough to take time out of his busy schedule to talk about THE SCARLET GOSPELS, and to tease us unmercifully with hints about what we can expect.

DR. LOOMIS: First, talk a little bit about your relationship with Clive Barker, and how you came to work with him on THE SCARLET GOSPELS.
MARK MILLER: Clive and I have a very close working relationship. I was a writer for OCWeekly when I first met him. We hit it off and realized that there was an instant creative chemistry there. He asked me to come work for him and of course I said yes. I started out typing his handwritten pages for his most recent novel ABARAT III: ABSOLUTE MIDNIGHT. By the end of the process, I was editing the book with him. I guess I did a decent enough job. He's kept me around and I've been on every project since that fateful time.
DL: Explain your role in helping to get THE SCARLET GOSPELS ready for publication.
MM: My first, and biggest, task was getting all of it straightened out in my head. Fortunately, I've worked with Clive long enough now to have a somewhat firm grasp on his rather expansive body of work. He's been living with THE SCARLET GOSPELS for nearly two decades now, and a lot of what at one time may have been part of the story has found its way into other narratives. While Clive busied himself writing ABARAT IV, I set about spotting the already utilized plot points, character designs and story devices. Once I'd wrapped my mind around the novel in its entirety, I brought it back to Clive and he went in and reimagined all those pieces of the novel.
DL: Clive Barker described this book as "huge." In terms of page count, can you give us an approximation of how long this will be? Also, in terms of the scale of the story, how big does THE SCARLET GOSPELS go?
MM: The word "huge" is applicable in a lot of ways. The novel runs about 100,000 words and while it's one of the shorter books he's written in terms of page count, it honestly feels like the biggest thing Clive has tackled yet. The book travels through time, dimensions, states, and tones. It's funny. It's terrifying. And it is, as you mention it being described, huge.
DL: Barker also compared THE SCARLET GOSPELS to his groundbreaking short story collection BOOKS OF BLOOD in terms of its graphic nature. So much of Barker's recent work has been rooted in fantasy - is this truly a return to pure horror?
MM: Definitely. There's something that happens to Harry D'Amour in flashback that I can't go into, but it's easily one of the most disturbing things I've ever read. I remember reading those handwritten pages and feeling my eyebrows raise in shock. Even as I think about it now, a stunned smile spreads across my face. Well, I saw the notes from his editor when they first came through. He didn't ask for Clive to change it. He simply wanted to know "do we have to go this far?" Clive's answer was an unequivocal "yes." And so we did.
DL: Writing this book has been an undertaking that has spanned many, many years. How did Barker know it was time to let it go?
MM: That's a tough one to answer. When it's time, it's time. There was this moment, after going over all the notes, and applying all the changes where we both stepped back and said, "Yes. That's it." Clive found Harry's arc. He said everything he wanted to say with Pinhead. And we even discovered some incredible quotes to use like Clive has done in so many of his other novels. When all of those came together, and we saw THE SCARLET GOSPELS as a whole instead of in parts or chapters, it suddenly felt ready for the world. We sent it off to Clive's literary agent for her thoughts. We waited anxiously for her to read it and when she finally got back to us, she was effusive and said she knew we'd find a home for it in no time at all. She was right.
DL: It's an understatement to say that the last couple of years have been rough for Barker, health-wise. He nearly died in 2012, and his recovery has been a slow process. Have these issues influenced the final form of THE SCARLET GOSPELS, or do you think it's something we won't see reflected in his work until later?
MM: At its core, THE SCARLET GOSPELS is a meditation on trials and death. In the novel, Harry almost literally walks through the valley of the shadow of death. I know that, as a man who walked that same path, Clive has a unique take on the subject. I've seen it in him. And I've seen it in the novel. Artists are influenced by their experiences. Clive's time in the hospital has had a profound effect on him and his work. He paints with abandon. He writes without fear. His only imperative is to tell the stories that want to be told while he can still tell them. I think, much in the same way the world is now catching up with Clive's stories, Clive has caught up with the story that was being asked of him.
DL: Many people may be more familiar with the HELLRAISER films than their source material, Barker's novella "The Hellbound Heart." With this being billed as "the last Pinhead story," how does it bridge the film - particularly the first one, which Barker wrote and directed - and that novella? Do you think it will be well received by fans who may prefer one over the other?
MM: It's only tangentially related to "The Hellbound Heart." There are nods to the story that you'll find peppered throughout the book like Easter eggs, but aside from Pinhead and puzzle boxes, this book has little to do with "Hellbound Heart." Regardless of how you look at it, it works as both a sequel and a standalone.
DL: You're one of the few that's read it so far - what was your gut reaction to the story Barker has created?
MM: "Fuck."
DL: So...when do we finally get to READ the damn thing?????
MM: That's the easiest part. After over a decade, we finally have a street date: May 19, 2015. Pinhead awaits…
"Dr. Loomis" is Blu Gilliand, a freelance writer whose work has appeared in the fright-filled pages of DARK SCRIBE, DARK DISCOVERIES, SHROUD MAGAZINE, the late, lamented FEARnet.com, and Horror World, among others. He also runs his own blog, October Country, devoted to horror and crime fiction. Feel free to stalk him on Twitter (@BluGilliand) at your own risk.Look for our bi-weekly rambling about random horror films on Poptards and Ain't It Cool on AICN HORROR's CANNIBAL HORRORCAST Podcast every other Thursday!
---