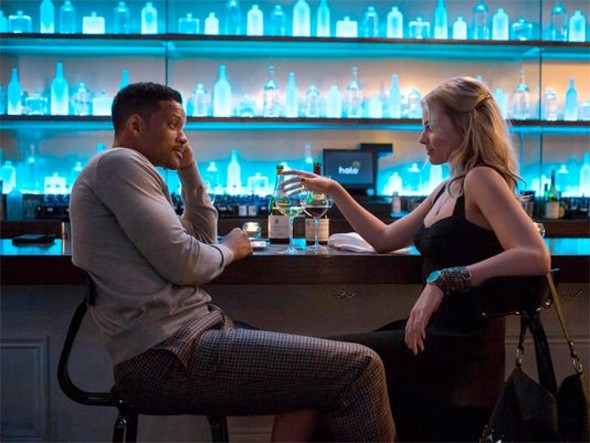 The idea of Will Smith and Margot Robbie in an R-rated con movie sounds fairly cool on paper.
But factor in the CRAZY STUPID LOVE directing duo of Glenn Ficarra and John Requa and this lackluster trailer below, and the luster starts to come off of FOCUS a little bit.
The film is framed as sort of a romance between Smith and Robbie, but the romantic sparks don't seem to be there. Worse, the tone fluctuates between tepid con-man comedy and very average-looking, "in over their head"-type drama. There's little here to suggest that Smith is bringing his requisite charm (that "black people" line is neither funny nor fresh) or his SIX DEGREES OF SEPARATION/ALI acting skills to this gig (sure looks good without his shirt though). I'm hoping that Robbie gets that GHOST IN THE SHELL role she was up for, so that maybe we don't have to watch her use those looks of hers to coax men to do her bidding ever again. She's obviously got more tricks up her sleeve than the bombshell routine, but this film doesn't seem to be showing them off.
This totally seems like the kind of star-driven February throwaway release we typically associate with the time between Christmas and Summer. So none of us will be that excited for it, but if it's playing at the theater next to the mall we're shopping/working at, maybe we'll pop in and check it out.
What y'all think? THE GRIFTERS or THE TOURIST?
FOCUS on the prize on February 27th, 2015.