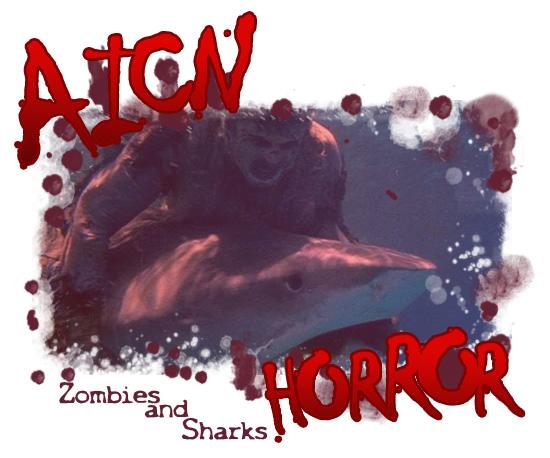 Logo by Kristian Horn
What the &#$% is ZOMBIES & SHARKS?
---
Greetings, all. Ambush Bug here. Happy Birthday to AICN HORROR which celebrates its fifth year in October! Always hoping to pass on new and exciting films for all of you ravenous readers, I have once again compiled a list counting down to my favorite horror film released since last October and covered in this here AICN HORROR: ZOMBIES & SHARKS column. Some of these films might be new to you since there isn't a lot of horror in theaters these days that aren't toothless remakes or watered down sequels. The theater just doesn't seem to be the place where the horror is at these days, I'm sad to say. Some of these films have only seen the light of day on Video On Demand or simply go straight to DVD/BluRay or digital download.

As far as how I compiled this list? Well, I simply looked over my AICN HORROR columns over the last year since October 1st, 2013 (which happens to be the birthday of this little column five years ago!) and worked and reworked a list until I had 31. No real method to my special brand of madness. We'll be counting down every day until Halloween to my favorite horror film of the year. I'll also provide a second film suggestion at the end of each post that is worth noting or missed being on the list by a little bit for those who can't get enough horror.

So let's get to it! Chime in after the article and let me know how you liked the film I chose, how on the nose or mind-numbingly wrong I am, and most importantly, come up with your own list…let's go!
#30 STALLED!
Why is STALLED #30? Because it does something fun and new with the zombie genre, that's why. Setting the whole thing inside a small place is one thing. Setting the film inside a commode is a whole new level of fun. And I don't forget the impromptu dance scene! STALLED feels like a great film to watch with SHAUN OF THE DEAD and for that, it deserves to be on the countdown.
You can check out STALLED on Amazon here
. Here's my review of STALLED from back in December!!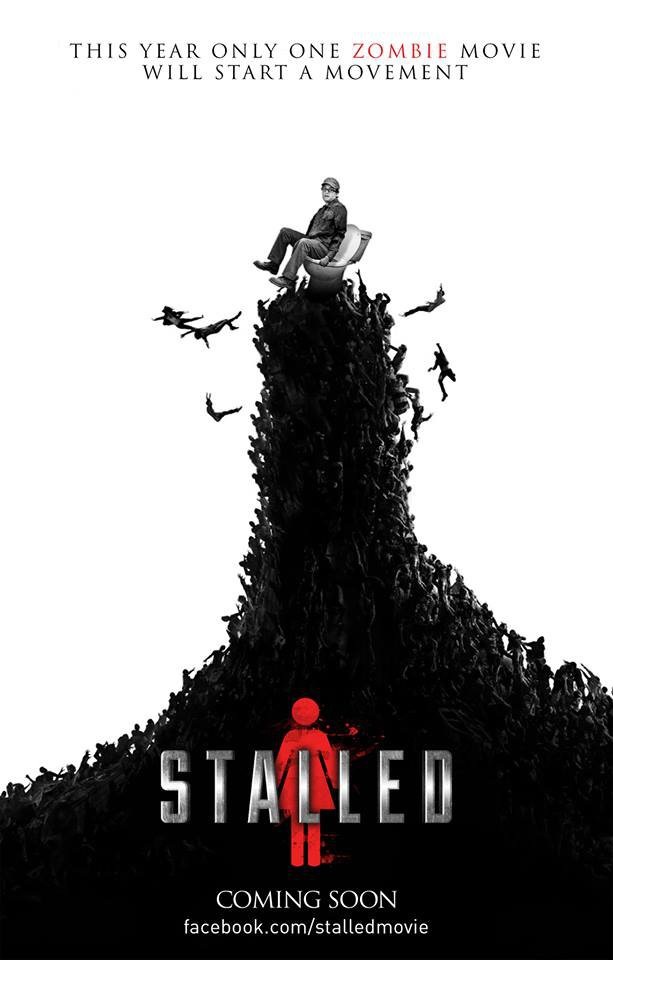 Now available this week on iTunes, Amazon Instant, XBox Live, Hulu, Vudu and Video on Demand!
STALLED (2013)
Directed by Christian James
Written by Dan Palmer
Starring Dan Palmer, Antonia Bernath, Tamaryn Payne, Mark Holden, Giles Alderson, Sarah Biggins, Victoria Broom, Victoria Eldon
Find out more about this film here and on Facebook here
Reviewed by Ambush Bug
Because of the inundation of zombie films, it's tough for a film about the living dead to get ahead of the herd. In order to do so the film either has to have a super star in the cast or come at the subgenre from an angle that hasn't been tried before. Now, the zom-com has been tried before, but very few of these films are as successful at being entertaining as STALLED is.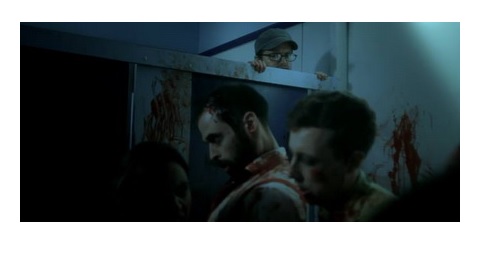 For the most part, STALLED is a one man show as a night janitor is trapped in a ladies bathroom stall during the zombie apocalypse on Christmas Eve. That one man is writer Dan Palmer, who does a great job of doing all of he heavy acting lifting here as the timid and nebbish janitor who thinks quick on his feet and may have a bit of a selfish streak to him, but those are attributes that do well during a zombie apocalypse.
Played for laughs, the film doesn't shy away from the gore. Heads are crushed in toilet bowls, brain matter splats onto the camera lens, hammers are embedded into foreheads, and fingers are lopped off by the handful. If you're looking for a horror/comedy tone to compare it to, I'd liken STALLED to DEAD ALIVE, as the zombies are played for laughs despite the dark and dangerous circumstances the janitor has found himself in.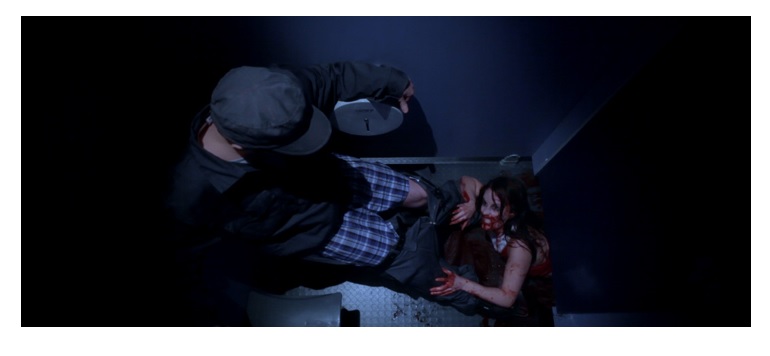 Filled with some solid humor, such as a sequence where the janitor trips on acid in the stall and dreams he and the zombies have a Michael Jackson style dance routine which begins with the janitor crowd surfing across the zombie horde to the tune of techno music, STALLED almost plays out as a "What if Charlie Chaplin was stuck in the zombie apocalypse?" scenario as the film plays as a series of funny bits laced together loosely, increasing in dire circumstances and power of the laugh as the film goes on. There are some genius bits of silent cinema at play here as the facial expressions and wacky Rube Goldbergian scenarios play out with the zombies falling victim most of the time.
Not all horror has to be super serious and dire. Sometimes it's best to laugh in the worst scenarios and that's exactly what STALLED does. STALLED takes a simple scenario and runs full blast with it. Honestly, there are probably only fifteen people in this film and most of them shuffle around as mindless zombies. Palmer as the janitor plays a version of the classic underdog who one can't help but root for despite one bonehead decision after another. There's a lot to love about STALLED; a quality indication that you don't have to go big to get big laughs and make a good zombie movie.
---
Worth Noting: CHRYSALIS!
CHRYSALIS is not your typical zombie film either, which is probably why I paired it with STALLED in the countdown. While the mood is much direr, it still takes the zombie tale to new places in terms of the emotional toll this film takes on the two main characters. The film is low budget, but definitely makes the most of what money it did have and the acting definitely ratchets it all up a notch.

Check out my full review of the film here from back in April and you can check out the film here on its website here!






---
The Countdown so far!
#31: DISCOPATHE (worth noting: STAGE FRIGHT)!
See ya tomorrow, folks, as I count down the best of the best covered in AICN HORROR since October 1st, 2013!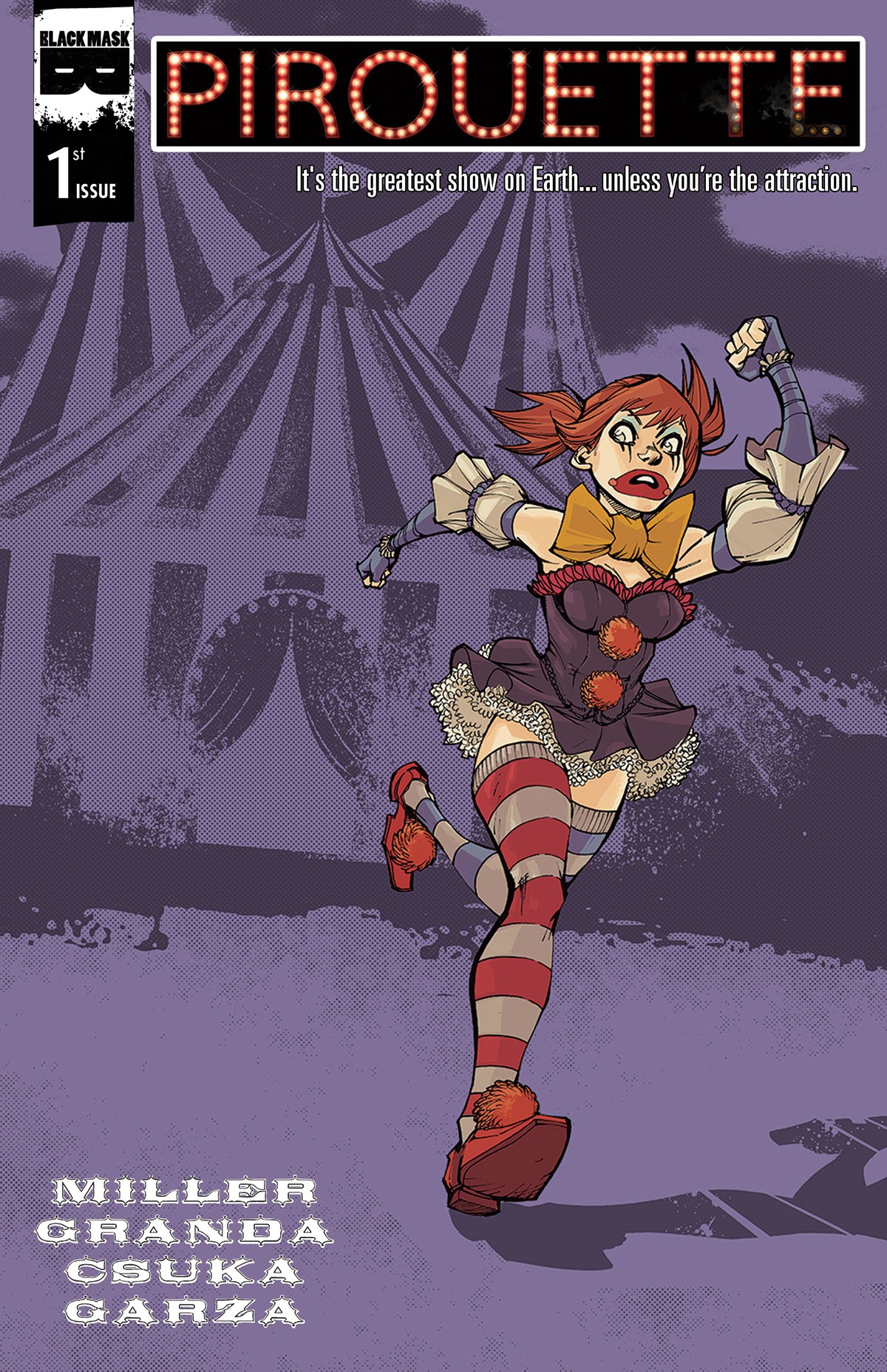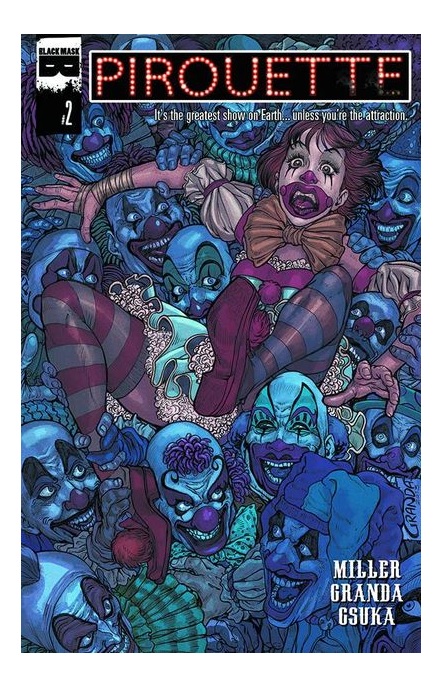 Ambush Bug is Mark L. Miller, original @$$Hole/wordslinger/writer of wrongs/reviewer/interviewer/editor of AICN COMICS for over 13 years & AICN HORROR for 4. Follow Ambush Bug on the Twitters @Mark_L_Miller.

Be sure to tell your comic shop to order his new comic PIROUETTE from Diamond Previews (item code JUL14 0937) and the new issue #2 available to order in Previews (item code AUG14 1131) from Black Mask Studios!!
---
Find more AICN HORROR including an archive of previous columns on AICN HORROR's Facebook page!