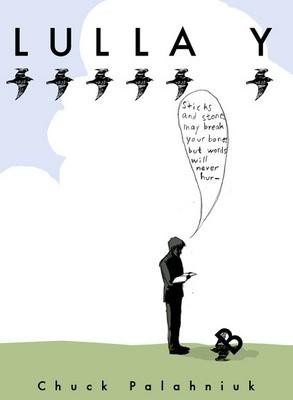 At last night's Beyond Fest screening of FIGHT CLUB (more on that later), there was an extensive Q & A conducted by Jeff Goldsmith with novelist Chuck Palahniuk and screenwriter Jim Uhls. When Goldsmith asked the two what they were currently working on, Palahniuk mentioned his upcoming book Beautiful You, a collection of short stories called Make Something Up, the Fight Club graphic novel sequel, the James Franco adapation of his RANT, and a film version of his 2002 novel, Lullaby.
Most interesting was that Palahniuk claimed he's "supposed" to co-write the script for that with an unknown writer. There's already a draft out there, but he basically said he hasn't even read the current script, so he clearly hasn't started any work on the project himself. He did make it seem like his involvement was set in stone, and that working hands-on with the script was something he planned on doing imminently.
It would be Palahniuk's first screenplay credit, and the fourth adaptation of the author's work into the feature film format (if RANT lenses first).
No word whether previously-announced director Rolf Johansson is still attached, but given that it's been more than 7 years since his name was first banded around, it's almost definitely going to go to someone else at this point.
Watching FIGHT CLUB and hearing Mr. Palahniuk's thoughts last night reminded me what a unique, thoughtful writer he is, and how few movies contain the intelligence and viciousness of his prose. The adaptations of FIGHT CLUB and CHOKE are successful in translating the author's tone and sensibilities, and don't skimp out on too much of the gruesome details of their respective source materials, but I'm very intrigued by the notion of a script writen by Palahniuk himself.
Part of me thinks it'll be like JODOROWSKY'S DUNE, so profane, impractical, and out there that no one can produce it, and it becomes the stuff of Hollywood legend.
Or it could get made and end up like THE COUNSELOR. Which, to many, isn't that great of a prospect.