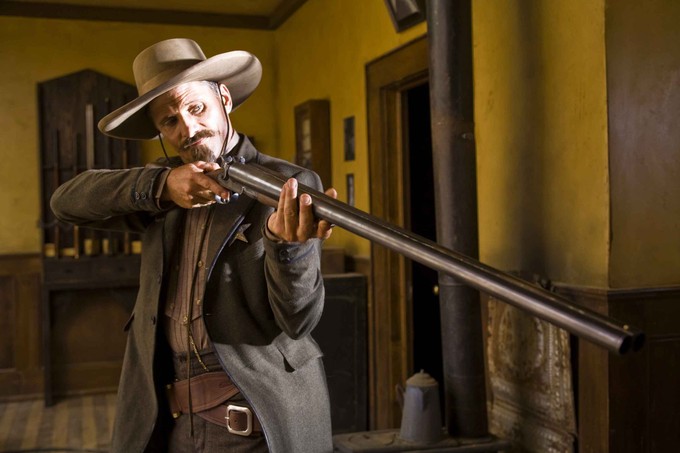 So there's this rumor going around that Viggo Mortensen and Quentin Tarantino were talking business at the Greenwich Hotel in downtown NYC. The NY Daily News posted a report from an "eagle-eyed hotel guest" that the two were talking about characters Viggo would play in Tarantino's upcoming HATEFUL EIGHT. Viggo was apparently interested in the role of a certain "ruthless gang leader."
Normally, I wouldn't even give credence to this sort of "he said, she said" hooey, but having seen Quentin's vision performed live, a couple of crucial things caught my eye about this. POSSIBLE SPOILERS BELOW, but I'm going to try and be as restrained as I can about this for those who haven't read the script:
1. As you may deduce from the teaser (which still hasn't officially been made available online), none of the titular eight could be neatly described as a "ruthless gang leader." However, there is a small role, basically a cameo, which could be described in such a manner, and I could very easily see Viggo (especially in his younger days) inhabiting the character.
2. We haven't heard anything about the original actor who played the role live returning for the feature. It seemed, early on, that Tarantino was going to replicate the cast of his live-read for the actual film. He's already signed Kurt Russell and Samuel L. Jackson, and we've heard of continual meetings between QT and Bruce Dern; the rumors that Jennifer Lawrence was replacing Amber Tamblyn as Daisy Domergue have yet to be confirmed.
But we know that at least one major role's been changed, just from the trailer: "Bob the Frenchman" is now "Bob the Mexican", played by, presumably, a hispanic actor instead of original actor Denis Menochet. So sub-outs are absolutely, positively on the table at this point.
Additionally, the actor who played the role I'm figuring Viggo for was not someone with comparable marquee value to Russell, Jackson, or Dern. Or Mr. Mortensen, for that matter. So hiring the former Aragorn would add another big name to the cast, making both the financiers and audiences feel just a little more happy and safe about the flick.
It should also be noted that the original actor was one of the two or three who received the most onstage direction from Tarantino, which interrupted the flow of the script more than once. So maybe he just proved a little too unmalleable.
But this is oh-so-flimsy of a rumor, started by someone trying to overhear a conversation at a swanky downtown New York hotel, and even if it was true, I'm sure Tarantino is having similar talks with all sorts of actors and actresses. Still, the idea of Viggo Mortensen in THE HATEFUL EIGHT does seem at least remotely possible, and totally intriguing.
We'll be hearing the final roster for THE HATEFUL EIGHT within the next few months.
THE HATEFUL EIGHT hunker down for the night sometime in Fall 2015.