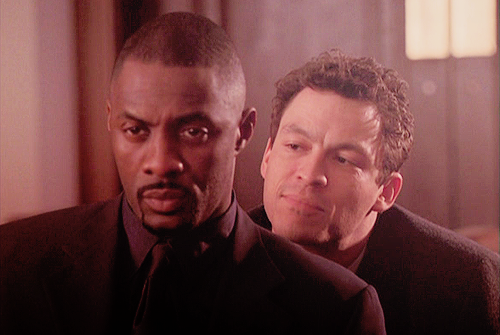 After PLANES payed homage to TOP GUN by featuring Val Kilmer and Anthony Edwards as talking fighter jets, perhaps I shouldn't be surprised by any more unlikely reteams in animated family films.
But who saw this coming?
A decade after they last faced down on THE WIRE, Dominic West and Idris Elba (a.k.a. Jimmy McNulty and Stringer Bell) are going to feature as voice actors in Pixar's FINDING DORY.
In a chat with The Shortlist, West (maybe prematurely) revealed the news:
"I saw Idris recently. We're both in the sequel to FINDING NEMO, so we were recording that. I'm in pretty regular contact with a lot of guys from THE WIRE – a lot of them are godparents to my kids, so I love them dearly."
In a fat cast of characters, including Michael K. Williams' legendary Omar and Wendell Pierce's wonderfully acerbic Bunk, Stringer and McNulty made huge impressions from the first moment they faced off in that courtroom in the first ep of THE WIRE. West's wording makes it seem that the two recorded their role together, implying some sort of connection between their two characters. So that ace tension between String and McNulty may make a return in one of 2016's biggest animated films.
Hopefully, their interaction amounts to more than the brief cameos by Kilmer and Edwards in PLANES.