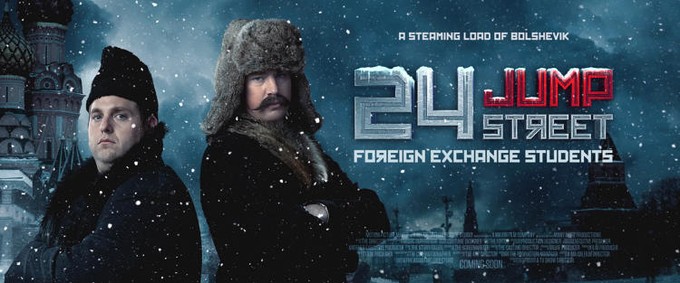 The end credits of 22 JUMP STREET spoofed the idea of further sequels to the already-preposterous 21 JUMP STREET update, but the same way that first follow-up had its self-referential cake and ate it too, Neal Moritz and Sony are down to make the joke of yet another go-around into a reality.
They've hired writer Rodney Rothman to write a draft for 23 JUMP STREET, which will be produced by Moritz, Phil Lord, Chris Miller, Jonah Hill and Channing Tatum. Rothman was one of four credited writers on 22 JUMP STREET (not counting the series' creators), along with Hill and Michael Bacall, who also wrote the first film. Guessing that the duo will have a pass on Rothman's draft before Hill has to deliver any of his dialogue on camera.
Obviously, the two stars are expected to return as Jenko and Schmidt, but the question is whether the hot-as-iron Lord and Miller will return to the directors chair(s). Like some, I thought 22 JUMP STREET was superior to the first one, particularly due to its bizarre, meta-contextual tone and lively comic energy, both of which are quickly becoming Lord/Miller trademarks. I certainly preferred it to the Lord/Miller-less sequel to CLOUDY WITH A CHANCE OF MEATBALLS, and I attribute the fact that I liked 22 at all to the duo's unrelenting ambition and talent (as well as Tatum's revelatory comic ability). Without them, I don't know if 23 JUMP STREET is even worth giving a damn about, but we know neither their level of involvement nor the premise for this threequel, so we'll have to wait and see I guess.
Maybe we'll get Booker for real this time around.