Hey Yo, Draven here.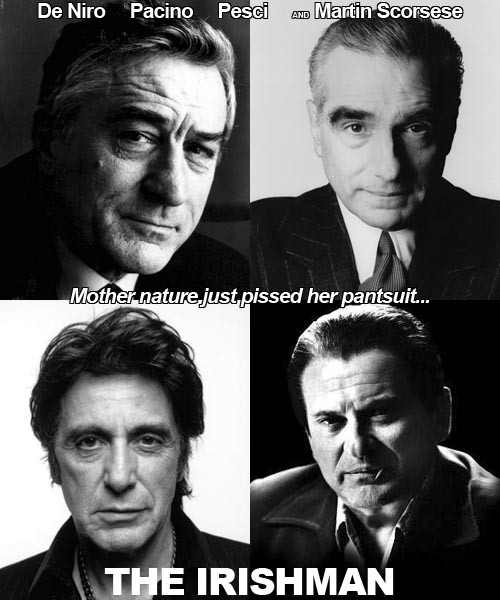 THE IRISHMAN has been the long-in-development project, that was expected to be the big reunion between Martin Scorsese, Robert DeNiro and Joe Pesci (who have not worked together since 1995's CASINO).
It has been rumored since 2008, and at one point Al Pacino even decided to get in on the big reunion, and work for the first time with Scorsese (isn't that crazy). It was an exciting prospect, but in recent years it seemed to have stalled or died, as DeNiro and Pacino have continued to tarnish their legacies with awful films, Pesci has been in retirement (only two films since '98), and Scorsese has moved onto to other projects.
According to Pacino though, in an interview with The Daily Beast, the project is still happening with not only him, DeNiro, Pesci but also Bobby Cannavale (who has starred in the Scorsese produced HBO series, BOARDWALK EMPIRE and is scheduled to star in another Scorsese produced HBO project) with Scorsese still planning on directing the film.
Here are Pacino's exact quotes (it's a really interesting interview and you should read the whole thing):
Are you still doing The Irishman?

The Irishman. Wow. Oh yeah, Steve Zaillian script.

Yeah, and Martin Scorsese directing.

Yeah, [Joe] Pesci, [Robert] De Niro, Bobby Cannavale.

You've never done anything with Scorsese, which is interesting because you would assume you would have at this point.


Isn't that something?

Have you guys gotten close to doing anything together?

I don't think I've gotten close to doing something with Marty. I know him. He's such a great director. But I am sure there are other actors who Marty hasn't worked with.

Of course. But you're very much associated with that community of actors and filmmakers.

Yeah, I know. But at that period [in the 1970s] we were sort of split. Scorsese made movies with De Niro and I was making movies with [Sidney] Lumet. But I can't think of a Scorsese movie that I would have been right for.

I assume it will be nice working with Robert De Niro again.

Oh, I love Bobby. I love him. Getting the opportunity to work with him, especially on something that is with one of the greatest directors ever.

Critics weren't too kind to you and De Niro's last project, Righteous Kill.

Well, that one was not [pauses]… You want to do something again that you feel good about.
I should mention what the planned premise of the film is. It is scripted by Steve Zaillian who adapted Charles Brandt's true crime book, which Amazon describes as:
"The first words Jimmy Hoffa ever spoke to Frank "the Irishman" Sheeran were, "I heard you paint houses." To paint a house is to kill a man. The paint is the blood that splatters on the walls and floors. In the course of nearly five years of recorded interviews Frank Sheeran confessed to Charles Brandt that he handled more than twenty-five hits for the mob, and for his friend Hoffa.

Sheeran learned to kill in the U.S. Army, where he saw an astonishing 411 days of active combat duty in Italy during World War II. After returning home he became a hustler and hit man, working for legendary crime boss Russell Bufalino.

Eventually he would rise to a position of such prominence that in a RICO suit then-U.S. Attorney Rudy Giuliani would name him as one of only two non-Italians on a list of 26 top mob figures. When Bufalino ordered Sheeran to kill Hoffa, he did the deed, knowing that if he had refused he would have been killed himself.

Sheeran's important and fascinating story includes new information on other famous murders, and provides rare insight to a chapter in American history. Charles Brandt has written a page-turner that is destined to become a true crime classic."
Hopefully, Pacino isn't full of shit here because it would be awesome to see one final great film for all of these cinematic legends and this project could really be a return to form for all of the actors involved.
Speaking of which, does anybody really know why DeNiro and Scorsese haven't worked together for almost 20 years now? I know DiCaprio became his go-to-guy, but DeNiro's career has really gone down the tubes and he could have used a great role in a Scorsese film to really revitalize his career.
Follow me on Twitter here!