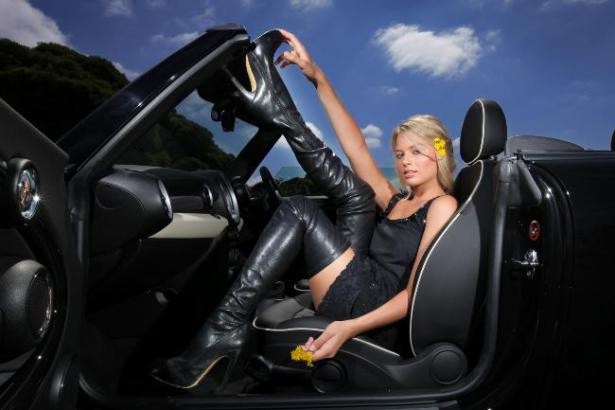 We knew that SNOW WHITE AND THE HUNSTMAN director Rupert Sanders was working on a GHOST IN THE SHELL adaptation, but we had no idea who he wanted to play the American version of cyberwarrior Motoko Kusanagi.
Surprisingly, he's going with more of an up-and-comer than a bonafide movie star: Margot Robbie.
The WOLF OF WALL STREET actress is reportedly circling the female lead of this incarnation of the manga (and the 1995 anime). She's got some upcoming co-starring roles alongside Alexander Skarsgard in TARZAN and Will Smith in FOCUS, but this would be her first major solo outing…provided they don't beef up the part of Kusanagi's partner, Batou, to that of the lead.
Robbie's turn in WOLF OF WALL STREET was a breakout role for her, and she exhibited the kind of toughness, screen charisma, and inner life that could make her a formidable action lead. She can obviously work the hell out of Kusanagi's leather getups, but I'm guessing when she brandishes a firearm or sends a stiletto across someone's face, she'll look just as natural as she did posing in lingerie in Jordan Belfort's bedroom.
Expect someone major for Batou. Without a universally recognizable property or a proven female lead, I'm betting Dreamworks is going to cover their bases and get an A-lister to back Robbie up.
What do you serious GHOST IN THE SHELL fans have to say about Robbie as the new Motoko Kusanagi?
-Vincent Kim-Zahedi
"Papa Vinyard"
vincentzahedi@gmail.com
Twitter