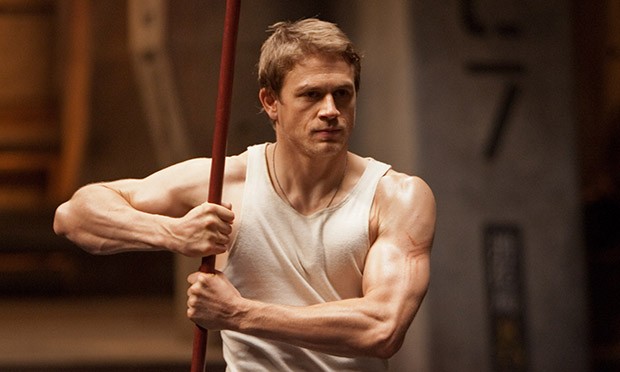 Looks like Charlie Hunnam's landed himself another big-budget tentpole.
The UNDECLARED/NICHOLAS NICKLEBY/SONS OF ANARCHY actor is Guy Ritchie's pick to play his King Arthur in KNIGHTS OF THE ROUNDTABLE. He joins his already-cast PACIFIC RIM co-star Idris Elba, who will, once again, be playing mentor to Hunnam as Bedivere.
Hunnam's role in PACIFIC RIM was slightly underwritten (many complained that his character's arc is pretty much done by beginning of the second half), but it showed that he can inject personality and charisma while serving as the lead of a massive summer blockbuster. Arthur is traditionally a pious, intensely reserved character, particularly once he creates Camelot and The Round Table, but I'd expect Hunnam to render the character into something more approachable and identifiable than what we've seen in the past. Plus, he has serious street cred (but not an astronomical price tag) due to his run on SOA (which is about to get into his last season), and having an attractive, up-and-coming King Arthur is icing on the cake.
So we've got an Arthur and a Bedivere. Now let's see who Ritchie wants for Lancelot, Guinevere, and of course, MERLIN!
KNIGHTS OF THE ROUNDTABLE: KING ARTHUR takes us to Camelot on July 26th, 2016.
-Vincent Kim-Zahedi
"Papa Vinyard"
vincentzahedi@gmail.com
Twitter