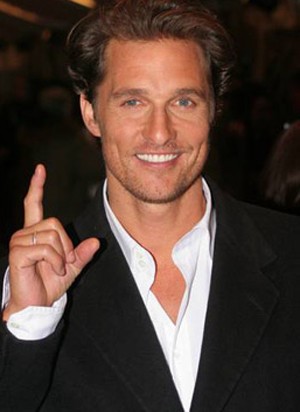 "Pleased to meet you. Hope you'll guess my name."
Mike Fleming at Deadline is reporting that Warner Bros. wants Matthew McConaughey to play Randall Flagg in their upcoming adaptation of THE STAND. The deal is far from done, and McConaughey is apparently merely at the top of their wish list, but this gives us an idea as to what level of star and talent WB wants to play the villain of Josh Boone's 3-hour long epic.
I, for one, am hoping like crazy that this goes through. My familiarity with THE STAND is only through the Mick Garris miniseries (that book is thiiick, forgive me), and Jamey Sheridan's devilish (wacka) performance was a clear highlight. His charming menace is the centerpiece on which the rest of the massive, cross-country story hangs onto, and it's not a surprise WB wants a megastar like McConaughey for the role, especially considering he's at his current apex of street cred off of DALLAS BUYERS CLUB and TRUE DETECTIVE.
It's not hard to see Matty M all smirky and charming as the seductive Flagg, but it was TRUE DETECTIVE that showed us the dark, sinister side behind the actor's pearly whites. It's that side of McConaughey's personality that makes him as Flagg seem like a masterstroke move, and having the megastar playing the devil himself could be a huge selling point for the studio (which they'll probably need if they're really pulling the trigger on the 3-hour runtime). Plus, he has all the star power the movie needs, freeing up Boone to hire lesser known actors for the rest of the roles (though I'd expect at least a few other big names to bolster the cast).
I hope this deal goes through. If not, they're going to have to nab someone really, really great to make us forget about how cool this could've been.
Do we all remember the last time McConaughey played an out-and-out villain?
-Vincent Kim-Zahedi
"Papa Vinyard"
vincentzahedi@gmail.com
Twitter