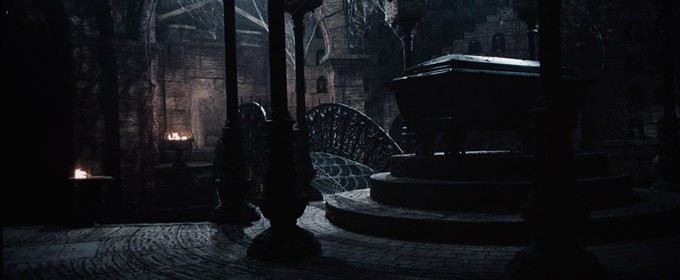 Guillermo Del Toro just debuted a teaser for his upcoming CRIMSON PEAK during Legendary's panel. Quint will describe the footage in detail, but it's essentially a glimpse at the central haunted house with narration by Tom Hiddleston. From what I'm reading, it definitely sounds creepy.
Del Toro also confirmed that the film is being shot as an R-rated horror flick, blood and all. So this will be his first American horror flick with gore since MIMIC. Nice.
Stay tuned for Eric's thoughts...
Guillermo confirms Crimson Peak is rated R, sees release I a year and a half. About to show some footage.

— Eric Vespe (@EricVespe) July 26, 2014
Crimson Peak footage was ridiculously beautiful. Very much in the vein of Pan's and Devil's Backbone

— Eric Vespe (@EricVespe) July 26, 2014
CRIMSON PEAK will be scaled on October 16th, 2015.
-Vincent Kim-Zahedi
"Papa Vinyard"
vincentzahedi@gmail.com
Twitter