Ahoy, squirts! Quint here. It was inevitable that Hall H would swallow me up and the first panel to lure me into that dark, scary maw was The Giver, based on the very famous young adult novel by Lois Lowry.
My memories of reading it back when it came out (I was in middle school then) are pretty faded, but thankfully they gave me (and the 6,000 other people) a refresher in the form of a sizzle reel that detailed pretty much the whole story.
First of all, for newbies, the story is one of those dystopian jobs where everything is safe and organized and sterile, but naturally that comes at the price of individuality and humanity. The houses are white blocks, streets so clean you could eat off them, everybody is wearing the same kind of plain clothes, etc.
Young Jonas is selected to be the new receiver of memory and he's sent to a museum-like stack out on a cliff's edge, far away from the controlled mass suburbia. This place has personality, warmth... it's different. Jeff Bridges is there. Books are nearly organized in giant book cases, like a big city library, but there's dust in the air, natural light, a slight sense of disorder.
Essentially, the character dumps all the memories of the world that once was into the young mind before him, slowly awakening him to the horrible reality they live in. He starts seeing color, the veil falling. That marks the transition to color in the world as he tries to save those closest to him, including his family.
There were some big sci-fi shots of this boy being chased by ships, running through deserts and various wilderness, jumping down a waterfall, etc.
Meryl Streep plays the matriarch of this society, a stern presence who seems like someone you don't want to be your enemy. Naturally, this teenaged kid, newly awakened, tries to buck the system and must be eliminated.
The footage was surprisingly effective if a little on the nose. I'm worried the film might suffer a little from the John Carter curse, though. The book inspired so many other like-stories that by the time it finally makes it to the screen the set up isn't fresh to the audience anymore.
Where or not that'll be the case here, I don't know for sure, but I can say that everybody seemed to put their hearts into this one. It certainly doesn't feel like a cash-in, at least from the 4 or 5 minutes I saw.
Now for some highlights from the panel which included author Lois Lowry, actors Jeff Bridges, Brenton Thwaites, Odeya Rush and producer Nikki Silver were on the panel. Here's a hasty picture I snapped: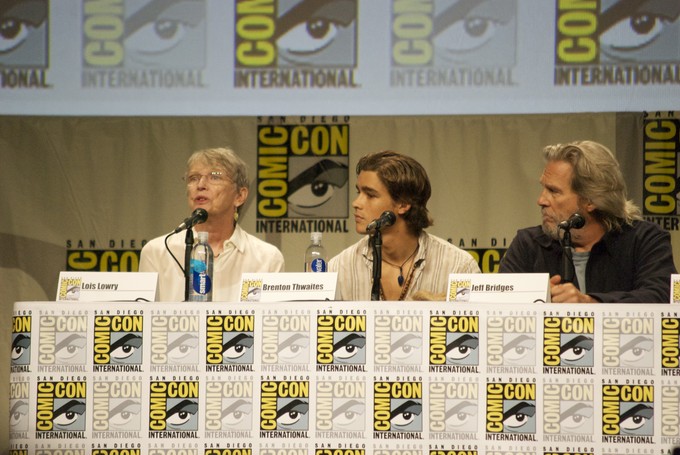 -Jeff Bridges started his involvement in The Giver 20 years ago so he could direct with his father in the role of The Giver. Also wanted something he could make for his kids to see. They are now in their 30s.
-Scene where Jonas bathes an old woman was controversial in book. Jeff Bridges says Lois was disappointed when they cut the scene from the movie because she wanted to play the old woman!
-Jeff Bridges described Meryl Streep as a soccer mom. "Our kids played soccer together, but we never worked together before this."
-Lowry compares The Chief Elder, played by Streep, to those who banned her book when it came out. She's acting out of a desire to protect people. She's not evil. "Something I try to remember every time I get a letter from a mom telling me Jesus is ashamed of me."
-Lowry contributed one memory transferred by Bridges to Thwaites. She wanted to make sure one moment recognizing the world of Islam was included.
-Taylor Swift was brought on via Harvey Weinstein, apparently. The character was already supposed to be a piano player and she and Bridges would "jam," in Bridges' words, between takes.
-Lowry was concerned that they cast the leads older, but was convinced when she first saw Thwaites in the role.
-Bridges said the best advice for a young actor or filmmaker is to just go out and do it. Related a story about him and his brother Beau renting a truck and going out to supermarkets and staging fake fights that his dad choreographed. It was just a way for them to perform and they got a big kick out of the people thinking it was real. He said cops would even show up and they'd play-act with them before moving on to the next supermarket parking lot!
-Bridges says there's a video he made when he tried to make it 20 years ago with footage of Lloyd Bridges as The Giver and Jeff's 10 year old nephew as Jonas. Bud Cort narrated. Doesn't know where it is, but hopes to find it before the DVD comes out.
There you go! Paramount is next up! Report coming soon!
-Eric Vespe
"Quint"
quint@aintitcool.com
Follow Me On Twitter