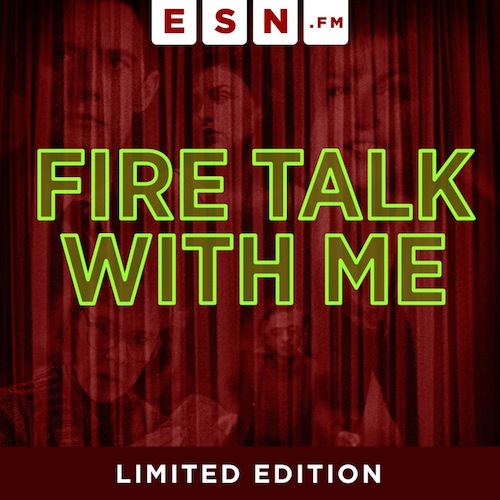 Jeremy here...
When TWIN PEAKS premiered April 8th, 1990 on ABC, television viewers fell under the spell of a show that, as one of its characters put it, was like having the most beautiful dream and the most terrible nightmare all at once. Created by David Lynch and Mark Frost, the series opens with the haunting discovery of a beautiful young girl… dead… wrapped in plastic. Her name is Laura Palmer. She is the most popular and beloved student at Twin Peaks High School. And she has been murdered.
"Who killed Laura Palmer?" was the water-cooler mystery that initially turned the show into a ratings smash, but that beautiful dream/horrible nightmare combo soon became too intense for mainstream audiences. Those who stuck with it, however, were rewarded with an unforgettable journey into the dark heart of a seemingly idyllic small town - a place where logs talk, fish percolate and the owls are not what they seem. I was one of those obsessed with the show. I adored Special Agent Dale Cooper, feared the inscrutable evil of the woods and nursed a wicked crush on damn near every woman in that crazy town. The show's been gone for over twenty years, yet I'm still puzzling over its bizarre twists and turns, many of which will never be resolved. I'm at the point where it would probably be best for my mental health to let it go, but I've decided instead to inflict its glorious madness on a dear friend who's never seen it before. If I'm headed to the Black Lodge, I'm taking someone with me.
Enter Allison Goertz, aka Cossbysweater. Yes, the brilliant composer of such nerd culture-inflected ditties as "Everything's Coming Up Milhouse", "The Hobbit Song" and "Good Kid" (buy her LP here). Though she knows more about THE TWILIGHT ZONE than a normal twenty-three year old should, she has somehow never experienced the surreal genius of TWIN PEAKS. When she confessed this to me, I demanded that she watch the entire series and FIRE WALK WITH ME posthaste. Then she went and did me one better by coming up with the nifty idea of launching a podcast dedicated to her Lynchian enlightenment, with me serving as her guide through the show episode-by-episode.
FIRE TALK WITH ME officially premieres via ESN.fm on Tuesday, July 29th, coinciding with the release of CBS' new Blu-ray set TWIN PEAKS: THE ENTIRE MYSTERY (AND THE MISSING PIECES). You can also find it on iTunes here (if it's not there yet, give it time; it'll be there shortly). The first few episodes will just be the two of us bantering away as she tries to make sense of the show, while I'll use my vast TWIN PEAKS knowledge to emphasize elements that may or may not be relevant to the central mystery. Since Allison has no idea who killed Laura Palmer, she'll end each episode by naming her top three suspects; we're already several episodes in, and I can assure you her powers of deduction are quite something to behold.
It's our hope that fans of the show and newcomers will join us for what promises to be a stimulating conversation about one of the most provocative shows in television history. We'll have guests joining us along the way - some who know the show, some who don't, and, perhaps, some who were actually on the show. The podcast will run until we hit the newly revealed (and recently reviewed by me) FIRE WALK WITH ME: THE MISSING PIECES, at which point Allison will at last know the misery of no more TWIN PEAKS.
To get things started, we'd like to share what we're calling Episode Zero of FIRE TALK WITH ME (also available here). It's a chat with Charles de Lauzirika, the producer of the new Blu-ray set as well as the ALIEN ANTHOLOGY, the BLADE RUNNER ULTIMATE COLLECTOR'S EDITION, the KINGDOM OF HEAVEN: DIRECTOR'S CUT and many other superb releases. He's as big a fan of TWIN PEAKS as any of us, and he's got some amazing stories of what it was like to put this set together with David Lynch's assistance. Warning for the newbies: we do get into spoiler territory, but you'll know exactly when to switch off the episode (it's when Allison is politely asked to leave the room).
Also, if you're at Comic Con this weekend, you should absolutely attend the "Inside the Making of TWIN PEAKS - THE ENTIRE MYSTERY Blu-ray" panel at 3:30 PM on Saturday in Room 5AB. Lauzirika will be joined by his co-producer Brian Kursar, restoration and remastering executive project managers David Grant and Ryan Adams, and Lucy Moran herself Kimmy Robertson! You'll get to see lots of bonus footage from the set, including glimpses of FIRE WALK WITH ME: THE MISSING PIECES. If you're any kind of TWIN PEAKS fan, you won't want to miss this.
Finally, Allison and I would like to thank the amazing (and tireless) Moises Chiullan for graciously providing us a forum for the show, and for editing our sprawling recordings. Like Clarence Carter once sang about himself, he's not just good, he's the best.
And with that, I'll leave you to our humble podcast.
Garmonbozia,
Jeremy Smith