BY POPULAR DEMAND, NOW PRESENTED IN FOUR PARTS FOR YOUR READING PLEASURE!!!
Also, be on the look-out for more EXCLUSIVE Alex Ross artwork coming soon to AICN, and be sure to visit AlexRossArt.com and catch Alex on QVC Sat., Sep. 9 (check local listings)
Hey folks, Harry here with my ALEX ROSS interview. Before we get into this you should know... this is every word spoken over a two-hour conversation. This has not been sliced and diced... Alex wanted to have the complete conversation so that what he was saying could be heard as its complete thought... not formatted to fit some pre-existing three-page layout. As a result... this is probably going to be the most complete interview with Alex that you'll ever see. Now... sit back, grab some popcorn, descend the page and find yourself as a fly on the wall of our conversation...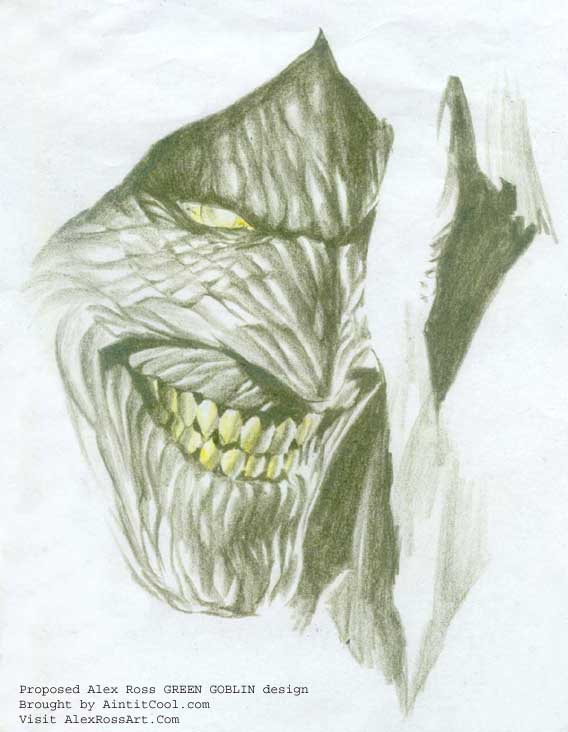 (RING-RING... RING-RING...)
ALEX ROSS: Hello.
HARRY KNOWLES: HEY, ALEX.
AR: Harry, how are ya!?
HK: DOIN' FINE. LISTEN... YOU WANNA DO THE INTERVIEW?
AR: I'm ready to go.
HK: OK, HANG ON, LET ME MAKE SURE EVERYTHING'S... (crash)... AH! LET ME MAKE SURE EVERYTHING'S RECORDING REAL, OK?
AR: Okay.
HK: SAY "HEY, ALEX ROSS HERE," OR SOMETHING LIKE THAT.
AR: Hey, Alex Ross here.
HK: OK. HOW YOU DOIN' TODAY? DOIN' OK?
AR: Yeah, yeah.
HK: SO, BASICALLY, LET'S START OFF BY FINDING OUT WHAT EXACTLY HAPPENED ON YOUR SIDE CONCERNING HOW YOU WERE APPROACHED TO DO SOME WORK ON SPIDER-MAN, HOW THAT ALL CAME ABOUT INITIALLY.
AR: Well, the truth is I was never really approached on Spider-Man, I was approached on Fantastic Four. They called me, asking if I was available to do designs for the movie, as it was supposed to be in production, for FF, and my quote to them at that time was, "What? Am I not good enough for Spider-Man?" So that turned into us talking about Spider-Man. AR: Actually, at first I was dealing with strictly from the Toy Biz, Marvel offices in LA, a guy I've dealt with a couple of times before on some other failed things like he had been - I'm not going to actually name him - but he had been the one to call me and tell me about how they were going to do these Earth X toys and how we were all going to be involved in them. Low and behold, nothing ever became of that. Yet again, another experience where nothing comes of something. AR: In any case, he had mentioned to me at that time that they didn't have a design yet, that nothing was firmed up, that it was still very early in the development of that property. He asked me, sort of meekly, why do I want to be involved. I told him at that point that I had a design, and I was speaking again of my friend's design, that I'd be ready to pass onto them. That turned into him... I guess he passed on to me a number of somebody who was a producer for Spider-Man, but he was going to do some legwork first himself. By the following week, I was taking this conference call out of the blue, where Avi Arad wanted to talk to me. Avi seemed to have a little less focus as to what it is I was actually contacted for doing because he was asking things like, "Are you going to be relocating out here to LA and do storyboards for the film?" I had to clarify, "No, I'm just going to be used as a costume designer. That's the only thing I offer forth at this time and, frankly, that's the only thing you should be bothering me about. You don't need me for storyboards." AR: So, he sounded actually more than a little confused about where I measured into it as far as what I could offer him, but he was very clear on knowing who I was. In fact, that's why I had that conference call because he told me at great length at first as to how he had already been using my stuff for the last however long... he had already been using copies of Marvels to show people in Hollywood what the Marvel properties should be able to look like on-screen. I thought, "Oh, that's a pretty good vote of confidence that they really want me to be a part of all this." He was asking the questions of "Would I be willing to fly out there to meet with Sam Raimi?" Of course, that was something I was interested in. AR: That kind of talk led me to believe that I had the inside track, that I was going to be a favored person. If I got in something before they even had any more time to think about it, I could beat them to the punch and hand over a design that would really... HK: OK, SO AFTER THE CONVERSATION WITH AVI, THE NEXT STEP WAS YOU STARTED WORKING WITH A FRIEND OF YOURS WHO DID SOME INITIAL DESIGN WORK ON IT, IS THAT CORRECT? WHAT'S HIS NAME AND THAT WHOLE STORY? AR: David Williams. Actually, the story really dates back mostly to when David had shown me that design and that's over a year ago in May. In May of 99, I visit his office at Warner Consumer Products and he had one of these things just pegged up on the wall. I reacted very strongly to it. Curious. Like, "What the hell is that? Damn! That is a great simple redesign of the costume. He told me he it was something he was just farting around with to show what he could potentially do with the movie treatment. Where he was able to take it further. I was so impressed that I told him at that time, "If I ever get called about this movie, I'm going to try and push your particular design." I just thought there was none better.

HK: HAVE YOU EVER WORKED WITH HIM ON ANYTHING BEFORE INVOLVING ANY OF YOUR BOOKS OR ANYTHING? AR: Yeah, actually, he contributed some designs on Kingdom Come. He helped me out on some of the Batman stuff, trying to design the armor for Batman. I'm trying to think... did he have anything to do with Marvels... maybe... I don't know. Actually, I even threw a character into the background in Kingdom Come that was based on him. He's somebody I've been friends with for a very long time. He's one of the most talented artists I've ever known. He just came into play where... he can design some very nice, very simple... just getting to the heart of a certain costume design. In fact, I'm going to be collaborating with him on future designs of my own for creating our own characters because he has a strong sensibility that's very much like mine. HK: SO, YOU SAW HIS EARLY PRE-DESIGN WORK, YOU HAVE THE CONVERSATION WITH AVI, THEN YOU BEGAN WORK ON SOME PAINTINGS OR DESIGN WORK THAT YOU DO?

AR: Yeah. Basically, I took what he had drawn, the exact same shots, and basically painted them up in very simple 11x17 shots, one of which was like a phony movie poster where you see Spider-Man sort of straddling the edges of a sort of rectangle composition where you're just getting the torso, but it points out to you the high impact of the character. You see the mask as it classically appears, you see the chest area mostly the same way, very large, graphic spider image on the chest. You see no belt because the abdominal shape of the red points down into the abdomen, just ending there without creating a belt going around the body. That was the thing that impressed me the most. AR: The second thing I was most impressed with was the fact that the eyes were in fact black. They were completely without a white/black separation, but in fact were just curved, black lenses that gave off white highlights, therefore creating an illusion that seemed to be highly reminiscent of the classic costume, but at the same time going into a more future, a more movie-like presentation of the character and even more appropriate to the whole bug aspect to the character. HK: THAT SORT OF BRINGS UP THE WHOLE... WHY IS THERE EVER A NEED TO REDESIGN, SAY, CLASSIC CHARACTER COSTUMES? AR: I think, if you think about it in terms of real cinema, people have no reason to understand why a person who suddenly reaches a certain fantastic science-fiction ability is going to turn around and want to garb themselves in some kind of colorful, attractive disguise. AR: In the case of Superman, it seems to be something that's so ingrained in his history that it leads up to this costume. Superman is the mold from which all else comes from. But without establishing a superhero universe for which there has been decades of previous costume wearers, there's no understanding for the average person to why somebody just, in one single movie, where there's no other superheroes acknowledged, they just suddenly decide, "You know what I need? Spandex!" That's why most superhero movie properties on their own are going to have to be redesigned because the costumes don't work outside of the established universe that they're a part of. AR: Furthermore, also, there's the fact that there's no reason that a person would genuinely have to be driven towards having a costume in every case. I think X-Men is proof of that. You didn't need the costumes to define the characters. In the case of characters like Superman, Batman and Spider-Man, those costumes are completely intrinsic to the mythology. You can't have the character without a costume of some type. Now, does it have to be that exact costume? Not necessarily. With Superman, I think it's like the American flag. You can't fuck with it. Batman, you can and they did and it worked well enough that nobody questioned... in fact, they made it seem all the more tangible when it was a leathery hide. So, it put it in a different spot where it wasn't just Adam West out of shape wearing a spandex outfit. It moved it in a new direction. AR: In the case of Spider-Man, there's a whole thing to bring up in terms of what is the texture of the material he's wearing? And again, why is he wearing it? HK: I ALWAYS ASSUMED THAT IT WAS BECAUSE HE WAS INITIALLY WANTING TO BE LIKE A PROFESSIONAL WRESTLER, THAT'S WHERE HE KINDA STARTED OFF. AR: Right. And if you really go back to that origin, which I wish they would in this film, and play up the fact that really at the time when they created him, in 1963, they intended him to show up on the Ed Sullivan show. Imagine this guy, entirely driven for the sake of entertainment. That's why he would have such a colorfully absurd costume. That just stuck as far as the super hero aspect of the character, when he decided to become a crime fighter. HK: YOU DID SOME INITIAL SPIDER-MAN DESIGNS AND THEN I'VE SEEN IN THE MATERIAL YOU GAVE ME YOU DID A GREEN GOBLIN EARLY DRAWING. WHAT WAS BEHIND THE GOBLIN DESIGNS?

AR: The Goblin was the one where they actually told me, "We have no idea what we want to do with the character. We want to completely do it as something that gets away from what the comics have shown us, with the purple and green suit and everything." They were thinking they wanted to go into something more, like a physical transformation, like that actually is his skin when he becomes the Green Goblin. I started thinking of stuff much more Tolkien-esque where you have a character that kinda looks like a distorted gnome or something. I mean, nobody really knows what the hell a goblin is supposed to have to be. It doesn't necessarily have to involve long ears, a long pointed nose or anything. It's not distinct enough, so you can actually mess with it about where it can become any kind of disturbing looking creature. AR: So, I mostly wanted to go for something that was like a wrinkled skin, that seemed to be not naturally wrinkled of age, but more like a leathery texture, like a snake or a... oh, I don't know... just like a distorted prune face of a sort. I thought this actually would be a very simple makeup effect via Hollywood's normal standards. Giving him extra weaponry, which they already told me they really don't wanna have him with the pumpkin bombs. Well, you know, maybe moving into a little bit more into that Hawkman territory where he's using more classical weapons of old, like a mace or a sword or a spear. Something where he seems somewhat archaic. Again, more like a monster figure. HK: VERY COOL. SO, YOU DID A REDESIGN ON THE GOBLIN AND SPIDER-MAN AND YOU ALSO DID SOME WORK ON THE GOBLIN GLIDER, IS THAT CORRECT? AR: Yep. That one where they didn't tell me much of anything and I just figured, "OK, well that's another thing they gotta have figured in here." One physical limitation I thought about is, "How the hell does a guy stay upright on this thing?" To the best of my understanding, it could be more like a jet ski, where there's a handle bar to hold onto, just dressing that up in a more fantastic way where it looks still fairly creepy and imposing.

HK: SO, IN ALL, HOW MUCH WORK DID YOU DO ON THIS LITTLE PROJECT? AR: Oh, I don't know. In truth I probably spent a total of six or seven hours with all the differently colored pieces... probably more actually. Maybe ten to twenty hours. I knocked through these fairly quickly. I mean, there was maybe three pages of Spider-Man stuff and the one spread of Green Goblin that I did. I did multiple shots of Spider-Man from different angles, trying to make him look very photographic, then a full body shot in color of him standing in front of a logo I did up. Of course, I didn't know they had a logo done up already for this film, which we can't say for certain that's gonna be the one that makes it all the way to the end next year, but at least it gives them something to work with right now. I was trying to think of something more elegant, that I thought wouldn't necessarily have to scream spiders and webs and that kind of stuff. As far as to what kind of approach the film will finally take, I have no idea if it's going to be an elegant or inelegant Spider-Man. HK: ONE OF THE OTHER THINGS I NOTICED WAS YOU ALSO WROTE LITTLE NOTES WITH THE DESIGNS TO GIVE BASIC RULES TO THE ADAPTATION OF THE CHARACTER. TALK A LITTLE BIT ABOUT THAT. AR: Well, I had pointed out to them most harshly the thing I'm most concerned with, what's going to be recognizable of the character. There are certain things you don't wanna mess with and in Spider-Man I think the greatest thing is the exact arrangement of the webs on the guy's mask. You can start to interpret it in such a crazy wild way that the stuff is like some of these designs that we saw leaked out where it's almost bump mapped where the skin looks like a lizard like texture because they decided those web lines were impressions in a kind of spongy costume substance. AR: There was painted version of the character that the Hildebrandt Brothers did on a number of different trading cards where they showed the web line as being like a raised relief on the costume, which potentially could work because it still works with the idea of it being the webs are the thing, not necessarily the red is the thing. I think it works all too simply to just have the simple black line over the costume. You've also got to think also at some point this is a costume that a teenager made. I think the design I did, for whatever high tech thing it might appear to be, it is fairly simple and somebody could come up with it on a modest budget. AR: Really, what I wanted more than anything else was the character to come off on film looking like the way John Romita had handled the character. HK: YOU ALSO SORT OF POINTED OUT HOW FOR A POSTER THEY SHOULDN'T BE FOCUSING ON THE CHEST, BUT THE EYE. TALK A LITTLE ABOUT THAT. AR: Yeah, well, that's the thing. If you think about icons, the symbols of characters like Batman and Superman are definitely extremely recognizable things, but then when you get to a character like Spider-Man, nobody is going to pick out a spider out of a line-up and go, "Oh yeah! That's gotta be for Spider-Man." For one thing, the spider has always changed based upon the artist drawing the book, so it's never been a wholly consistent item. AR: His face is the most recognizable thing of him. Even though, like I said, I'm doing this thing here where the eyes have been made into something they normally are not, they still wind up being highly recognizable by classic terms. So, I thought the idea of actually doing a poster closing in on the face alone, just the eye, one single eye would be enough to really click it in and keep it a little bit more mysterious. In fact, if they had really worked with that design, which they may still, they could have shown reflections in this black lens of God knows what. I mean, it could be the city reflection, it could be the Green Goblin. Obviously, it invokes the Marvels #4 cover that I did, but I think it has legs to go to greater media.

HK: OKAY, SO YOU GET THE WORK DONE, WHERE DOES IT GO FROM THERE? AR: I've never sent them originals, I sent them a zillion different copies of the same material, so they had multiples to hand out to different... HK: AND WHO DID YOU SEND THOSE TO? AR: I sent them to Marvel. Marvel in LA, the only ones I had been talking to at that point and this is all still proceeding before the Fantastic Four people had called me up and talked to me about that production. Again, I had this logo done up in a way that was meant to look very elegant as well, so it was a nice little package. I figured I didn't need to write anything more than the notes that were already on there. AR: I did not get a call back from my friend at Marvel to let me know he had gotten them. I had to chase him down on that. Maybe another couple weeks went by or maybe a month went by before I contacted him again to find out, "Okay, anything happening yet?" I was basically just getting a stone wall of like, "Well, haven't heard anything. Let me check. I know everybody got the stuff at Sony." That's what I was told, that Sony had received the package of what I had done. At that point, I'm still not told anything officially that there have been other people involved in doing designs. I could only assume that there had been other things going on. AR: Again, I was still under this delusion that I had gotten in on the ground floor, before too much had been developed. Realistically, by the time I'm actually pursuing them on this issue, it's a good two months later and I haven't heard anything concrete. Then I start talking to some people where they're hearing different things and rumors, scuttlebutt. My friend David Williams is checking online for different stuff, hearing things from different places. It's literally getting us very worried that we didn't accomplish a damn thing. AR: So, when I'm chasing down the guy at Marvel, he doesn't have a damn thing to tell me and he's getting stonewalled in terms of hearing back from producers of the film. Then I'm starting to hear too much about different artists having been contacted to do designs of characters and what not all. So, I eventually am kinda putting the demands to the guy, like, "You have better tell me something soon." I did not receive money for this work, nor was I told concretely "You should get started and do something." I was encouraged, but I was not told, "We are commissioning this from you. Do this thing." Marvel is completely, legally in the clear. Ethically, I think that they're fucked up, but legally in the clear. HK: IT'S SORT OF LIKE NIXON'S DIRTY TRICKS SQUADS. THEY DIDN'T IN SO MANY WORDS SAY "BUG THIS PLACE OR BUG THAT PLACE," THEY JUST SAID, "IT'D BE NICE IF WE UNDERSTOOD WHAT WAS GOING ON OVER THERE." AR: Right. The way I feel about it is I don't need to try to squeeze some kind of dollars out of them, to get paid for what time I had spent, which is possible if I had gotten in there to try to negotiate that point, but it would have been a lot of work over very little. Ultimately, I was coming to find within the last several weeks that basically what I had done was completely ignorable in the larger scheme of things. They had hired this big name costume designer, which I have no familiarity, that to the best of my understanding... Well, I wasn't getting this from Marvel, I was getting this from you, that they just didn't know who the hell I was or that I had done anything at all. Nothing was pointed out to them by the wonderful Avi Arad, so I don't know what happened with the stuff when I put it out there, I can only be certain that not a damn thing could really come from it. HK: SO, THIS IS SORTA THE SAD TALE OF WHAT'S BEEN GOING ON WITH YOU AND SPIDER-MAN. (mumbles) stories (mumble) or. HK: DO WHAT? AR: There are similar stories from things before. Like I have a whole Batman & Robin story of the same type of thing...