Ahoy, squirts! Quint here at yet another San Diego Comic-Con. This marks my 14th year at the Con, an event I've seen grow in many painful ways. Painful for me, professionally, but wonderfully as a cornerstone of geek culture.
It's easy for press folks to get cynical about the convention. I've fallen into the trap myself. We're here to do a very specific job that requires us to be at specific places at specific times (specific enough for you?) and the bigger and grander the Con gets the harder it is for us to be able to do that.
That said, this year is shaping up to be a pretty low key Comic-Con movie-wise. However you couldn't have told that from the incredibly packed preview night. I was able to squirrel my way onto the floor before the doors opened. All the good shit was still covered up, so don't get all excited about super exclusive leaked images. If you've ever been to SDCC, this practically empty floor will freak you out: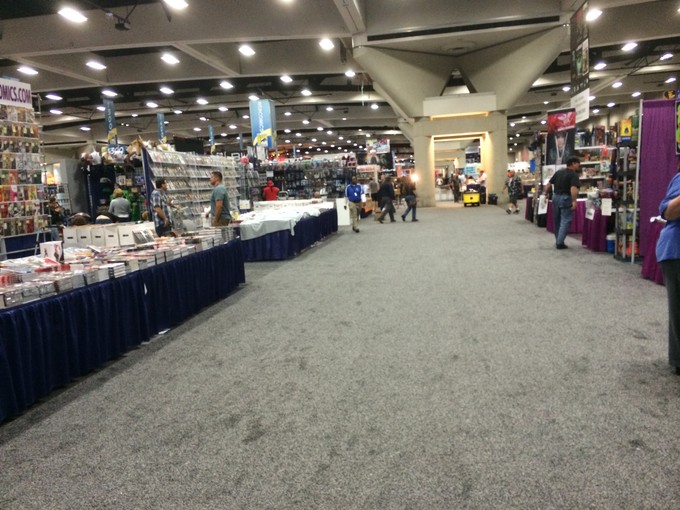 The floor isn't really a place where they reveal things anymore. I remember back in the day you'd see your first poster for a big movie there or some footage running on a monitor. I vividly recall seeing a Sony booth with a video of Sam Raimi from the set of Spider-Man talking about shooting the movie that played on repeat.
Nowadays, the big reveals are saved for Hall H. I'll be spending my fair share of time there, but I still managed to go around the floor of the San Diego Convention Center with my trusty Kraken at my side, snapping pictures of shit that caught our eye.
So, below you'll see a bunch of pictures from the Weta, Sideshow/Hot Toys and Mondo booths as well as some cool stuff from around the floor.
While there is good geeky statues, toys and stuff to share, I must start with a little experience from the folks at Legendary and Universal regarding Guillermo del Toro's Crimson Peak.
Last year they blew the roof of the Con with their Godzilla Experience in which you walked through a warehouse converted into Tokyo, go up an elevator and end up in a room that was rigged to make it appear as if the big green monster was attacking San Diego out the windows. The sheer size of the experience was impressive. This year they were confined to their maybe 20x30 foot booth.
The event was two-fold. One side of the booth was a closed off curtained room guarded by Haunted Mansion-esque butlers.
The other side was set up for some sort of Pacific Rim Oculus Rift experience. Let's start with Crimson, shall we?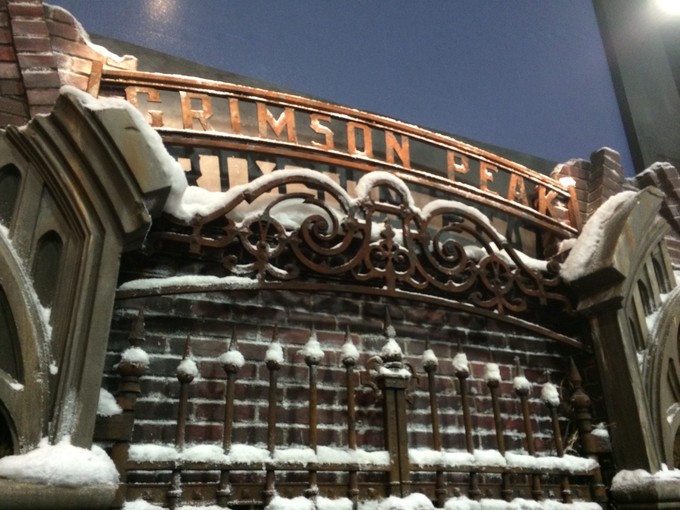 We were escorted inside in groups of three. Apologies in advance if these pics are super dark. It wasn't exactly the most immaculately bright place on the Convention Floor. The first thing to greet us was the painting of the matriarch of the main family in the story.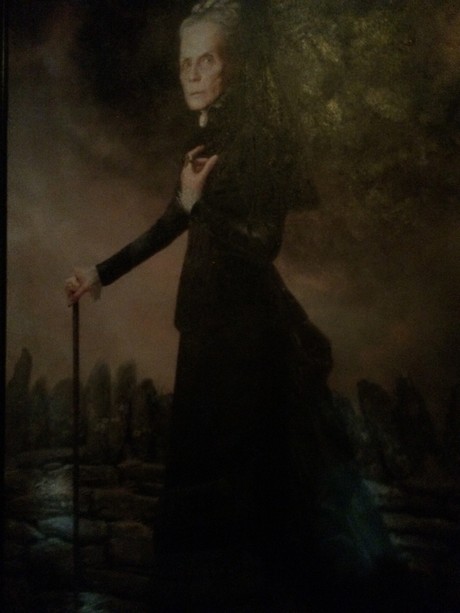 Yikes! Next thing we all saw was Guillermo del Toro himself, who welcomed me with a hug and a cry of "My son!" (We look remarkably like each other, FYI. Now that makes sense, right?) before rapid-fire talk about the themes, props and set dec of his gothic romance film, Crimson Peak.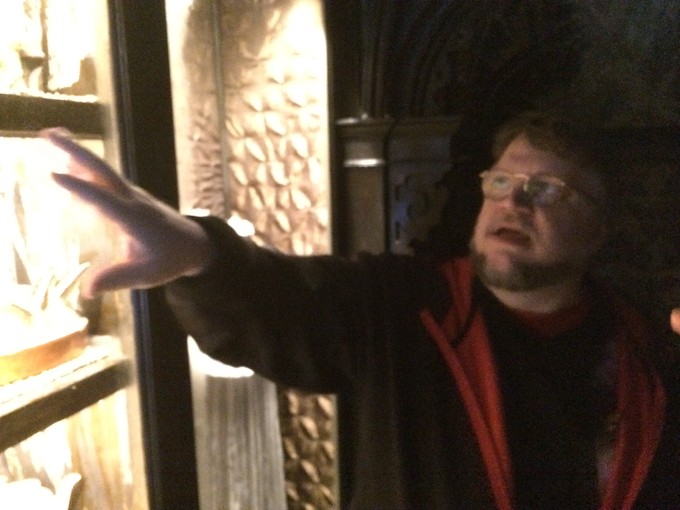 On one wall was some really messed up wallpaper, on the other was a beautiful Victorian era cabinet of curiosities housing some interesting props and wardrobe from the movie. Let's see it: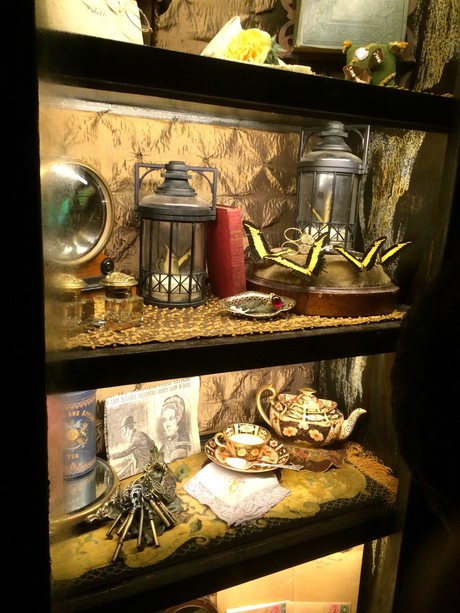 Notice the butterflies. They are a strong motif throughout the film. Guillermo even went as far as putting their designs subtly in the wallpaper of the titular character, the old dark house known as Crimson Peak. This is super dark, but hopefully you can see the wallpaper (again, very Haunted Mansion, by the way, although he swears up and down that his two properties share very little in common).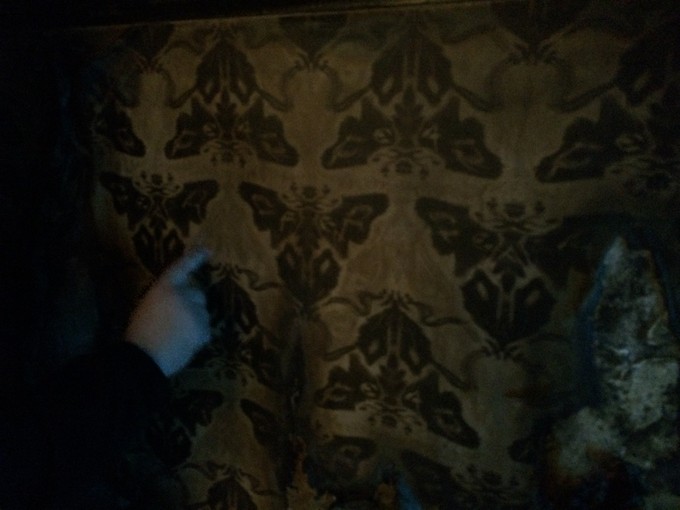 He was also quick to point out the ring, which "plays a big part of the story," and then he leaned over and pointed at a rather blood-stained knife.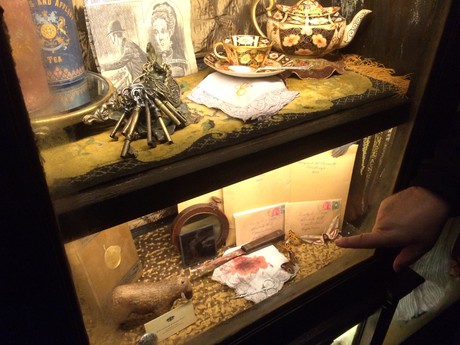 Something not so good is going to happen with that knife in the movie.
It should also be noted that Legendary's peopled opened up this tiny hallway by using LCD TVs to represent broken boards, starlight shining through. See: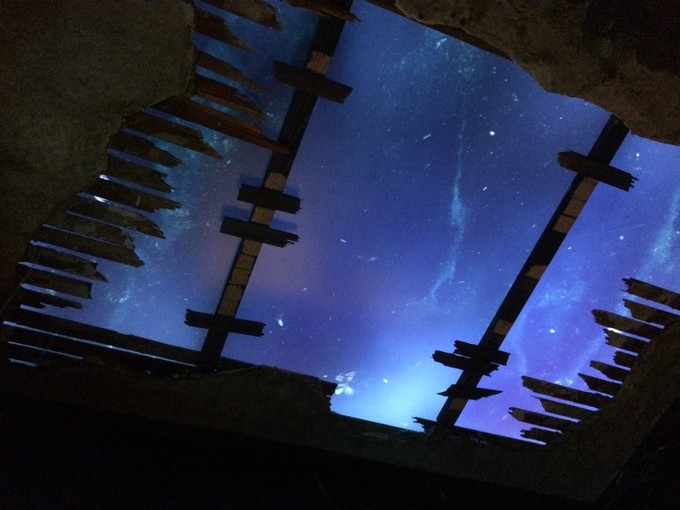 Cool, right?
When we were done in there, Guillermo greeted the next batch of nerds and I was off to have my very first Oculus Rift experience. If you don't know what Oculus Rift is, think Lawnmower Man technology and you're close. It's a Virtual Reality rig that you wear like goggles and some nifty headphones that complete immerse you in a digital world.
This particular world was Pacific Rim related, where you get to be one of two Jaeger pilots as they fight a Kaiju. The crazy thing is the world is fully built. You look down at your feet and you see the hell of turning gears. You look to your left and you see the inside of the Jaeger's head. Look to your right and it's your co-pilot barking instructions at you. Then Knifehead shows up to ruin your day.
Gotta say it's pretty neat. The bit ended with a promise that Pacific Rim and Oculus Rift were going to put out some kind of game by 2017. The Oculus Rift people at the booth wouldn't say when we can expect these devices to end up in gamer's hands, but I did stress that I needed one... strictly for review purposes, you understand. Ahem.
The experience is open to the badge-carrying public (probably sans Guillermo, but still worth doing anyway) starting Thursday. So, if you're at the con, swing by Legendary's booth and give it a try.
Before we leave Legendary, they also unveiled the Warcraft logo (which you've seen in high def by now) and proudly displayed some props from Duncan Jones' film.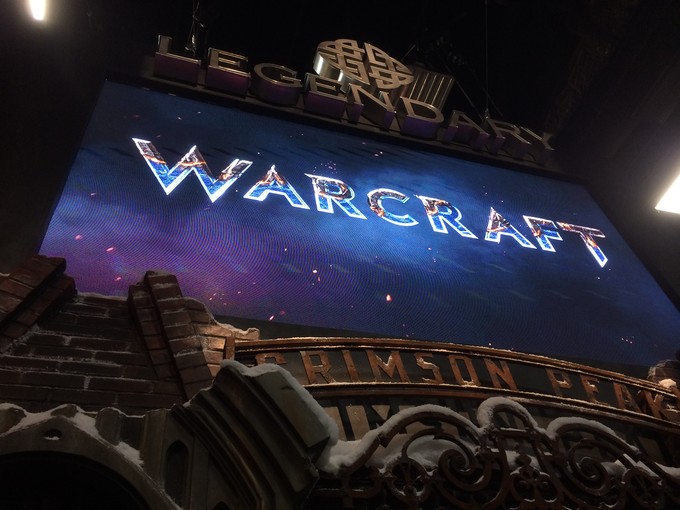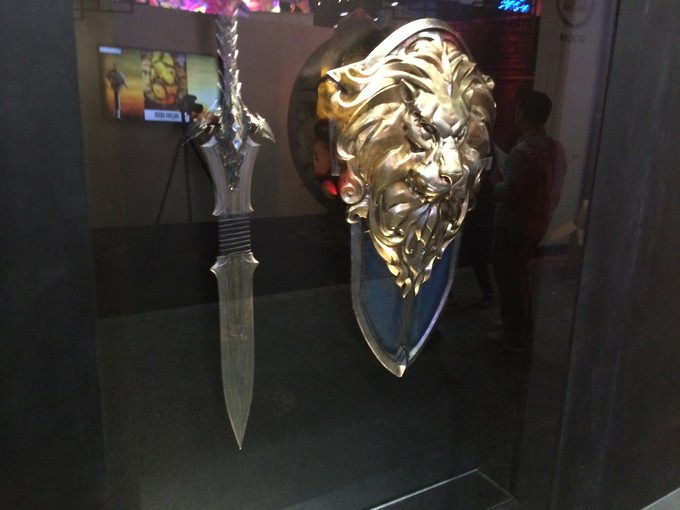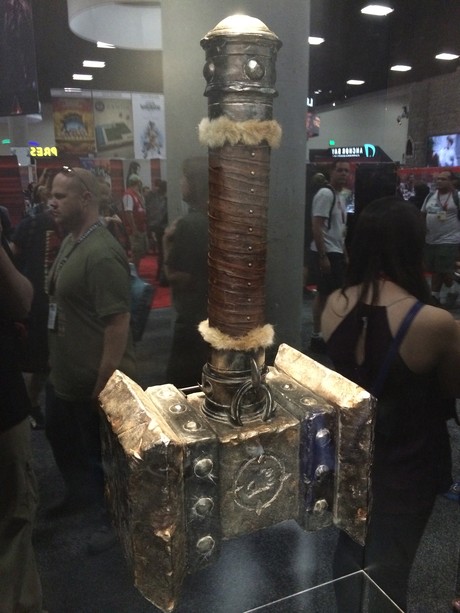 Right next door was Weta's booth, which had a rather impressive Smaug watching over things. His eye would open, scope things out and go back to sleep. How cool is that?!?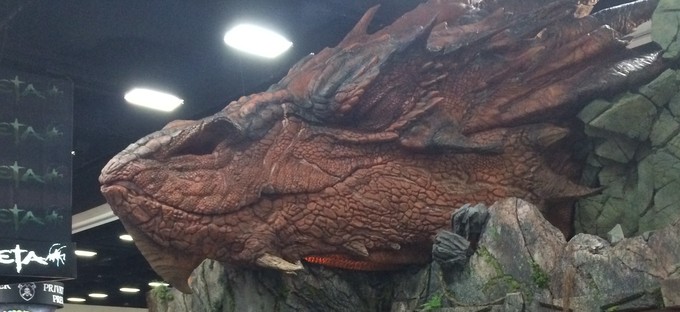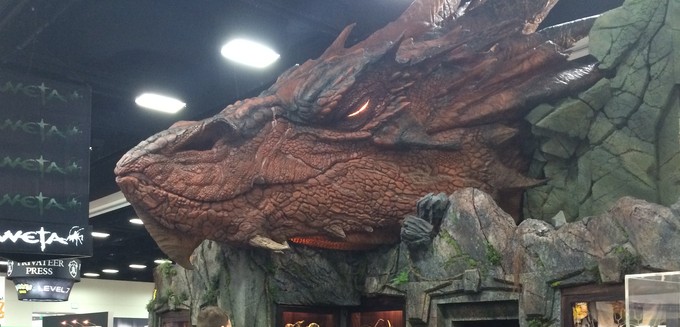 If you haven't had enough of that nasty dragon, how about this impeccable statue: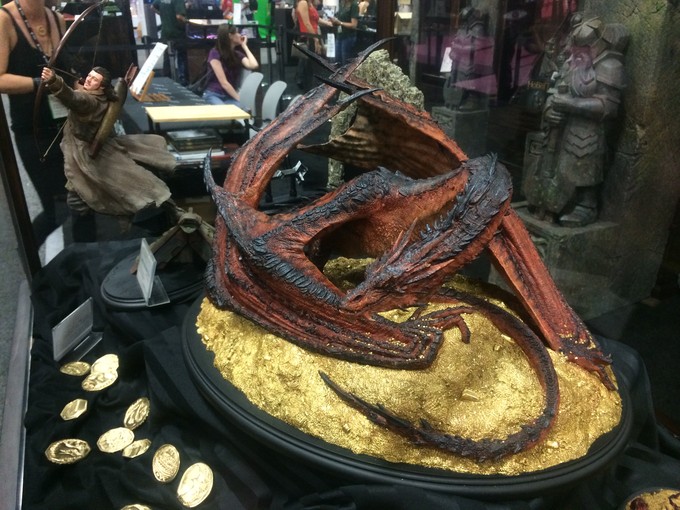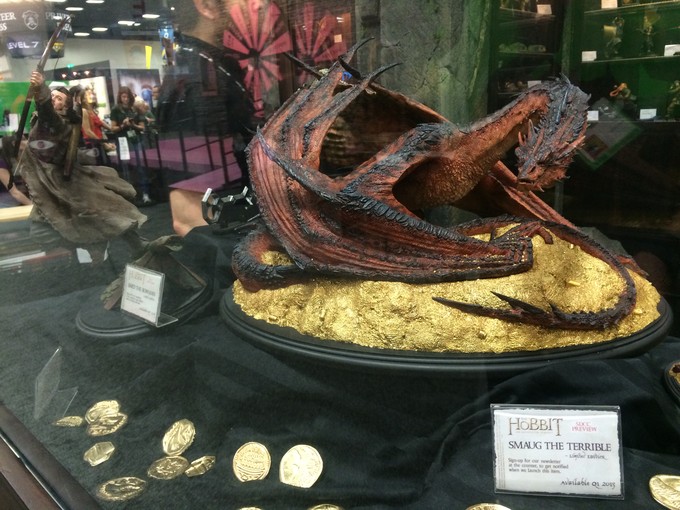 I wandered around a bit before I found my next super stop. Check out this crazy amount of Stormtroopers: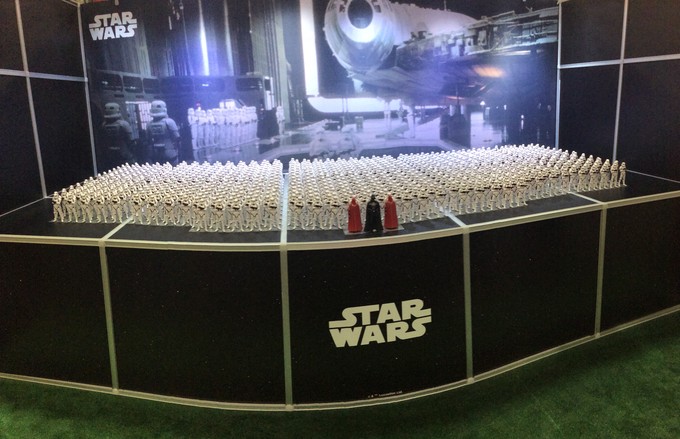 I also happened to find Rocket Racoon's ship at the Marvel booth.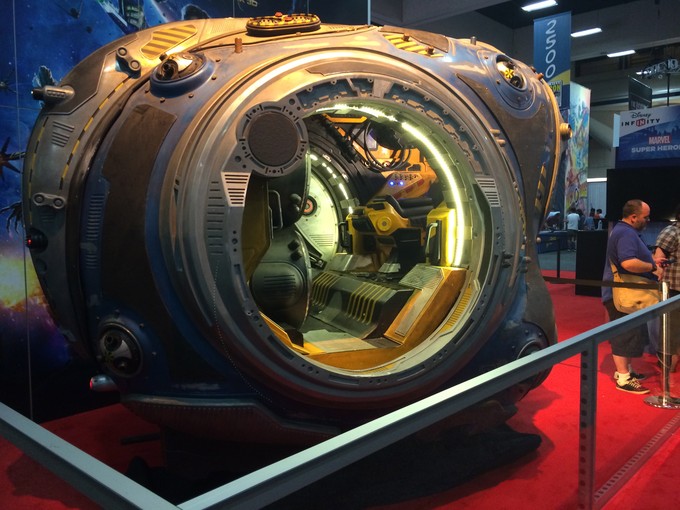 Next stop was Sideshow for my annual freak out that I don't have a bazzlion dollar bank account to empty out for all the cool shit I want. Since we just left Rocket's ship, I figured it'd be nice to stop and see if there were any miniatures. Hot Toys had my back.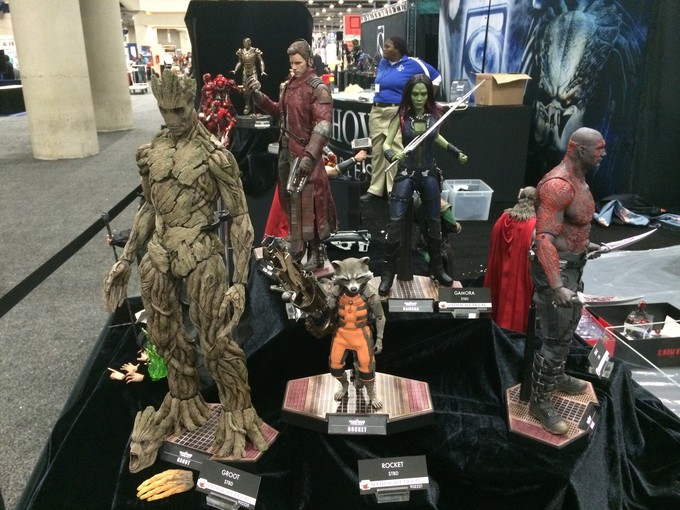 Speaking of Hot Toys, prepare yourselves. We're going to see a few of them. Did you guys see that Marty McFly they did a big press release about today? Amazing-looking, right? Well, I saw it in person and it's too cool. That DeLorean? It's sixth scale and massive. Easily two feet long, with working headlights, a dash that lights up and a blinking flux capacitor! There's no photo that does it justice, but I will say that it must be mine, even if I have to miss a mortgage payment or three.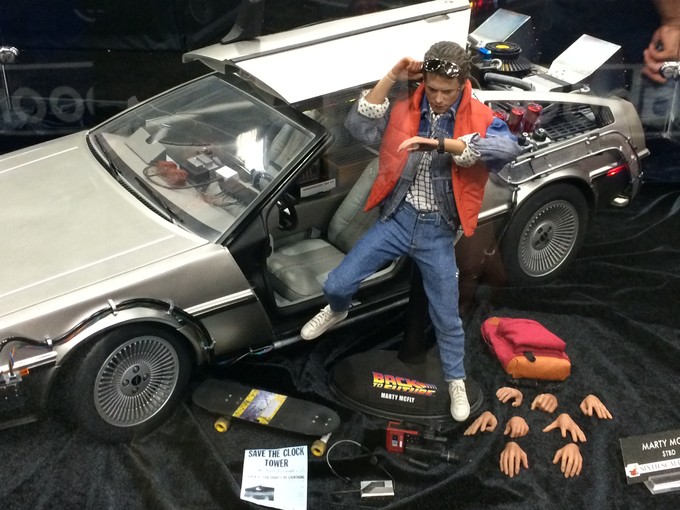 Another interesting vehicle pairing for Hot Toys...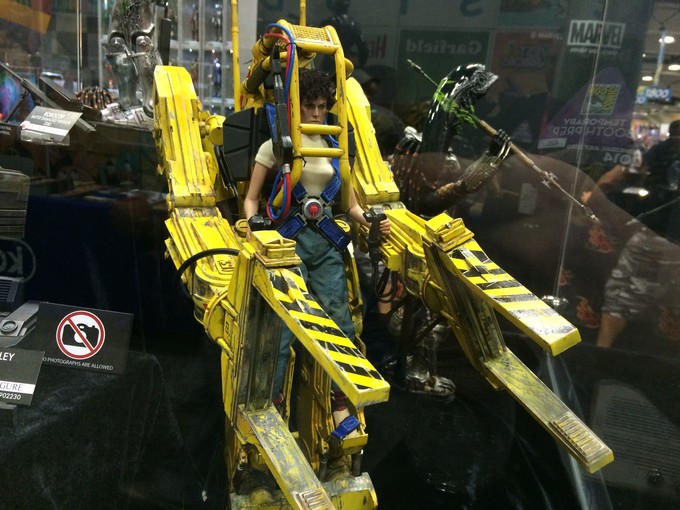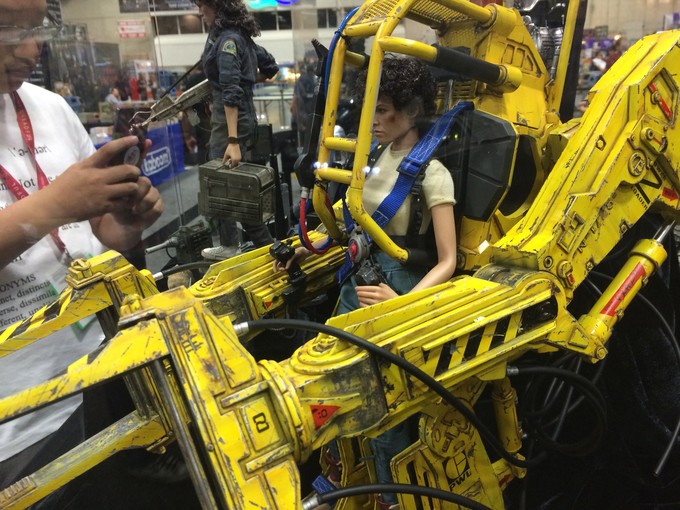 If you prefer your fake doll women a bit younger, then you might like Alien Ripley: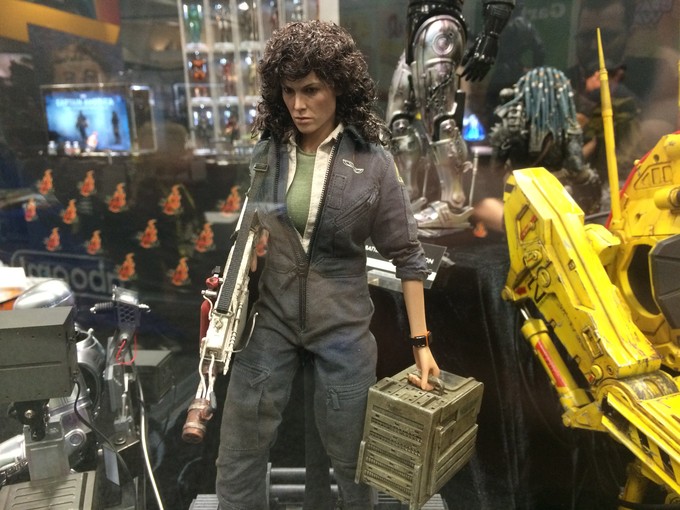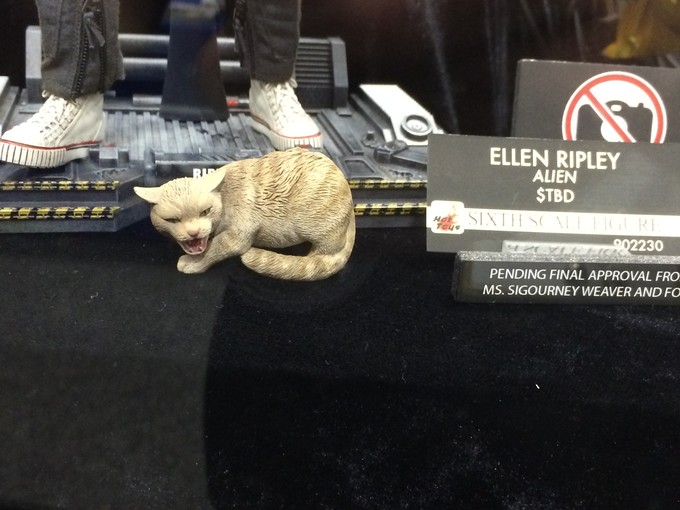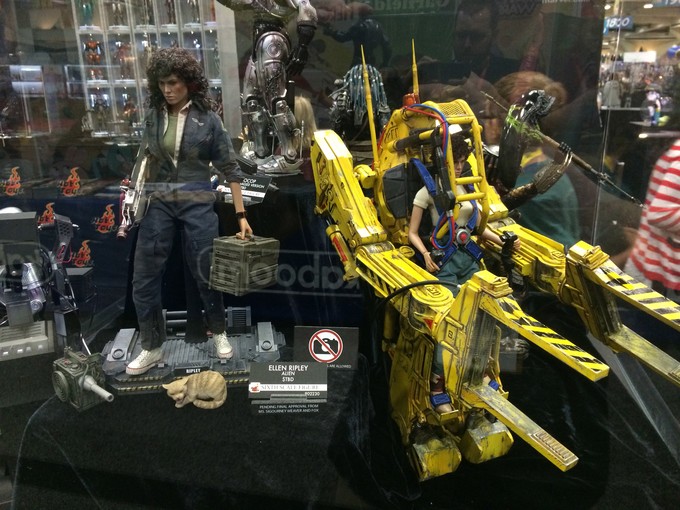 If you don't think any of those are cool, then you should go to hell! And this Legendary scale statue from Sideshow will help you get there.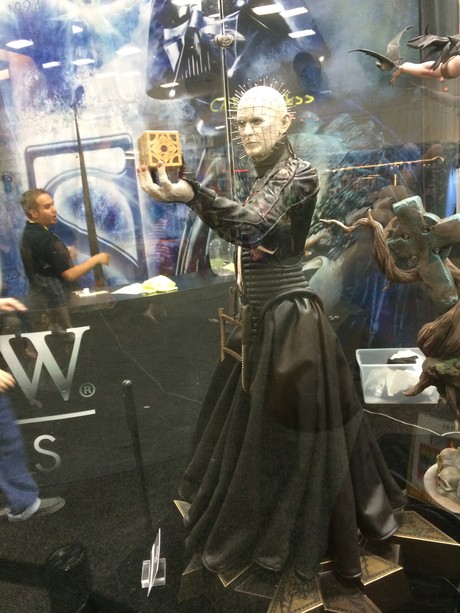 The last big booth I'm going to focus on is Mondo. They're known for their posters and their popular LP line. Both were represented, but they also recently announced a new line of limited edition collectible toys, including an awesome, customizable Iron Giant, a Mike Mitchell inspired "Lil Mikey" Ninja Turtle, a B/W Eastman/Laird Ninja Turtle, some Mouser droids and a sixth scale Alfred Hitchcock.
None of these have prices yet, but the plan is to do a pre-order on each item that lasts for a limited time and once that window is up, they only make as many as the pre-order and if you didn't get one then off to ebay to get a jacked up price version!
They're also beginning to produce Disneyland-ish pins. I do that pin trader thing when I go to the park, so I'm kind of pumped about this. Below you'll find images of their toys, Batman the Animated Series 7" vinyl soundtracks, pins and the posters that dropped today, including a really badass Cesar Romero Joker.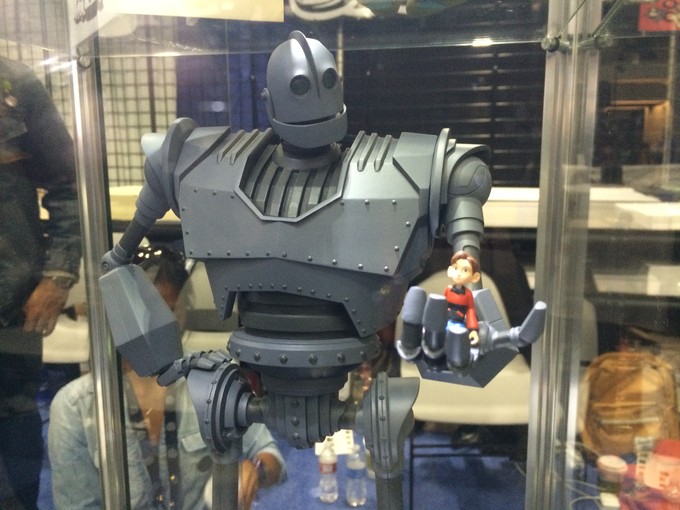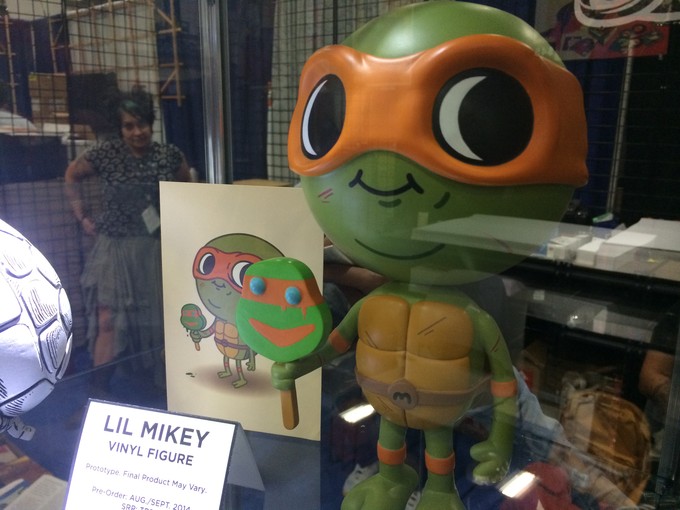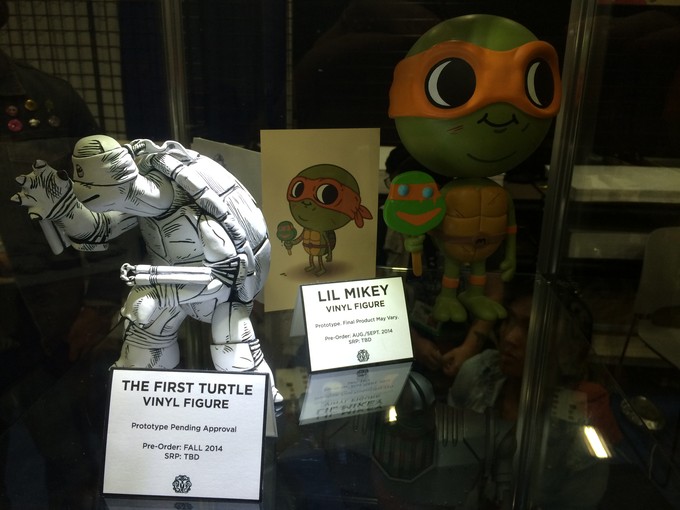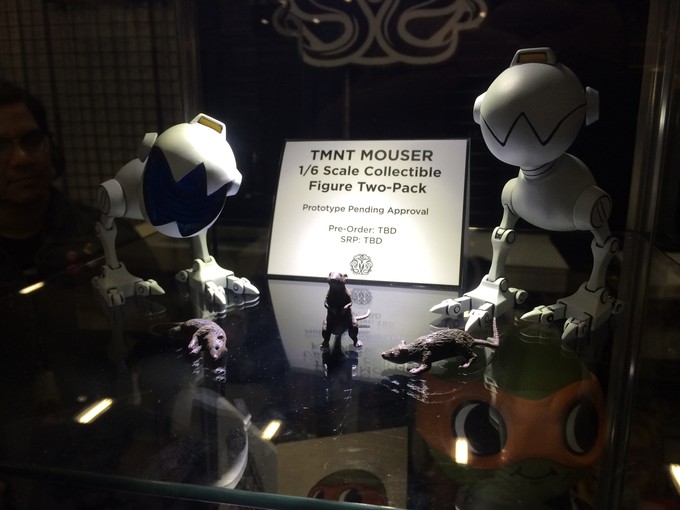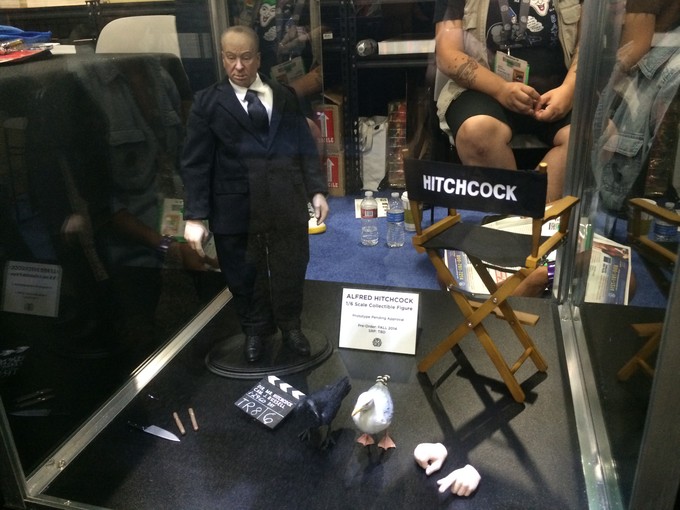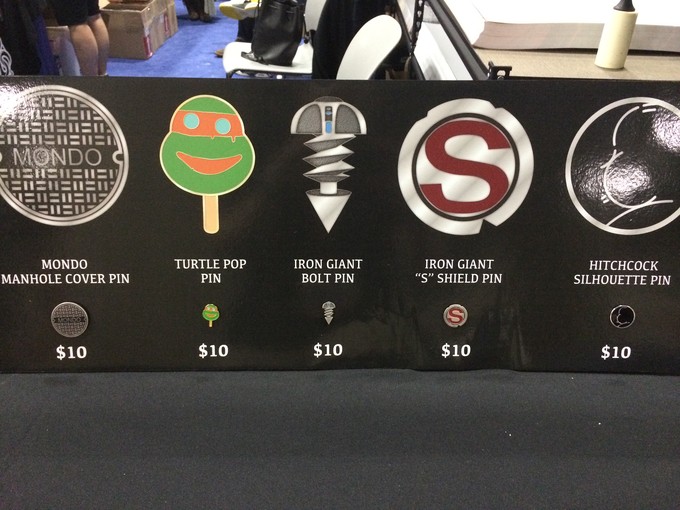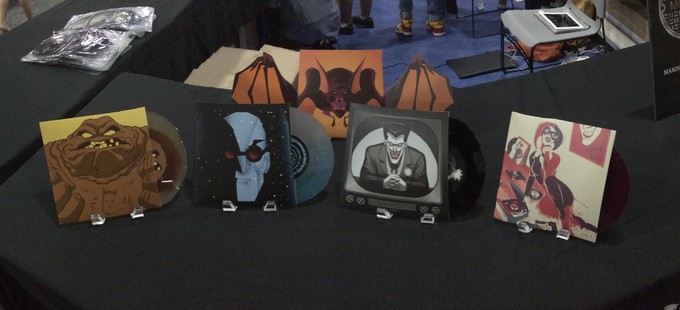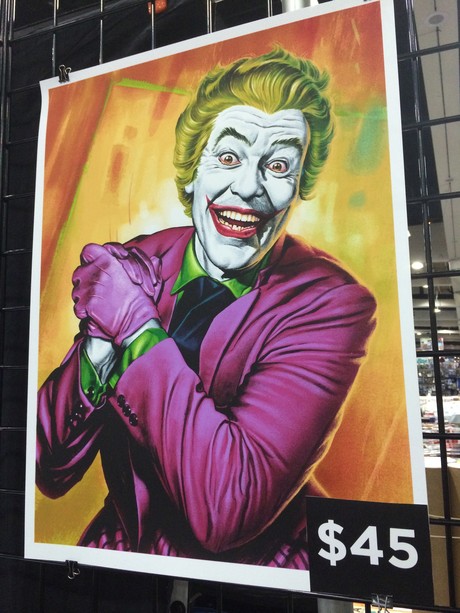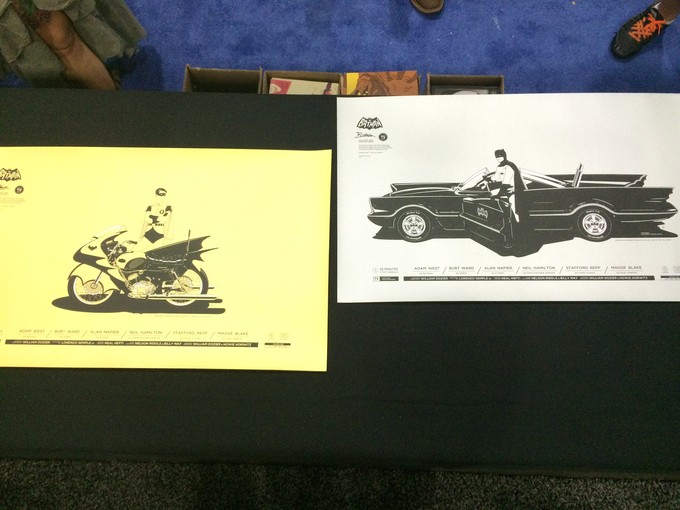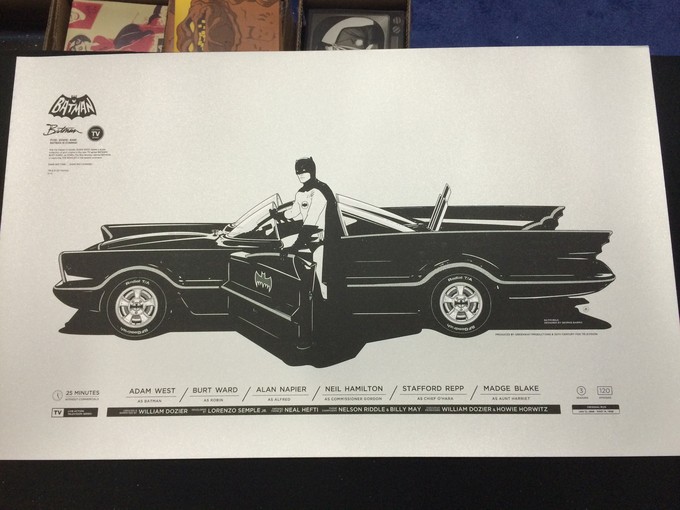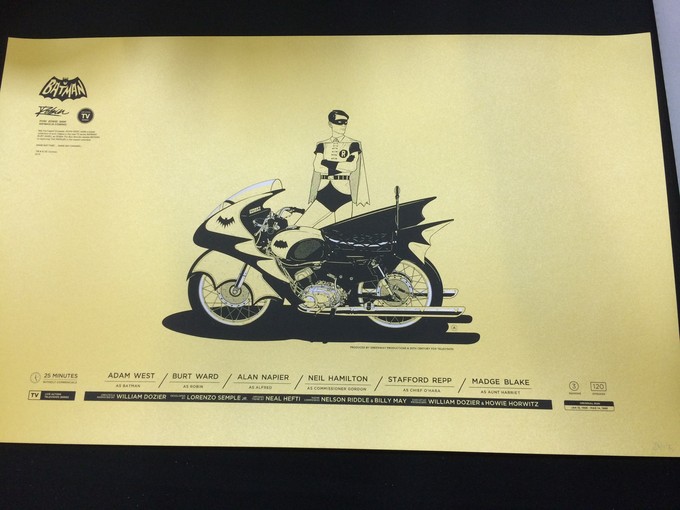 That's all I got for you from preview night. There's a ton more that happened and was out there, but that's what my Preview Night was like. Tomorrow is a full day of interviews and panels, so stay tuned. Make sure to follow me on Twitter to get my immediate reactions to early footage and other random geekiness encountered at the San Diego Comic-Con this weekend.
Now I'm tired and I wanna go to bed. And that's exactly what I'm gonna do! See you for my continuing Con coverage!
-Eric Vespe
"Quint"
quint@aintitcool.com
Follow Me On Twitter