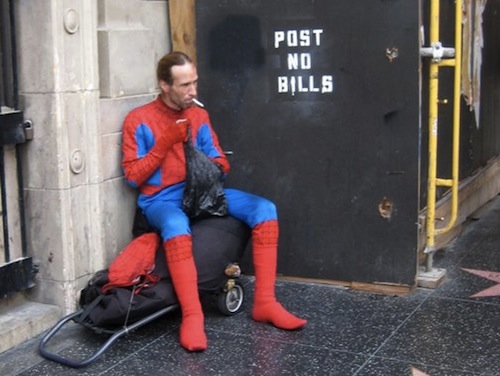 Jeremy here...
Unbowed by the disappointing $706 million worldwide gross of THE AMAZING SPIDER-MAN 2 (the lowest take in series history), and the disconcerting fact that the rebooted Spider-Man franchise is, box office-wise, on a downward trajectory in general (while budgets are soaring to new heights), Sony has decided to double down on their folly by announcing new release dates for THE SINISTER SIX and THE AMAZING SPIDER-MAN 3.
First up, theoretically, will be THE SINISTER SIX, written and directed by the immensely talented Drew Goddard (CABIN IN THE WOODS). The new release date for this villain-centric spectacular is November 11, 2016, which places it between Fox's TROLLS (11/4) and WB's FANTASTIC BEASTS AND WHERE TO FIND THEM (11/18). Now that Alex Kurtzman and Roberto Orci have vacated the Spider-Man franchise, there is reason to hope that Goddard will be allowed to do his thing and, perhaps, reconfigure the series' narrative arc. There is, unfortunately, also reason to dread Sony executives and producer Avi Arad noting the movie to death as they did with the last two installments. And then, on a practical note, there's the scope of the film, which will almost certainly be scaled down to give the film a better chance at turning a profit (remember, kids, exhibitors get roughly half of that box office gross). So you'll have six villains you currently don't give a shit about - at least in their cinematic incarnation - going on a cost-saving adventure!
As for THE AMAZING SPIDER-MAN 3, Sony has scheduled that for release in the far off land of 2018 (after initially targeting 2016), by which point we'll have fought World War Whatever and nuked half the planet in the process. If, however, the postwar global economy can still support a $200 million-plus Spider-Man movie, you'll have a much-less-boyish Andrew Garfield donning the spidey suit to finish off this trilogy of imbecility. Remember that when you're hunkered down in a fallout shelter.
In all seriousness, do I think we'll see THE AMAZING SPIDER-MAN 3 four years from now? Connected to this current iteration of the character? Not a chance in hell. And I'm still doubtful that they'll actually make THE SINISTER SIX. Basically, Sony bought themselves a year to figure out what to do with a faltering franchise. If they don't want to start all over again, they can do a lot worse than to give Goddard the keys to the entire Spider-Man universe and let him try to salvage it.