Hey Yo, Draven here.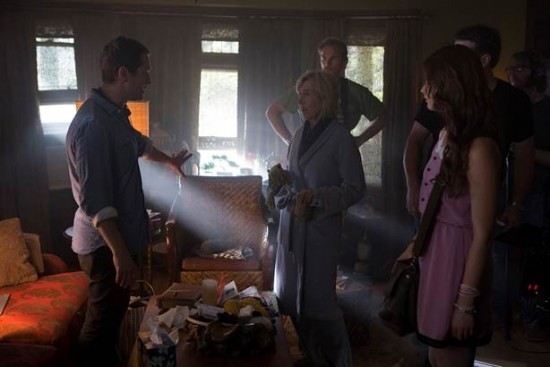 As production begins on INSIDIOUS: CHAPTER 3, we finally have some details on the storyline that the sequel will follow. It turns out that this third chapter will actually be a prequel to the first two films and will feature new main characters played by Dermot Mulroney and Stefanie Scott along with Lin Shaye, Angus Sampson and writer/director Leigh Whannell reprising their roles from the first two films. Focus Features has also set up a contest that gives you a chance to win a visit to the set of the film. Here are the full details:
Focus Features, Entertainment One (eOne), Sony Pictures Worldwide Acquisitions (SPWA), and Blumhouse Productions announced today that Insidious: Chapter 3 has begun production in Los Angeles. Leigh Whannell, co-creator of the terrifying horror franchise, is writing and directing the new movie.
To commemorate the start of production of the series' newest chapter, Focus is launching a sweepstakes on the official Insidious Facebook (www.facebook.com/InsidiousMovie) and Twitter (www.twitter.com/InsidiousMovie) pages. Insidious buffs and fans will have the chance to win a trip for two to Los Angeles to visit the set of Insidious: Chapter 3. The contest begins on Tuesday, July 22nd, and ends on Friday, July 25th. The contest's complete official rules can be accessed at www.focusfeatures.com/article/insidious_set_visit.
Insidious: Chapter 3 stars Dermot Mulroney (of August: Osage County) and Stefanie Scott (of Blumhouse's upcoming Jem and the Holograms) alongside Lin Shaye, Angus Sampson, and Mr. Whannell, with the latter trio reprising their roles from the first two movies in the franchise.In Insidious: Chapter 3, a twisted new tale of terror begins for a teenage girl and her family, predating the haunting of the Lambert family in the earlier movies and revealing more mysteries of the otherworldly realm The Further.
Focus Features will release Insidious: Chapter 3 domestically nationwide on Friday, May 29th, 2015. eOne will distribute the picture in Canada, U.K., and Spain; and Sony will distribute the picture in the rest of the world. Jason Blum of Blumhouse, who produced both previous movies in the series, is producing the next installment with returning producer Oren Peli and franchise co-creator James Wan, who directed the two earlier films written by Mr. Whannell with story by Mr. Wan and Mr. Whannell. Brian Kavanaugh-Jones, Steven Schneider, Charles Layton, and Xavier Marchand are executive-producing Insidious: Chapter 3.
Insidious, released in 2011, and Insidious: Chapter 2, released in 2013, grossed a combined $257 million worldwide.
I really enjoy the mythology that was built in the first two films, so a prequel in this instance makes sense as long as they continue to build and explore The Further. What do you guys think? Are you interested in seeing a prequel?
Follow me on Twitter here!