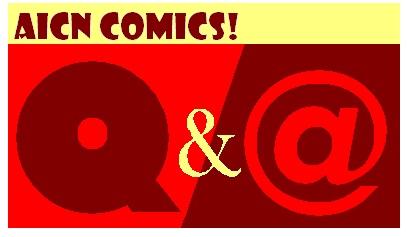 @@@ What the &#$% is AICN COMICS Q&@? @@@
---
Q's by Ambush Bug!

@'s by DOC FRANKENSTEIN Artist
Steve Skroce!!!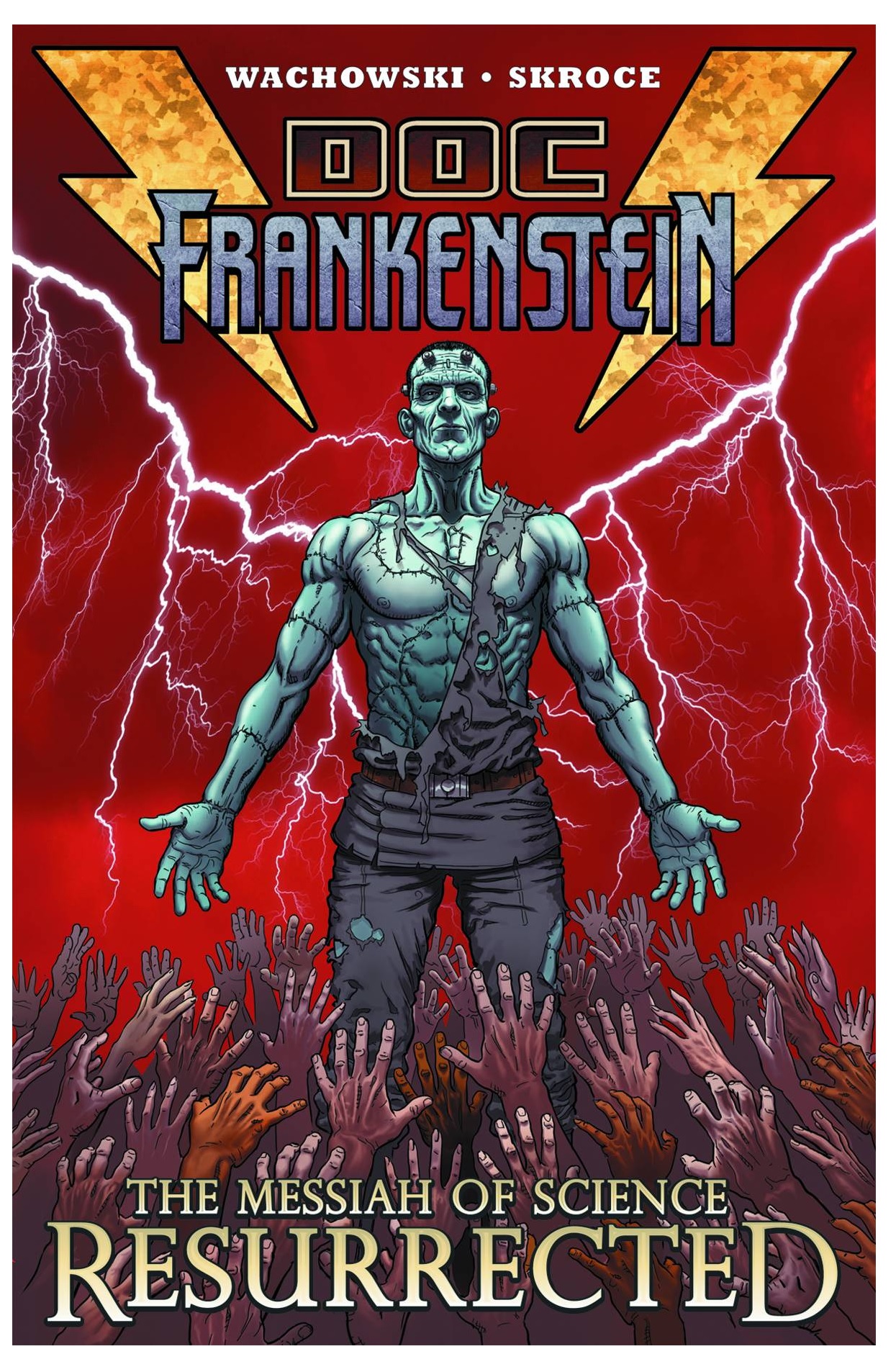 Ambush Bug here. As I pack my stuff and get ready to travel across the country to the San Diego Comic Con, I figured now was a good time to post this interview I did a short while back with uber-artist Steve Skroce. Skroce burst onto the comic scene a few years ago and worked mostly at Marvel before the Wachowskis' snatched him up to work with them on a phenomenal series called DOC FRANKENSTEIN. The book was the definition of epic, with giant battles spanning different eras and cultures. It was big budget storytelling in comics that hadn't been done this well since Kirby.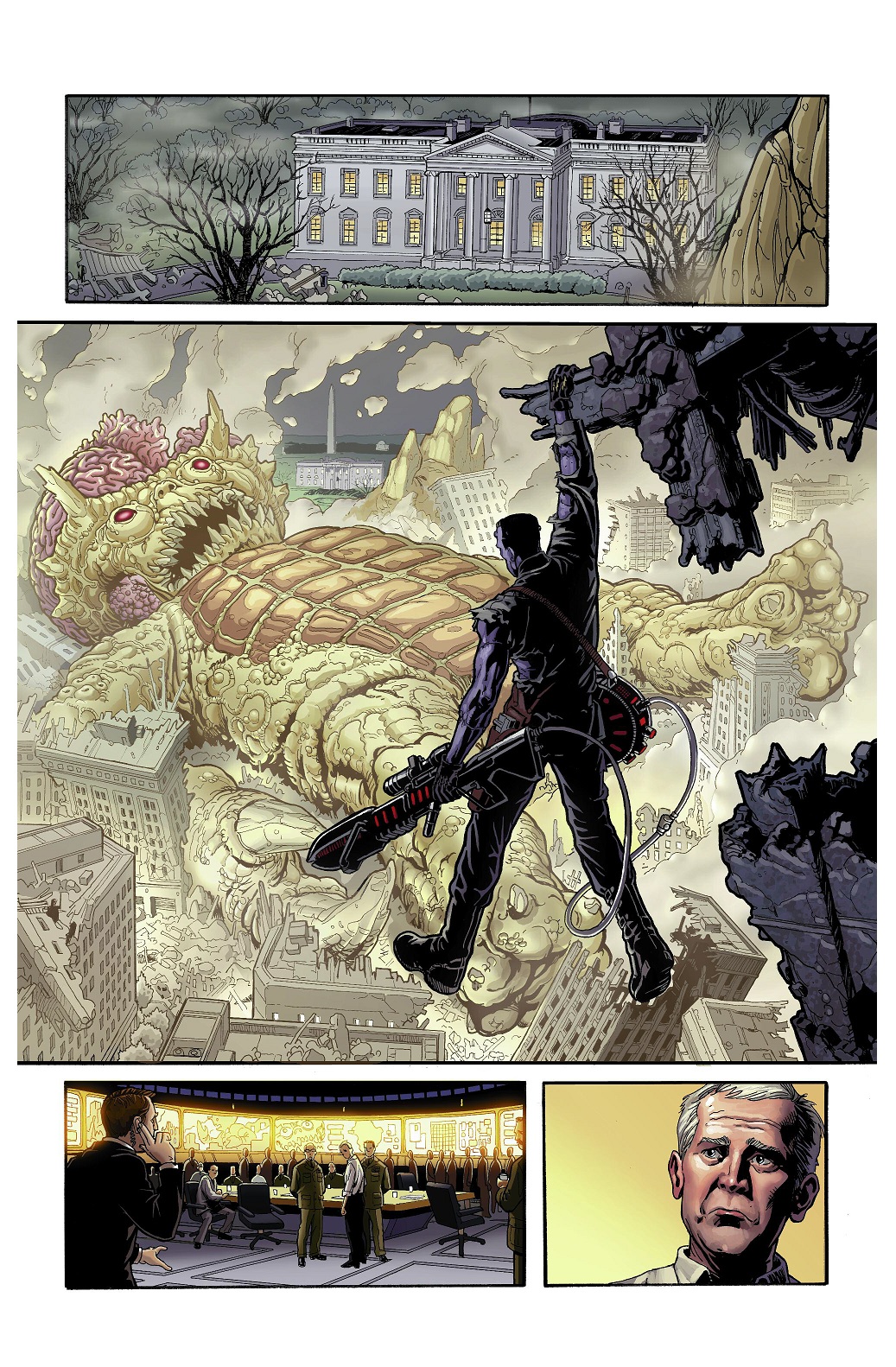 Well, it's been quite a few years since the last DOC FRANKENSTEIN issue came out from the Wachowskis' Burlyman Comics imprint, but last week, a trade appeared on the stands collecting the first four issues of the DOC FRANKENSTEIN series. With my interest piqued to it's peak, I tracked down Steve Skroce to get the jist of what he's been up to over the last few years, what it's like to work with the Wachowskis, and if and when Burlyman's DOC FRANKENSTEIN will return. All answers are below…
AMBUSH BUG (BUG): So Burlyman is releasing a new trade paperback collecting the first four issues of DOC FRANKENSTEIN. It's a series I absolutely loved and cherished when it first came out, but then is sort of slipped off the radar a few years ago and this is the first time I have heard about it in a while. Why is this trade coming together now?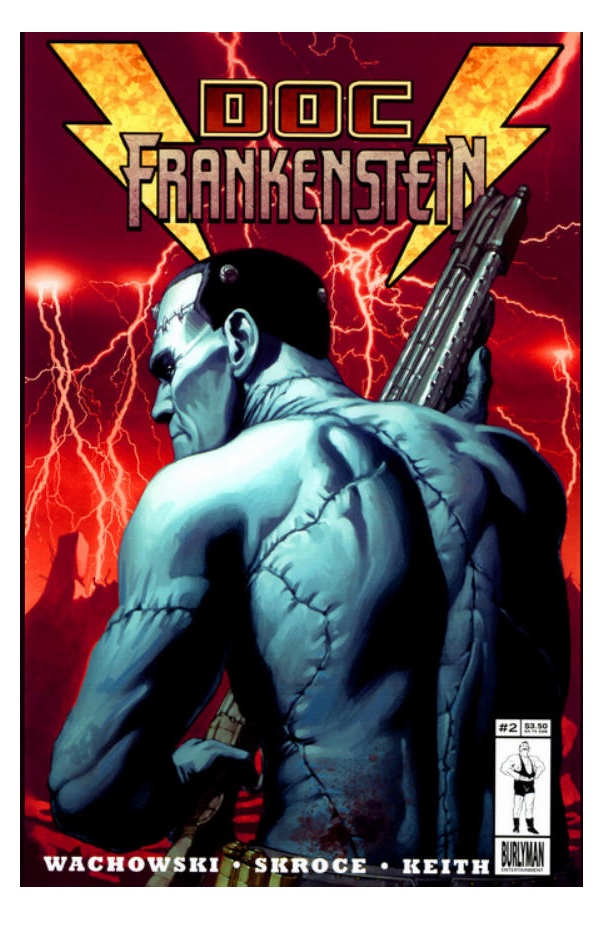 STEVE SKROCE (SS): It's the first of two trades actually, the second one will be out in the fall sometime and it will have 60+ brand new story pages that will finish the story arc. The trade is coming together now because I finally finished drawing it!
BUG: What happened to Burlyman to have the company disappear like they did a few years ago?
SS: We basically lost focus because of other opportunities in film. I got to work on a bunch of movies that I thought were cool and they were all great life experiences but the casualty of that was the Burly schedule.It's a huge regret but at the same time I think it helped the end result. Having that extra time allowed the Wachowski's to craft something really interesting,the story evolves in a very cool and fun direction you wouldn't have expected, and having the extra time for the art really allowed me to go that extra mile with the drawing.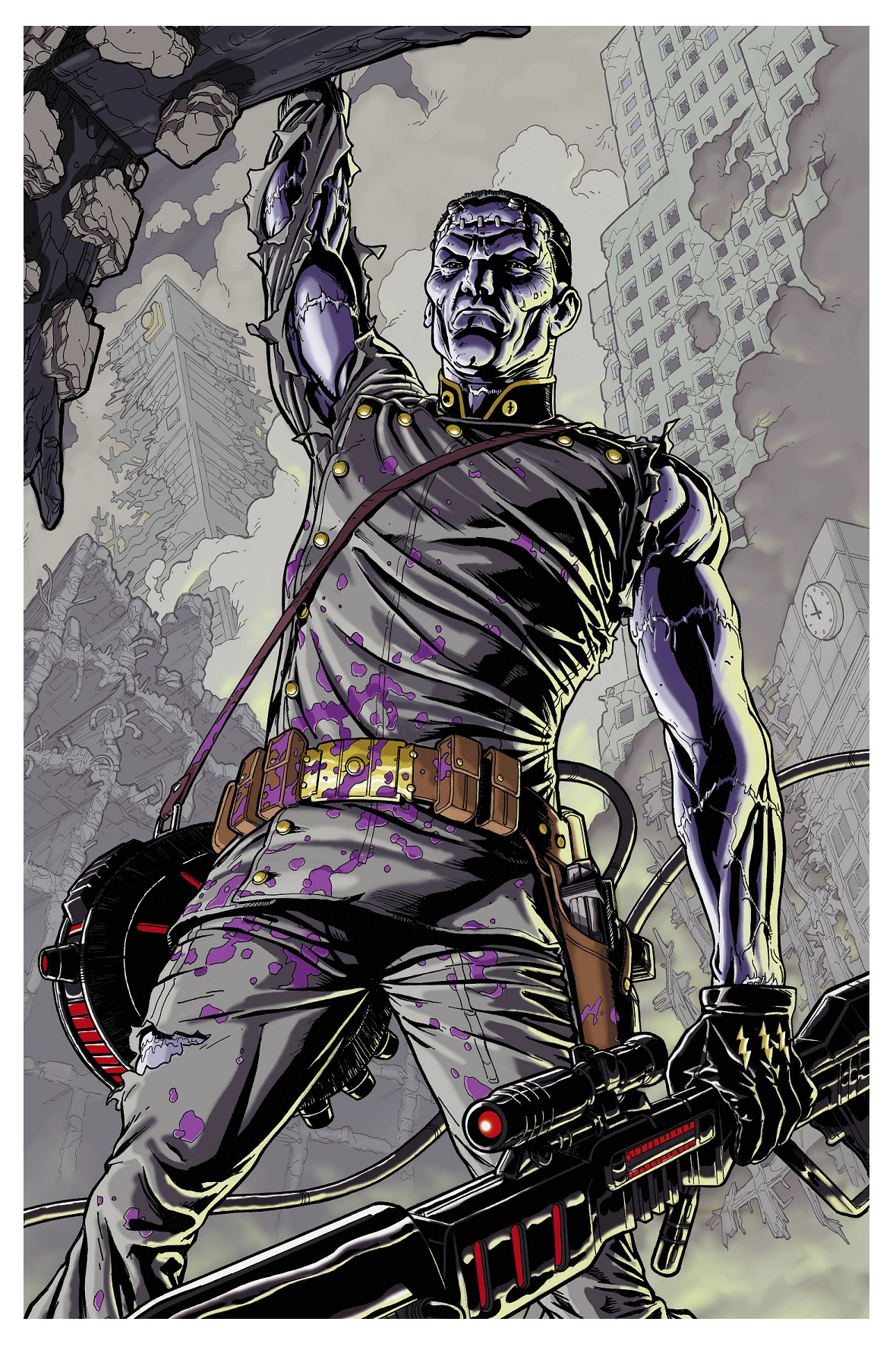 BUG: I know it might be difficult, given the mad directions this series has gone in six short issues, but can you give folks who may not be familiar with DOC FRANKENSTEIN a rundown of what the series is all about?
SS: DOC FRANKENSTEIN is Victor's monster from the Mary Shelley book. In our version he's survived and gone west. He's immortal and the brain bestowed on him turns out to be a brilliant one and he becomes a great scientist in his own right and over the generations becomes a hero and protector of the down trodden and dispossessed peoples of the world . Doc Frankenstein's adventures influence many key moments in American and world history. he's kind of a super civil and equal rights activist. Doc helped Lincoln fight slavery in the 1860's and he defended John Scopes for teaching evolution in the 1920's. He fought the Nazi's in WW2 and battled racists in the south and gay bashing cops at the Stonewall riots in the 60's. He also developed the male contraception pill in the 70's.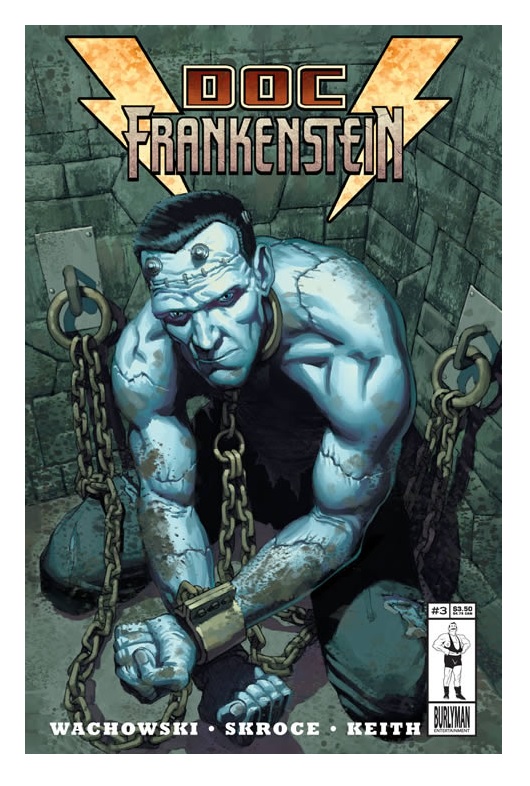 Doc has his enemies as well. "the Men of God" are is a super militarized force of zealot soldiers hell bent on eradicating his profane existence. Doc was resurrected through science and the Men of God think he's some kind of antichrist that's on Earth to corrupt men with his blasphemous ideas and they've been trying to kill him for decades. Doc's own immutable beliefs in science are challenged when he's captured and meets another prisoner of MOG, a Fairy. The fairy proves to him that magic does exist and science doesn't answer all the big questions either and then he has a rather violent existential crisis. From there we learn the secret history of God and Jesus. Y'know typical comic book trope stuff. Also it's action packed.
BUG: This series is actually co-written by the Wachowskis. What's it like working with them? What's a typical meeting with the Wachowskis look like?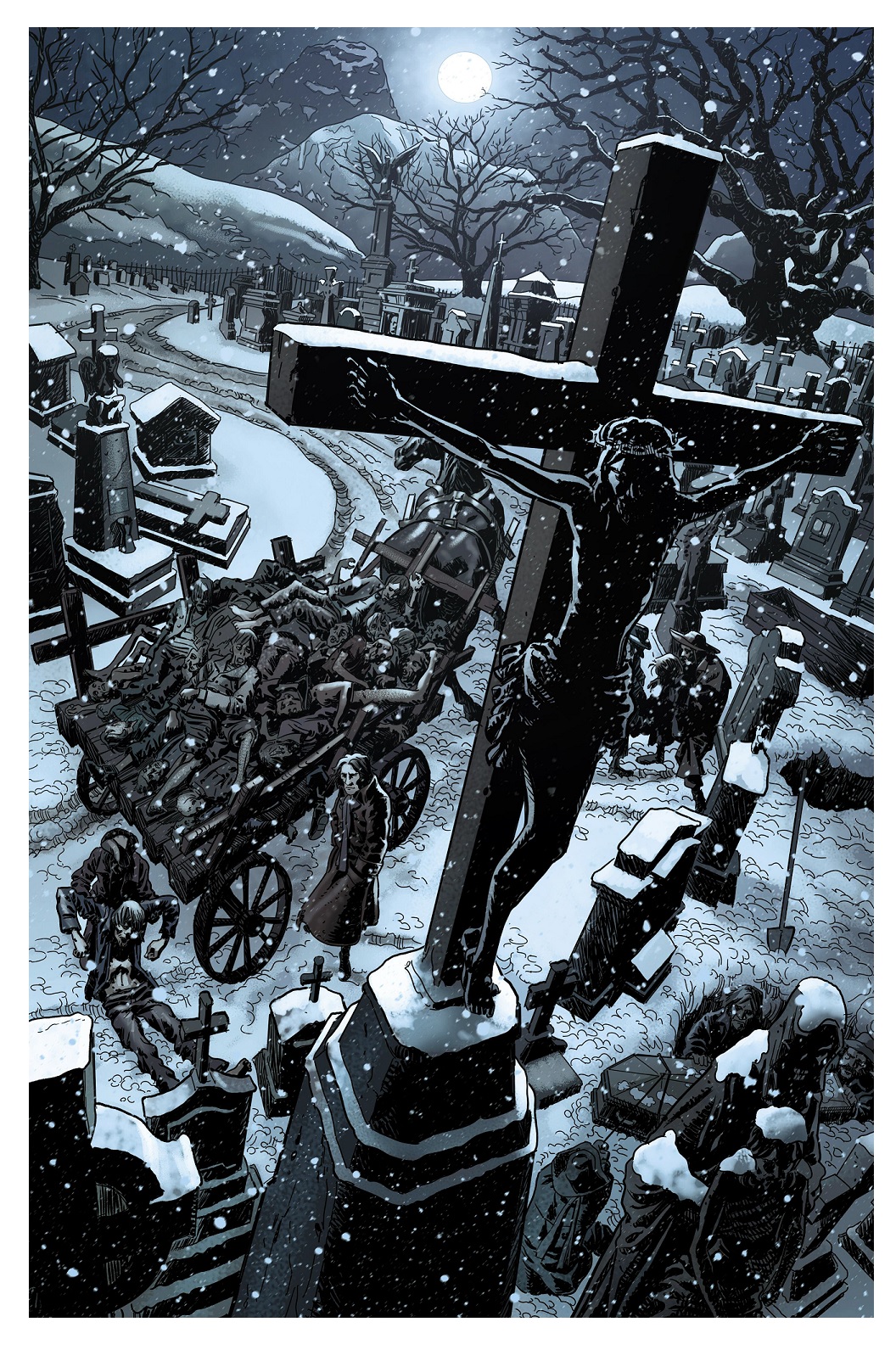 SS: They write the whole thing. I'm not writing any of it actually. The initial concept came from Geof Darrow who told me about it while we were working on the MATRIX sequels, I asked him if he'd like to collaborate with me on it and he was into it but wasn't into writing it ,so I began to create a story based on his ideas but the Wachowski's heard about it and liked the concept so much that they wanted to write it. They brought another level to it that pushed it beyond a more typical comic book action hero story.
Working with them is great. The work itself is challenging and demanding but the atmosphere is very fun and friendly .The Wachowski's love working with their artists and you get a level of respect that really makes you feel appreciated. I've worked on a bunch of movies over the years and there's been very few negative experiences , I've found the tone of a production is generally set from the top and you can't beat the atmosphere they create for everyone.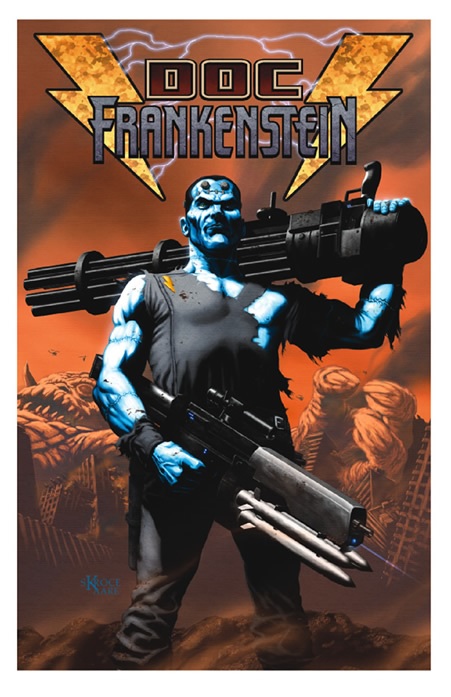 BUG: What parts do Lana and Andy play in the process and how much freedom do you have as a storyteller?
SS: L&A write full, detailed comic scripts that have tons of challenging things to draw. I worked with Alan Moore years ago and the scripts are similar in density and fully formed visual ideas . I've often heard comic artists lament those kinds of scripts but I love them! The Wachowskis know how to exploit the real estate of each page and give the reader a full meal but there's still plenty of room for artistic freedom. Composition, character expressions/acting ,design and action are things I try to focus on while I'm drawing and a lot of detail about what the characters are thinking and feeling really helps me put some life into those static images.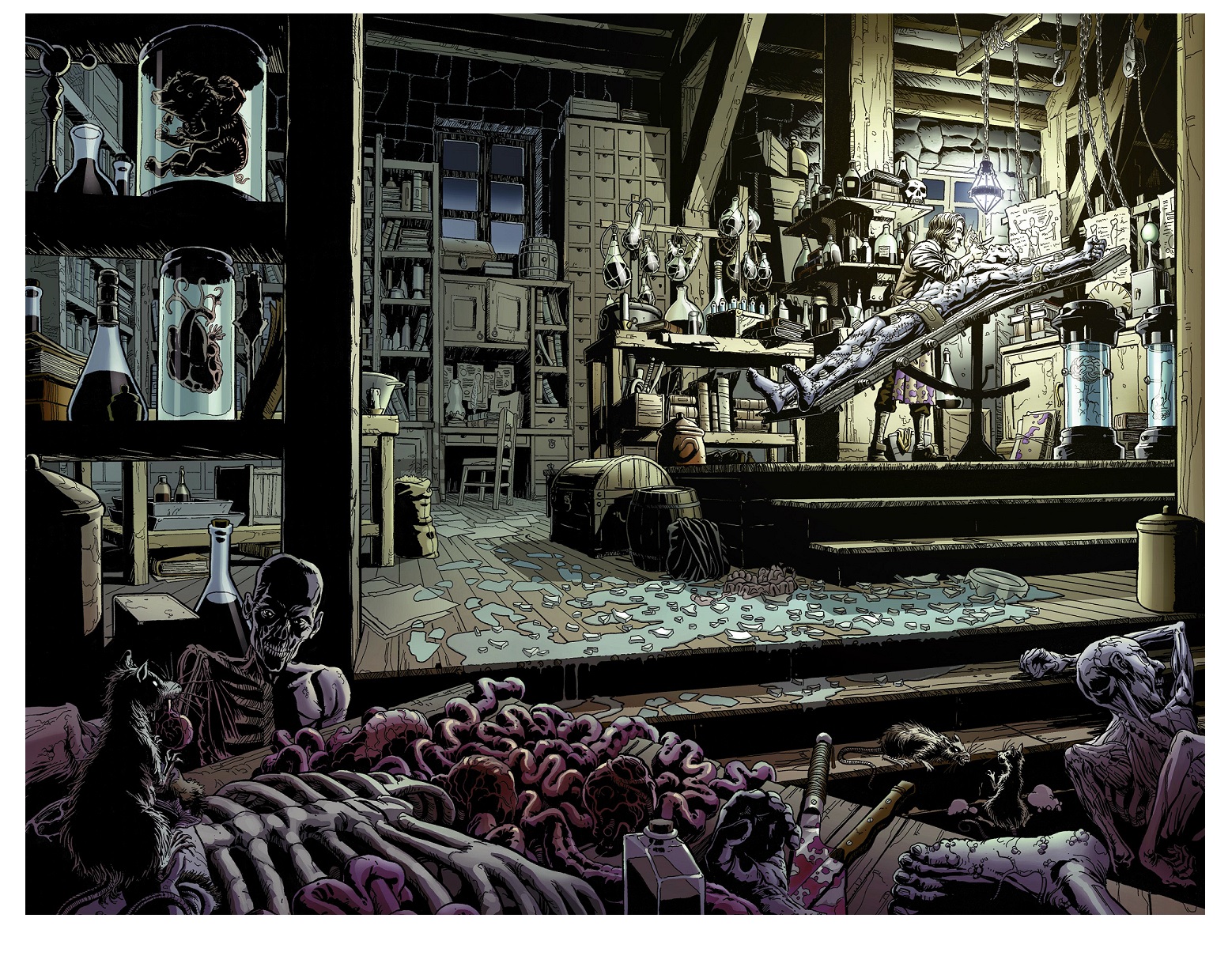 BUG: Why does the trade collect the first four issues and not the first six? Does this mean we will be seeing new DOC FRANKENSTEIN comics coming out to round out another trade?
SS: Yes, there's a second trade coming!!with 60+ new pages that finish the story arc!! Did I mention that? The first trade ,out in July, has new content as well. Three new story pages as well as a jam packed sketches section of never before seen work. Lots of early concept drawings for DF as well as some deleted pencils that were cut once the W's took over the writing chores.
BUG: I know you have been busy doing storyboards and the like in Hollywood, but do you ever get the pang to come back to comics?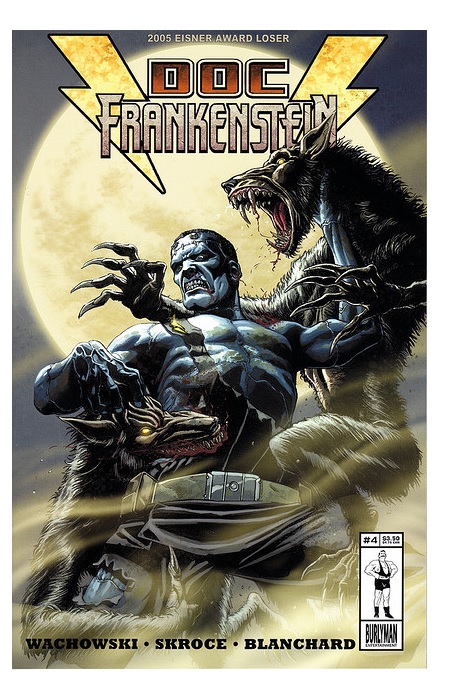 SS: I'm definitely coming back to comics! I'm still a huge comic nerd and I read them constantly! There's so much good work out there and so many new worlds being created. Love my Marvel and DC books but the new stuff is so great.
SAGA, THE PRIVATE EYE, SWEET TOOTH,LAZARUS, EAST OF WEST,SEX CRIMINALS, FATALE, HAWKEYE, LOCKE & KEY and the list just keeps going. Just read TREES—so cool.
BUG: Besides the obvious pay, what is it about storyboarding that you enjoy?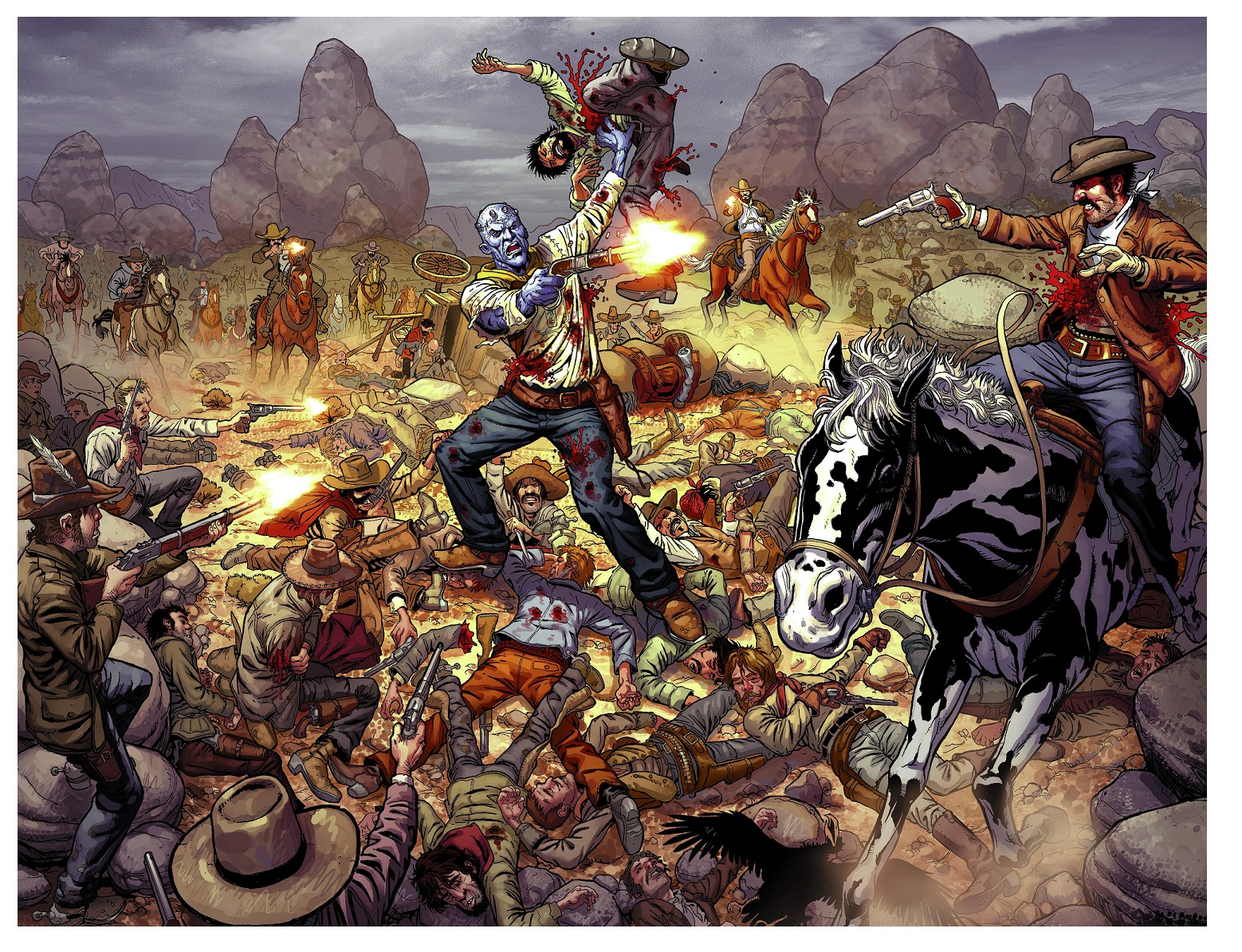 SS: The collaboration between so many talented people has been amazing as well as the camaraderie between artists. I love comics but it can be somewhat isolating , I'm discovering that artists community on Facebook and other online places but I'm grateful for all the art dept bullpens I've been blessed to work in.
BUG: What artists inspired you as your art skills have matured through the years?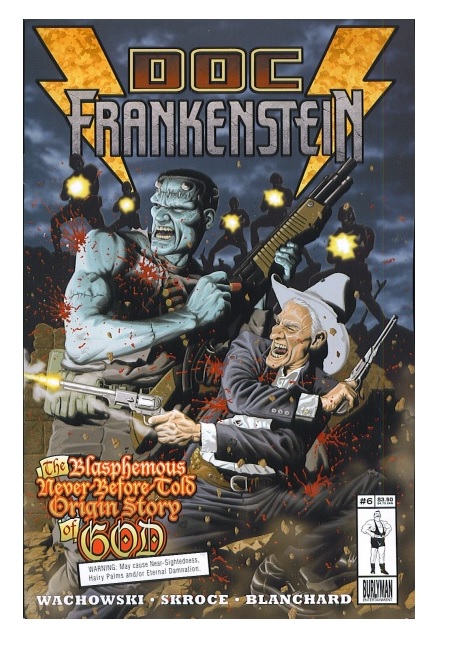 SS: So many; Paul Smith, John Byrne, Micheal Golden, JR JR, Darrow, Juan Gimenez, Francois Boucq, Milo Manara, Mobius, Adam Hughs, Frank Quietly, Brian Bolland Kevin Nolan, Otomo , Kaare Andrews, Shirow Masamune, Alex Toth, Robert McGinnis, Mike Mignola, Andrew Robinson, Richard Corben, Jim Lee, Goran Parlov, Fiona Staples, Art Adams, Sean Murphy, James Bama, Scottie Young, Dave Gibbons, Micheal Golden, Gabriel Rodriguez, Dan Clowes, Jack Kirby…
So many and I'm still leaving out a bunch. I find inspiration from all kinds of art and media even if the aesthetic is very different than my own.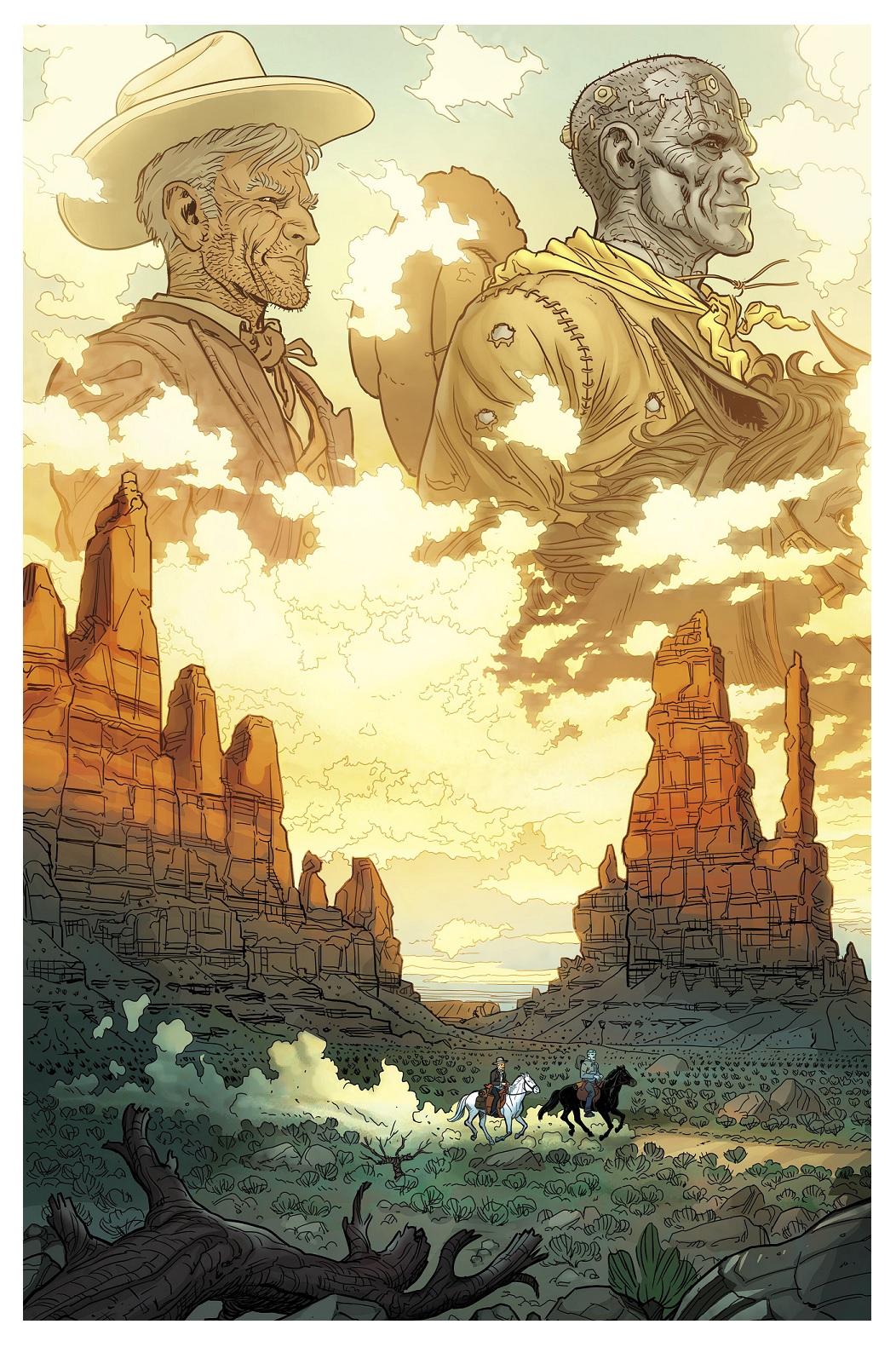 BUG: Burlyman has always been a company producing a wide-screen, cinematic in scope, blockbuster style writing/art/image. These are stories you can almost see happening on the big screen. Is there movement to have DOC FRANKENSTEIN to be adapted into a film?
SS: Nothing to report on that front. Maybe another DF comic series,maybe?
BUG: Is there anything else in film or comics that you're involved with at this time?
SS: I've got a couple irons in the fire comics wise, but nothing i can announce. The last few years I've pretty much been working for the Wachowski's exclusively. Started on CLOUD ATLAS and then I went from that straight into JUPITER ASCENDING and then I finished up DF and now I'm been doing some storyboards for the Wachowski's and JMS's new Netflix show SENSE8. That's been a really cool experience.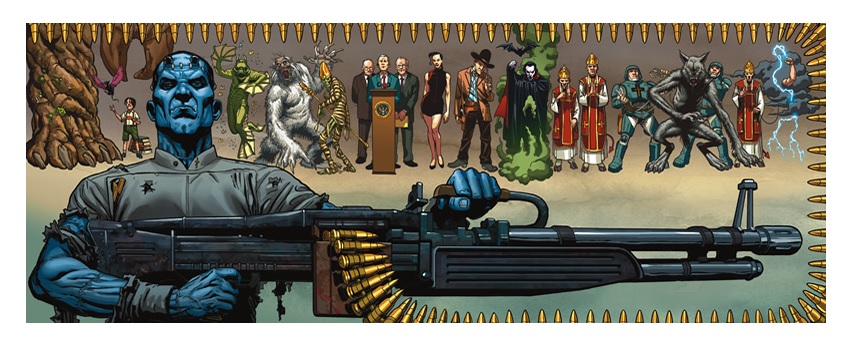 BUG: Being a huge fan of your work, I'll ask again. What would it take to get you back into comics? I'm willing to go as high as $11.00 (that's all I've got in my wallet).
SS: I'm already back!! but I'll take the $11.00. Is that Canadian or American currency we're talking? I'll get you my Wire transfer info.
BUG: Thanks so much for your time, Steve! I can't wait to revisit DOC FRANKENSTEIN and I'm so excited to see the new issues.
SS: You bet! Thanks!
BUG: Look for DOC FRANKENSTEIN: MESSIAH OF SCIENCE RESURRECTED Trade Paperback collecting the first four issues of the series on sale now from Burlyman Entertainment!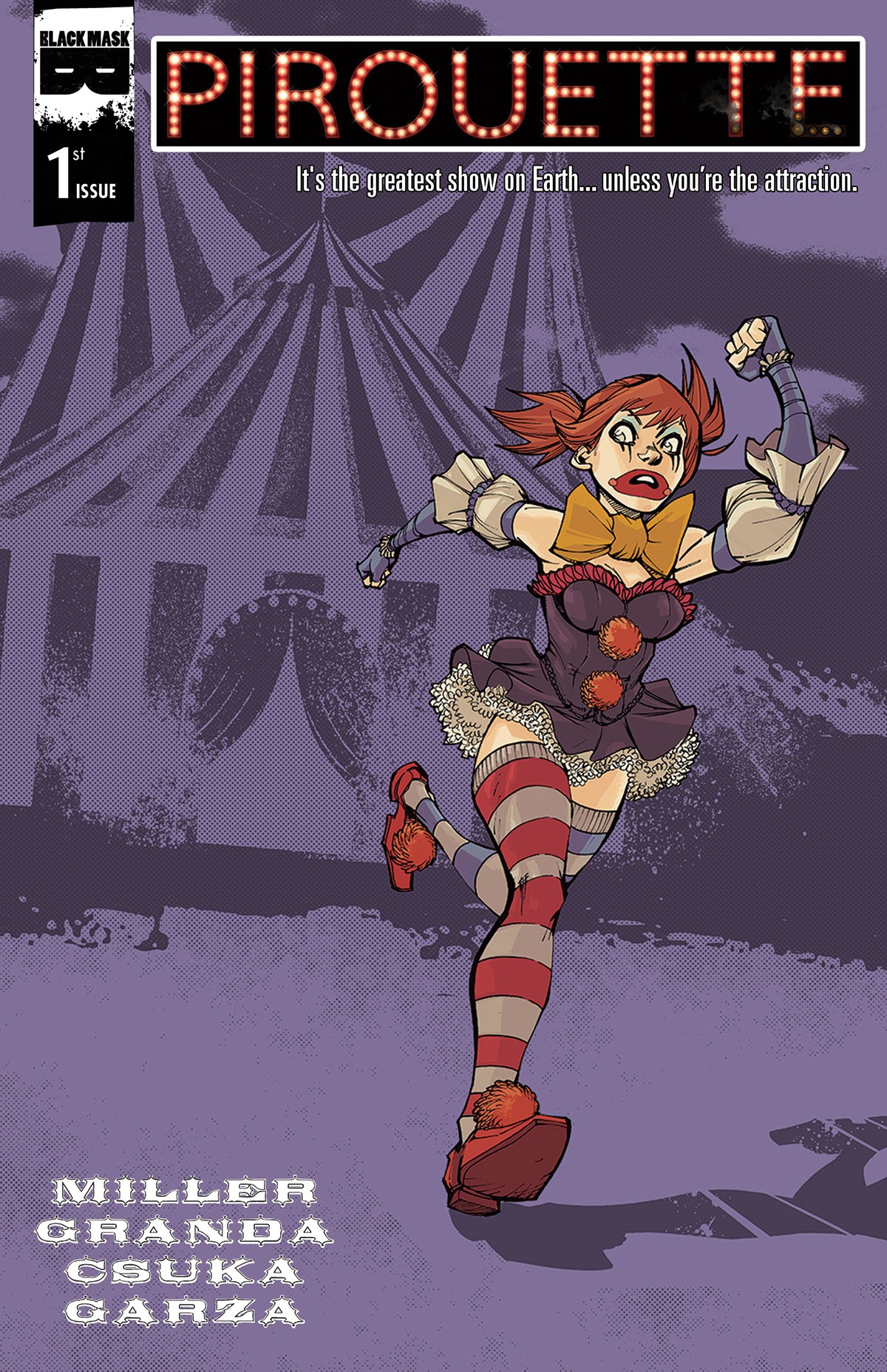 Ambush Bug is Mark L. Miller, original @$$Hole/wordslinger/writer of wrongs/reviewer/interviewer/editor of AICN COMICS for over 13 years & AICN HORROR for 4. Follow Ambush Bug on the Twitters @Mark_L_Miller.

Be sure to tell your comic shop to order his new comic PIROUETTE from July's Diamond Previews (item code JUL14 0937) today!
---
Editing, compiling, imaging, coding, logos & cat-wrangling by Ambush Bug
Proofs, co-edits & common sense provided by Sleazy G
Check out AICN COMICS on Facebook and Comixpedia.org!