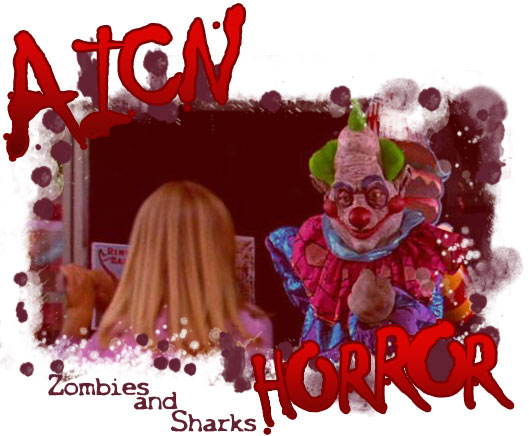 Logo by Kristian Horn
What the &#$% is ZOMBIES & SHARKS?
---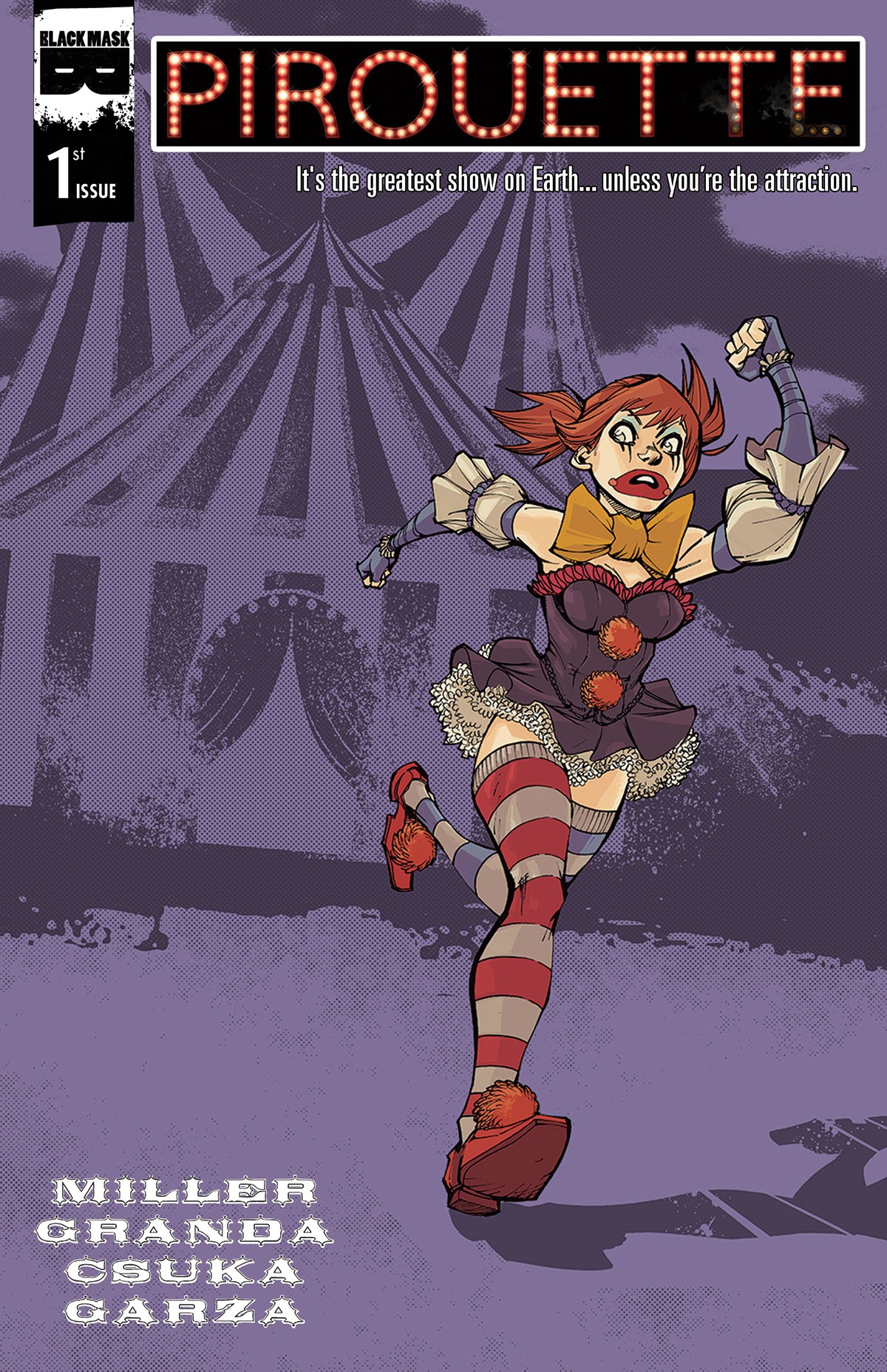 Ambush Bug
here, shamelessly donning my Ringmaster top hat to put the spotlight on a special series of AICN HORROR: ZOMBIES & SHARKS columns—Send in the Clowns! To celebrate the news that my new circus horror comic, PIROUETTE from
Black Mask Studios
is available for order in July's Diamond Previews (item code JUL140937), I am going to be taking an extensive look at all kinds of clown horrors in film and other media over the next few weeks.
PIROUETTE is a comic I've been developing for a quite a while with interior art from the fantastic Carlos Granda and a first issue cover by Ale Garza. The story is described as
Raised from infancy by duplicitous clowns who entertain by day and menace by night, Pirouette dreams of washing the paint from her face and escaping to a better life far away from her cruel circus family… because when the spotlights dim and the crowds disperse, the clown princess' big-top dreams give way to a nightmarish world of monsters with painted smiles.
The book hits all of the coolest of cool comic shops in September, but you've got to tell your store owner to order it now in order to get it!
I can't wait for folks to see the book which I promise is filled with big top terror and death-defying danger. In the coming weeks, I'll share some behind the scenes stuff about PIROUETTE at the top of each of these "Send in the Clowns" columns along with a look at some cinematic examples of Coulrophobia (the fear of clowns) and try to get to the bottom of why clowns are so damn scary!
Today's clown horror has haunted me for years since I saw it late one night on cable long, long ago. For years I tried to track it down to watch it again. Finally, I was able to track this lost gem down. Here's what I thought of it.
---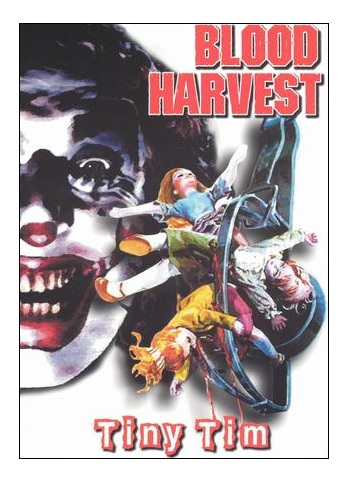 Find this film on Netflix here!
BLOOD HARVEST (1987)
aka THE MARVELOUS MERVO
Directed by Bill Rebane
Written by Chris Vaalar & William Arthur (story), Ben Benson & Emil Joseph (screenplay)
Starring Tiny Tim, Itonia Salchek, Dean West, Lori Minnetti, Peter Krause, Frank Benson, Albert Jaggard
Reviewed by Ambush Bug
Clowns alone are pretty scary. I will attest to understanding why folks feel this way with the false emotions painted on their faces, their loud and ill-fitting clothing, and their unusual antics, but I don't suffer from Coulrophobia (fear of clowns) like others do. Still, seeing a character that is already weird in clown get up is pretty disturbing. Such is the case with BLOOD HARVEST a horrible film that would be worth ignoring if not for one thing; Tiny Tim.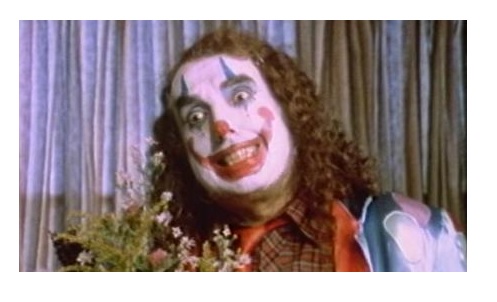 Those who don't know Tiny Tim are truly missing out on some weirdness in their lives. The bizarre entertainer was big in the sixties, seventies, and eighties for playing the ukulele and singing old timey songs in a falsetto voice which made dogs howl. Tim (whose real name was Herbert Butros Khaury) looked a lot like Weird Al does now, but unlike Al who seems to have a genuine fun nature about him, there was something always odd and off kilter about Tiny Tim—at least in the talk shows, variety hours, and scant movie appearances the entertainer appeared in. Much of his work was targeted towards younger kids and for the most part, he did play the clown for most of his professional career. Recently, Tiny Tim's warbles added to the surreal Other world scenes in INSIDIOUS (
reviewed here
), where his most famous song "Tiptoe Through the Tulips" was featured prominently. While he appeared to be a gentle soul, in 1987, towards the end of his career (he died in 1996), Tiny Tim actually donned face paint and played the clown Mervo in BLOOD HARVEST and the results are curiously terrifying.
Bill Rebane directed THE CAPTURE OF BIGFOOT (
reviewed here
) and THE GIANT SPIDER INVASION but those were relatively safe and tame horror films geared towards all ages compared to this one. Rebane flips the script with BLOOD HARVEST which is filled with sex, nudity, and gore and while this film is definitely flawed as can be, the fact that Rebane chose this one to go all out with all types of perversity interests me. Bondage, voyeurism, rape, and other deviances are explored in this film, which definitely will make you want to take a shower after viewing. The BLOOD HARVEST I saw was on the grainiest of stock, which just adds to the grindhousey aspects of it.
The story follows a young woman Jill (Itonia Salchek) returning to her childhood town from college to find the country burg is suffering from a financial crisis. Farms are being bought up by the banks and repossessed and the simple country life is threatened by big businesses. Upon Jill's return, she finds the house in shambles and painted with graffitied threats since her parents are a part of the banking system. She also finds her old beau Gary (Dean West) who seems to still be carrying a torch for her and Gary's brother Mervo (the aforementioned Tiny Tim) who is written off as the town eccentric as he wears a clown costume and makeup. The twist of this damsel returning home horror flick is that she's engaged to marry someone back at college (SIX FEET UNDER/PARENTHOOD's Peter Krause). Since the market crash and all of his farm animals were slaughtered and sold off, Mervo rarely takes off the clown paint, which doesn't seem to concern anyone, but someone is stringing up people for slaughter, slicing their throats, and draining their blood into a bucket as if they were pigs for slaughter. Someone is also chloroforming Jill, disrobing her, and taking naughty pictures of her. Is Mervo the pervo doing all of this? Or is someone else satisfying a blood lust?
BLOOD HARVEST tries its best to be a tense mystery and a gory slasher yarn that breaks the mold, but doesn't really do either. The mystery itself is pretty obvious here and while Mervo does seems to be the most likely of suspects given his tendency to peep into Jill's windows while she's dressing and undressing, you don't have to be Sherlock to know what's really going on. The film doesn't go out of its way to keep the identity of the killer a secret since he is shown in the opening scenes and doesn't have Tiny Tim's rather plump body type. The film goes pretty much by the numbers in terms of how slasher films unfold with a small body count, but the same attention to spectacle kills. It does deviate from the norm by showing the final girl naked and having sex numerous times in the film.
Acting, sound, editing; all of these qualities are pretty low rent here. The highlights definitely are saved for the gore, which is rather fun. There's a particular scene where the killer's arm is stabbed with a scythe that shows a laughably fake arm, but still, the effects make the whole thing fun and made me overlook the other technical deficiencies.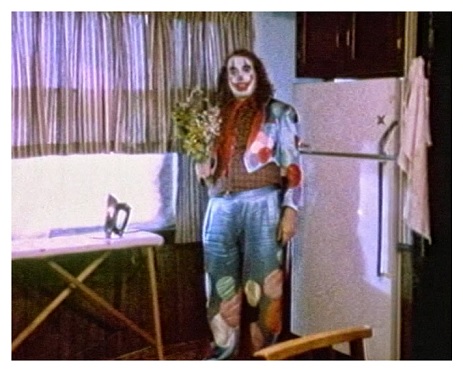 I seriously think the filmmakers didn't know what they had going for them by slapping clown paint onto Tiny Tim. At no point in this film does Mervo look innocent or child-like, though I think that's what they are trying to do here. Given his advanced age and weight, Mervo is often shown entertaining the cast with his high pitched songs and antics, but never does it not look creepy as hell, despite the fact that the girls seem to titter at him. If they were trying to make Mervo lovable, this film fails on all fronts. Sure he's shown early on to be a peeping pervert, but for the most part, he's just the town weirdo. All these years later, and every scene Mervo is in reeks of oddity and horror. Whether this was intentional or not, Tiny Tim's performance, in which he's basically playing himself, is bound to terrify.
BLOOD HARVEST is absolutely run of the mill. Actually, it's below that level in many cases, but as with many films, all it takes is one aspect to make it worth seeking out and Tiny Tim's stab at playing the clown is something that will definitely heighten that fear of clowns in those suffering from the malady and might even spark that fear in those like me who thought they were impervious.
Couldn't find the trailer, but this is enough to creep anyone out…
---
And finally…here's the creepy clown of the day!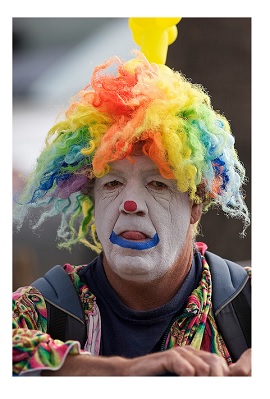 Previous Send in the Clowns Posts!
THE LAST CIRCUS
THE FUNHOUSE
SPLASH AREA: NIGHT OF THE FREAKS/CLOWN HUNT
STITCHES
VULGAR
DOLL-BOY/ALL HALLOW'S EVE
THE DEVIL'S CARNIVAL
MR. SARDONICUS
CLOWNHOUSE
FEAR OF CLOWNS I & II
CIRCUS OF THE DEAD
---
Find more AICN HORROR including an archive of previous columns on AICN HORROR's Facebook page!

Ambush Bug is Mark L. Miller, original @$$Hole/wordslinger/writer of wrongs/reviewer/interviewer/editor of AICN COMICS for over 12 years & AICN HORROR for 3. Follow Ambush Bug on the Twitters @Mark_L_Miller. Don't forget to order his new comic PIROUETTE from July's Diamond Previews (item code JUL14 0937) today!