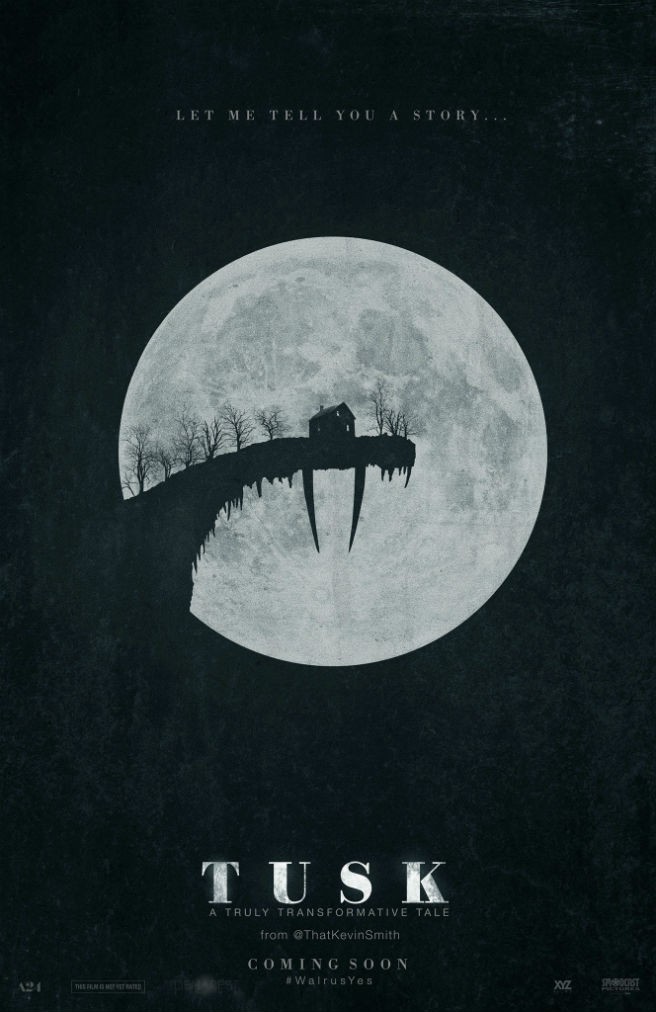 Kevin Smith posted on his blog today, with a couple of tidbits.
One: he's as amused as anyone else at the idea that he wrote that leaked BATMAN V SUPERMAN script that circulated last week.
"No major studio would let a guy like me near their franchises – even if it was for a dummy script meant solely to fool the news sites."
Two: that he's had a near unrivaled period of output at a screenwriter.
"It all started with CLERKS III and was followed by me finishing nearly 5 scripts in a year, including the fall release TUSK. After TUSK, I penned ANTI-CLAUS (formerly COMES THE KRAMPUS) and a sitcom pilot that's now seeing some action (both co-written with Professor Andy McElfresh from the EDUMACATION podcast). Then I wrote YOGA HOSERS and now I'm in the middle of MOOSE JAWS."
Three: that the trailer for TUSK will premiere at Comic-Con, and will appear online shortly thereafter.
And Four: the unveiling of the above poster, which can also be seen at the official site.
One thing he doesn't elaborate on is his quote from over the weekend that the Weinsteins passed on CLERKS III, balking at the sky-high, borderline irresponsible, bank-breaking $6 million(!!!!!!) budget, imploring Smith to basically monkey-dance for the money himself.
I like the design of the poster, with its old-timey horror imagery peppered up with the darkly comic walrus tusks. It's cool that the only tie to Smith on the poster is via his Twitter handle. Smith's brandname goes beyond the dick-and-fart jokes he was once known for, and beyond movies themselves at this point; the dude's got comic stores, TV shows, and crazy-successful podcasts (including the one that spawned this project), and that tag is another example of him tying his output into this mini-empire he's created.
Looking forward to seeing actual footage from this bizarre project in a couple weeks.

Fleetwood Mac - Tusk (Original Video) by newcanadian
Who else is still really curious to see if Johnny Depp's actually in this mo-fo or not?
Expect TUSK on VOD and possibly theatrically this fall.
-Vincent Kim-Zahedi
"Papa Vinyard"
vincentzahedi@gmail.com
Twitter