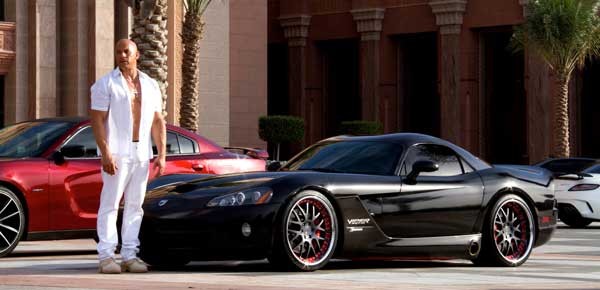 ORIGINAL STORY:
For some reason or another, just as the film is wrapping production, Universal has decided to move the release date for FAST & FURIOUS 7 up a week from April 10th, 2015 to April 3rd. The shift is so arbitrary, you'd think they were getting out of the way of something that would dilute the tentpole's thunder. But the truth is, while nothing else was coming out on April 10th, the 3rd has another major franchise entry lined up for release: INSIDIOUS: CHAPTER 3, the third chapter of the series started by FAST 7 director James Wan (and directed by his frequent collaborator, Leigh Whannell).
While they are in completely different genres, there's no question the latest INSIDIOUS flick would take a chunk out of FAST 7's young adult audience, at least on opening weekend.
Given that the biggest domestic grosser of the year so far, CAPTAIN AMERICA: THE WINTER SOLDIER, bowed on a similar date this year (April 4th), it's not a stretch to think that Universal wants to kick off the big summer releases of that summer the same way. April is the new May, as far as the studios are concerned, so opening right at the first weekend of the month is going to give it major space away from the biggies of May, like AGE OF ULTRON, FURY ROAD, PIXELS, and TOMORROWLAND.
But God, I hope either Wan or Whannell's flick moves. Otherwise, Wan's going to be competing with his own franchise, now being shepherded by his old pal Whannell, for them opening weekend greenbacks. That's just…awkward.
UPDATED (20:05): Well, never mind then. Focus has moved INSIDIOUS: CHAPTER 3 almost two months back to May 29th, 2015. So James Wan and Leigh Whannell don't have to cancel their trip to Nappa this summer. Good to hear.
FAST & FURIOUS 7 will kick your ass on April 3rd, 2015.
-Vincent Kim-Zahedi
"Papa Vinyard"
vincentzahedi@gmail.com
Twitter