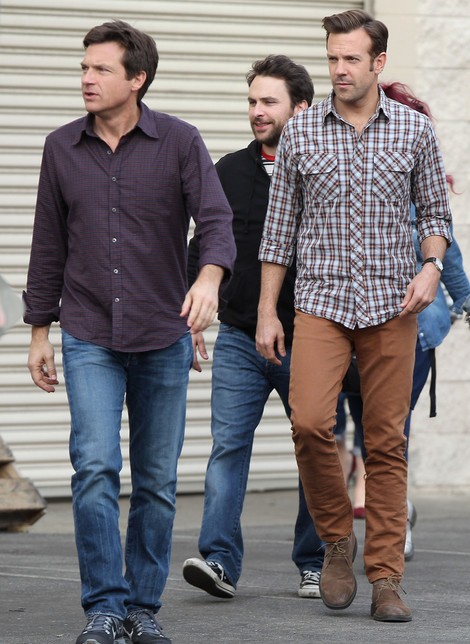 This teaser for HORRIBLE BOSSES 2 makes a few things pretty clear in about a minute-and-a-half. One: every major (surviving) cast member is returning, including the three leads, two of the first film's bosses, and Jamie Foxx as unqualified criminal consultant Dean "Motherfucker" Jones (with his Disney-ass name)
Two: the plot this time around involves the three chaps kidnapping presumably horrible Christoph Waltz, running afoul of even more horrible son Chris Pine (check out that drawing-down shot at :42).
Three: that there's a chance this sequel is taking the HANGOVER: PART II route of replicating the original's jokes and narrative, and that there will be little here that's genuinely fresh or energetic. The genius and seemingly obvious notion of making the three leads the HORRIBLE BOSSES was apparently too lofty for a studio banking this film's success on its likable leads, so what we seem to be getting is mostly something of a rehash.
We don't see the guys really having that much fun in these short clips, and that big slo-mo gag at the end is kind of a fail. Jennifer Aniston's sexed-up shtick was almost tired by the time the first film hit theaters, and reheating it is obviously a crutch to entice pervy dudes back in the theater with promises of her slutting it up in choice lingerie. That "going to the bathroom" bit takes way too much shoe leather to get a to a punchline that flimsy.
Still, Waltz and Pine could be worthy additions, and maybe John Francis Daley and new director Sean Anders (in for Seth Gordon *sigh*) have enough good comic ideas and set-pieces to make this second go-around worthwhile. The three leads had a nice, easy chemistry the first time out, and I don't think it's a huge stretch to hope that they punched in some solid repartee once again.
But boy, I already miss Colin Farrell's character. A lot.
HORRIBLE BOSSES 2 be gettin' horrible once more on November 26th.
-Vincent Kim-Zahedi
"Papa Vinyard"
vincentzahedi@gmail.com
Twitter