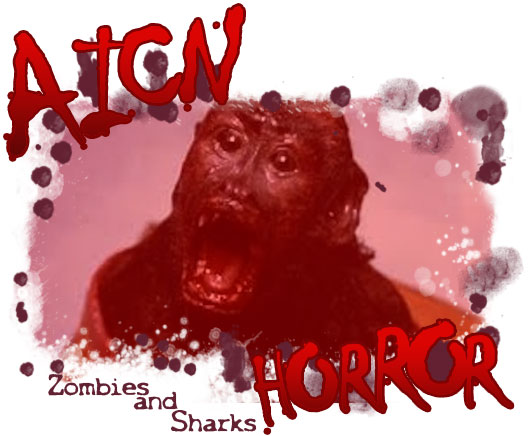 Logo by Kristian Horn
What the &#$% is ZOMBIES & SHARKS?
---
Greetings, all. Ambush Bug here with another AICN HORROR: ZOMBIES & SHARKS column. This week we have Amsterdam zombies, post-apocalypticism, a mad trucker, Carpenter aliens, three bad wishes, a one-legged racer, holy murders, B-movie starlets, more Twilight Zones, and the most beautiful robot you'll ever see!
Today on AICN HORROR

(Click title to go directly to the feature)
The Boo Tube Reviews: TWILIGHT ZONE Season Two Episodes 25-29 (1961)
Retro-review: HOUSE OF MORTAL SIN (1975)
Retro-review: INVASION OF THE SCREAM QUEENS (1992)
THE MONKEY'S PAW (2013)
THE HUMAN RACE (2013)
ALMOST HUMAN (2013)
KILL ZOMBIE! (2013)
THE MACHINE (2013)
JOYRIDE 3: ROADKILL (2014)
ANIMAL (2014)
And finally…Horror Bizarre's VOODOO PRANK!
---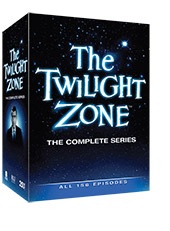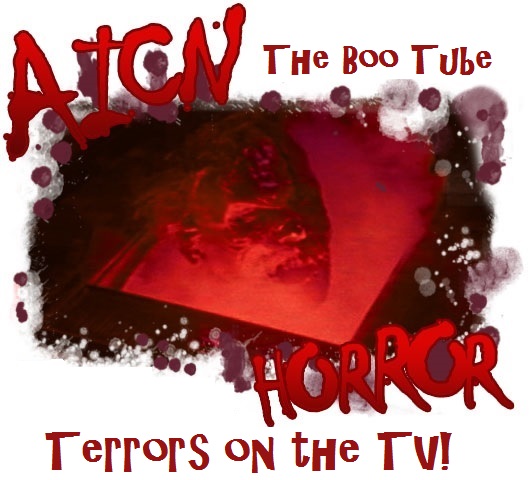 Collecting the entire series in a new Collector's Box Set on DVD from Image Entertainment!
THE TWILIGHT ZONE SEASON TWO (1961)
Episodes 25-29
Retro-reviewed by Ambush Bug
With the release of the Complete Season Collector's Box Set of TWILIGHT ZONE on DVD from Image Entertainment a few months ago, I've been celebrating by checking out each episode and tossing out my two cents on a semi-weekly basis. Now that I'm also looking back at the MONSTERS TV series, which was just released in a swanky box set, I'll be switching back and forth between the two series on a bi-weekly basis to cover both over the next few months. Let's finish up THE TWILIGHT ZONE Season Two…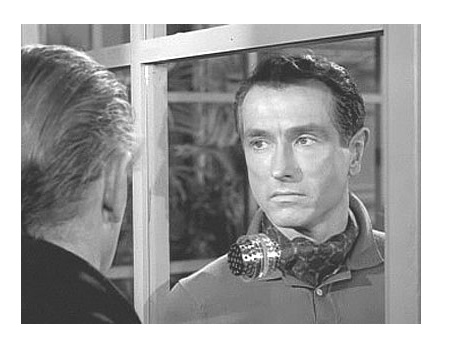 Episode 2.25: The Silence
Directed by Boris Sagal
Written by Rod Serling
Starring Franchot Tone, Liam Sullivan, Jonathan Harris, Cyril Delevanti
This fantastic episode exemplifies how creative and fun TWILIGHT ZONE can be while still maintaining its bite. I always liked the way Serling wrote people who don't get along with one another, be it a man and wife or, as exemplified here, two men in a social club who dislike one another. This episode is all about status and how a loud mouth and bravado can be mistaken for it. A chatterbox braggart gets on the nerves of a socialite who then challenges him to be locked in a room and be silent for a solid year. As the days tick by, tension mounts exponentially and while I saw the twist coming, it still was a fantastic trip there mainly due to the dueling performances of Franchot Tone & Liam Sullivan. Add LOST IN SPACE's Dr. Smith (Jonathan Harris) to the mix and you've got a winner of an episode.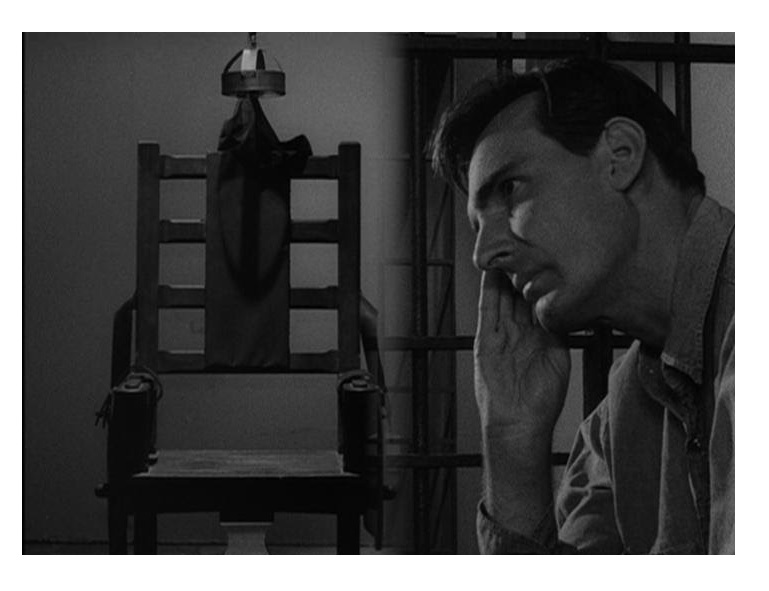 Episode 2.26: Shadow Play
Directed by John Brahm
Written by Charles Beaumont
Starring Dennis Weaver, Harry Townes, Wright King, William Edmondson, Anne Barton
Writer Charles Beaumont brings one of the more existential episodes to the TWILIGHT ZONE this time around about a man who believes everything that is happening to him is simply a reoccurring dream. Now I guess if this were an enjoyable dream it'd be ok, but the dream Dennis Weaver re-experiences over and over is the slow walk to the electric chair. While most write his words of fully realized dreams off as the ravings of a madman, some begin to believe that they aren't actually people, just fully realized constructions of his own mind. I could see audiences back when this first aired having a bit of trouble wrapping their brains around this episode's heady concepts, but this plays now as one of the most compelling tales of the series and proof of how prolific this series could be.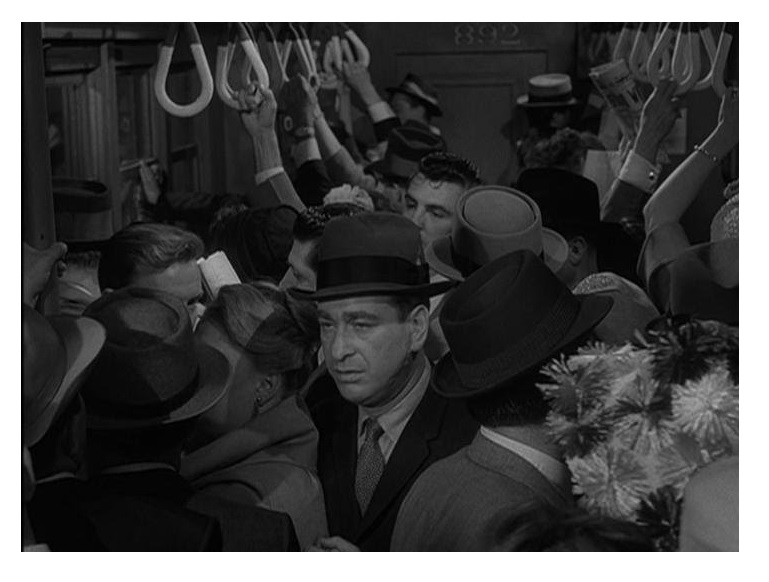 Episode 2.27: The Mind and the Matter
Directed by Buzz Kulik
Written by Rod Serling
Starring Shelley Berman, Jack Grinnage, Chet Stratton
Another existential romp as a man (Shelley Berman), sick of the hustle and bustle of every day city life, finds a self help book that opens up a new world for him where he can envision his mind conquering matter. This New Agey way of thinking works, and he walks around the empty subway and through his empty office enjoying his solitude. Of course, no man is an island, and eventually the solitude morphs into loneliness. Sure this is a bit simplistic, but still a fun episode, especially since there are days when I empathize with Berman's quandary. Berman is great in this one man show of an episode.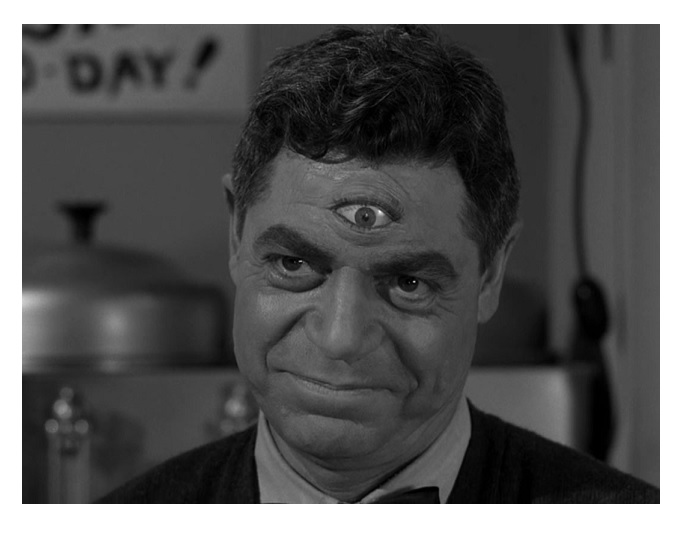 Episode 2.28: Will the Real Martian Please Stand Up?
Directed by Montgomery Pittman
Written by Rod Serling
Starring Jack Elam, John Hoyt, Bill Kendis, Barney Phillips, Bill Erwin, Gertrude Flynn, Jean Willes, Morgan Jones, John Archer
This whodunit of an episode is all kinds of fun. With a quick and pointed script of about a bunch of strangers in a room suspicious of one another and some fantastic performances, this story about a crashed spaceship and a set of footprints in the snow leading to a diner really entertains. Serling's script is great in that it pits everyone in the room against one another once the paranoia sets in. Though this is a fun issue, it touches upon the same paranoia that is handled so well in INVASION OF THE BODY SNATCHERS and especially the blowtorch scene in JOHN CARPENTER'S THE THING. This one is filled with fun surprises all the way up until the end and if you think that pic over there is a major spoiler as to who the real Martian is, think again.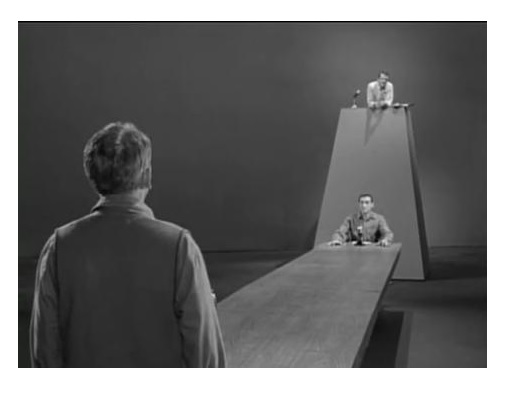 Episode 2.29: The Obsolete Man
Directed by Elliot Silverstein
Written by Rod Serling
Starring Burgess Meredith, Fritz Weaver, Josip Elic
The always fantastic Burgess Meredith takes on Fritz Weaver in a battle of wills in a futuristic tale where books, religion, free thought, and just about anything that makes humanity unique is deemed obsolete. When Meredith's character is sentenced to death, he asks for his death to be on his own terms and ends up turning the tables and putting the twisted beliefs of this horrific society against itself. It's a fantastic tale, dire in tone and maybe a little preachy, but Meredith and Weaver sell it and the ending of this one is downright nightmarish.
Well, that's it for Season Two of TWILIGHT ZONE. In two weeks we dive into the third, which will be the final season we cover in this massive TZ retrospective. See you next week with more MONSTERS episodes!
Previous TWILIGHT ZONE Episode Reviews!
Season 1: Episodes 1.1-1.6, 1.7-1.12, 1.13-1.18, 1.19-1.24, 1.25-1.30, 1.31-1.36
Season 2: Episodes 2.1-2.6, 2.7-2.12, 2.13-2.18, 2.19-2.24
Season 4: Episodes 4.1-4.5, 4.5-4.8, 4.9-4.13, 4.14-4.18
Season 5: Episodes 5.1-5.7, 5.8-5.14, 5.15-5.21, 5.22-5.28, 5.29-5.36


Look for more TWILIGHT ZONE Episode Reviews soon!
---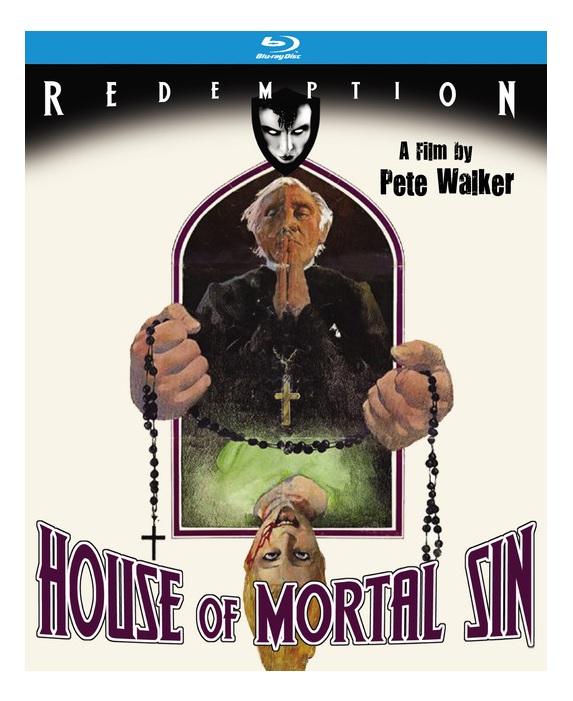 Retro-review: New this week on BluRay from Kino Lorber/Redemption!
HOUSE OF MORTAL SIN (1976)
aka THE CONFESSIONAL, THE CONFESSIONAL MURDERS
Directed by Pete Walker
Written by David McGillivray, Pete Walker
Starring Anthony Sharp, Susan Penhaligon, Stephanie Beacham, Norman Eshley, Sheila Keith, Hilda Barry, Stewart Bevan, Julia McCarthy, John Yule, Bill Kerr, Victor Winding
Retro-reviewed by Ambush Bug
One of Peter Walker's last films is one of his best. I've been a fan of Walker's ever since I caught FRIGHTMARE back in the day on VHS when I was probably 10. While he never achieved the status of a Romero or a Fulci or an Argento, Walker's films were fantastic odes to the macabre mysteries and bent psyches that made Hitchcock famous with PSYCHO. Many of the same themes seen in PSYCHO can be found littered throughout Walker's films, a quality that can also be said about the Walker film du jour: THE HOUSE OF MORTAL SIN.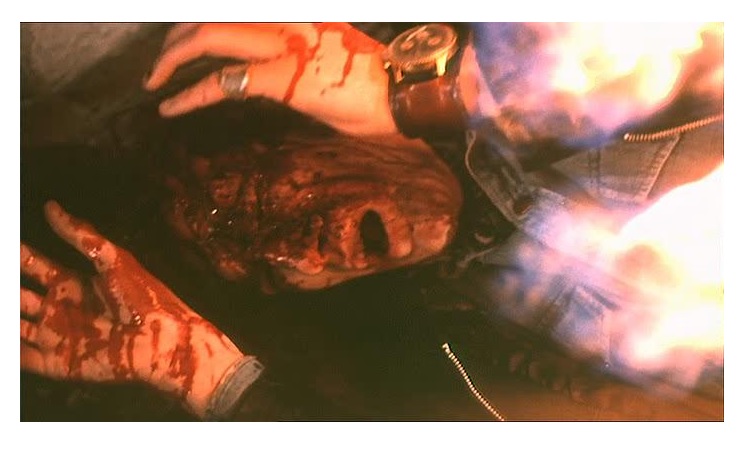 Also commonly known as THE CONFESSIONAL, THE HOUSE OF MORTAL SIN is wicked all the way through, with perversion and hypocrisy in the church being one of the most prevalent themes. PATRICK's Susan Penhaligon stars as Jenny, a pretty Jennifer Lawrence-looking waif who is longing for a steady relationship with her boyfriend but can't seem to find happiness. Just before her boyfriend leaves her, she happens to run into a long lost friend, Bernard (Norman Eshley), who has since become a Catholic priest. Seeking someone to talk to after her beau has left, she runs to the church seeking out advice from Bernard and instead finds Father Xavier Meldrum (Anthony Sharp) in the confessional. When Jenny tells Father Meldrum about her provocative lifestyle and her abortion, the creepy priest is obviously shaken and aroused. Weirded out, Jenny flees the booth, but is relentlessly pursued by Meldrum through the rest of the film. There's also Meldrum's creepy invalid mother and his staunch assistant the one-eyed Miss Brabazon (played by the always amazing Walker film staple Sheila Keith), adding to the evil that actually drips from this film.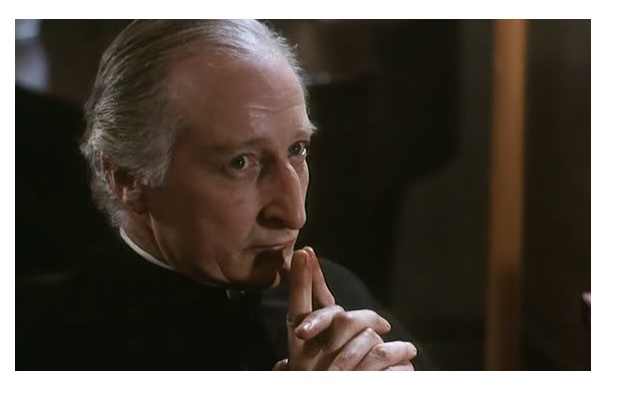 The hypocritical nature of the Catholic church takes main stage in this film as Father Meldrum attempts to blackmail Jenny into coming to see him by recording her confession, and when Jenny still refuses, he resorts to stalking and killing anyone close to her. Walker tries to maintain some semblance of mystery as to who the robed murderer is for all of about five minutes before he seems to switch gears and not give a fuck about revealing his identity, so it's no spoiler that Meldrum is the monster Jenny perceives him to be. Bernard is also used to show how restraining the Catholic church is by being tempted to leave the priesthood in pursuit of a former relationship with Jenny's sister Vanessa (Stephanie Beacham, who also starred in Walker's SCHIZO and had a long stint on DALLAS). How much the priesthood tamps down the urges of connection is exemplified in the "how to do it" and "how not to do it" categories with Bernard and Meldrum's characters, with Bernard getting permission from the bishop to leave the priesthood and given a lecture about how refreshing it was to see him use the proper channels to pursue a relationship rather than keep it secret or tuck those urges away, which is the heart of Meldrum's psychosis.
With the inclusion of Meldrum's mother and his tendency to confess his devious plans to her, there are definite shades of PSYCHO afoot throughout the film, but instead of a hotel and a spooky house Walker highlights the spooky aspects of a silent, dark church here for the setting of the terrors. The concept of the priest getting off on the sins in a confessional booth might be something that has been used for laughs in other films, but here it's a concept that is downright bone-chilling, mostly due to Anthony Sharp's performance as Meldrum, whose lip quivers and voice stutters at every sin Jenny confesses. The cross-hatching of the confessional booth and silent people in prayer cut to during the scene make this experience, which may be normal to some, utterly terrifying and as invasive as any PSYCHO shower scene.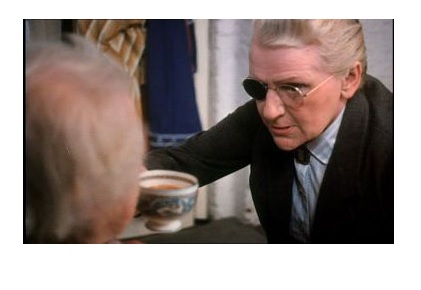 There will be those who are going to be left disappointed by the way this film ends, but I loved the dank evilness of it. Though I won't reveal it here, it ends more with a suggestion than a major action, but given the circumstances, it makes what happens after the credits are done and the screen goes dark all the more terrifying in the theater of one's own mind, rather than seeing it play out on screen. While sometimes I get pissed at ambiguous endings, this one didn't cause that due to the strong performances and structurally sound story and theme.
While FRIGHTMARE has and always will be my favorite of Walker's films, this one ranks a close second and reflects a director who got better with age, honing his grisly mysteries and never holding back on a healthy dose of perversion and gore. THE HOUSE OF MORTAL SIN is filled with fantastic performances (especially from Anthony Sharp and Sheila Keith, who has little screentime as Miss Brabazon, but the moments she is onscreen and the integral role she plays to the plot is resonant. With all sorts of effective scenes of terror involving Catholic icons and morals, THE HOUSE OF MORTAL SIN is bound to offend the devout and thrill those who love a deviously good mystery.
Other Pete Walker Film Reviews!
DIE SCREAMING MARIANNE (1971)
THE FLESH & BLOOD SHOW (1972)
HOUSE OF THE WHIPCORD (1974)
FRIGHTMARE (1974)
SCHIZO (1976)
THE COMEBACK (1978)
---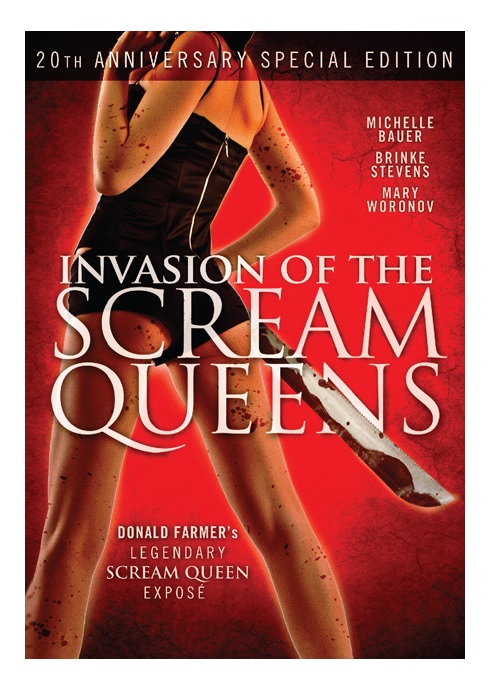 Retro-review: New this week on DVD from Wild Eye Releasing!
INVASION OF THE SCREAM QUEENS (1992)
Directed by Donald Farmer
Starring Michelle Bauer, Martine Beswick, Janus Blythe, Veronica Carothers, Ruth Collins, Monique Gabrielle, Marya Gant, Katina Garner, Elizabeth Kaitan, Melissa Moore, Tammara Souza, Vivian Schilling, Deborah Stern, Brinke Stevens, Mary Woronov
Retro-reviewed by Ambush Bug
The B-movie scream queen rarely gets the respect she deserves. She's often forced to shed her clothes, die in a bloody or ridiculous way, and, of course, scream. Still, many horror films wouldn't have achieved their cult status without their participation, their moxy, and their nicely formed bodies, so interviewing these scream queens gives voice to a niche of horror less travelled in a horror documentary. That's what INVASION OF THE SCREAM QUEENS is all about.
The doc is directed by Donald Farmer, who helmed such cult flicks as DEMON QUEEN and SAVAGE VANGEANCE. This is not the best documentary. It's less of a dissection of what the scream queen is and more of a collection of mini-interviews where each actress tells the camera a little about herself. No definition of the term scream queen is given, though this is one of those genre projects for people who already know what the term means. Still, something tying everything together might have made it feel a bit more cohesive.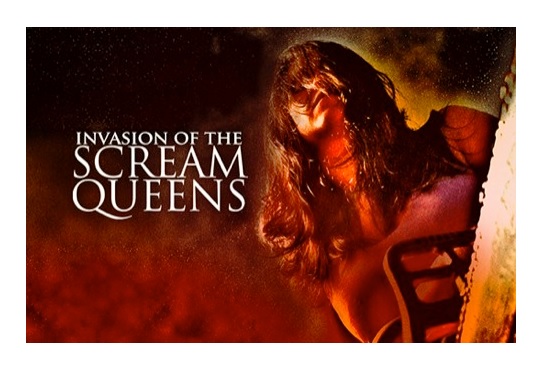 The following is a list of actresses who appear in INVASION OF THE SCREAM QUEENS and what they talk about:
Michelle Bauer talks about NIGHTMARE SISTERS, THE TOMB, and her first days before she gained the title of scream queen.
Brinke Stephens talks a little bit about her past, how she rarely turns down a script, and her first film roles including her role in TEENAGE EXORCIST as a writer and her graduation to higher grade films.
Melissa Moore talks about her past, how she got her first roles in horror such as CAGED FURY, INVISIBLE MANIAC, Roger Corman's NIGHTIE NIGHTMARES and TOWER OF TERROR. She recalls working with Leslie Nielsen on REPOSSESSED.
Martine Beswick discusses her work on FROM RUSSIA WITH LOVE as a Bond girl and her big catfight in 1,000,000 YEARS B.C. with Raquel Welch.
Ruth Collins wears some kind of flowered dress that barely covered her body whilst talking about working with Fred Olen Ray on LITTLE DEVILS and how she wants to work with Woody Allen some day.
THE HILLS HAVE EYES' Ruby (Janus Blythe) talks about how she got on the Wes Craven movie, her fear of snakes and her work on THE INCREDIBLE MELTING MAN and FRIGHT NIGHT.
Sisters Marya Gant & Katina Garner offer up a quick bit about A POLISH VAMPIRE IN BURBANK.
Debra Stern talks about her only horror film, NUDIST COLONY OF THE DEAD, how she had no idea a film with that title was a horror film, and what it was like to work with gory special effects.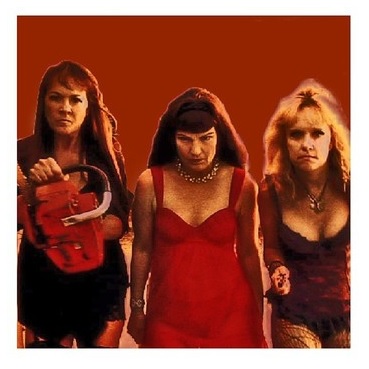 Elizabeth Kaitan sweetly talks about her change in hair color for FRIDAY THE 13TH PART 7, about her adjusted death scene in the final cut of the film, and working with Kane Hodder as Jason. She also muses about NECROMANCER, AFTERSHOCK, NIGHTWISH, and SILENT NIGHT DEADLY NIGHT PART 2. Elizabeth interviews her roommate Tammara Souza about working with Elizabeth on ASSAULT OF THE KILLER BIMBOS and with Jeff Bridges and Terry Gilliam on THE FISHER KING. Elizabeth also talks about her Hungarian heritage and desire to return to her country of birth.
Veronica Carothers talks about MANKILLERS, FATAL SKIES, and playing a big nerd in Fred Olen Ray's LITTLE DEVILS. She also talks about her necessary nudity with Wings Hauser in MIND, BODY & SOUL.
STARSLAMMER's Vivian Schilling talks about her graduation to writing horror with TERROR EYES, and then on to SOULTAKER and BLACK CREEK. Vivian talks about near death experiences, violence in film, and how important violence can be to a film vs. unnecessary, exploitative violence.
The highlight of the film is a talk with legendary actress Mary Woronov, who chats about her first gig at Warhol Studios watching Salvador Dali take a picture and working with Andy Warhol vs. working with Paul Bartel. It was fascinating hearing her talk about these legends of film and art. She shows off some of her own paintings here as well.
Monique Gabrielle talks about her roles in THE RETURN OF SWAMP THING, TRANSYLVANIA TWIST, EVIL TOONS, 976-EVIL 2, and ANGEL EYES. The giggly and gorgeous actress talks about her propensity for nudity in her films and tries to justify it.
While the production quality of INVASION OF THE SCREAM QUEENS feels as if it was transferred directly from a pretty well worn video, it still is filled with all sorts of fun behind-the-scenes stories from some actresses any fan of horror would recognize. It's great to see clips from these z-grade films, though the film quality is really grainy and of poor quality. Hopefully some of these lost gems will be cleaned up and rereleased soon. Until then, though the picture quality is rough, INVASION OF THE SCREAM QUEENS offers up a look at an obscure corner of horror that rarely gets the props it deserves.
---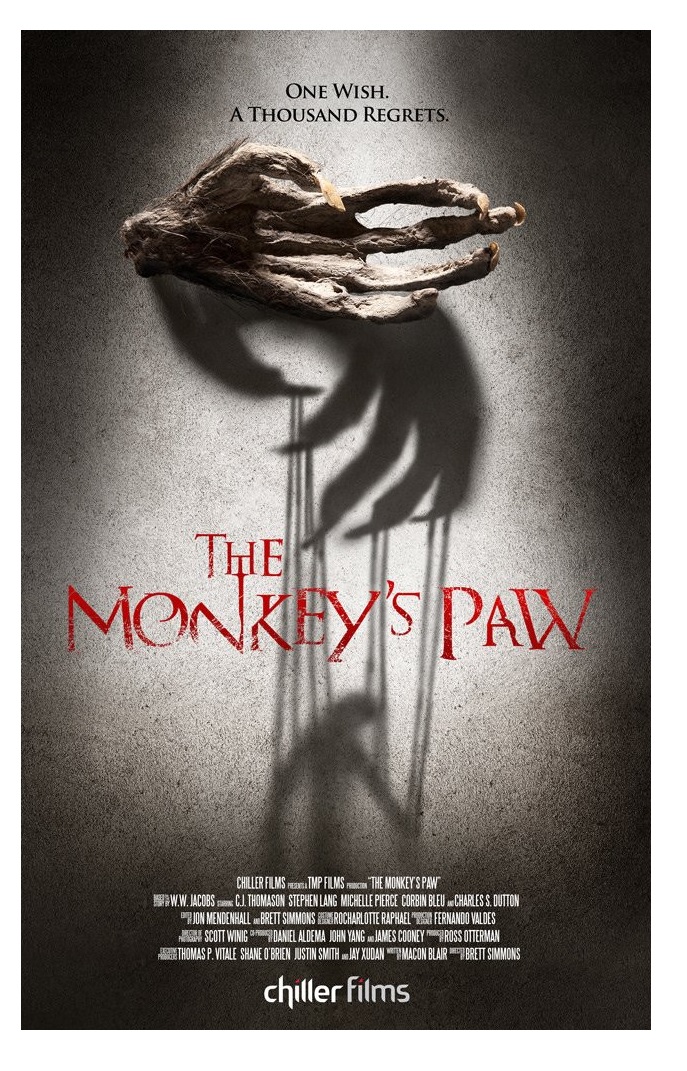 New this week on DVD & BluRay from The Shout Factory/Chiller Films!
THE MONKEY'S PAW (2013)
Directed by Brett Simmons
Written by Macon Blair (screenplay), W.W. Jacobs (short novel), Adam Meyer & Justin Smith
Starring C.J. Thomason, Stephen Lang, Michelle Pierce, Corbin Bleu, Daniel Hugh Kelly, Charles S. Dutton, Tauvia Dawn, Jessica Garvey, Andy Favreau, James Minor III, Grayson Berry, Sabrina Gennarino, John Lewis
Find out more about this film here and on Facebook here
Reviewed by Ambush Bug
An age-old story gets a modern reboot in this film from Brett Simmons, the director of HUSK (
reviewed here
). While you might know the basics skeleton of the story, Simmons provides some twists and turns making the whole thing worth revisiting.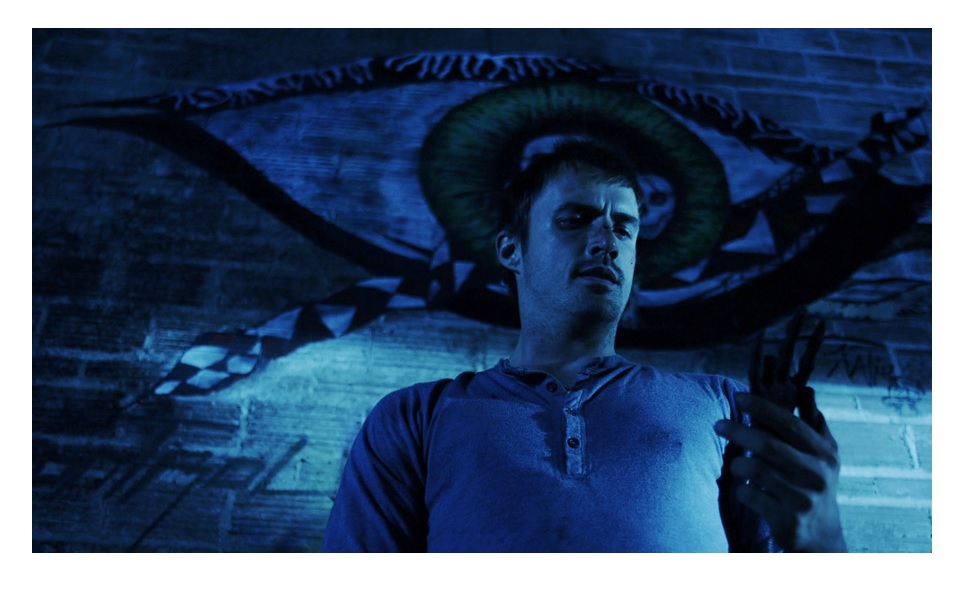 THE MONKEY'S PAW basically begins with the tale we all know—or, basically, the aftermath of that tale, to be precise. A young boy hears a skirmish outside of his room and happens upon his father lying in a heap on the floor. With his last words, he tells the boy not to tempt fate and hands off a shriveled and mummified paw of a monkey to him. Cut to present day and we meet a down on his luck factory worker named Jake (C.J. Thomason), stuck in a dead end town, with a dead end dog and a boss who married his ex-girlfriend who he is still hung up on. Jake's old country music song of a life is only made better when comparing it to his buddy Tony's downfallings (played by the always great Stephen Lang from AVATAR). When another old timer at the factory named Gillespe (CUJO's Daniel Hugh Kelly) gets canned, he passes on a withered monkey's paw to Jake as they all commiserate at the local drinking hole. Jake wishes for a shiny new car at first, and when one plops in his lap he realizes there might be something to the three wishes, but soon, as the original tale of the monkey's paw goes, the wishes come back to haunt him.
In many ways, THE MONKEY'S PAW reminded me of PET SEMETARY in the fact that it is about playing God and resurrecting those we've lost. This is not a knock; just an observation that there was a definite vibe to this film that felt downright Stephen King-ish in terms of the down-home nature of the people involved, the reliance on a cursed item, and the roundabout way things come back to haunt the characters involved. Lang is playing second fiddle here, but he's the highlight of the film, giving a performance that is both soulful at first, yet altogether menacing as the film goes on. Thomason is the lead here and main possessor of the monkey's paw, but due to Lang's performance, I was much more interested in his quandary than anyone else's.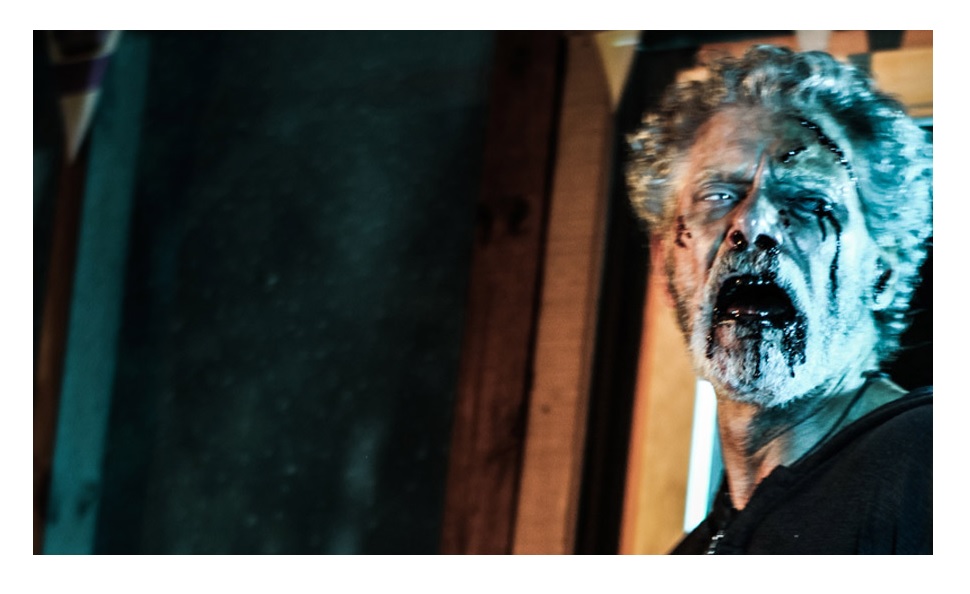 That said, director Brett Simmons keeps the directing fast and tight. Much like his mastering of moody atmosphere in the scarecrow horror film HUSK, Simmons is able to build tension and hold the audience by the throat well in this film, and while resurrected corpses and monkey fingers aren't as scary to me as scarecrows, Simmons makes them pretty scary and effective.
Unlike its cable counterpart SyFy, which seems to have no standard of excellence when it comes to playing films, Chiller is actually doing a fantastic job of picking some winners to back. Sure there isn't the standard nudity, swearing, and gratuitous gore, but the channel seems to be churning out quality chills at a decent rate. THE MONKEY'S PAW is another quality tale that serves as a continuation to the story we all know and love rather than a remake. In doing so, it feels so much more interesting than most remakes or overly CG slopfests we get from SyFy these days.
---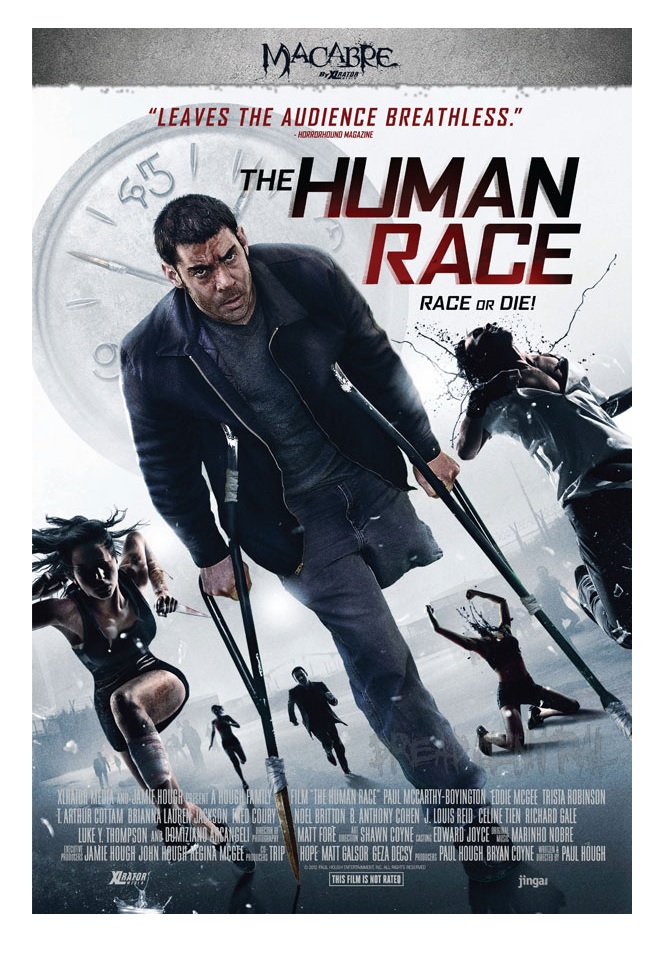 New in select theaters, On Demand, and iTunes from XLRator!
THE HUMAN RACE (2013)
Directed by Paul Hough
Written by Paul Hough
Starring Paul McCarthy-Boyington, Eddie McGee, Trista Robinson, T. Arthur Cottam, Brianna Lauren Jackson, Fred Coury, B. Anthony Cohen, Noel Britton
Find out more about this film on Facebook here
Reviewed by Ambush Bug
With the deathly serious stance people take with their sports these days, it's a wonder more sports-themed horror films aren't popping up. Sure, there was DEATHSPORT and DEATHRACE, and I'd even consider ROLLERBALL one of the better ones, but none of those films (and let's not even mention the remakes) really take into account how deathly serious we take our competitive sports in today's society. THE HUMAN RACE tries, and while it may not succeed as a political statement, it does succeed in being a compelling action horror tale.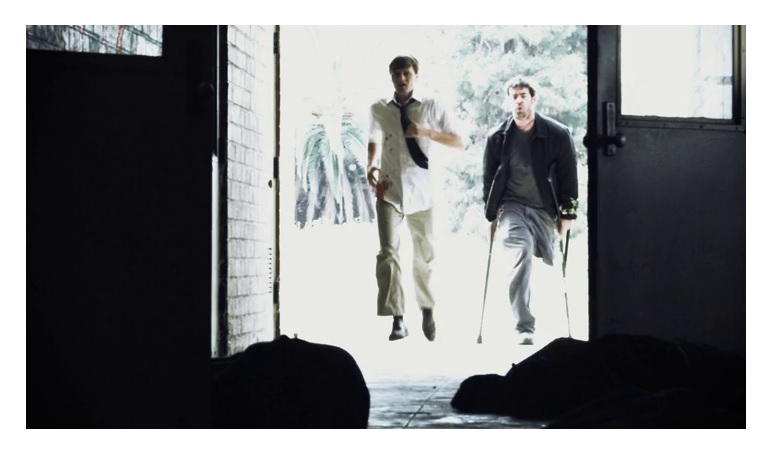 The film starts RUN LOLA RUN style, setting up the rules of the game as described by what looks to be a foreign language in subtitles. If you want to live, you have to run the race. Follow the arrows, stay off the grass, and don't get lapped. If you follow these simple guidelines, you live. If you don't, you die. Simple as that. A group of 50 participants are swiped from their everyday lives and show up on this racetrack from hell which goes in and out of abandoned buildings, across fenced in fields, and through tunnels. We get to know a small handful of these racers, but most of them act as fodder for the occasional head explosion if one of the rules is broken.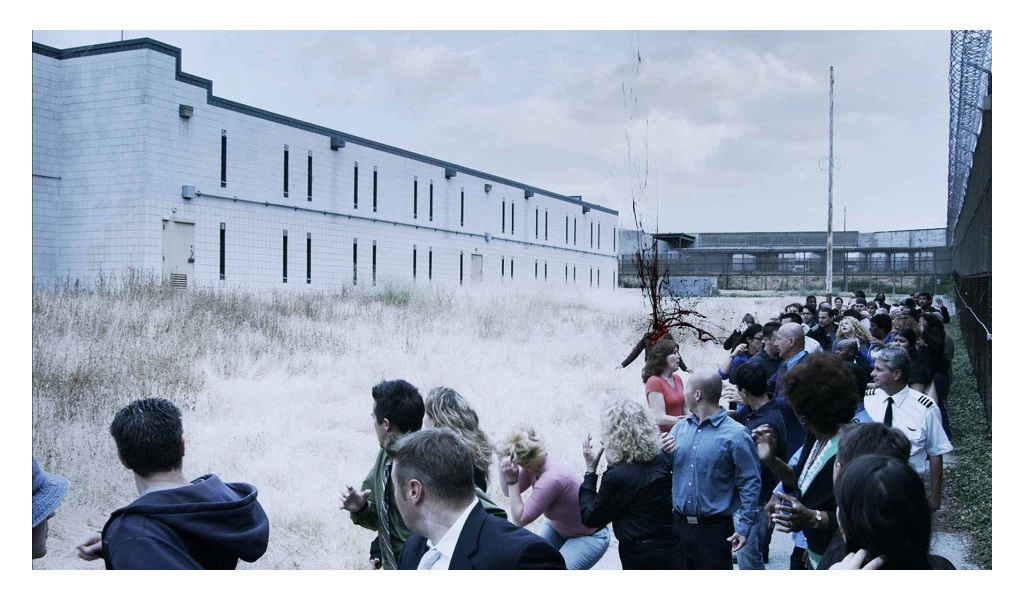 The cast you do get to know are made up of both stereotypes and some compelling surprises. Sure, there's the HUNGER GAMES-esque spunky teen who is battling cancer. There's the soldier with a heart of gold who works with crippled kids, and another soldier who lost his leg in a battle but still runs the race in crutches. And there's the stressed-out office worker. And the pregnant mother. And the two little Asian kids. Surely these guys will survive this race to end all races, right? Well, I think you're going to be surprised as to who lives and whose head goes all 'splody in THE HUMAN RACE, and that's one of its most endearing qualities. Those you would think would be ripe for survival in safe and conventional movies are ripe for the 'splodin' in this film. The fact that the movie has the balls to wipe out those who are often deemed unharmable in films is what I love about it.
I can't say THE HUMAN RACE is the best-acted or -directed film. The exploding heads are CG and often look it. But what makes it a really fun movie to watch is that it seems to not give a fuck about any of the people involved in the story, and there's something awesome about that. It plucks the usual heartstrings you often see in this type of sports gone wrong film and then shreds them with reckless abandon. So if you're looking for a film that tosses convention aside like a long distance runner does those little paper cups full of water in a race, you're going to want to give THE HUMAN RACE a sporting chance. This is not great cinema, but it's a hell of a fun movie.
---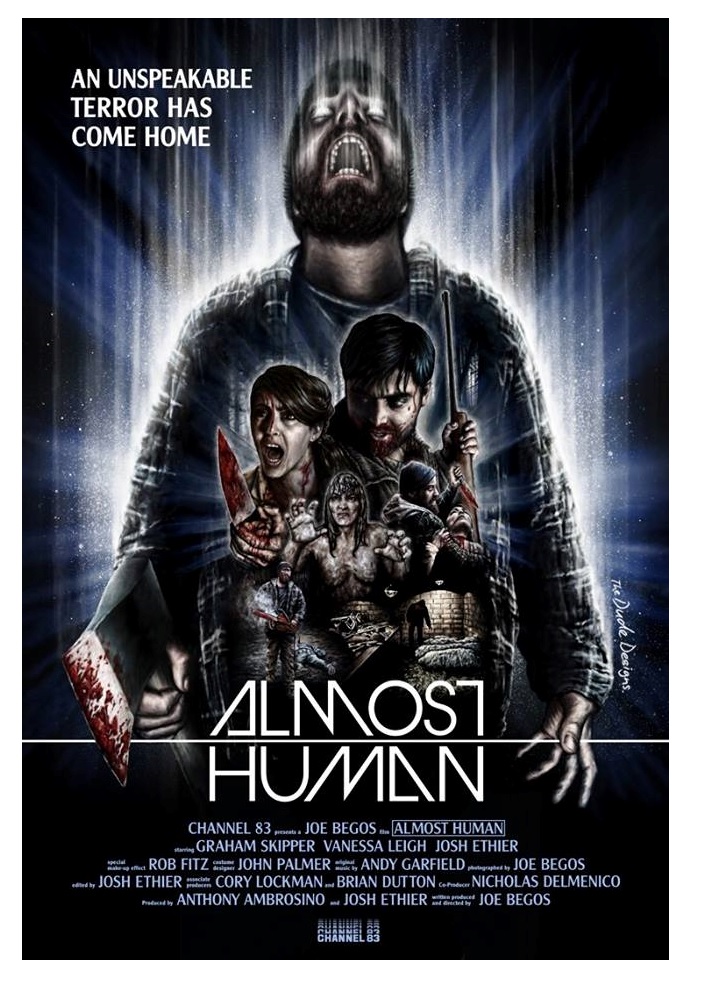 New this week on DVD/BluRay from IFC Midnight!
ALMOST HUMAN (2013)
Directed by Joe Begos
Written by Joe Begos
Starring Graham Skipper, Vanessa Leigh, Josh Ethier, Susan T. Travers, Michael LoCicero, Jami Tennile, Tony Amaral, John Palmer, Chuck Doherty,and Jeremy Furtado
Find out more about this film here and on Facebook here
Reviewed by Ambush Bug
I've said this before in this column, but there's something about alien abduction films that really spooks me the fuck out. I guess it's because there have been so few films made on the subject that didn't convey that sense of fear so well. It's weird that a simple light from the sky in a wooded area, some mood lighting, and some suspicious sideways glances can get to me so much, but it does. Maybe I was abducted at some point and don't know it.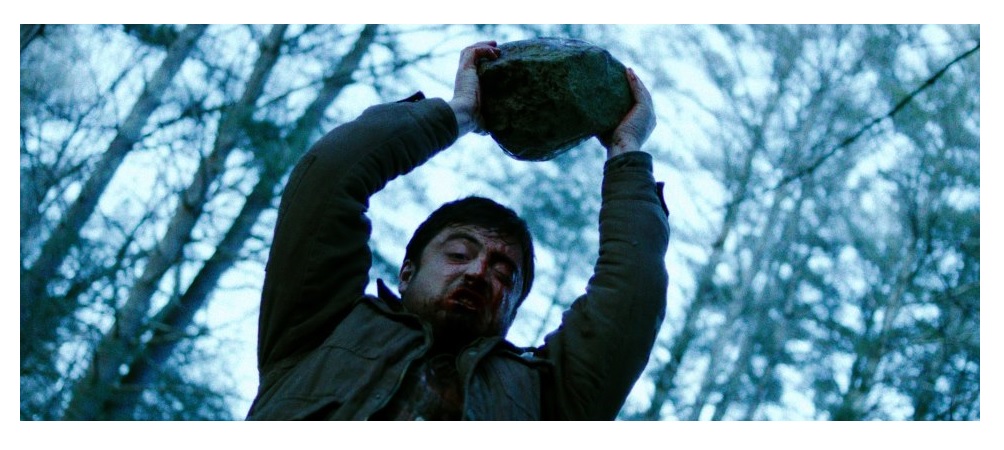 ALMOST HUMAN is a very smart lesson in filmmaking for those who want to make an effective horror film on a tight budget. While I tend to pay attention to this type of thing, I'll bet there are going to be a lot of people who watch this film and imagine it was made for a lot more than it really was. Using simple illusory techniques, some tight edits, and strong performances from the cast, ALMOST HUMAN feel like a production much bigger than it was, which is a testament to the skill behind the camera of writer/director Joe Begos. Though a shitload of blood is used in this film, for the most part the only other effects are a light from the sky, a few squished skull appliances, and an alien tongue-tube thingy. Everything else is conveyed on camera and edited and filmed in a manner that amps it to the most frightening degree.
The story itself is part of that strength, as a man named Seth (Graham Skipper) rushes into the apartment of his friend Mark (Josh Ethier) reporting that their mutual friend was whisked away by bright lights in the sky. Soon, a deafening noise shakes the house and Mark is compelled to walk out of the house into the yard where a light bears down on him from above and he disappears. Seth is accused of murdering Mark, and though he remembers nothing from the night, he continues to claim he is innocent. Years later, the same type of lights occurs again and Mark appears naked and covered in goo in a forest. It's pretty apparent early on that this is not the same Mark who left, as he becomes a one man killing machine, murdering anyone in his path and attempting to seemingly lead the charge in a world invasion from the stars.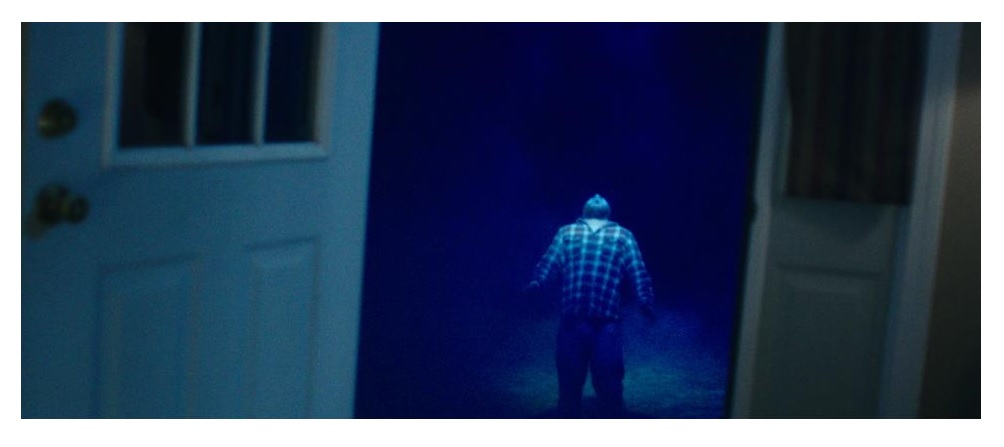 What works in ALMOST HUMAN is that it is a small story about big ideas, but writer/director Begos keeps everything grounded and in check. Put plainly, this is a story about a man on a rampage. If not for the ungodly loud screeches coming from his mouth and maybe the six foot tongue/tentacle/tube he uses to impregnate humans with some kind of alien egg, it's just a guy making a beeline to his old life and killing everyone who crosses his path in gory and bloody ways. An invasion seems to be on the horizon, and there are earth-shattering things occurring, but never does the story leave this small town, and the film benefits from it because of that face. Because it is a grounded alien run amok story, it's all the more believable.
On top of all of the minimal but effective effects, the performances throughout ALMOST HUMAN are strong as well. The film rest squarely on Skipper's shoulders, and the actor does a good job with the responsibility. Ethier has less to do because he's an emotionless killing machine, but still, with some well placed gore-splatter, the actor pulls off menacing without having to do much. The film is very much a tribute to John Carpenter's suspense-laden horror films of the 80's, right down to the lettering of the title credits. While the film pays a lot of homage to Carpenter, I felt it makes itself distinct enough to be more than an outright ripoff. ALMOST HUMAN is not a typical big budget sci fi yarn, but that's what makes it so special. Keeping it small in scope and high on shocking moments with an ever-present tone of danger makes it an abduction film more effective than most.
---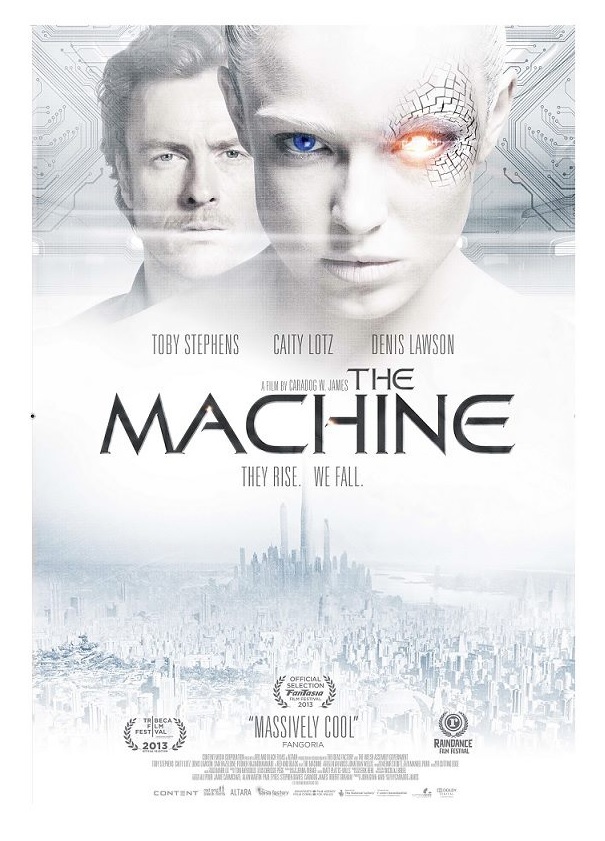 New this week on DVD/BluRay from XLRator Media!!
THE MACHINE (2013)
Directed by Caradog W James
Written by Caradog W James
Starring Toby Stephens, Caity Lotz, Denis Lawson, Sam Hazeldine, Pooneh Hajimohammadi, & John Paul Macleod
Find out more about this film here and on Facebook here
Reviewed by Ambush Bug
Probably the most pleasantly surprising film I saw this week was THE MACHINE, from writer/director Caradog W. James. Reading the description of the film and even seeing the trailer didn't really fill me with hope, but upon viewing the film I found it to be like MOON and DISTRICT 9 before it--one of those low-scoped sci fi films that is the reason behind this big new wave of sci fi films inundating us in theaters at the moment. It's too bad that this film is small- scale, as it is a film that deserves to be experienced by more people, but in this case I guess THE MACHINE will be one of those surprises you happen upon on cable and wonder why you haven't heard much about.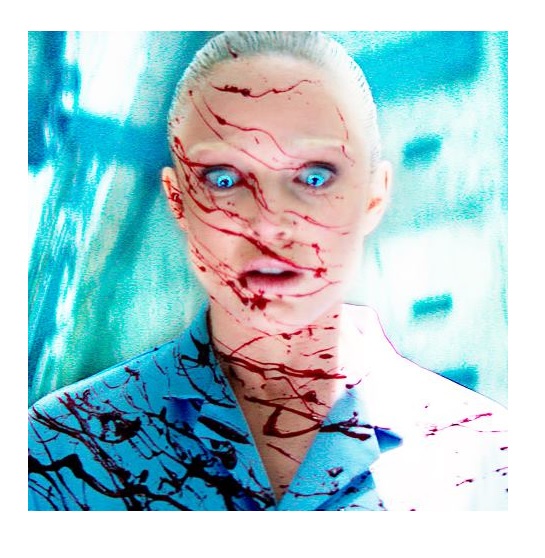 The film stars BLACK SAILS' Toby Stephens as Vincent, an expert in artificial intelligence who strives to make robots that think and reason for themselves, but his experiments seem to lack a human quality that prohibits the machines from going crazy from the flood of the other humanistic qualities he puts into the robots. Soon he meets the adorable Ava (played by ARROW's Black Canary herself, Caity Lotz), a fellow programmer who seems to have developed a way to counteract this imbalance, but before Ava and Vincent can make the perfect AI, Ava is killed and Vincent decides to use Ava as the basis for his first perfect robot that he calls The Machine. But the corporate head of the company Vincent works for, played by Denis Lawson (that's right, muther-effin' Wedge from STAR WARS is in this film!) wants Ava for a perfect killing machine, of course, and that's where Ava is torn between the peaceful designs of her creator and the deadly intentions of her owner.
Even that description makes this film seem like an EVE OF DESTRUCTION clone or some other sci fi B-movie you wouldn't give two blinks to, but aside from fantastic acting from all of the cast, the film is visually stunning. From the glowing blue eyes of the robots to the Giger-esque yet unique sets and machinery this film used, THE MACHINE is a beauty to lay eyes on. Director James does things with a simple warehouse with water on the floor that are gorgeously lit and fantastically choreographed. While the old JJ Abrams lens flare is used quite a bit in this film, it's done so only during the AI scenes, differentiating them from the gritty human scenes. From the brutal fight scenes as Ava murderizes scores of foes to the quiet ones of Vincent exhausting himself in the lab, every scene looks fantastic and original.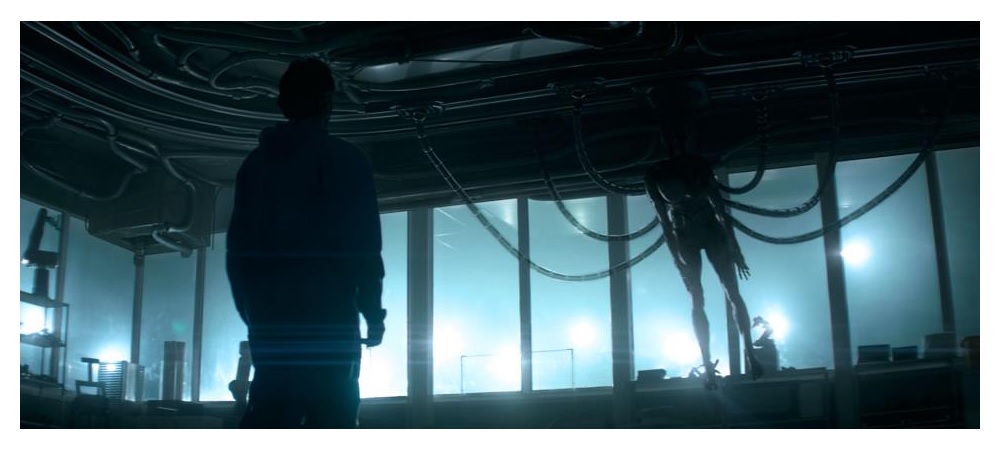 Little details like the aforementioned subtle blue-eyed glow in the robots and the fact that the robots talk to one another in a garbled kind of techspeak sets this film aside as something full of unique and engaging ideas. Robot gone amok stories are a dime a dozen, but the filmmakers' eye, the actors' talent, and the imagination of both those behind the effects and the camera make this one of the best sci fi films I've seen this year.
If you are hungry for good sci fi, THE MACHINE is going to satisfy your appetite and then some. Visually stunning and superbly made, THE MACHINE is going to surprise quite a few folks. It's getting a limited theatrical run before it hits VOD and then DVD. However you catch THE MACHINE, just make sure you do as it's a sci fi gem worth finding.
---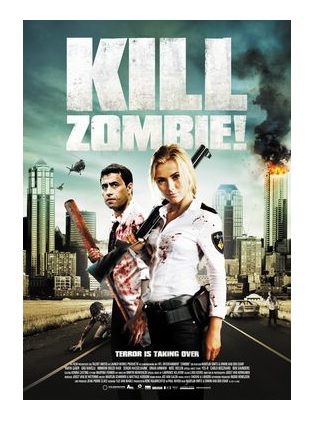 New this week on DVD/BluRay from Well Go USA Entertainment!
KILL ZOMBIE! (2012)
aka ZOMBIBI, KILL DEAD ZOMBIE, ZOMBIE QUEST
Directed by Martijn Smits & Erwin van den Eshof
Written by Tijs van Marle
Starring Yahya Gaier, Mimoun Ouled Radi, Gigi Ravelli, Sergio Hasselbaink, Uriah Arnhem, Noel Deelen, Nadia Poeschmann, Carlo Boszhard
Find out more about this film here and on Facebook here
Reviewed by Ambush Bug
I can't say for sure, but I kind of feel like I've gotten over the hill that represents my boredom with zombie flicks. Over the last five years there's been an inundation of zombie films and, much worse than that, zombie films that pretty much tell the same story over and over again. But lately my ire for zombie films has lessened, and maybe it's time for me to get on with my life and focus on found footage and Bram Stoker retreads. If films like KILL ZOMBIE aka ZOMBIBI are any indication of the type of zombie flicks we will be getting in this post-post apocalyptic time in cinema, I think there's hope for the zombie genre still.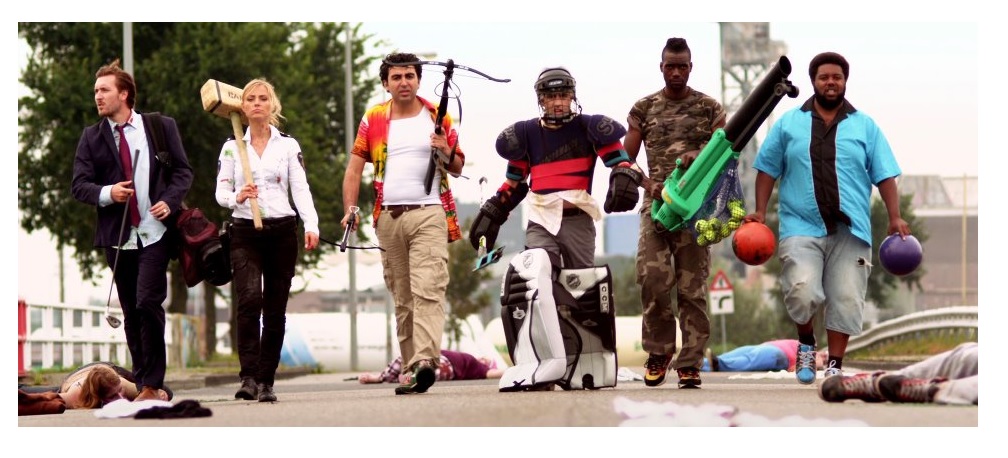 Like JUAN OF THE DEAD and SHAUN OF THE DEAD before it, this one could be called SVEN OF THE DEAD since KILL ZOMBIE! seems to have been cut from the same cloth as those movies in both tone and how they exemplify the attitude and mindset of a specific culture in terms of how it deals with catastrophe. As usual in this type of zombie flick, zombies are used more as a metaphor in KILL ZOMBIE!: more of a hurdle than anything else, as a ragtag group of heroes makes their way across town to the site of where a satellite crashed and unleashed green ooze that has made everyone make like an extra in a Romero film. A downed satellite is occasionally used as a possible cause of the zombie plague—it was talked about in NIGHT OF THE LIVING DEAD, for example, but never was linked directly to the cause. Here we actually see the satellite, its effects, and how it seems to draw zombies like a magnet. Unfortunately, our unlikely hero Aziz (Yahya Gaier) has to go to the satellite crash site as well, since his new girlfriend is trapped in the collapsing building under the satellite.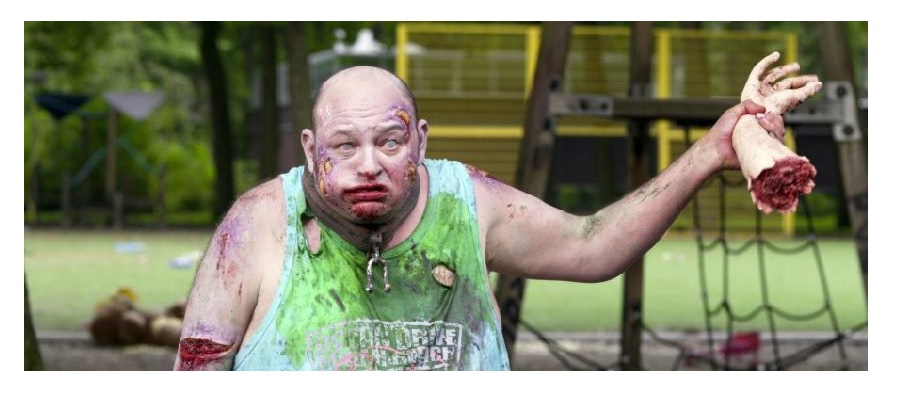 Like Juan or Shaun, Aziz is not your typical hero. He's cowardly, nerdy, picked on by his coworkers, and walked on by his boss. Sure he has high hopes for opening up a club with his loudmouthed cousin Mo (Mimoun Ouled Radi), but Mo is too busy getting the two of them into trouble with gangs, the mob, and the law to really make those dreams a reality. It's a comedic situation and a comedic tone directors Martijn Smits & Erwin van den Eshof convey in this film, with Aziz's voiceover driving this mad trek across Amsterdam. It occasionally feels more like it was more influenced by SCOTT PILGRIM than NOTLD with its cartoonish and video game title-like sequences like "THE BALL BLASTER!" as one of the survivors shoots tennis balls at the zombies (which hilariously bounce off of them with little to no effect) or the introduction to the kung fu fighting madmen a la the "HUGO STIGLITZ!" intro from INGLORIOUS BASTERDS. The Tarantino love is thick here, as there's even a riff on the accidental shot to the head in a car scene from PULP FICTION.
While this film is nowhere near as good as SHAUN and JUAN, if you like those films, it's likely you'll find something to like with KILL ZOMBIE! It's a movie that never takes itself seriously and has seen all of the zombie movies we all love. Yes, some of the humor has been done better in SHAUN, JUAN and some of the Tarantino films it riffs off of, but I liked large portions of this film for its shameless riffs and no fucks given attitude in terms of who dies and who lives. KILL ZOMBIE! is not going to please those humorless die-hards who scoff at any film that doesn't take the material deathly seriously, but this is a zombie film a head above the rest of the zombie herd out there.
---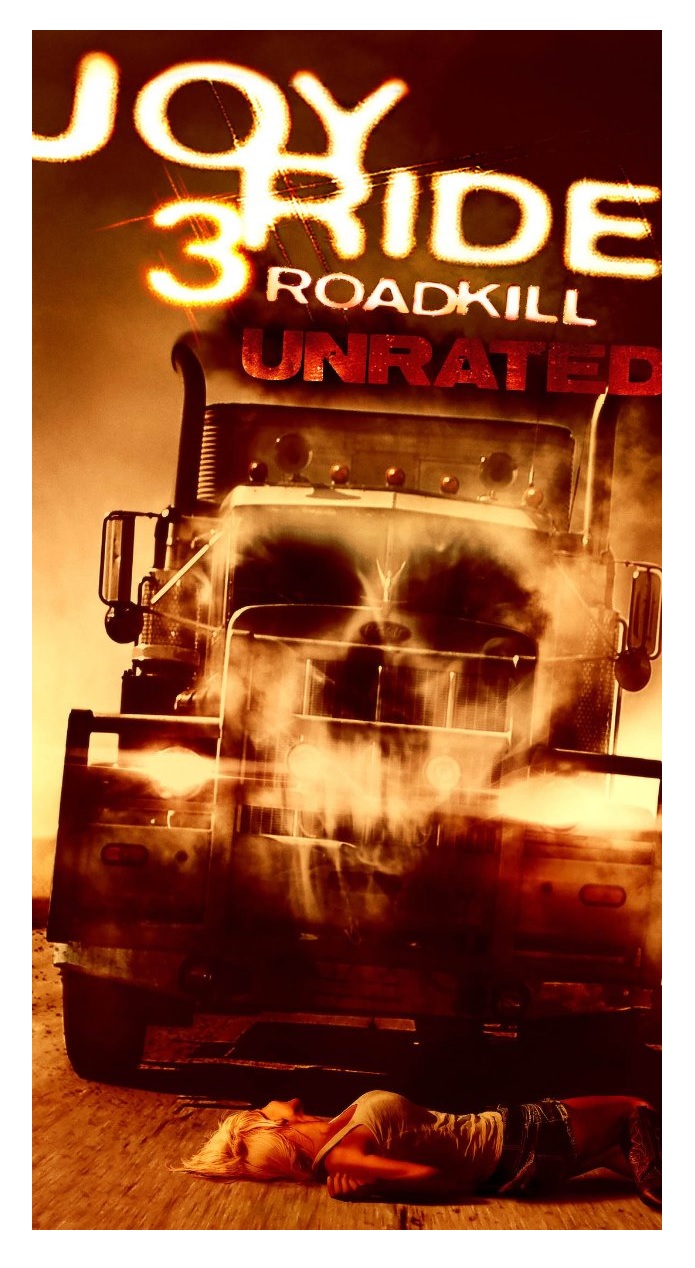 New this week on BluRay/DVD from 20th Century Fox Home Video!
JOYRIDE 3: ROADKILL (2014)
aka JOYRIDE 3: END OF THE ROAD
Directed by Declan O'Brien
Written by Declan O'Brien
Starring Kirsten Prout, Ben Hollingsworth, Dean Armstrong, Jesse Hutch, Sara Mitich, Leela Savasta, Gianpaolo Venuta, Jake Manley, J. Adam Brown, & Ken Kirzinger as Rusty Nail
Find out more about this film on Facebook here
Reviewed by Ambush Bug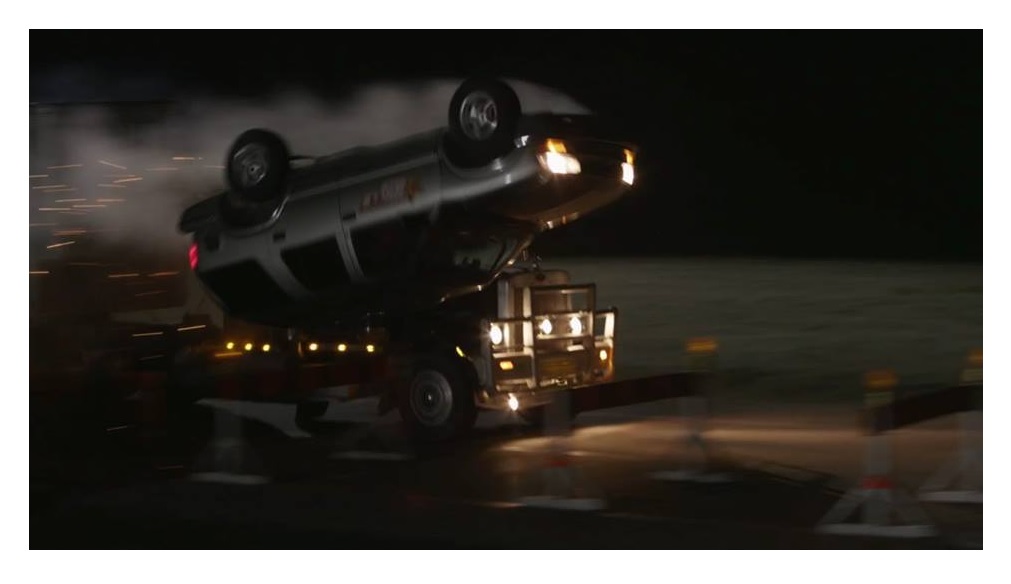 Though I remember seeing the original JOYRIDE, I don't really remember much about it other than the film being a weird cross of DUEL meets THE HITCHER meets JEEPERS CREEPERS meets HE KNOWS YOU'RE ALONE, as a trucker terrorizes a trio of kids who fuck with him on a CB radio. Since then there was a sequel to JOYRIDE which I missed, there was a bit of concern dropping into this third installment having not seen the one before it.
The big change from what I remember of the first film to this one is the almost mystical nature attributed to the trucker Rusty Nail and his death truck, which patrols a stretch of road dubbed Slaughter Alley that is not recognized on any GPS or recent map. The film opens with a sequence of a pair of methheads attempting to rip off any passing trucker who happens to have the bad dumb luck to get Nail on the CB with a promise of sex. The pair is set up for an overly complex game of chicken with the couple chained to the hood of Nail's truck with a bag of meth taped in between them. All they have to do is ride on the hood for a mile and they get the meth, but addiction gets the better and the road gets a new red paint job before the credits even roll.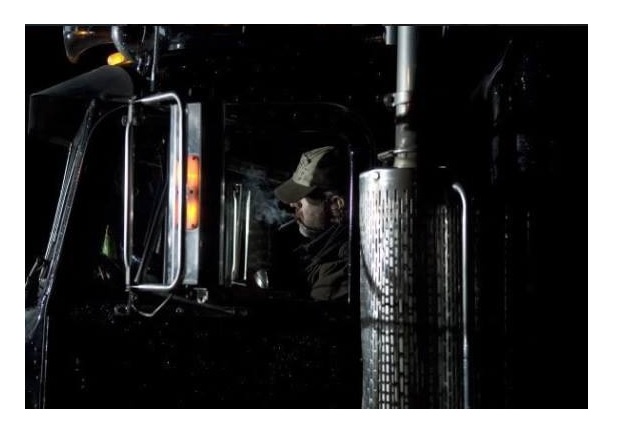 I guess what bothered me about JOYRIDE 3: ROADKILL is that the film trades atmosphere and solid scares of a threatening voiceover on CB for blood, guts, and gore. Barrels of the red stuff are spilt in this film and for gorehounds, this is going to be a good thing. Bodies are torn into half, into threes and fours and sometimes hacked into uneven chunks. Faces and hands are sawed off. Bodies literally explode. There's a lot of good and fun gore at play here.
But for those who like their scares of the more creepy variety, you're going to come up wanting. Unlike the first entry, where Rusty Nail is more of an unseen force of nature, he's adopted the annoying tendency to drop one-liners during his kills such as "You got ahead of yourself" as one victim's head is stuck in between a jack and the bumper of a truck. Puns and bad humor like this were old in the Eighties, and are downright painful to hear in modern horror films. It's disappointing to see something so formidably realized in the first film depicted in such a weak way here.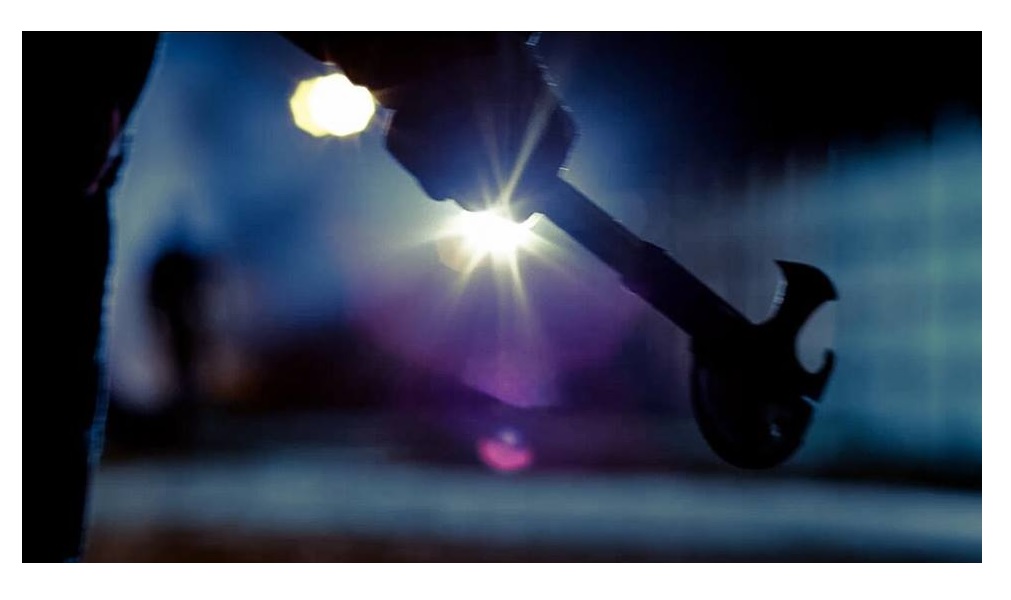 It doesn't help that while the cast is good, they are no Leelee Sobieski, Paul Walker, and Steve Zahn. Instead we get pretty boys and girls who are out to cut across an uncharted road to get to their car race in time. Sure this was a factor in the original film, but it was more convincing when you've got a cast like that to follow. With JOYRIDE 3, the similarity to THE HILLS HAVE EYES and THE HILLS HAVE EYES 2 as it follows a racing team cutting corners in terms of roadways is much more prevalent. And no one should want their film to be compared to THE HILLS HAVE EYES 2. No one.
Like WOLF CREEK 2 (which I'll be reviewing next week), JOYRIDE 3: ROADKILL highlights the dangers of the untamed road. But while WOLF CREEK 2 continues to tell the tale of an interesting character and keeps the octane at full throttle from start to finish, JOYRIDE 3: ROADKILL bathes everything in blood and hopes no one notices how unscary it all is. Sure, they keep Rusty Nail's complete face obscured as they have for the entire series and Ken Kirzinger's performance as the evil mothertrucker is fun to see as his line delivery is kind of fun in a down-home, no nonsense sort of way. But for the most part the film itself seems to have veered too far off course from the original, and if there is a fourth installment, here's hoping that a little less gore and a little more tension are used.
---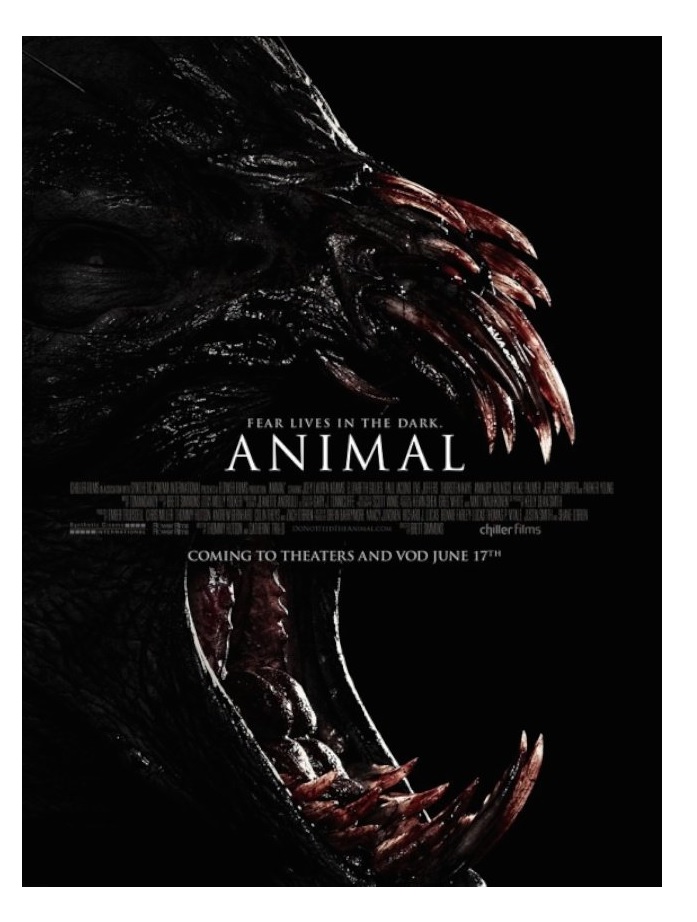 Currently playing in select theaters, On Demand, and on digital download! Recently premiered on Chiller !
ANIMAL (2014)
Directed by Brett Simmons
Written by Thommy Hutson, Catherine Trillo
Starring Jeremy Sumpter, Joey Lauren Adams, Elizabeth Gillies, Keke Palmer, Amaury Nolasco, Parker Young, Eve, Paul Iacono, Thorsten Kaye
Find out more about this film on its website and on Facebook here
Reviewed by Ambush Bug
ANIMAL is the second film I saw this week from director Brett Simmons, and another indication that he is a filmmaker to watch out for. This time around, Simmons has the coproducer/documentarian/writer of
CRYSTAL LAKE MEMORIES
and
NEVER SLEEP AGAIN
, Thommy Hutson and writer Catherine Trillo, on board with the script. This proves to be a potent mix of talent as they take a very common monster movie theme with ANIMAL and make it feel fresh, new, and exciting.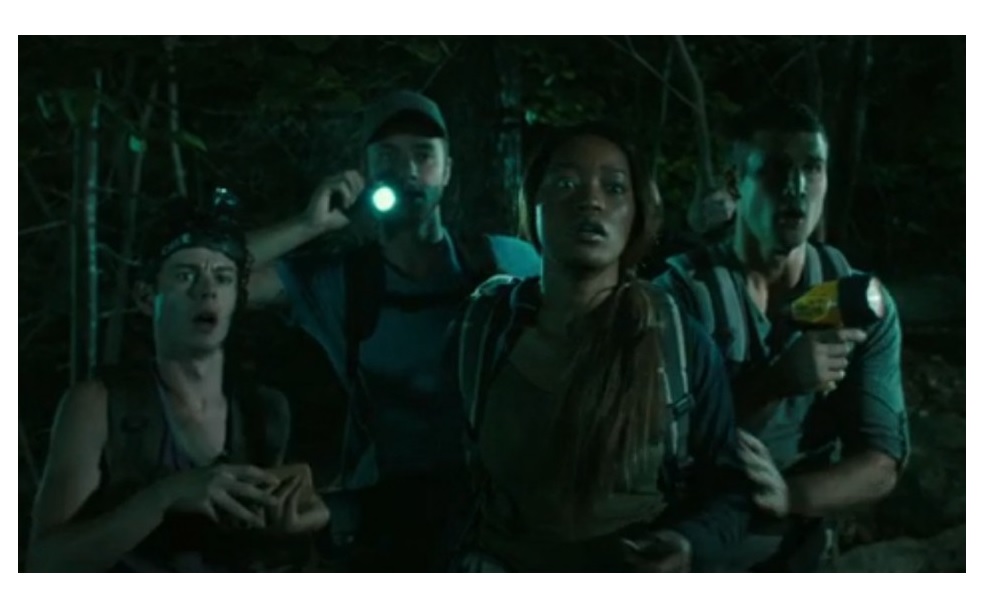 How many times have you heard this in the description of a horror film: a group of kids go backpacking into the woods and cross paths with…? I feel like I write that sentence about three times a week covering these AICN HORROR films. But this time around, due to a talented cast, a wickedly awesome monster design, and an unpredictable script, ANIMAL doesn't feel like the same old, same old monster flick.
Let's start with the animal itself. Uncategorizable is a good term to describe it. Part insect, part bear…maybe there's a hint of a moose in there. The creature is definitely an interesting design, and one I haven't seen before. It's bipedal, but for my money, I like seeing it the best when hunched down and crawling as it looks the creepiest then. The front jaw is filled with teeth, which is all-the more-to tear people to shreds with and this film does give the beast an ample amount of people to do this with. While it's hard these days to make a distinct design in terms of movie monsters, this one is wholly original-looking, like a product of the thickly wooded environment it is hunting and killing in, yet nothing we've ever seen before. Even down to the distinct whiny, almost canine-like howl, this animal is an original. <br.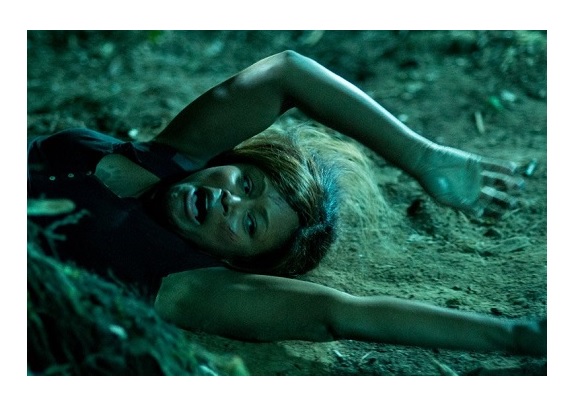 The cast assembled here is impressive as well. Eve shows up briefly, and CHASING AMY's Joey Lauren Adams has a more sizable part. Jeremy Sumpter is always solid (loved him in the goofy but fun
SASQUATCH GANG—reviewed here
) and delivers a good performance here as one of the hikers. The other standout is actor Paul Iacono, who offers up a different sort of performance that you usually see in horror films. He's a gay character but not stereotypically so, which is refreshing to see and he's not necessarily set up to be monster fodder either, which is nice to see as well. Iacono offers up a lot of emotion that makes the danger feel all the more manic and real.
One thing I noticed is that the film opens up with John Carpenter lettering, which doesn't go past the opening credits, but it's interesting to see this film and ALMOST HUMAN earlier in the column paying homage to Carpenter and proof that the filmmaker is still very much resonant in today's horror. It's amazing to see how good character, a fun monster, and a twisty and turny script can really revitalize something that one has seen over and over. ANIMAL is a monster movie, but not your typical one, which makes it all the more worth checking out. Director Simmons seems to be on a roll here with HUSK, MONKEY'S PAW, and now ANIMAL offering up fresh takes on well worn concepts.
---
And finally…here's another horror short from Horror Bizarre called VOODOO PRANK. It's got a group of morons and a voodoo doll, of course! Enjoy!
See ya next week, folks!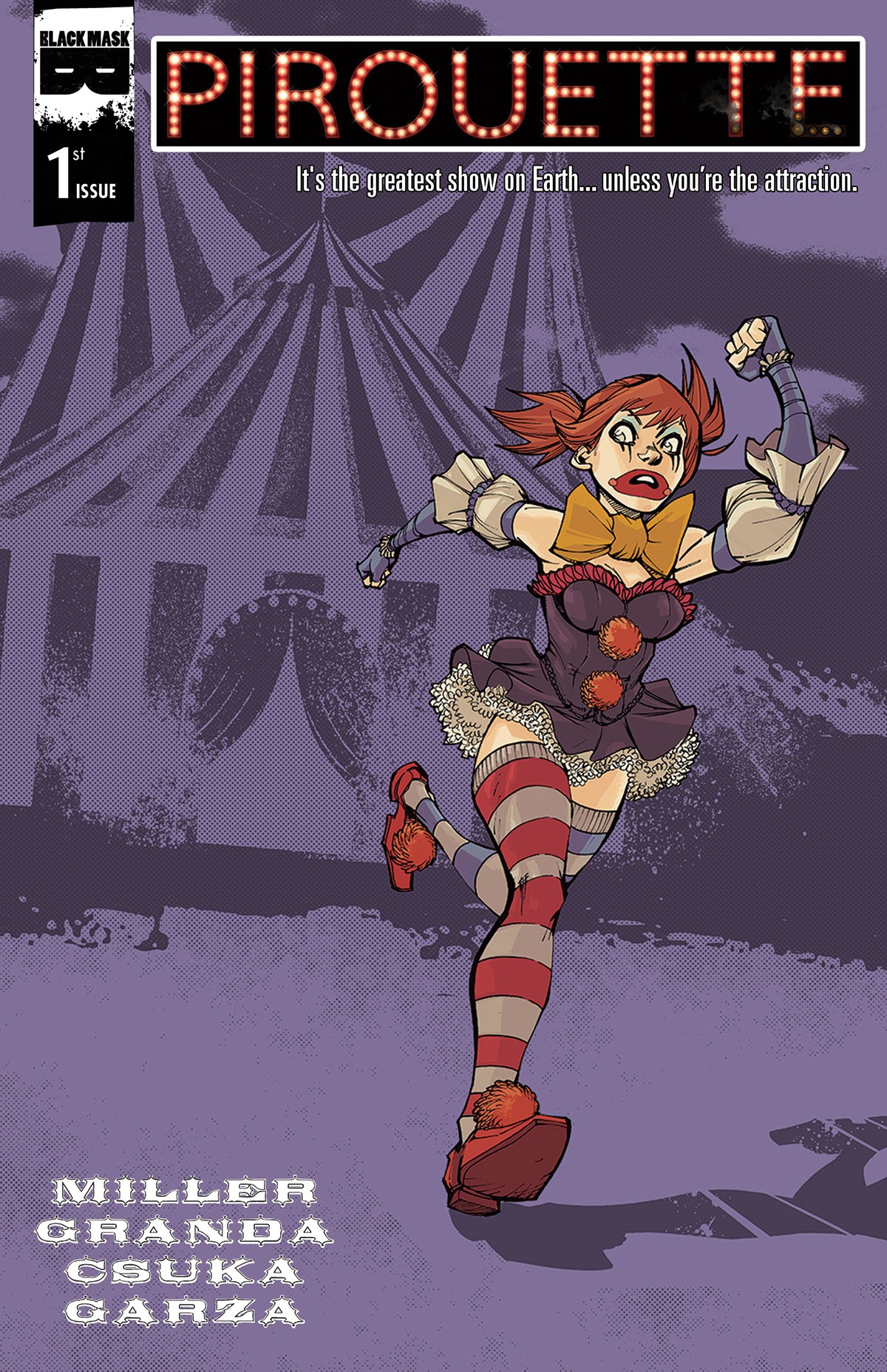 Ambush Bug is Mark L. Miller, original @$$Hole/wordslinger/writer of wrongs/reviewer/interviewer/editor of AICN COMICS for over 13 years & AICN HORROR for 4. Follow Ambush Bug on the Twitters @Mark_L_Miller.

Be sure to tell your comic shop to order his new comic PIROUETTE from July's Diamond Previews (item code JUL14 0937) today!
---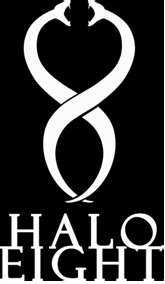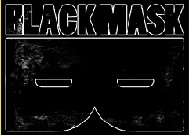 Find out what are BLACK MASK STUDIOS and OCCUPY COMICS here and on Facebook here!


Interested in illustrated films, fringe cinema, and other oddities?
Check out Halo-8 and challenge everything!
---
Find more AICN HORROR including an archive of previous columns on AICN HORROR's Facebook page!