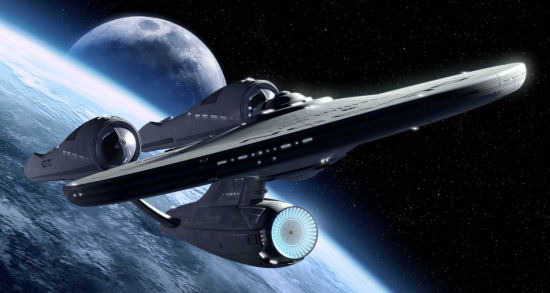 A Star Trek expert named Larry Nemecek (author of "Star Trek: The Next Generation Companion") allegedly said something about Star Trek "talks" between CBS and Netflix at a fan convention two weekends ago.
The following Monday Nemecek explained there were no "talks" but there may have been "overtures."
"As I understand it, there have been overtures. But none taken. So far."
Netflix overtures to CBS, I'm assuming. The Trek franchise is apparently a download monster for the streaming service.
The bad news for Netflix (and the world) is that Sumner Redstone may have killed all new Star Trek television when he split CBS and Viacom into different companies with competing CEOs (Philippe Dauman and Leslie Moonves), with each apparently having to sign off on any new Trek For TV. (This is my understanding, at least. If an insider can contradict this, kindly email herculesAICN@yahoo.com.)
One reason Netflix may have been rebuffed is Viacom and CBS each own their own pay-cable channel (Epix and Showtime, respectively)
HBO spends something like $70 million per 10-episode season of "Game of Thrones." Imagine 10 episodes of "Trek" yearly with that kind of budget. And no network censorship.
Of course there's concern that they need to get the right guy to run a new "Star Trek" series.
But this, truly, is not a problem.
Bryan Fuller, who scripted some of the best "Star Trek: Voyager" episodes before he went on to create the acclaimed "Dead Like Me," "Wonderfalls," "Pushing Daisies" and "Hannibal," is your man.
Fuller told us on the Feb. 22 edition of my KERN-AM "Nerd World Report" radio show that he'd gladly walk away from his NBCUniversal project "Hannibal" to work on any new Trek series. (Listen, if he could write great episodes of "Heroes" – and he did – he can write great episodes of anything!)
Fuller has long favored a new series focused on another starship occupying the same universe as Chris Pine and Zoe Saldana's characters.
The last new episode of "Star Trek: Enterprise" aired more than nine years ago -- May 13, 2005.
Let's hope we don't have to wait till Viacom and CBS re-merge – or Moonves dies – before we get some fresh small-screen Trek. There's a lot of money being left on the table as we wait for announcement of any new Trek screen projects.