Hey Yo, Draven here.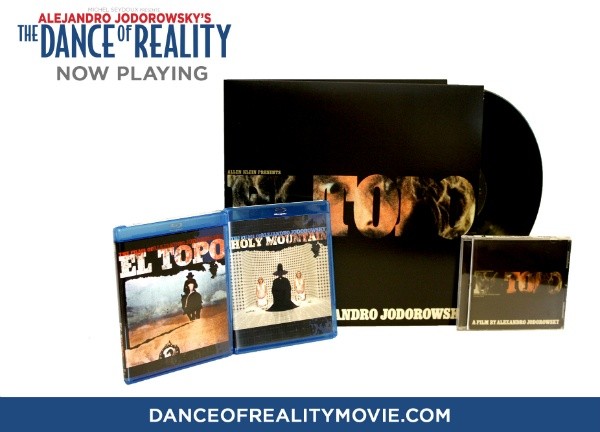 We have got one awesome opportunity for you guys to win some cool stuff in celebration of Alejandro Jodorowsky's comeback film, THE DANCE OF REALITY. Capone posted a very positive review of it just last week and now we have even more reason to celebrate with this awesome prize pack. It includes Blu-rays for both EL TOPO and HOLY MOUNTAIN, plus the EL TOPO soundtrack on Vinyl and CD. How cool is that?
So how do you win? Well, just send an e-mail to marksmith0610@gmail.com with your favorite Jodorowsky film and why, or send me your review of THE DANCE OF REALITY. Keep it under 500 words and send it to me before Tuesday, June 10th. I will then select a winner based on the e-mails I receive and contact them.
Pretty simple right? In the meantime here is the synopsis, release schedule, and trailer for THE DANCE OF REALITY:
After a 23-year hiatus, The Dance of Reality marks the triumphant return of Alejandro Jodorowsky, the visionary Chilean filmmaker behind cult classics El Topo and The Holy Mountain. In the radiantly visceral autobiographical film, a young Jodorowsky is confronted by a collection of compelling characters that contributed to his burgeoning surreal consciousness. The legendary filmmaker was born in 1929 in Tocopilla, a coastal town on the edge of the Chilean desert, where the film was shot. Blending his personal history with metaphor, mythology, and poetry, The Dance of Reality reflects Jodorowsky's philosophy that reality is not objective but rather a "dance" created by our own imaginations.

Release Schedule:
Currently Playing
Berkeley, CA | Theater: California Theater
Boston, MA | Theater: Kendall
Chicago, IL | Theater: Music Box Theater
Los Angeles, CA | Theater: Regent
New York, NY | Theater: Sunshine Theater
Philadelphia, PA | Theater: Ritz At the Bourse
Sacramento, CA | Theater: The Crest Theatre
San Francisco, CA | Theater: Opera Plaza
Washington D.C. | Theater: E Street Theater

Date: June 6
Austin,TX | Theater: Lakeline The Alamo Draft House
Dallas, TX | Theater: Texas Theater
Denver, CO | Theater: Cheze Artiest
Houston,TX | Theater: The Alamo Draft House
Kansas City, MO | Theater: The Alamo Draft House
Miami, FL | Theater: Cinematheque
Minneapolis, MN | Theater: The Uptown
Santa Ana, CA | Theater: The Frida Cinema

Date: June 13
New Orleans, LA | Theater: Zeitgeistinc Theater
Santa Fe, NM | Theater: Center for Contemporary Arts
Tucson, AZ | Theater: The Loft Cinema

Date: June 20
Seattle, WA | Theater: The Grand Illusion
San Diego, CA | Theater: Ken
Nashville, TN| Theater: Belcourt Theatre
Bloomington, IN | Theater: Indiana University Cinema

Date: July 11
Providence, RI | Theater: Cable Car Theater

Date: July 18
Portland, OR | Theater: Hollywood Theater
Follow me on Twitter here!