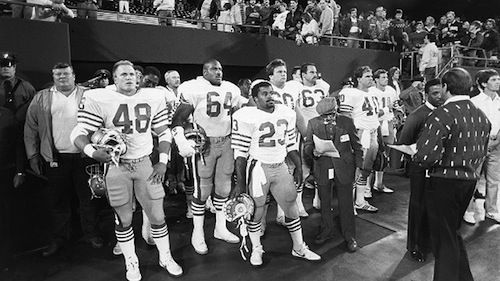 Jeremy here...
UPDATE - 2:01 PM PT: According to The Wrap, Rawson Marshall Thurber is the current frontrunner for the job. But watch out for Fleischer down the stretch! He's got closing speed!
Last Friday, Marvel Studios and Edgar Wright, citing creative differences, parted ways on ANT-MAN, a project Wright had been developing since 2006. This news came as a shock to me last week, but after talking to folks close to the production (none of whom are named Edgar Wright or Joe Cornish), I learned basically what Latino Review's El Mayimbe reported: Wright and Cornish were taken off the script, and an in-house Marvel screenwriter dutifully destroyed much of what they'd carefully crafted. For instance, a high premium was placed on current cultural references. Think it'd be funny if Scott Lang (Paul Rudd) were a Lyft driver and had to, at one point, reluctantly turn in his mustache? If so, this just might be the ANT-MAN for you!
In any event, ANT-MAN is almost fully cast and the set pieces are entirely pre-visualized, so Marvel is pushing forward in order to make that July 17, 2015 release date. All they need now is a director to hang out with the actors and shoot tons of coverage so the Marvel brain trust (led by Kevin Feige) can edit the film to their liking. Basically, they're looking for a babysitter, not a visual stylist. Hence, according to The Hollywood Reporter, these are the three finalists for the gig: Ruben Fleischer, Adam McKay and Rawson Marshall Thurber.
When Variety broke the news of Wright's exit last week, they initially reported that a replacement had already been found. This proved not to be the case, but if these are the only three options, I'm surprised Marvel didn't make an offer to Fleischer the day Wright bolted. He's made one geek-friendly hit (ZOMBIELAND) and two duds (30 MINUTES OR LESS and GANGSTER SQUAD), and almost everyone in Hollywood still thinks he'll be an A-list tentpole director one day. Getting to work from Wright's previsualization while reworking the dramatic/comedic scenes on the fly with this immensely talented cast could be just the thing to get his career back on track.
As for the other two, McKay has his own production company in Gary Sanchez, so I'm not sure why he'd take a risk as a hired hand on a lesser-known Marvel property. I know he wanted to direct an adaptation of Garth Ennis's comic book THE BOYS at one point, but that would've been a Gary Sanchez production. Directing ANT-MAN just seems like a lateral move at best. Thurber is a more likely possibility, but after WE'RE THE MILLERS cleared $150 million domestically last year, he's in high demand around town - i.e. he could hop on a promising project that doesn't carry the stink of behind-the-scenes trouble.
In any event, ANT-MAN is just a product now, like most big studio investments. It could still be a fun night out at the movies, but it'll always be a compromised movie in my eyes. Whatever enjoyment I derive from it will be tempered by the thought of what could've been.