Hey Yo, Draven here.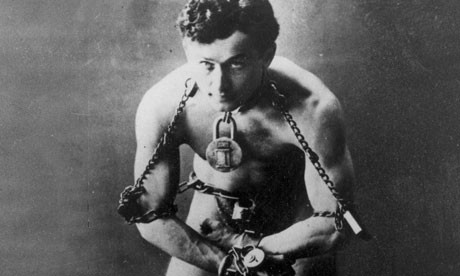 Even though Johnny Depp is coming off of two high profile box office bombs in THE LONE RANGER and TRANSCEDENCE, he isn't slowing down at all. He has INTO THE WOODS and MORTDECAI already wrapped and in the can, and is finishing up the Whitey Bulger biopic, BLACK MASS before moving on to the ALICE IN WONDERLAND sequel, THROUGH THE LOOKING GLASS.
But according to THR, before he begins filming THROUGH THE LOOKING GLASS, he will film the Harry Houdini adventure, THE SECRET LIFE OF HARRY HOUDINI: THE MAKING OF AMERICA'S FIRST SUPERHERO. The film (which I am sure will be released with a different title) is not a biopic, but rather a fictional adventure tale with Houdini as the hero. Dean Parisot (RED 2) is already set to direct with the script based on William Kalush and Larry Sloman's novel of the same title.
Follow me on Twitter here!