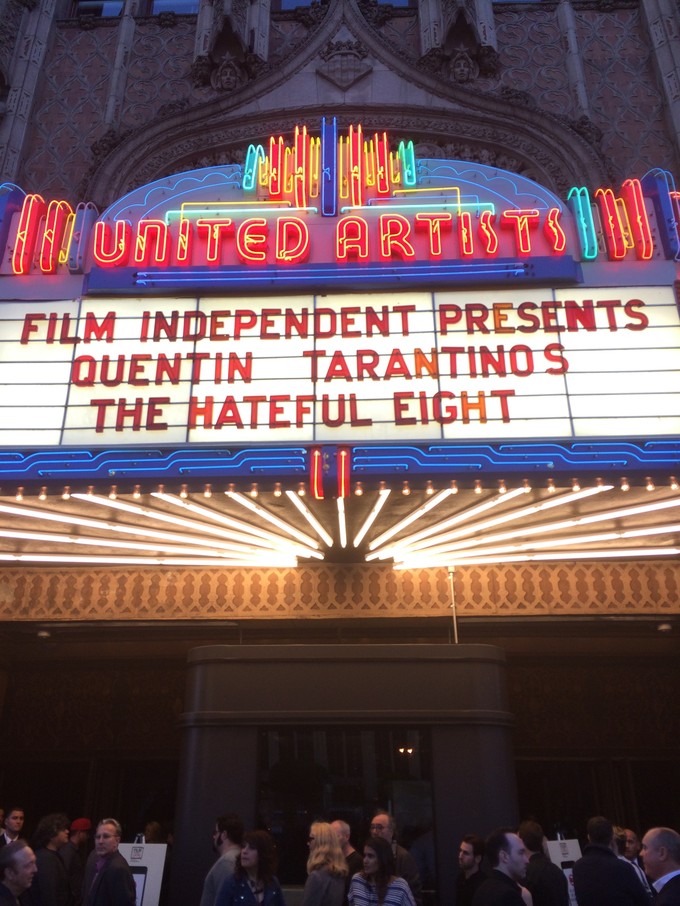 At the HATEFUL EIGHT live-read that Quentin Tarantino conducted last month (which I was lucky enough to attend), QT made it clear that it wasn't the last we'd hear of his intense western. The cast read the first draft, which Tarantino assured would be followed by "a second draft, and a third draft," and so on, assuring us that the legendary writer/director wasn't through with this project by a damn sight (as Marcellus would say). However, he gave no word as to whether this was the next project on his plate, or whether he'd cool his heels for a tick and work on something unrelated first, as his first announcement of the film's cancellation seemed to indicate.
But if this is true, and Tarantino is indeed getting ready to shoot the film this November, then he's going back to his original plan to film it this coming winter, and has gotten over his anger towards CAA and Gawker for leaking his first draft online. This rumor purports that the entire cast of the live-read, from Kurt Russell and Bruce Dern all the way down to Denis Mencochet and James Parks, will return to their respective roles for the feature, which will allegedly be shot in Wyoming.
When I saw the live-read, I was adamant that the project is all-but-ready to go, in terms of both casting and script. Though Tarantino insisted changes would be made, and that the final chapter would be radically changed (and, to be fair, it is somewhat abrupt), the read had more of the feel of an actual, ready-to-go project than some sort of one-off experiment. The cast he assembled was already perfect, slipping into their roles effortlessly with only about a week of rehearsal time, and the biggest names would be right at home on a cinema marquee or above-the-title on a poster. In my write-up, I prayed that if/when Tarantino finally gets the production of THE HATEFUL EIGHT up and running, that he'd be able to lock down the entire cast that read the script aloud for our captive audience last month. That, more than anything else, makes me hope that this rumor turns out to be true.
In fact, let's all pray together that this pans out; even if you don't know it yet, you really want to see Russell, Dern, Michael Madsen, Samuel L., Walton Goggins, and Tim Roth as these characters. Trust me.
If Tarantino gets HATEFUL EIGHT in front of cameras by November, I'd expect to see it in theaters around Christmas 2015.
-Vincent Kim-Zahedi
"Papa Vinyard"
vincentzahedi@gmail.com
Follow Me On Twitter