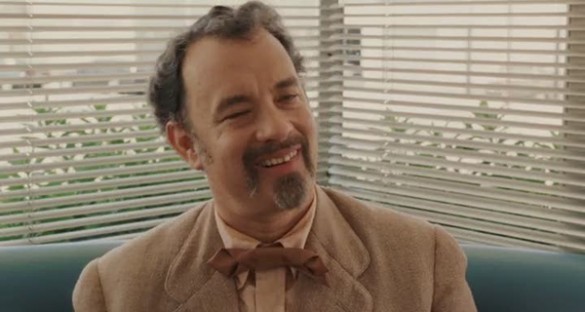 That Steven Spielberg/Tom Hanks Cold War flick has scored two of the biggest screenwriters in the business.
The Beard has tasked none other than Joel and Ethan Coen to write the latest draft of his political/legal drama about the real-life story of James Donovan and Gary Powers. Powers was a pilot operating a spy plane over the Soviet Union before he got shot down and imprisoned by the KGB. Donovan was a Harvard Law School alum, and a participant in the Nuremburg Trials, who got called in by the CIA to facilitate Powers' release. It's presumed Hanks will play Mr. Donovan, who will be the focus of the film.
Obviously, the Coens are best known for writing, producing, and directing their own work, but this isn't the first time they've written for another director. However, those efforts have landed with much softer receptions than those usually reserved for their own films: Sam Raimi's CRIMEWAVE was barely released, GAMBIT languished on the studio shelf for years before being dumped on VOD last month, and apparently Ethan Coen co-wrote a Michael Rapaport film called THE NAKED MAN, which I wouldn't have even been aware of had it not been for IMDB. Having seen CRIMEWAVE and GAMBIT, I will say that their oddball, madcap sensibilities tend to be somewhat missing from those two films (particularly GAMBIT, which is still an entertaining, if slight comedy), so that "Coen Brothers feeling" is ostensibly partly due to their hands-on approach to their work.
But those films weren't directed by Steven freaking Spielberg. Even if he doesn't really break out the twisted and the bizarre the way the Coens tend to, his cinematic mastery depicting one of their screenplays is something that's absolutely, undoubtedly worth anticipating.
So, did Tom Hanks use his LADYKILLERS pull to sway the Coens onto this project? If so, how cool is that (what's up to all the other 5 LADYKILLERS fans in the house)?
-Vincent Kim-Zahedi
"Papa Vinyard"
vincentzahedi@gmail.com
Follow Me On Twitter