Congrats to:

Rob Glenn (First Prize)

&

Jason Beaty (Runner Up)
Hello ladies and gentlemen, Muldoon here with a fun treat courtesy of a PR company getting publicity through movie blogs! I just caught SPIDER MAN 2 last week and playing right before it was a trailer for Seth MacFarlane's A MILLION WAYS TO DIE IN THE WEST. The trailer alone was crammed with rapid-fire funniness and actually got me a tad nostalgic for BACK TO THE FUTURE III and then... completely blew my mind with one gag reveal (sorry for the vagueness, but I'm tiptoeing spoiler blasphemy.) At any rate, the movie really does look funny, so I've got no problem screaming from the AICN rooftops "This film piques my interest and is something to keep an eye out for!" Liam Neeson, Charlize Theron, Neil Patrick Harris, and Giovanni Ribisi in a western flick? I'm there. "Muldoon, get to the good stuff. What's up for grabs and how can I get my hands on it?"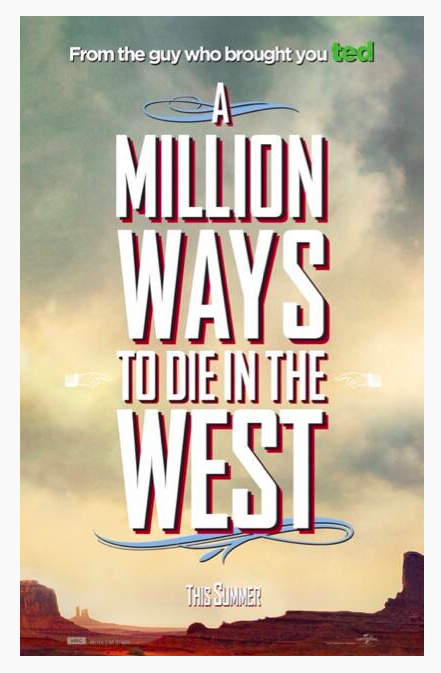 We've got two prize packs, a grand prize, and a winner up:
First Prize (Which has some genuinely cool stuff here):
(1) Custom Shaving Kit
(1) Custom Flask
(1) Bolo Tie
(1) Custom T-Shirt
(1) Mini-Poster
(1) Soundtrack
&
Runner-Up Prize:
(1) Custom T-Shirt
(1) Mini-Poster
(1) Soundtrack
So what gets you in the running for these packs? First off, you've got to live in the coastal US (Sorry guys, they can't do international shipping for this one.) Second, shoot your buddy Muldoon an email with "Put 'em up!" in the subject line. In the body of the email, describe your favorite western film or best thing you think MacFarlane's done so far in his career. I'll announce winners on Thursday after 7PM Central time and will also be sure to email the two champs back to get their addresses. (Don't feel the need to include your address in the first email - I like you folks, but don't want your details unless you win!)
- Mike McCutchen
"Muldoon"
Mike@aintitcool.com