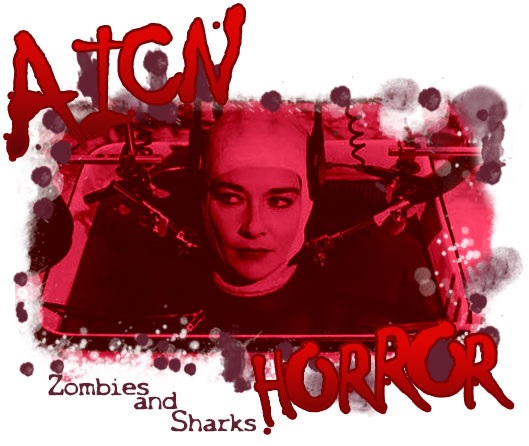 Logo by Kristian Horn
What the &#$% is ZOMBIES & SHARKS?
---
Greetings, all. Ambush Bug here with another AICN HORROR: ZOMBIES & SHARKS column. Let's get right into it, shall we?
Today on AICN HORROR

(Click title to go directly to the feature)
Retro-review: TWILIGHT ZONE Season Two Episodes 7-12 (1960)
Retro-review: THE BLACK TORMENT (1964)
P.O.E.: PROJECT OF EVIL (2012)
APP (2013)
I, FRANKENSTEIN (2014)
DEVIL'S KNOT (2013)
ALL CHEERLEADERS DIE (2013)
Advance Review: DRY BONES (2013)
Advance Review: THE NIGHT VISITOR (2014)
And finally…THE PEORIA PLAGUE!
---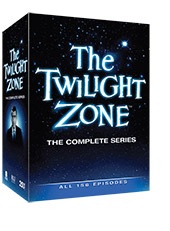 Retro-review: Collecting the entire series in a new Collector's Box Set on DVD from Image Entertainment!
THE TWILIGHT ZONE SEASON TWO (1960)
Episodes 7-12
Retro-reviewed by Ambush Bug
With the release of the Complete Season Collector's Box Set of TWILIGHT ZONE on DVD from Image Entertainment a few months ago, I've been celebrating by checking out each episode and tossing out my two cents on a semi-weekly basis. Now that I'm also looking back at the MONSTERS TV series, which was just released in a swanky box set, I'll be switching back and forth between the two series on a bi-weekly basis to cover both over the next few months. Let's proceed on with THE TWILIGHT ZONE Season Two…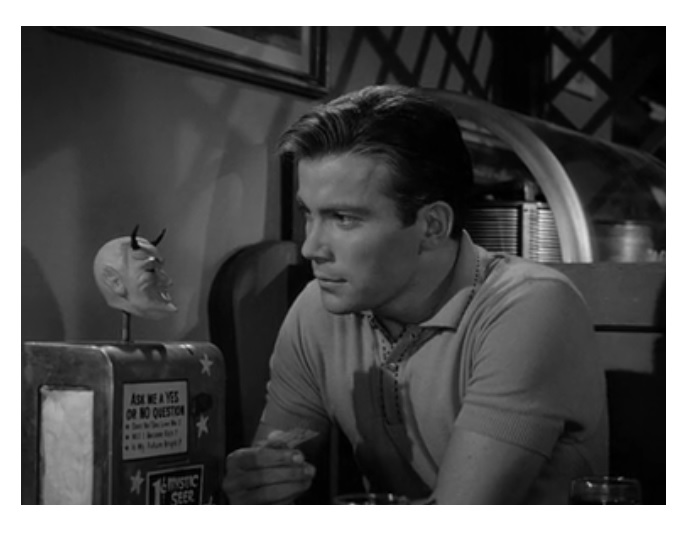 Episode 2.7: Nick of Time
Directed by Richard L. Bare
Written by Richard Matheson
Starring William Shatner, Patricia Breslin, Guy Wilkerson, Stafford Repp
Any episode starring William Shatner is a classic in my book. Seeing him overact to the uncanny shit that the TZ tosses at him is priceless. Here he plays a soon to be wed whose car breaks down in a small town and is forced to wait for a while with his fiancée Patricia Breslin in a diner until its finished. Car breaks down in a small town is the set up for a lot of TZ's but this one really takes a maniacal turn as a simple fortune telling machine becomes an obsession with Shatner believing everything the machine tells him. Not sure why a small town diner has a fortune telling machine has a bobble-head of a devil, but I guess that's why it's the TWILIGHT ZONE. This one is written by the master Richard Matheson and with the amount of tension packed into such a short space, it shows.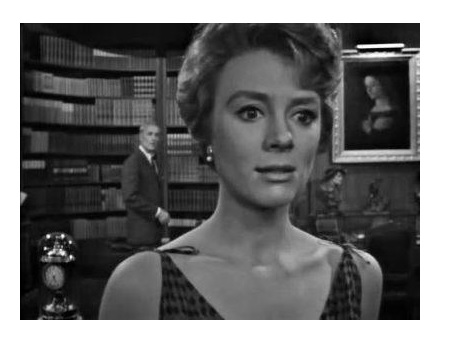 Episode 2.8: The Lateness of the Hour
Directed by Jack Smight
Written by Rod Serling
Starring Inger Stevens, John Hoyt, Irene Tedrow
One of the more chilling episodes of the week. Inger Stevens stars as a bored shut in, who spends her days living inside a mansion with her parents and their staff of servants. It's revealed in the first act that all of the servants are robots, so I'm not spoiling anything, but there are more surprises to come in this episode. This one is weirdly shot as if it were filmed on a soap opera set instead of the usual filmic quality of TZ episodes, which gives it somewhat of an odder feel to it. Stevens' acting makes the big reveal and the tension leading up to it all the more tight. Having never seen this one, I was riveted to every second of this episode as it has a weird pod people type vibe to it as the robot servants seem to have minds of their own, despite Steven's beliefs otherwise. This was a great scary episode that crept up on me.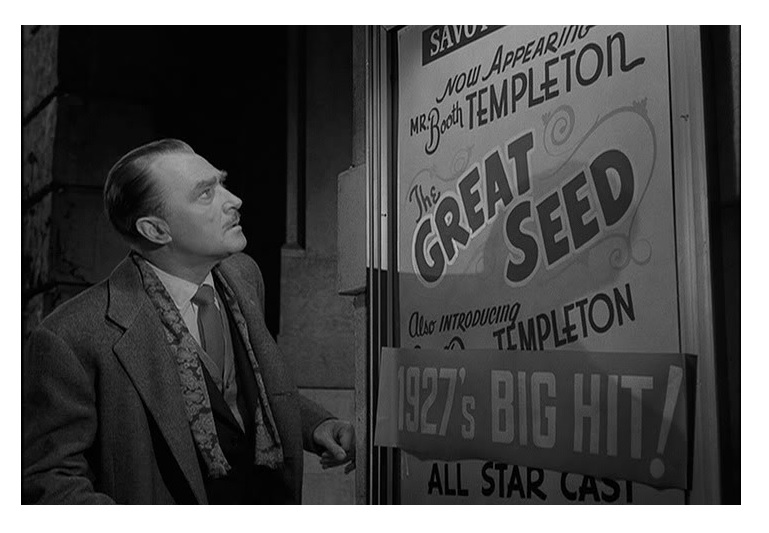 Episode 2.9: The Trouble with Templeton
Directed by Buzz Kulik
Written by Jack Neuman
Starring Brian Aherne, Pippa Scott, Charles S. Carlson, Sydney Pollack, King Calder
Feeling his age, Templeton (Brian Aherne) is pretty downtrodden as he plays a wizened stage actor watching his wife flirt with the help and the man in the mirror looking less and less recognizable. On his way to go through the routine reading for a play he knows all too well, Templeton takes a leap back in time to an age when he feels was his best. But he finds that the rose colored glasses he sees the past through aren't so rosy after all. This is a relatively harmless episode, with some spastic flapper dancing and a very, very young Sydney Pollack as a bossy stage director.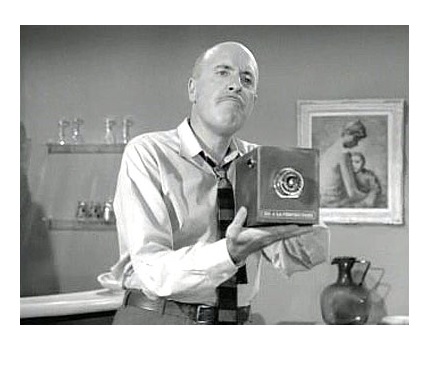 Episode 2.10: A Most Unusual Camera
Directed by John Rich
Written by Rod Serling
Starring Fred Clark, Jean Carson, Adam Williams, Marcel Hillaire
This one's a fun and comical romp about a trio of cartoonish crooks who rob an antique store full of junk and happen upon a camera that predicts five minutes into the future. Of course, they use it to get rich, but fortune always has a price in the Twilight Zone. While the performances are fun, they aren't to be taken seriously and while the end is rather tragic, I doubt anyone will feel a bit of remorse for these bumbling criminals who are too busy playing cardboard cutout crooks to actually make you feel about whether they win or lose. The appearance by Frenchman Marcel Hillaire is fun, though I must warn you, he does not do his trademark "pop" sound.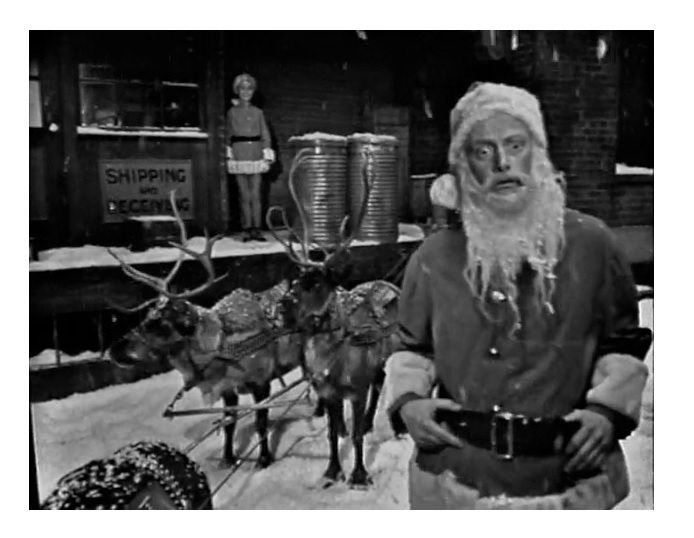 Episode 2.11: Night of the Meek
Directed by Jack Smight
Written by Rod Serling
Starring Art Carney, Val Avery, John Fiedler, Robert Lieb, Burt Mustin, Meg Wyllie
This one's a classic and deserves to be played every year like other age old holiday episodes like HOW THE GRINCH STOLE CHRISTMAS, A CHARLIE BROWN CHRISTMAS, and IT'S A WONDERFUL LIFE and may be the precursor to Billy Bob Thornton's BAD SANTA. Still, despite the fact that there's a lot of alcohol consumed in this episode by the star Art Carney as a dime store Santa who finds a magic bag of presents and despite the fact that everyone else seems to love their booze in this one, it's one of the sweetest TZ episodes you're going to get. Carney's charming performance is desperate and sincere and there's something about the way the snow is captured falling in this black and white episode that warmed my heart completely. I'm definitely dusting this episode off next Christmas for all to enjoy, but even if it's not Christmas, this one is going melt even the most frozen of hearts.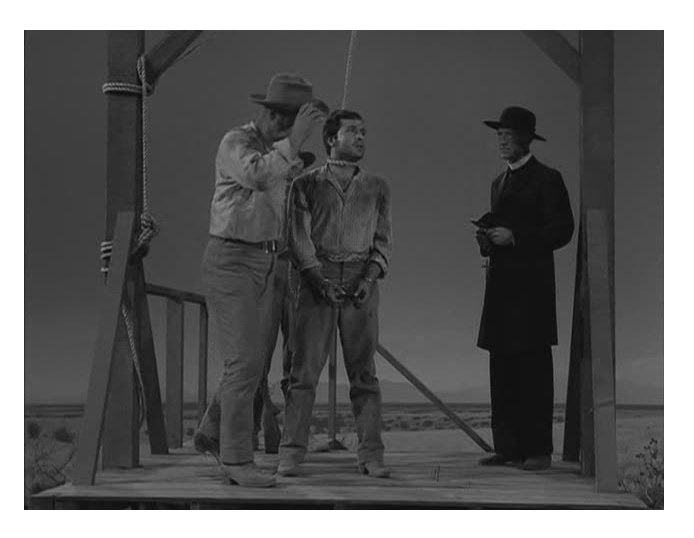 Episode 2.12: Dust
Directed by Douglas Heyes
Written by Rod Serling
Starring Thomas Gomez, John Larch, Vladimir Sokoloff, John Alonso, Andrea Margolis
Serling loved his Old West tales. It's obvious as he returns to the time of the gunslinger and outlaw justice again and again in the TZ series. This one isn't about showdowns at noon or quick draw artists, but a simple story about a hanging that ends up being surprisingly sweet and resonant in the end. When a young man drunkenly runs down a little girl with his carriage, he's caught and set to hang. But the soon-to-be hanged man has a family too and it's up to the dead girl's parents and a little bit of magic dust as to whether he will see the hangman's rope around his neck or not. The desperation of the convicted man's father is heartbreaking in the final scenes of this surprisingly resonant and unconventional tale of the search for humanity in a time not known for it.
Previous TWILIGHT ZONE Episode Reviews!
Season 1: Episodes 1.1-1.6, 1.7-1.12, 1.13-1.18, 1.19-1.24, 1.25-1.30, 1.31-1.36
Season 2: Episodes 2.1-2.6
Season 4: Episodes 4.1-4.5, 4.5-4.8, 4.9-4.13, 4.14-4.18
Season 5: Episodes 5.1-5.7, 5.8-5.14, 5.15-5.21, 5.22-5.28, 5.29-5.36


Look for more TWILIGHT ZONE Episode Reviews soon!
---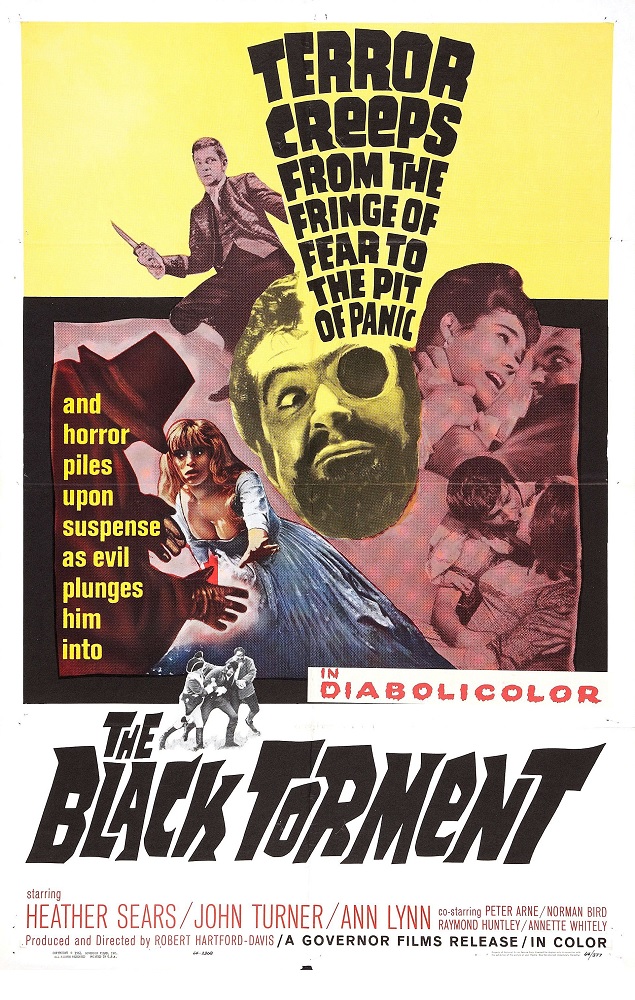 Retro-review: New on DVD from Kino Lorber/Redemption!
THE BLACK TORMENT (1964)
aka ESTATE OF INSANITY
Directed by Robert Hartford-Davis
Written by Derek Ford, Donald Ford
Starring Heather Sears, John Turner, Ann Lynn, Peter Arne, Norman Bird, Raymond Huntley, Annette Whiteley, Francis De Wolff, Joseph Tomelty, Patrick Troughton, Roger Croucher, Charles Houston, Kathy McDonald
Reviewed by Ambush Bug
Though there are gothic castles, heaving busoms, and hoighty Englishmen, don't be fooled that this is a Hammer film. I'm sure when it was released it fooled some folks, but it just doesn't live up to some of the other classics Kino Lorber releases or the classic Hammer series.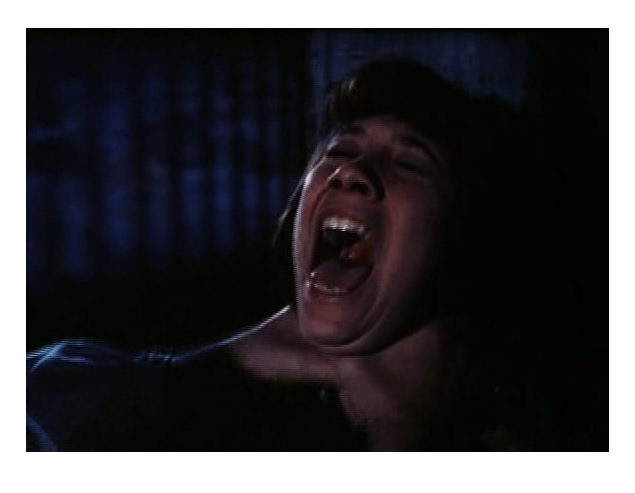 This harmless little throwback felt more like a Scooby Doo episode than anything truly terrifying. Though it's filled with Hammer style ambiance, the film itself lacks the oomf of those classics. Instead it proves to be a whodunit disguised as a ghost story about a wealthy heir named Sir Richard Fordyke (John Turner) returning home with his new wife Elizabeth (Heather Sears) to find it haunted by ghosts from the past. Upon arrival, Richard and Elizabeth are not greeted warmly, since while Richard has been gone, he's still been seen by the townsfolk riding his horse through the woods after a mysterious woman in white who is shouting "Murderer!" as she whisps through the woods. Fearing that Richard is a witch (how else would he be able to be in two places at one time), the town and soon the staff and his family at the Fordyke Manor begin to turn against him. Soon Richard himself is seeing the woman in white while Elizabeth keeps seeing Richard's mysterious doppelganger roaming the halls. Something is definitely afoot!
There are some effective scenes of spookery. The lady in white is somewhat chilling as is a particular scene involving a hanging man in a locked room. But the mystery is pretty paper thin and I'm sure most will have it figured out long before Richard and Elizabeth do, even though one detail is impossible to predict because no one is made privy to it. Still, the filmmaker does a lot with little involving dark hallways, moonlit gardens, and creepy screams.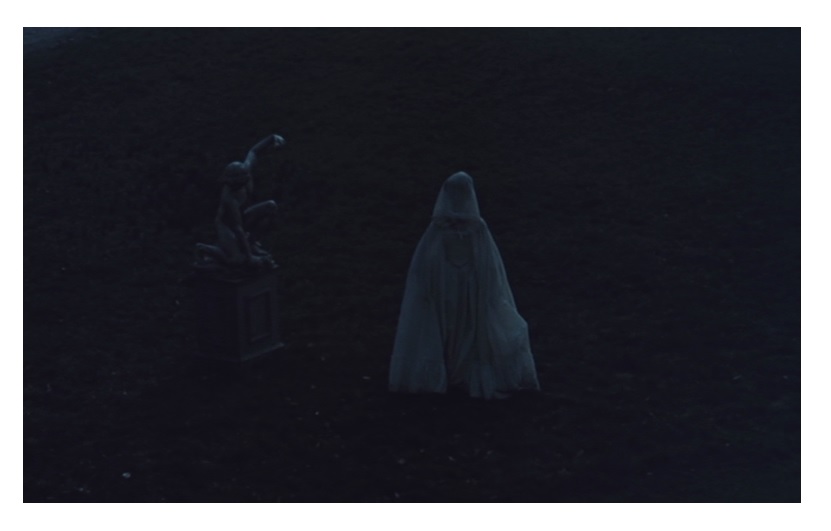 One thing I couldn't really stand is John Turner's performance as the lead. Sure Richard is stressed being accused of witchcraft, but his shrill screaming voice was like nails on a chalkboard to me. There are entire sections of this film where Turner does nothing but scream his lines, making me want to muzzle him like the hounds.
THE BLACK TORMENT may be lumped in with some of the more sordid films accusing the innocent of witchcraft and the like, but it's relatively harmless and bloodless save for a gunshot wound to the face and the suggestion of rape in the opening scenes. But the normal Kino Lorber/Redemption fare with nude women lusting and madmen whipping them are nowhere to be found in THE BLACK TORMENT. This kind of toothless schlocker is kind of refreshing to see though as it relies on classical chills to do the trick and does so most of the time.
---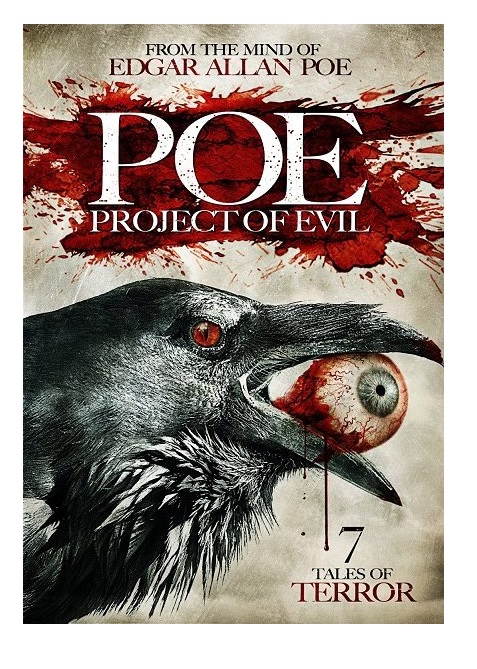 New this week on DVD from Brain Damage Films!
P.O.E.: PROJECT OF EVIL (2012)
Directed by Donatello Della Pepa (The Pit & the Pendulum), Angelo & Guiseppe Capasso (Alone), Edo Tagliavini (Loss of Breath), Alberto Vianattene (Morgue Street), Nathan Nicholovitch & David D'Ingeo (The Tell-Tale Heart), Domiziano Cristopharo (The System of Dr. Tarr & Prof. Fether), Giuliano Giacomelli (The Premature Burial)
Written by Donatello Della Pepa & Luca Ruocco (The Pit & the Pendulum), Angelo & Guiseppe Capasso (Alone), Edo Tagliavini (Loss of Breath), Alberto Vianattene & Emiliano Ranziani (Morgue Street), Nathan Nicholovitch & David D'Ingeo (The Tell-Tale Heart), Andrea Cavaletto (The System of Dr. Tarr & Prof. Fether), Giuliano Giacomelli (The Premature Burial)
Starring Dario Biancone, David D'Ingeo, Angelo Campus, Francesco Malcom, Manlio Maresca, Alessandro Rella, Paolo Ricci, Alessandro Valori, Lucio Zannella
Find out more about this film on Facebook here
Reviewed by Ambush Bug
P.O.E.: PROJECT OF EVIL is actually the second in a series of anthologies focused on the work of Edgar Allan Poe.
I reviewed the first P.O.E. (POETRY OF EEIRE) a while back and while it was a bit uneven, I did find some fun indie and moody horror to enjoy
. This second installment goes for a gorier and extreme approach and the results vary as well. For the most part, these shorts were made by Italian filmmakers and it's nice seeing a sort of Italian horror renaissance going on at the moment. The film is broken into 7 installments and my thoughts on each are below.
"The Pit and the Pendulum" directed by Donatello Della Pepa is a short descent into madness, more of another one of Poe's buried alive stories than the tale of a pit and a swinging blade, but there is some surreal imagery at work here as a man wakes up trapped in a doorless, windowless, white room and slowly goes insane. This one gets bloody and there's a fantastic looking monster at the end.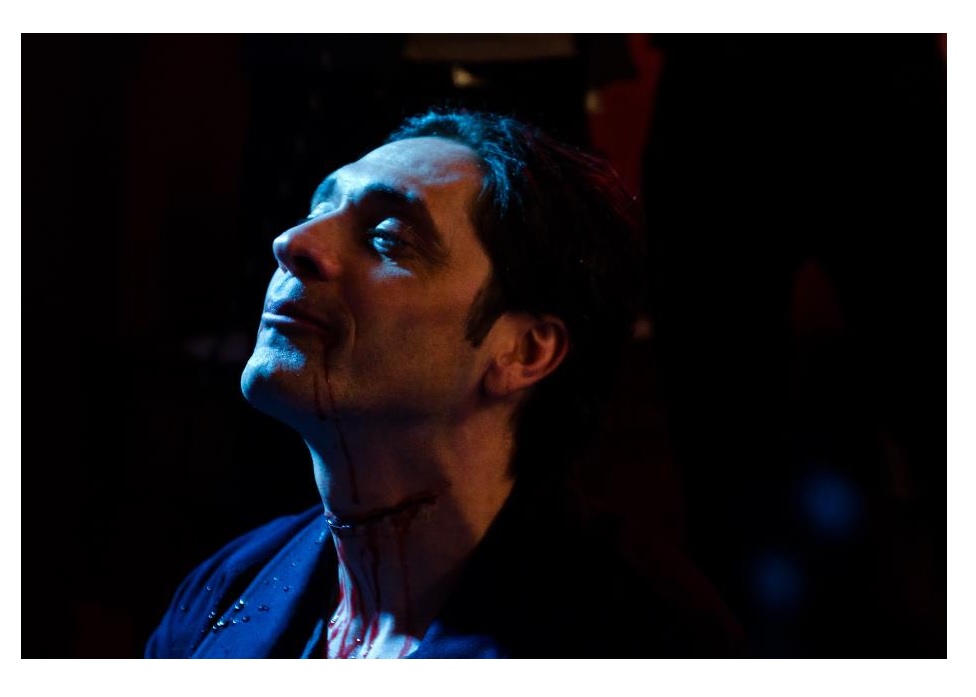 "Alone" by Angelo & Guiseppe Capasso borders on torture porn, but there's enough of the original story in here to make it feel like Poe. An employer is trapped in a warehouse by a lowly employee who mentally and physically tortures him and his wife, but his revenge is just the beginning to his employers torment. While it's definitely chained-to-the-table-and-screaming horror, this one gets points for some gruesome effects and an unflinching eye that will make you squirm.
"Loss of Breath" by Edo Tagliavini is one that some are not going to want to sit through as it reminded me a bit of A SERBIAN FILM. Though he is rich beyond his wildest dreams, a porno star tries to be a legitimate actor, but finds it's a hard transition to make. Experiencing a panic attack during the filming of a sex scene, the man experiences loss of breath and voice, which continues when he is attacked by the handmen in his building who want to rob him. There's a nice use of both silent cinema techniques and sound in this one, with a shocking ending that will leave most squirming. This one pulls no punches in terms of gore and sex.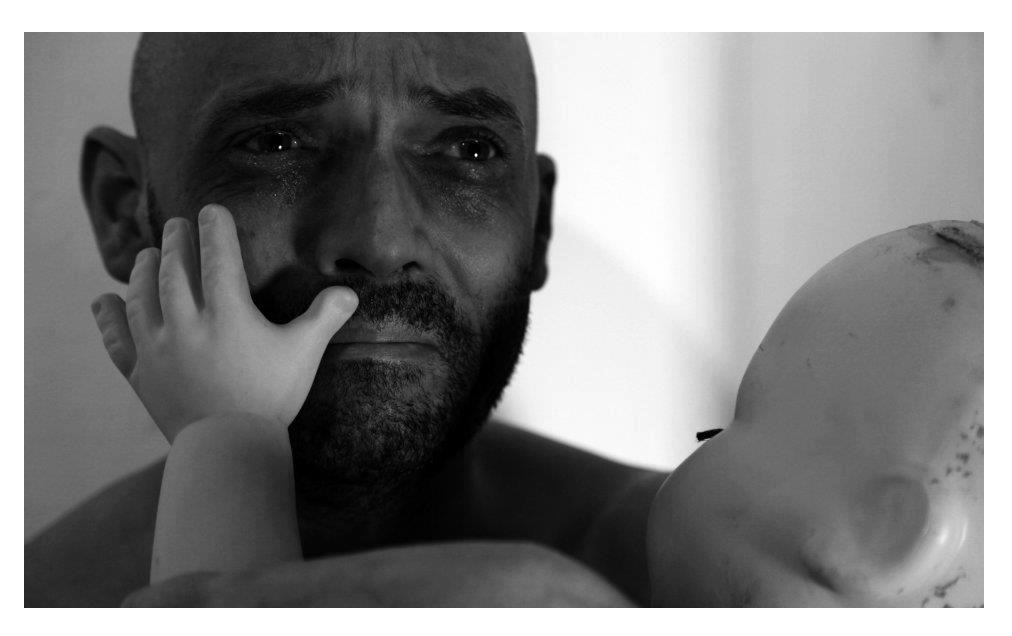 "The Tell-Tale Heart" by Nathan Nicholovitch & David D'Ingeo is based on another one of my favorite Poe tales, this one more simplistic and mostly silent in terms of dialog about a hobo perseverating on a crime he commits against a man who picks him up in a bar and has sex with him in an alley. I could have gone without seeing the actual sex act depicted in all its glory, but the penance the hobo undergoes by flogging himself and eventually castrating himself is pretty grueling as well. The ending wraps things up Poe-etically though.
"The System of Dr. Tarr & Prof. Fether" by Domiziano Cristopharo is the most bizarre of the bunch about an Edgar Allan Poe-looking man arriving at the home of the esteemed Dr. Tarr & Prof. Fether and finds a house of madness and horror in this surreal short. Twisted and odd imagery abound with people speaking as if they have fallen from a dream or on heavy drugs. This is probably the artsiest of the bunch. Not necessarily a bad thing, but much more obtuse than the rest of the film. Still it's beautifully shot in black and white, which highlights those white feathers against all of that tar.
"The Premature Burial" by Giuliano Giacomelli deals with a horror we see all too often in Poe stories, but this story which opens typically with a man trapped inside a coffin ends not so typically in my favorite installment of the bunch. I don't want to reveal the surprise but this one is the cleverest of the bunch and I love it because of it. The twist is simple, yet I don't remember it ever being done in such a way. Really cool installment.
All in all, this anthology is another winner and one no fan of Poe is going to want to miss. There's an undeniable foreign flavor to this film that makes these age-old stories pop as if they are being told for the first time. Hopefully there will be more P.O.E. anthologies of this quality to come.
---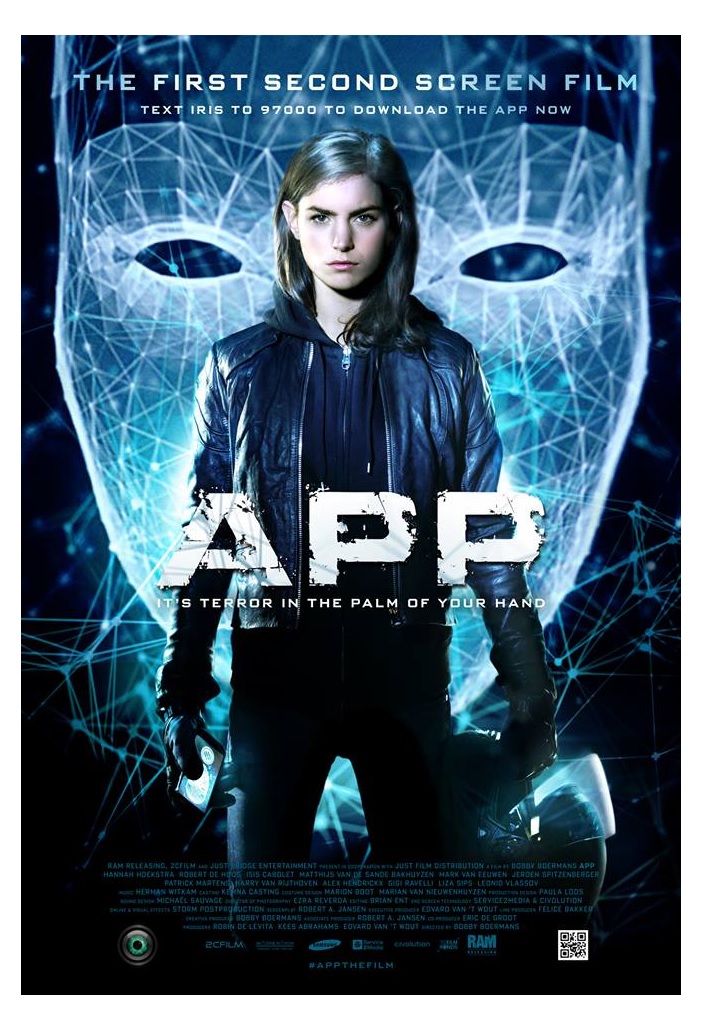 New this week in select theaters and On Demand from RAM Releasing/Film Movement!
APP (2013)
Directed by Bobby Boermans
Written by Robert Arthur Jansen
Starring Hannah Hoekstra, Isis Cabolet, Robert de Hoog, Alex Hendrickx, Matthijs van de Sande Bakhuyzen
Find out more about this film here and on Facebook here
Reviewed by Ambush Bug
APP is a new film from the Netherlands that is attempting something new. With the film, you can also experience the film through your own phone if you download an app and synch it with the film. Now, I don't know how theaters are in the Netherlands, but I think it might be a bit counter intuitive to be promoting people to turn ON their phones while watching a movie. Especially in a day and age where people have been shot for messing with their phones while the movie is playing.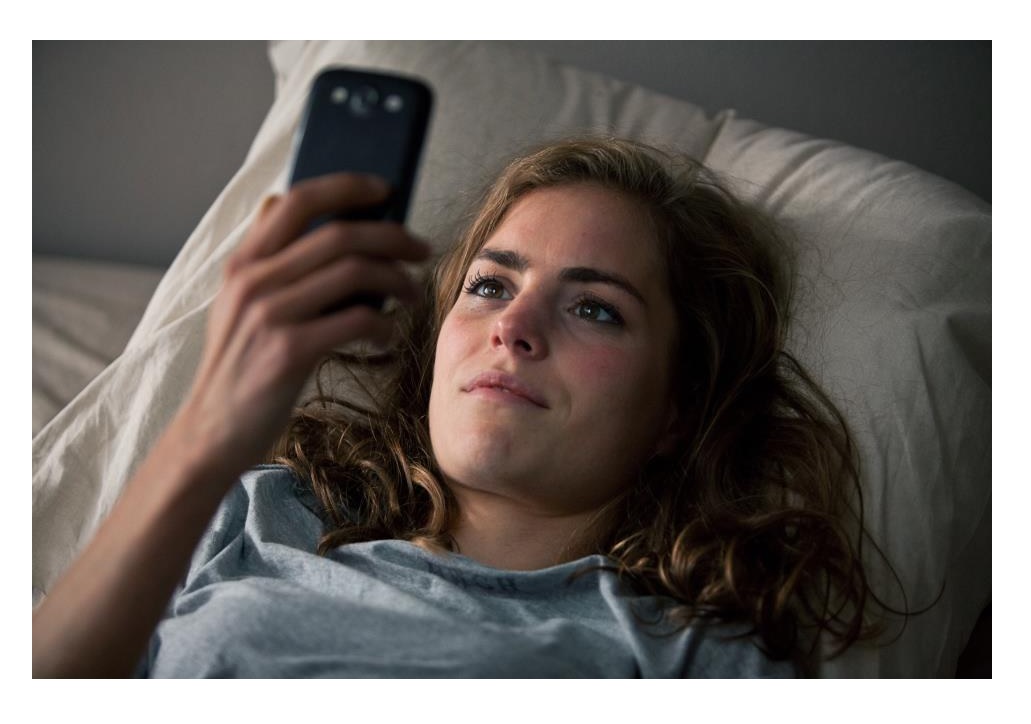 I did not download the app for APP prior to watching the film. I don't need the distraction, mainly because I don't speak Dutch and while I am a decent multi-tasker, reading subtitles and fucking with my phone are not a pair of things I can do at once. So I just sat and watched this film the old fashioned way; with my eyeballs and left my phone on the coffee table where it usually is.
APP itself is a tight little thriller which surprised me in how engaging both the story and the actors involved turned out to be. The film follows a young college student Anna (Hannah Hoekstra, who looks a hell of a lot like Emma Watson) as she struggles to keep up with her studies, have a social life with her giggly best friend Sophie (Isis Cabolet), and support her little brother who is undergoing rehab after a back injury that left him paralyzed. After attending a party where she runs into an ex, Anna wakes up hung over with an ad for an app flashing on her phone. When she groggily accepts it, her life begins to turn upside down as her phone begins acting as if it has a mind of its own, making decisions for her, helping her out when she doesn't need help, and alienating her from her friends and family one by one. While Anna at first is fascinated by the new app, she soon realizes that it's very dangerous.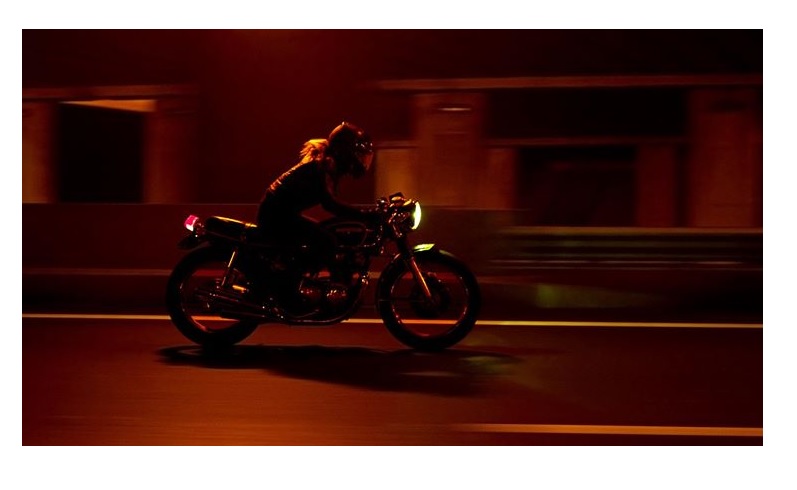 Now, I don't want to oversell this film. Movies of this kind are almost immediately obsolete as it involves an ever evolving technology. With programs like Siri functioning in almost the same manner, it definitely is a concept that applies to current technology, at least for now. Next year this time, the tech used in this film could be laughable, but for the moment, it all fits decently.
Director Bobby Boermans keeps things moving at a pretty rapid pace throughout the films short hour and fifteen minute run time, having Anna motorcycle her way across town to save her friends, then zip back again to save her crippled brother. Everything is dire and there are some extremes that out of context ring as pretty damn ridiculous (the scene where Anna gets out of a car seconds before it is wiped out by a speeding truck being one such moment). But things are moving so quickly and this film is over and done with so fast that you don't really have enough time to question the validity. In the end, APP is a harmless fast-paced thriller with a gimmick that is almost as goofy as its premise, but the actors involved and the level of energy makes the ride a fun one.
---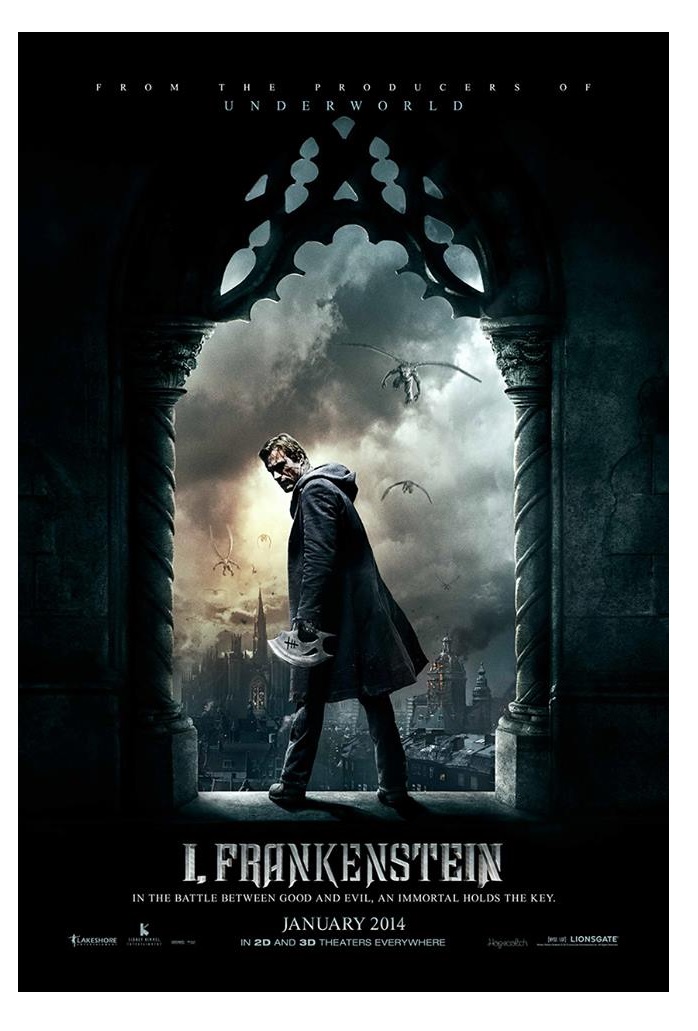 New on DVD, BluRay, & digital download from Lionsgate!
I, FRANKENSTEIN (2014)
Directed by Stuart Beattie
Written by Stuart Beattie (screenplay), Kevin Grevioux (screen story, graphic novel)
Starring Aaron Eckhart, Bill Nighy, Miranda Otto, Yvonne Strahovski, Jai Courtney, Socratis Otto, Aden Young, Caitlin Stasey, Mahesh Jadu, Steve Mouzakis, Nicholas Bell, Deniz Akdeniz, Chris Pang, Kevin Grevioux, Bruce Spence,
Find out more about this film here and on Facebook here
Reviewed by Ambush Bug
Interesting that many moons ago, those old Frankenstein movies were filmed on studio lots with backdrops made by artists made to look like outdoor scenes and expansive backgrounds. It seems we've come full circle with I, FRANKENSTEIN, which feels as if it were filmed entirely in front of a green screen. This isn't always necessarily a killer in terms of quality, mind you, but it does lend to how much you relate to the film which is always correlated with one's own ability to suspend one's disbelief about the effects/drawings/painting/CG going on in screen.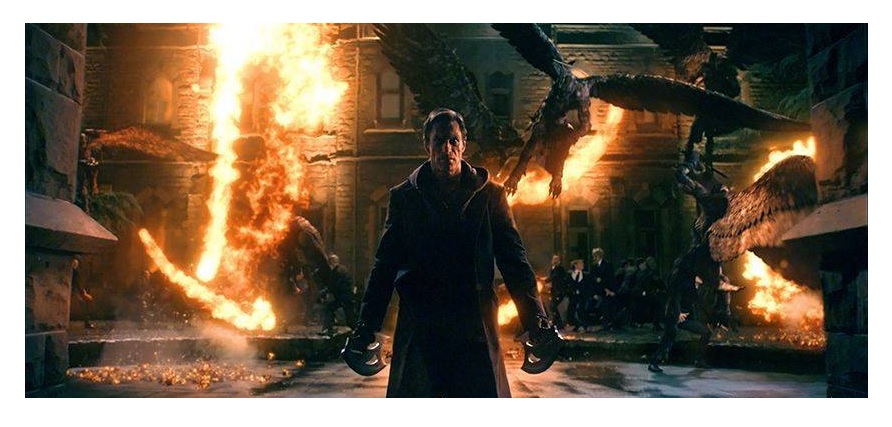 Had the computer never been invented, it'd be interesting to see what I, FRANKENSTEIN would be, as it relies heavily on CG work to take the place of a lot of things we usually rely on real world things to convey, such as mood, tone, action, and overall look. This is a gothic world, filled with church spires, hunched gargoyles topped with thunderclouds constantly raining onto the action below. Plus there are tons and tons of fiery explosions, but since Aaron Eckhart's Frankenstein's Monster is one of those cool guys, he doesn't really have to act at the green screen since we all know they don't look at explosions.
The story follows Mary Shelley's original pretty closely in the opening moments, depicting the story of a doctor obsessed with conquering death and the monster he created (Aaron Eckhart). But as that story ends, this one begins with the monster surviving and living on as an immortal outcast. Discovered by a sect of gargoyles who are actually angels, the monster is given purpose when they give him a name (Adam) and have him kill horrible demons disguising as humans who walk the Earth. Yes, the age-old trope of the eternal battle between heaven and hell is the central conflict of I, FRANKENSTEIN, with Adam in the middle as a soulless monster with battle maces and a bad attitude. So with the angel gargoyles in possession of Frankenstein's journal containing the secret sauce recipe to make soulless monsters and the fact that Adam is soulless making him appealing to the demons, that are all about taking residence in bodies and since there's extra room inside Adam, he finds himself a hot commodity.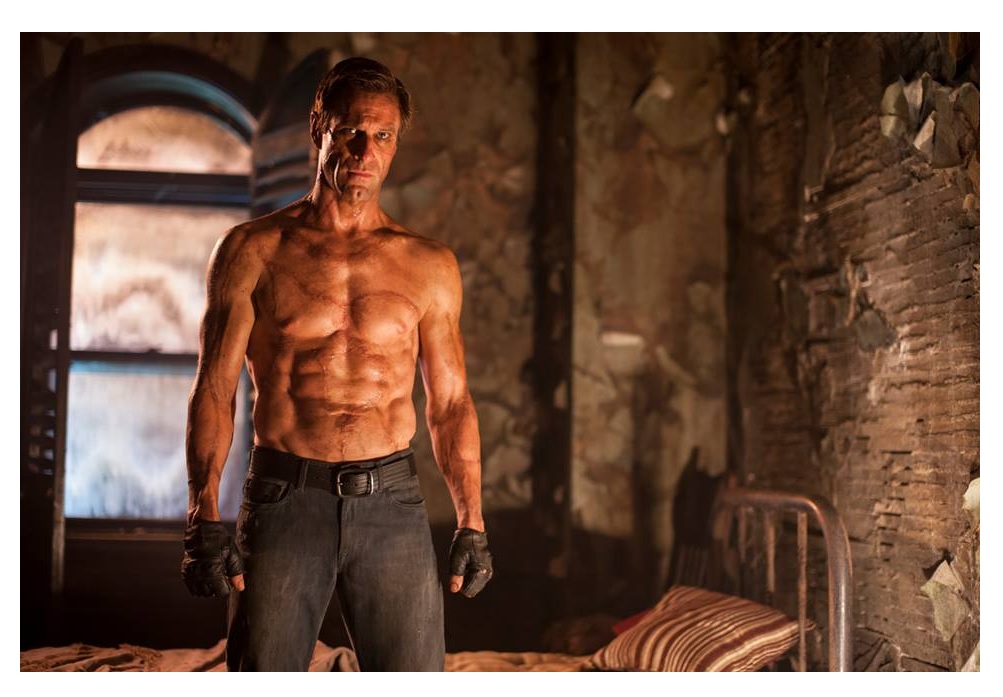 Eckhart is passable in the lead here, I guess. It's his first chance to carry a film by himself as an action lead and though he doesn't really have a ton of charisma here, he's not written to have any either. Eckhart's monster is supposed to be soulless and he plays it that way, but that's not going to win over anyone in terms of caring about the character. Never cracking a smile, Eckhart simple stares and growls out lines and I guess he does a decent job of that, but a character as such is very difficult to relate to; and given the fact of the aforementioned over-green screened scenes, that's another strike in terms of winning over an audience.
The rest of the cast feel like they've been swiped from the UNDERWORLD series, mainly because some of them have. Bill Nighy seems to be playing a character not too different from his character from UNDERWORLD except instead of a vampire, he's a demon. Kevin Grievioux acts in the film as another demon and also is credited with the screenwriting chores here. Grievioux, who was a major creative force with the UNDERWORLD series, also wrote this script which feels as if it were supposed to be a part of that series instead of on its own. Had they the mythology of UNDERWORLD, this film may have been a bit stronger. But this feels an awful lot like the amalgamation of a lot of things we've seen before both good and bad in films like CONSTANTINE, LEGION, THE PROPHECY, and scores of others heaven vs hell flicks with the Frankenstein myth shoved in.
Cartoony CG violence, cardboard characters, familiar script; there seems to be a whole lot wrong with I, FRANKENSTEIN. Did they get anything right? Well, some of the fight scenes are cool. Eckhart fights with giant maces that aren't your typical weapon you usually see. I also thought story-wise, the way they fit the Monster in was rather clever making him the object of desire for the demons and savior for the angels. And again, Eckhart was ok in the role, though the script didn't really have him say much other than grunt.
I can't muster enough energy to hate I, FRANKENSTEIN. It's just kind of blah as it feels like it's trying so hard to be a new phenomenon in action horror without any really creative or original ideas to back it up. Like the UNDERWORLD and RESIDENT EVIL series themselves, the films are wham bang, but no one goes to them expecting intricate plots, fantastic acting, or something they've never seen before. The films seem to exist to keep the bellies of many a CG artist full. While the film leaves things open for a sequel, the way it came and went in the box office guarantees the opposite. And while there are some fun 'splosions and fights, don't go looking for much substantial in this one.
---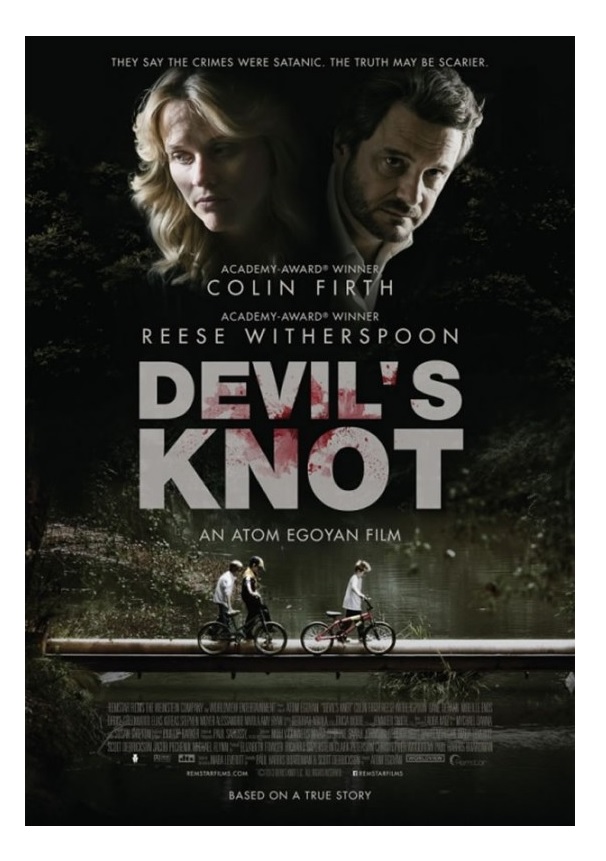 New this week in select theaters, On Demand, & iTunes from RLJ/Image Entertainment!
DEVIL'S KNOT (2013)
Directed by Atom Egoyan
Written by Paul Harris Boardman, Scott Derrickson (screenplay), Mara Leveritt (book: Devil's Knot: The True Story of the West Memphis Three)
Starring Reese Witherspoon, Colin Firth, Dane DeHaan, Alessandro Nivola, Kevin Durand, Mireille Enos, Stephen Moyer, Elias Koteas, James Hamrick, Seth Meriwether, Kristopher Higgins, Amy Ryan, Martin Henderson, Bruce Greenwood, Kristoffer Polaha, Matt Letscher, Michael Gladis, Rex Linn
Find out more about this film on Facebook here
Reviewed by Ambush Bug
The story of the West Memphis Three is well documented in the media when it occurred and ever since due to Joe Berlinger's trilogy of PARADISE LOST documentaries. Anyone who has seen the documentaries knows that this is a case of intricate complexity with details leading to more details leading to more mysteries and more deep, dark secrets. Berlinger's docs suggest everything from personal vendettas, to deviant sexual acts, to organized mob tactics, to gaping holes in the legal system as the real reasons why the murderers of three young boys all those years ago have not been caught.
Director Atom Egoyan attempts to caramelize this complex story into one solid two-hour nugget and if anything, the film proves that the story inspired by it is just too big for such a small run time. I would have much rather preferred Egoyan go the route of an HBO miniseries, which would give the film time to unfold and delve into the complexities of the case. Instead what we get is the Cliff's Notes version of everything, which ultimately tells us nothing of real substance about the case.
Now I haven't read the book, but the film chooses to follow Pam Hobbs (played by Reese Witherspoon), mother of one of the young boys who was killed. When her boy goes missing, she is the weeping and hair pulling drama that the story hinges itself upon. When three late teens are arrested for the crime, Pam and her husband Terry (played by a restrained Alessandro Nivola) huddle together in the courtroom as private investigator Ron Lax (Colin Firth) angsts over the possibility that the kids accused of the crime are being set up. When the boys are convicted, Pam continues to have an odd feeling about the whole thing and after some investigating in her attic, she finds some evidence that may suggest her husband may be involved in the crime.
If you've seen PARADISE LOST and its sequels and read that last paragraph and it feels lacking in the entirety of the case, you're right. By focusing on Firth's Lax and Witherspoon's Hobbs, giant integral pieces of this puzzle are either not addressed at all or glossed over quickly in order to get to the gory trial stuff or the sensational stuff we've seen in the documentaries. The true travesty is the fact that two of the most bizarre characters in this madness; John Mark and Melissa Byers (the eccentric parents of another one of the murdered boys played by Kevin Durand and Julie Ivey) hardly have any screen time at all. With the Byers out of the way and the three metal head teens set up as being framed for the murder, it pretty much narrows everything down to Terry Hobbs in a neat tidy bow. Adding insult to injury, Egoyan chooses to end the film with very little resolved in frame. Instead paragraphs of text appear over scenes of the wilderness explaining what happens to all of the players involved. If the end of your movie requires ten paragraphs of text explaining what happens to all of the characters, you didn't do your job in telling the story. DEVIL'S KNOT seems to want to tell the story by paring down the bric-a-brac and just going for whom they think committed the murders, but the limited runtime and limited scope of the film ends up not doing anyone justice.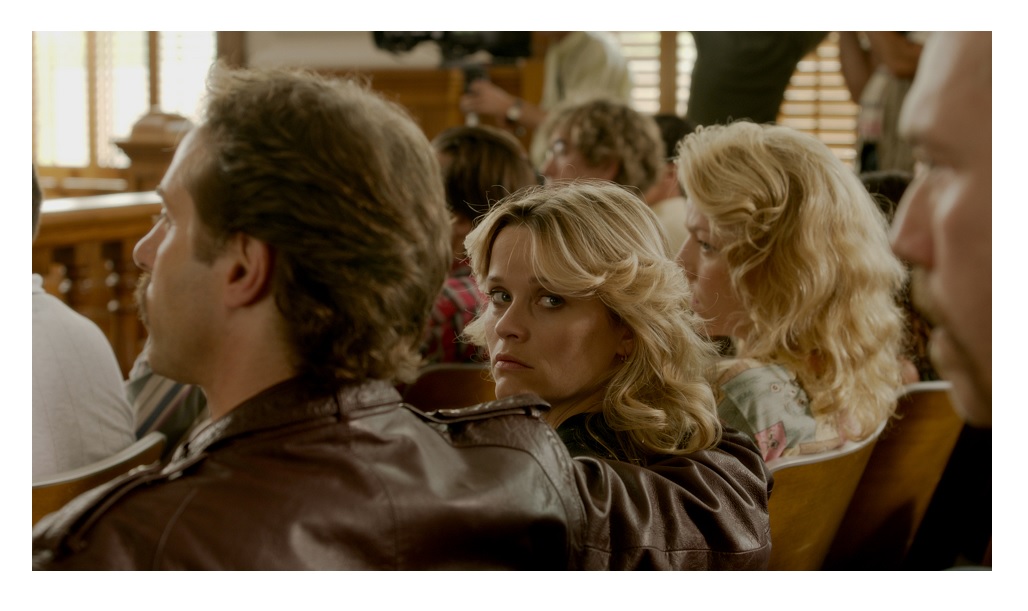 The performances here are fine. The film is filled with actors from all corners of Hollywood, most likely because they supported the release of the West Memphis Three and wanted to be a part of the film, but other than Firth and Witherspoon, most of the big names you see in the credits only have a line or two as this film doesn't really have time for them to do much else.
Granted, PARADISE LOST is excessive in the area it chooses to cover. Berlinger documents every possible nook and cranny of this case, but Egoyan's DEVIL'S KNOT does the opposite which doesn't do any good either. Personally, I prefer PARADISE LOST in that it presents a broad tapestry with which this horrific happening occurred. Egoyan may have wanted to cut to the chase by painting DEVIL'S KNOT with such a limited palette, but in doing so, it loses all depth and my interest and ends up being a two-hour episode of LAW & ORDER with more useless cameos than you can shake a stick at. Go seek out PARADISE LOST and the sequels if you want the most compelling story behind the West Memphis Three. DEVIL'S KNOT is a long story short, which isn't always a good thing.
---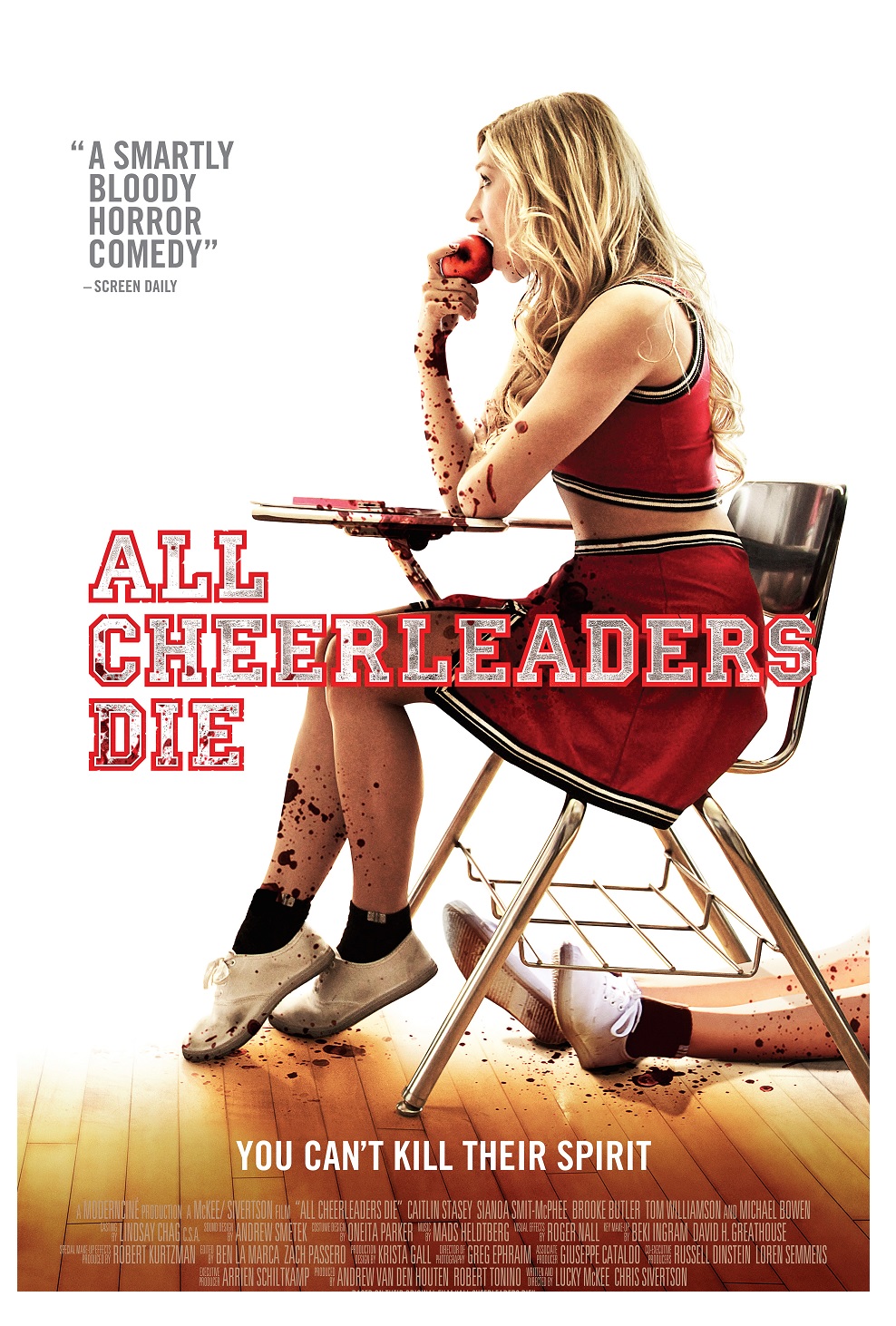 New this week On Demand and in limited theatrical release from Moderncine!
ALL CHEERLEADERS DIE (2013)
Directed by Lucky McKee, Chris Sivertson
Written by Lucky McKee, Chris Sivertson
Starring Caitlin Stasey, Sianoa Smit-McPhee, Brooke Butler, Amanda Grace Cooper, Reanin Johannink, Tom Williamson, Chris Petrovski, Leigh Parker, Nicholas S. Morrison, Jordan Wilson, Felisha Cooper
Find out more about this film here and on Facebook here
Reviewed by Ambush Bug
While I haven't seen the original ALL CHEERLEADERS DIE, I am a huge fan of the works of director Lucky McKee. MAY, THE WOMAN (
reviewed here
), hell I even liked RED and his installment in THE MASTERS OF HORROR series about the bug woman. This time, McKee pairs with Chris Silvertson who directed the original ALL CHEERLEADERS DIE in a mainstream style film with sharper teeth than most of the horror released broad these days.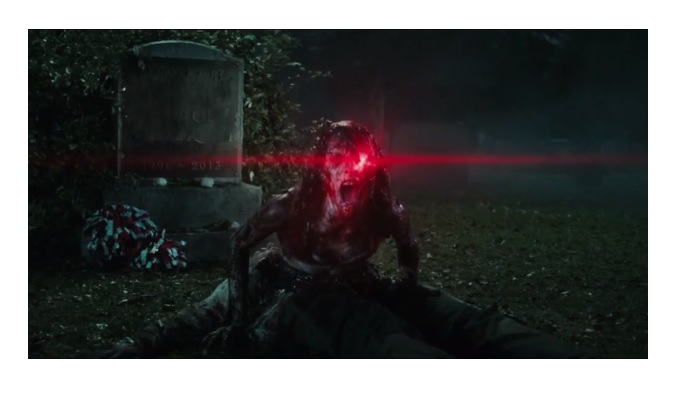 The story has a large cast filled with interesting characters, but the central character is Maddy (Caitlin Stasey from TV's REIGN), who tapes her childhood friend Alexis, suffering from a freak cheerleader accident and then vows to socially destroy her asshole boyfriend and captain of the football team Terry (Tom Williamson) and his new girlfriend/Alexis' best friend Tracy (the sizzling Brooke Butler). Maddy is also trying to distance herself from her ex girlfriend Leena (HUNG's Sianoa Smit-McPhee) who happens to also be a Wiccan. When a party goes wrong, the football jocks run the cheerleaders off the road, wrecking their car and killing them, but Leena refuses to accept their deaths and brings them back to life. Now these undead cheerleaders want revenge and nothing will stop them from getting it.
Though the story might seem a bit complex and convoluted, it's reflective of the complexities of high school where people break up and get together on an ever malleable basis. McKee and Silvertson have crafted a script that is reminiscent of high school horror films like THE CRAFT, JENNIFER'S BODY, and HEATHERS, yet never does it feel like a rip-off or swipe. Because the cast is so large, the story bops around from Maddy to Tracy to Terry and back again, making it feel like there's enough time for all of them to have a voice and a story. Yes, this is a mean spirited movie, with everyone having dark motivations, but that plays right in with McKee's previous films where no one is truly good and everyone is a little bit bad.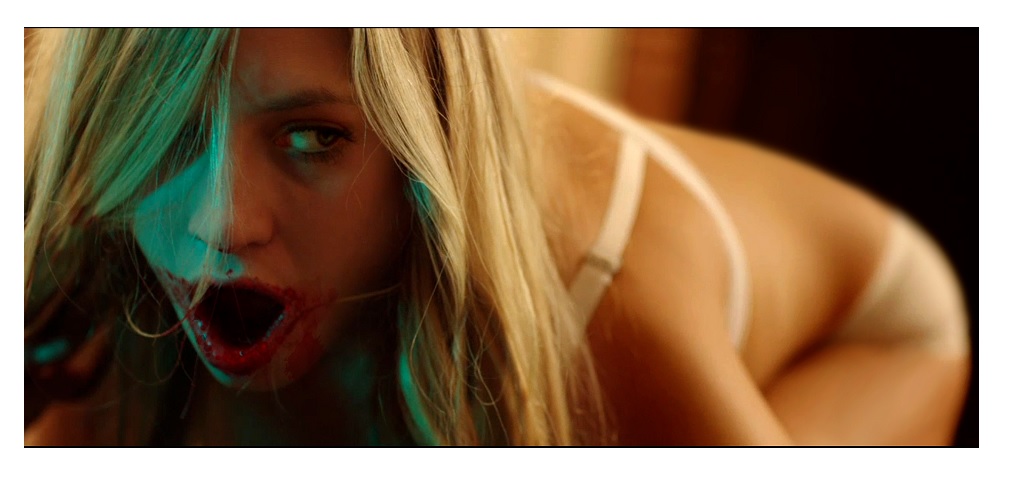 The fun here comes from the performances. The entire cast is strong. Stasey is phenomenal as Maddy, who makes you like her despite her dark motivations. Even the vapid Tracey is likable and relatable with Butler giving her all kinds of spunk and fire. And Tom Williamson is amazing as the budding psychopath footballer who has the thousand yard psycho-killer stare down pat. I also have to mention how much I love the FREAKY FRIDAY swap between the resurrected sisters where the bible thumping bombshell switches bodies with her shy sister and the trouble this switch causes when a sexually repressed wallflower all of a sudden gets the body and the attention of a lead cheerleader. Fun stuff, but seen through the lens of horror, it makes it all the more interesting.
And that's what I love about this film. More so than any other high school horror film, it takes interesting situations you've seen in other films and casts them on a horrific screen. In doing so, everything feels fresh and new. McKee and Silvertson keep everything moving at a frantic pace throughout, with a fun soundtrack and tight editing, where we see a sex scene in a handicap bathroom one minute, then pop right over to a murder in a van the next. Unpredictable, unconventional, and utterly poppy in a good way, ALL CHEERLEADERS DIE proves that McKee (with Silvertson) can do mainstream and he does it with the same dark flair he's always had. Being a fan of McKee's for years, I hope this film leads him to bigger and more mainstream things, as the mainstream could use some darkening up. I highly recommend ALL CHEERLEADERS DIE. It's bold and dark, filled with moments that'll make you gasp and characters you'll actually give a shit about when they meet their gory end. With the hint that this is only part one of what looks to be a series of ALL CHEERLEADERS DIE movies, I can only hope McKee & Silvertson are going to team up for the follow up capturing the same wicked magic that this film is permeated with.
---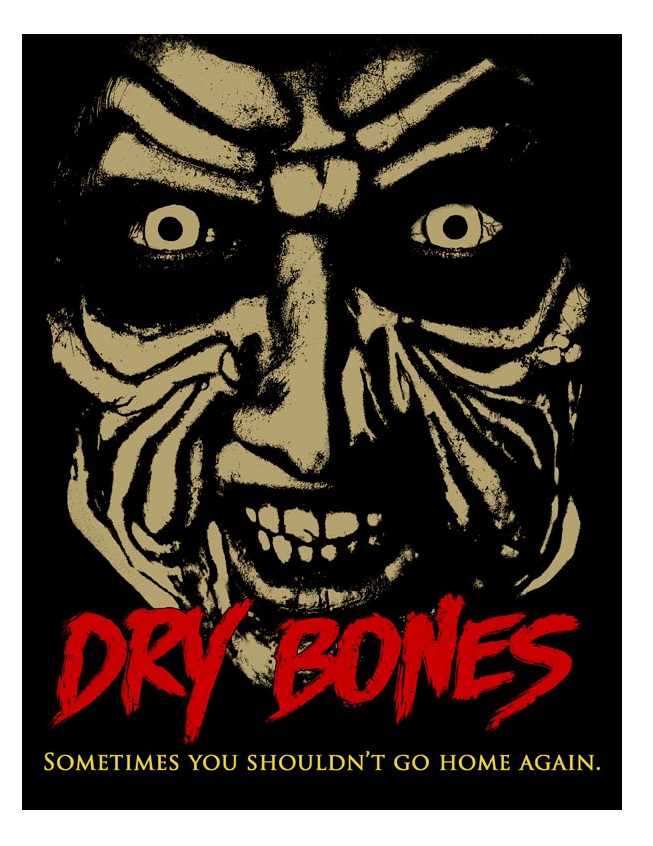 Advance Review: Available late summer on DVD!
DRY BONES (2013)
Directed by Greg Lamberson, Michael O'Hear
Written by Greg Lamberson
Starring Debbie Rochon, Michael O'Hear, John Renna, Paul McGinnis, Kathy Murphy, Kevin Van Hat Trick, Kim Piazza, Jessica Zwolak, Tia Maurice, Mark Goodfellow, Kaelin Lamberson, Alexander S. McBryde, Robert Bozek, Tim O'Hearn, Jason Tannis
Find out more about this film here and on Facebook here
Reviewed by Ambush Bug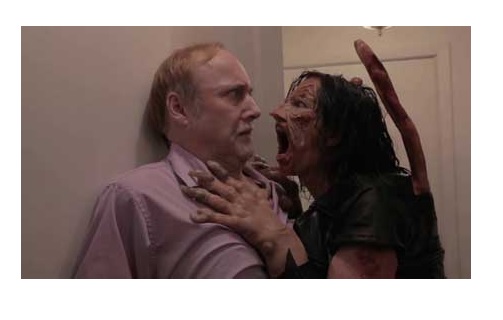 SLIME CITY MASSACRE writer/director Greg Lamberson's newest effort is a story of a man who returns to his boyhood home only to find that his childhood terrors are still lingering under his bed. When Drew (Michael O'Hear, who also is credited as co-directing this film) returns home years after his father was killed by a monster under his bed in front of him, he starts experiencing strange blackouts, bad dreams, and monstrous hallucinations all seemingly tied to the night his father died and an ancient evil.
I have to admit, when I first started watching DRY BONES, it was pretty difficult for me to sustain my attention due to O'Hear's amateur acting and dead-pan delivery. He's not really leading man material and the fact that the audience is supposed to believe the balding, overweight middle-ager could walk into a bar and pick up chicks seemed a stretch I don't think I was prepared to believe. But I stuck with the film, and while O'Hear's acting didn't really improve, the story did. All of the things that bothered me about the logic of the film; mainly why this guy seems to be the mack daddy of his home town, logically plays out by the end. So much so, that I ended up liking this film quite a bit for the way it is ingeniously constructed story-wise to counter expectations and challenge preconceptions in terms of the way one would think a horror movie would and should unfold.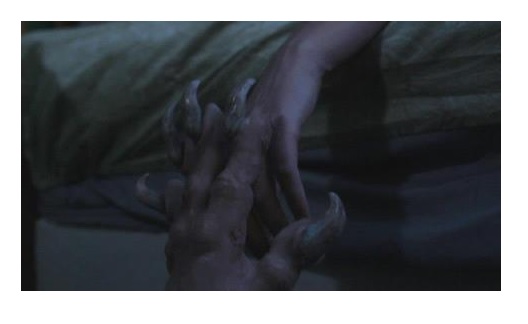 Because of its clever story structure and ingenious delivery, things like shoddy acting, DIY special effects, flat lighting, and off and on sound didn't really bother me as much as it probably should. I know it sounds like I'm apologizing for the film, but the way everything works out in the end actually turned out to be a lot of fun.
DRY BONES is not going to be for everyone. Hell, there will be a lot of folks who won't give it a chance after seeing the first five minutes, but the story surprised me and there's a do it yourself quality to this film that makes the rough edges not only forgivable, but downright endearing. If you're an supporter of indie horror, Lamberson's DRY BONES is one that exemplifies indie spirit and shows that just because it's done on the cheap, the story can still be clever and original.
---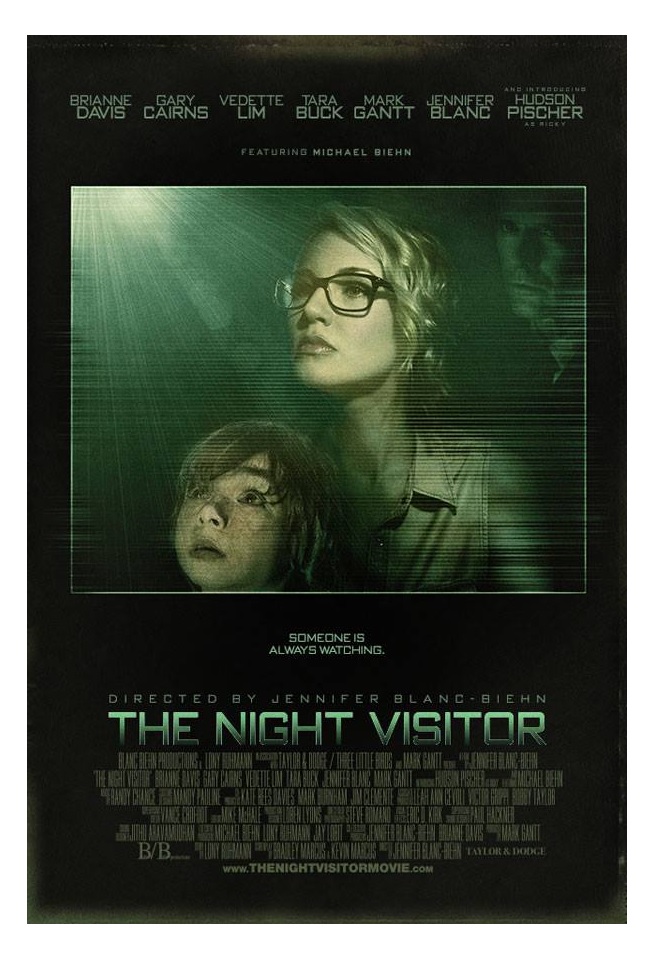 Advance Review: Currently touring fests!
THE NIGHT VISITOR (2013)
Directed by Jennifer Blanc
Written by Bradley Marcus, Kevin Marcus (screenplay), Lony Ruhmann (story)
Starring Brianne Davis, Gary Cairns, Tara Buck, Vedette Lim, Mark Gantt, Jennifer Blanc, Jenise Blanc, Nichola Fynn, Hudson Pischer & Michael Biehn
Find out more about this film here and on Facebook here
Reviewed by Ambush Bug
The power couple of Jennifer Blanc and her husband Michael Biehn, who started Biehn-Blanc Productions a while back premiering with their film, the grindhousey THE VICTIM (
reviewed here
) and continuing with the dark drama TREACHERY (
reviewed here
) have a new film coming out soon called THE NIGHT VISITOR; a found footage, alien visitation amalgamation that's strengths far outweigh the trappings found footage films often find themselves caught in.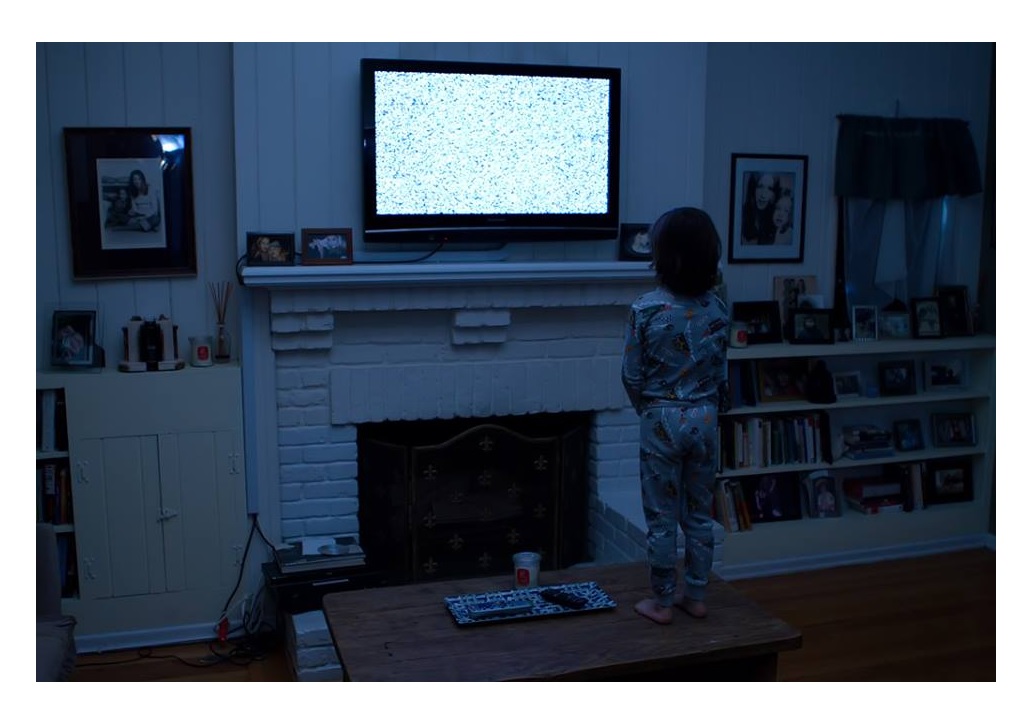 Brianne Davis & Gary Cairns play Jen & Cochran, a young attractive couple who have been having both marital problems since Cochran cheated on her with his secretary and difficulties with their son who is experiencing night terrors and mysterious nosebleeds. The couple seek out counseling to remedy the situation as they believe both problems are connected and the counselor prescribes the couple to film their mundane day to day activities (including their sex life) in order to give them an outsider's perspective into what their relationship is all about. But things start going wrong as the cameras begin picking up weird happenings throughout the whole house, seemingly targeting their son and attempting to tear apart the family.
If you get a PARANORMAL ACTIVITY vibe here, you're right on the money, as THE NIGHT VISITOR seems like it could very well be a bastard stepchild of that popular series. It utilizes the multiple camera throughout the house technique that Oren Peli made popular with his spooky series for most of its footage, while other bits are made from hand held cameras and footage taken from a computer camera. We aren't really supposed to ask how this has all been whittled together in this movie format, but the opening with Michael Biehn sitting at a computer and watching this footage suggests that this footage has been spliced together to make up some kind of government report on weird happenings.
The film itself is fast paced and gets in and out in a rather harmless fashion. The film's runtime is just over an hour, not giving it a lot of time to dally around. Blanc keeps the energy running as she flips from computer footage, to security cam, to hand held in a rapid fashion. The request by the therapist to keep everything recorded is a feasible enough excuse for the footage to be taken, so a lot of the T's are crossed in order to keep me from leaping out of the narrative asking the how and why questions that often plague found footagers.
The strong point of this film for me was the performances by the endearing and talented cast, specifically Brianne Davis who seems to be a star in the making after this film and her memorable appearance in Danielle Harris' AMONG FRIENDS (
reviewed here
). Her good looks and plucky presence drives this film as she juggles both roles of caring mother and wife who doesn't want to give up her marriage with a lot of skill. There are a decent amount of scares present in THE NIGHT VISITOR as well, with the weird imagery intensifying in the final minutes, of course. But it's Davis' performance that gives this movie its soul, and when she screams, so did I. THE NIGHT VISITOR is cut from a very familiar found footage cloth and uses themes seen in FIRE IN THE SKY and more recently, DARK SKIES (
reviewed here
) but the performances are what makes it something to seek out.
---
And finally…here's an hour long radio play called the PEORIA PLAGUE. It's from 1972, long before the zombie inundation we are experiencing today. This is a surprisingly fun play, reminiscent of both PONTYPOOL and NIGHT OF THE LIVING DEAD. Enjoy!
See ya next week, folks!

Ambush Bug is Mark L. Miller, original @$$Hole/wordslinger/writer of wrongs/reviewer/interviewer/editor of AICN COMICS for over 13 years & AICN HORROR for 4. Mark's written THE TINGLERS & WITCHFINDER GENERAL, DEATHSPORT GAMES, NANNY & HANK (soon to be an Uptown 6 Films feature film), Zenescope's GRIMM FAIRY TALES Vol.13, UNLEASHED: WEREWOLVES, and the critically acclaimed THE JUNGLE BOOK and its follow up THE JUNGLE BOOK: LAST OF THE SPECIES. FAMOUS MONSTERS' LUNA: ORDER OF THE WEREWOLF (co-written with Martin Fisher) will be available soon in trade. Mark wrote/provided art for a chapter in Black Mask Studios' OCCUPY COMICS. Follow Ambush Bug on the Twitters @Mark_L_Miller.


---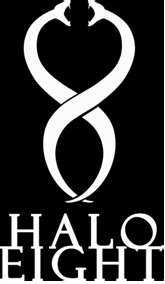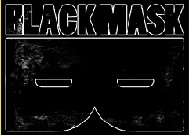 Find out what are BLACK MASK STUDIOS and OCCUPY COMICS here and on Facebook here!


Interested in illustrated films, fringe cinema, and other oddities?
Check out Halo-8 and challenge everything!
---
Find more AICN HORROR including an archive of previous columns on AICN HORROR's Facebook page!