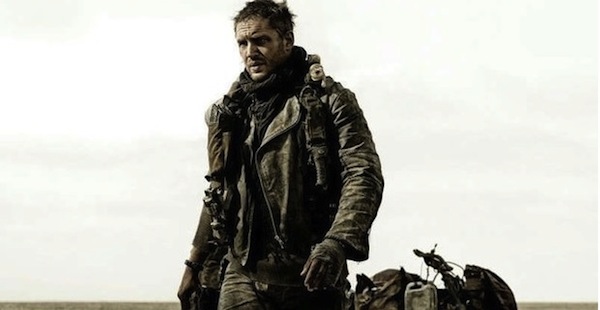 Jeremy here...
George Miller's MAD MAX: FURY ROAD isn't due out until May 15, 2015, but the film is evidently in decent-enough shape to be screened for industry folk. The movie wrapped principal photography in 2012 after having gone significantly over-budget, and then underwent reshoots in the fall of 2013. Given that it's Miller's first Mad Max film in almost thirty years (with Tom Hardy stepping in for Mel Gibson), and that we've yet to see any real footage, it's probably the most intriguing unknown quantity lurking out there on the cinematic landscape. So last night's screening on the Warner Bros. lot in Burbank was pretty much the place to be.
And for whatever reason, a few people who attended the private screening have decided to broadcast their reactions via the internet. I'm surprised they were allowed to do this, but I thank them for spilling the beans because it sounds like FURY ROAD is going to be worth the very long wait.
The most involved reaction comes from Randy at Action Figure Times. Here's the money graph from his non-review review:
This IS the kind of Mad Max II/The Road Warrior on steroids, go-big-or-go-home, bug-nuts crazy, toss-you-in-the-deep-end mythology and put-it-all-out-there-in-case-we-never-make-another-one Mad Max Fury Road.
Just came from a year in advance screening of "Mad Max Fury Road". Weird to not see Gibson as Max but Tom Hardy holds it down just fine. Great action sequences and amazing post apocalyptic vehicles and costuming with awesome makeup.
There were a couple of other Twitter reactions, and they were positive as well. FURY ROAD is still far from finished (plenty of editing, visual f/x and sound design left to do), but it's good to hear that people are losing their minds over a film that should make you lose your mind. Here's hoping we get a teaser this May (attached to GODZILLA perhaps).
In case you haven't read it yet, this is the new plot synopsis:
MAD MAX: FURY ROAD is the fourth film of George Miller's Road Warrior/Mad Max franchise co-written and directed by Miller. The post-apocalyptic action film is set in the furthest reaches of our planet, in a stark desert landscape where humanity is broken, and most everyone is crazed fighting for the necessities of life.

Within this world of fire and blood exist two rebels on the run who just might be able to restore order… There's Max (played by TOM HARDY from The Dark Knight Rises), a man of action and a man of few words, who seeks peace of mind following the loss of his wife and child in the aftermath of the chaos.

And… Furiosa (played by CHARLIZE THERON from Prometheus), a woman of action and a woman who believes her path to survival may be achieved if she can make it across the desert back to her childhood homeland.