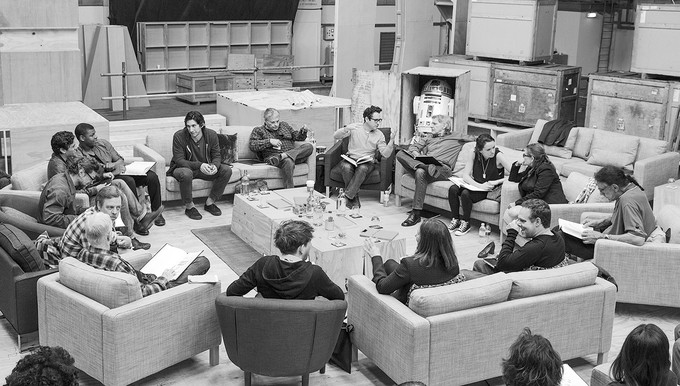 Ahoy, squirts! Quint here. Holy shit, holy shit, holy shit, holy shit, it's really happening!
Who do we see in that picture above going through the first table reading of Star Wars Episode VII. There are those we knew, like the original three Mark Hamill, Carrie Fisher and Harrison Ford (not to forget Peter Mayhew) as well as heavily rumored John Boyega (!!!), Adam Driver and Oscar Isaac, but what's awesome are the few awesome curveballs like Andy Serkis and MAX VON SYDOW!
Let me repeat that bit. Max Von Sydow will be in a Star Wars movie. Wisened Jedi? Grumpy hermit? Evil sumbitch? I DON'T KNOW AND IT'S DRIVING ME CRAZY ALREADY!
Starwars.com announced the cast with that photo. Also announced as being in the film are Domhnall Gleeson, Daisy Ridley, Anthony Daniels (naturally) and Kenny Baker (yay, R2!).
Missing from this picture and announcemet is Billy Dee Williams, but I wouldn't rule him out all together. Perhaps they're saving him for a sequel. Can't throw all the surprises in the first of three new flicks, right?
JJ had this to say:
"We are so excited to finally share the cast of Star Wars: Episode VII. It is both thrilling and surreal to watch the beloved original cast and these brilliant new performers come together to bring this world to life, once again. We start shooting in a couple of weeks, and everyone is doing their best to make the fans proud."
The press release also confirms they are on track for a December 18, 2015 release. Start lining up now, fanboys. See you there!
-Eric Vespe
"Quint"
quint@aintitcool.com
Follow Me On Twitter