Papa Vinyard here, now here's a little somethin' for ya...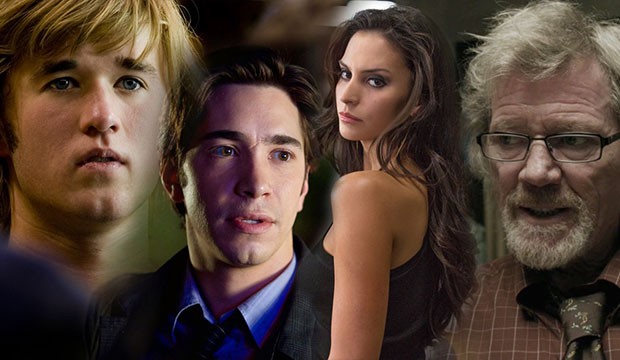 Above photo courtesy of Beware Horror Movies.
Kevin Smith is putting the finishing touches on TUSK, his walrus-themed horror-ish movie with Michael Parks and Justin Long, but he's already got his next movie lined up, and he's bringing his principal cast back with him. Smith will dip his toes back into the horror well with ANTI-CLAUS, a Christmas-themed scarer about the evil, child-eating creature known as Krampus. His cast for the formerly-titled COMES THE KRAMPUS! will be headed up by his four leads from TUSK, namely Parks, Long, Genesis Rodriguez, and Haley Joel Osment.
I guess CLERKS III is still getting together, because even before TUSK started shooting, Smith had announced the threequel as his next project, but it keeps getting pushed back for other projects. When he first discussed the project on his blog, he mentioned that it would shoot "right on the heels of CLERKS III" which he said had a confirmed start date of April 7th. Well, that didn't happen, so it looks like ANTI-CLAUS is taking that flicks place as the next item on his agenda.
No word as to whether he kept the CREEPSHOW-esque anthology structure he's previously associated with the project, with segments to be directed by SModCo associates Andy McElfresh, Carol Banker, Jennifer Schwalbach (yes, his wife), and good ol' Jason Mewes, but Smith is the only name announced so far, so there's a possibility that conceit's been dropped. Shame, for God knows there haven't been enough worthwhile horror anthologies in a healthy minute, but I'm still curious to see what Kev's got planned for his Christmas-themed monster flick.
Hopefully, he switches things up and puts Mr. Osment (so damn funny on the recent SPOILS OF BABYLON miniseries) front and center this time around instead of Long. Just to keep things fresh, you know. You wouldn't want to see Gibson and Glover spend another movie bickering right after LETHAL WEAPON 1, right?
Production on ANTI-CLAUS is scheduled to begin this Fall (the same time TUSK is set to be released), so expect a release sometime next year.
-Vincent Kim-Zahedi
"Papa Vinyard"
vincentzahedi@gmail.com
Follow Me On Twitter