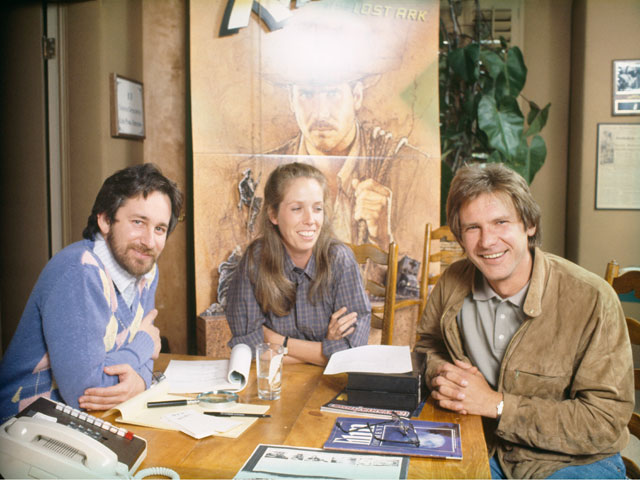 Nordling here.
As you all know, I'm a freak for Steven Spielberg's E.T. THE EXTRA-TERRESTRIAL. I especially admire Melissa Mathison's wonderful script, which nails what childhood is like. Kids are vulgar, crude, and have no problems risking it all for adventure, and Mathison gets the spirit and the power of childhood completely right. So the news that she's reuniting with Spielberg to make another family film automatically gets me pretty excited to see what the two of them are cooking up.
According to The Hollywood Reporter, Spielberg and Mathison are adapting THE BFG, Roald Dahl's classic children's book (published in 1982, coincidentally enough). THE BFG (or The Big Friendly Giant) is about a young girl who meets the only good giant left, who distributes happy dreams to all the children and takes their nightmares and uses them against other giants who threaten the sleeping children of the world. The adventures of Sophie and the BFG soon involves meeting the Queen of England and a plan to stop the giants from eating the other kids. Dahl's work has always had a fierce sense of irony and subtext, and I'm certain that Spielberg and Mathison together will be able to successfully adapt it.
What does this mean for Spielberg's other pending films, including the untitled Cold War project with Tom Hanks possibly starring, or THE KIDNAPPING OF EDGARDO MORTARA, or MONTEZUMA, and of course ROBOPOCALYPSE? It's unclear which project Spielberg will make first; like Guillermo del Toro, I'm sure the Beard wants to have any number of films percolating at the same time, so when he finally does commit he'll be able to dive in without too much trouble. For now, though, it appears that the two main films on Spielberg's plate are THE BFG and the untitled Cold War film, and regardless of which movie Spielberg decides to go with, I'm certain he is very eager to get back into the directing chair. And I'm certainly very eager to see what he does next. I'll always be excited for anything the man does.
Nordling, out.