Papa Vinyard here, now here's a little somethin' for ya...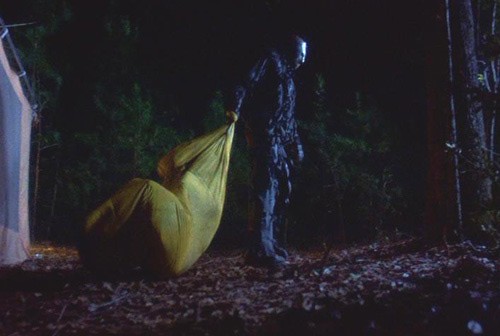 That found footage FRIDAY THE 13TH reboot may have found its director. David Bruckner, who directed the "Amateur Night" segment of the original V/H/S and co-directed '07's THE SIGNAL, has been tapped to helm the lucky 13th entry of the 34 year-old franchise. We don't know much about his approach, and it's not even clear if Michael Bay's Platinum Dunes is still adamant about the found-footage gimmick, but considering his resume, I think that's very much still part of the plan.
If they do have to go this route (and I know many of us think that it's a sordid mistake, not even close to the first one this franchise has made), Bruckner is a solid choice. "Amateur Night" was my favorite segment of V/H/S, and as the first real chapter of the first film, it set the precedent for the rest of the entries of the series. If Bruckner didn't use that found-footage style well, the series would've nosedived right off the bat, but he did a great job with both the tense lead-up and the super-violent climax. If he pitched a take on FRIDAY that was able to wow Bay, Brad Fuller, and Andrew Form, then I'm very curious to see what it was, even if, at first glance, the whole project seems ill-conceived.
At the very least, it looks like we'll get to see Pamela Voorhees' boy once again teaching some kids some life (or death) lessons fairly soon, even if we'll see it through the lens of a home video camera.
FRIDAY THE 13TH XIII will rip the joint out of your mouth and machete your face on March 13th (obviously a Friday), 2015.
-Vincent Kim-Zahedi
"Papa Vinyard"
vincentzahedi@gmail.com
Follow Me On Twitter