Papa Vinyard here, now here's a little somethin' for ya...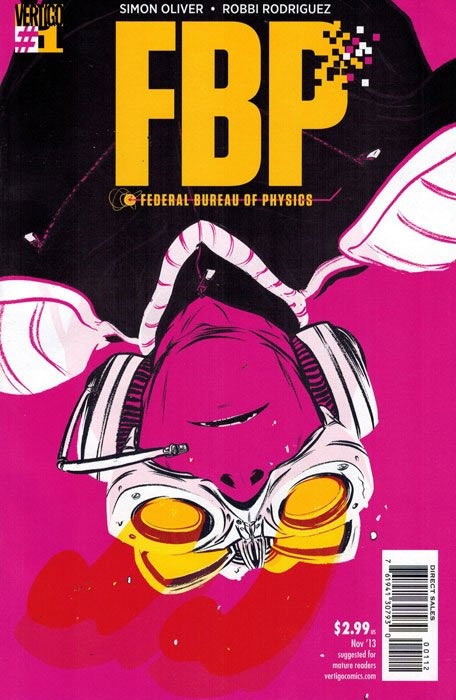 Even if you think that the market for comic-book films has become oversaturated, THE WINTER SOLDIER's massive box-office success ($308.5 million worldwide and counting) certainly suggests otherwise. Alongside the heavyweight AVENGERS and JUSTICE LEAGUE flicks rests the KICK-ASSes, the REDs, the SCOTT PILGRIMs, the comic properties sorta unfamiliar to the mainstream but well-known enough to warrant feature-film adaptations. Enter this news that David Goyer (as producer) has hired writer Justin Marks (STREET FIGHTER: THE LEGEND OF CHUN-LI, the upcoming Jon Favreau JUNGLE BOOK) to script a live-action flick based on Vertigo Comics' FBP: FEDERAL BUREAU OF PHYSICS.
Simon Oliver and Robbi Rodriguez' comic, also once known as Collider, is about Adam Hardy, an agent with the titular organization set up to deal with phenomena relating to sudden changes in physics. In this world, the laws of physics get messed with on a regular basis, and the FBP are the ones tasked by the government to deal with these disturbances. Like GHOSTBUSTERS, MEN IN BLACK, or R.I.P.D., but with a bunch of INCEPTION shit going on.
The comic has a good rep, and apparently seems pre-destined to be made into a movie, so hopefully Warner Bros. and Goyer, along with help from Marks' script, can land a high-pedigree cast and crew for this one. Maybe we'll get lucky and get a WATCHMEN out of this and not a JONAH HEX.
-Vincent Kim-Zahedi
"Papa Vinyard"
vincentzahedi@gmail.com
Follow Me On Twitter