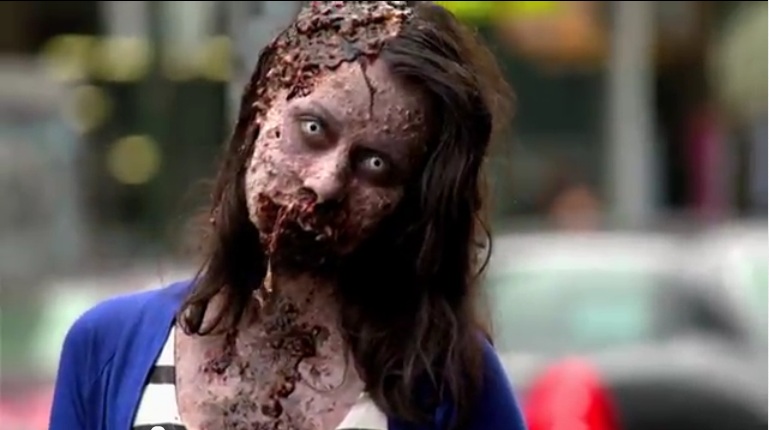 "The Walking Dead" is the most popular TV series in the world.
Rather than tapping Frank Darabont, Syfy has secured the producers of "Sharknado" and "Eureka" for its zombie series.
Will it be as good as "Defiance" and "Helix"?
CBS, meanwhile, is shooting a new pilot for its long-ago abandoned zombie project "Babylon Fields."
Look! Press release!
SYFY ANNOUNCES ALL-NEW ZOMBIE SERIES Z NATION

13-Episode Series from 'Eureka' Creator To Premiere in Fall 2014

NEW YORK – April 7, 2014 – Syfy today announced Z Nation, a 13-episode zombie series set to debut in the fall. From production company The Asylum (Sharknado), the action-horror series depicts the epic struggle to save humanity after a zombie apocalypse. The series, which will air on Syfy, will be produced by The Asylum and sold internationally by Dynamic Television.

Karl Schaefer (Eerie Indiana, Eureka, The Dead Zone) will serve as executive producer and showrunner. "Z Nation will take viewers where no zombie has gone before," says Schaefer. The show, he continues, adds "a sense of hope to the horror of the apocalypse – our everyday heroes take the fight to the zombies. It'll be an epic journey unlike anything you've seen before."

In making the announcement, Chris Regina, Senior Vice President, Programming, Syfy, said: "Z Nation is a unique new journey into the long established zombie genre. Instead of existential despair, the series offers hope that somehow, some way, humanity will not only survive, but triumph. In producing their first ever weekly series, our long-time partners The Asylum have created a different way of telling an iconic story."

In Z Nation, three years have passed since the zombie virus has gutted the country, and a team of everyday heroes must transport the only known survivor of the plague from New York to California, where the last functioning viral lab waits for his blood. Although the antibodies he carries are the world's last, best hope for a vaccine, he hides a dark secret that threatens them all. With humankind's survival at stake, the ragtag band embarks on a journey of survival across three thousand miles of rusted-out post-apocalyptic America.

Z Nation is a dynamic ensemble drama that will plunge viewers into a fully-imagined post-zombie America and take them on an adventure with a diverse group of richly-drawn characters. As the reluctant heroes learn to work as a team and battle ever-more-menacing zombies, their flaws, idiosyncrasies, and moral dilemmas will ultimately become the heart of the show.

About Dynamic Television

Dynamic Television is a packaging, acquisition and distribution company with a disciplined and global strategy focused on fostering transparent and integrated partnerships between talent, producers and broadcasters. The company is headquartered in Los Angeles and Paris.

About The Asylum

The Asylum is one of the world's leading brand-oriented motion picture and television studios. With a focus on high-concept, market-driven entertainment, like Sharknado, The Asylum finances, produces and releases 25 films per year through its direct pipeline to the nation's top retailers and its network of international distribution partners. Since its founding in 1997, The Asylum has released more than 500 films and has built a library of over 200 original productions, including top-rated movie premieres for Syfy, Lifetime and Animal Planet networks.

About Syfy

Syfy is a media destination for imagination-based entertainment. With year round acclaimed original series, events, blockbuster movies, classic science fiction and fantasy programming, a dynamic Web site (www.Syfy.com), and a portfolio of adjacent business (Syfy Ventures), Syfy is a passport to limitless possibilities. Originally launched in 1992 as SCI FI Channel, and currently in more than 98 million homes, Syfy is a network of NBCUniversal, one of the world's leading media and entertainment companies. NBCUniversal is a subsidiary of Comcast Corporation. (Syfy. Imagine Greater.)