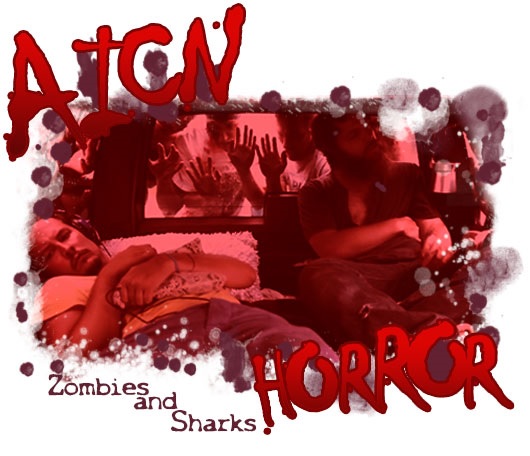 Logo by Kristian Horn
What the &#$% is ZOMBIES & SHARKS?
---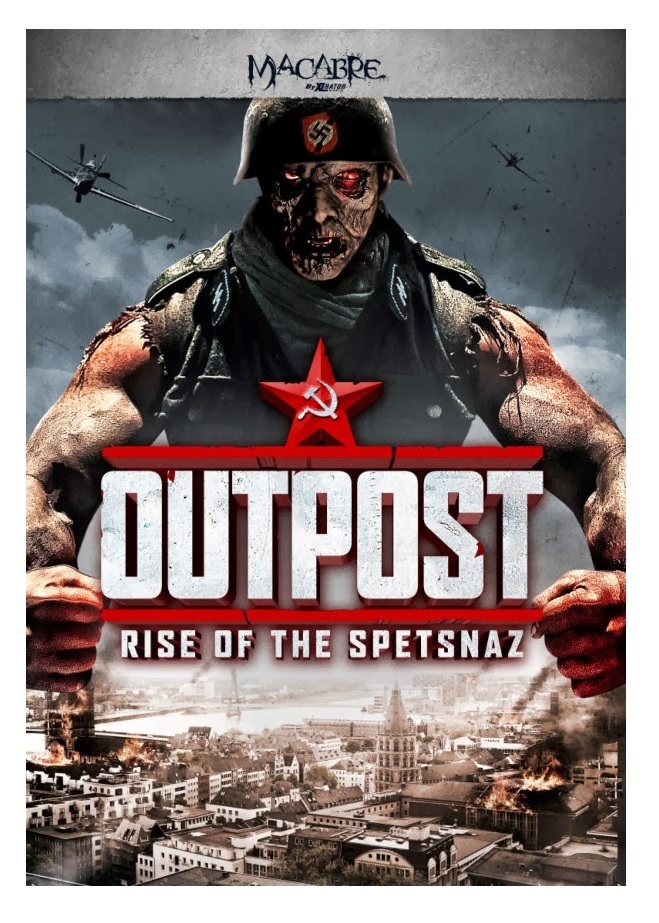 Ambush Bug
here with the winners of another special AICN HORROR: ZOMBIES & SHARKS contest.
A while back I reviewed OUTPOST 3: RISE OF THE SPETSNAZ
and found it to be a really gritty and fun action horror flick. I asked readers to tell me what was worse than being trapped in a bunker full of Nazi Zombies and a lot of folks gave me some great answers that I'd have to agree would be worse, but these five were the ones that made me laugh the most and therefore will be waltzing away with a copy of OUTPOST 3: RISE OF THE SPETSNAZ DVD!
Winner #1: Chris Thompson
What's worse than being trapped in an underground test facility with a bunch of Nazi zombies? Well how about being trapped on a vacation with your 76 year old mother in law. Picture this … you're relaxing by the pool enjoying your day when out of nowhere your "ZombieMom" shambles in to the scene wearing an all too revealing one piece …. As she creeps over to the hot tub where our "Hero" is talking with other "survivors". Our hero sees ZombieMom and witnesses something so horrific, so terrifying he just wishes he could forget … the ZombieMom's pubic hair jetting out of the one piece ….. Watching in horror our Hero prays that he dies a quick death. After surviving that horror I think I'd rather take my chances with the Nazi Zombies.

Winner #2: Michael Ponder
Being stuck in an all day Tyler Perry movie marathon with the chick from Murder she Wrote as a date. You are locked in the theatre and no matter how hard you try... You can't kill yourself... You just keep getting closer to the screen and the movie gets louder...

Winner #3: Jarrod Browder
Being forced to stare at Rosie O'Donnell's vagina.

Winner #4: Alex Walter
Being trapped with Nazi Zombies in a Masters & Johnson test facility as they are researching their classic text Human Sexual Response... To Nazi Zombies.

And finally, Winner #5: Jason Spore shares my personal nightmare…
What's worse than being trapped in an underground test facility with a bunch of Nazi Zombies? Two words: STUDENT LOANS. Student loans are the haunting terror that'll keep you up every night for 15+ years. Even if you don't survive the Nazi Zombie attack.....you still owe and they are coming for your undead ass!!


Thanks for all who participated! Here's the trailer for OUTPOST 3: RISE OF THE SPETSNAZ below!
---
Find more AICN HORROR including an archive of previous columns on AICN HORROR's Facebook page!