Papa Vinyard here, now here's a little somethin' for ya...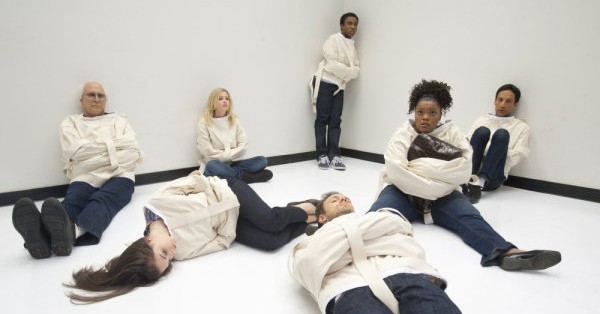 That whole "six seasons and a movie" thing seemed like a joke when Abed first blurted it out (in reference to NBC's ill-fated THE CAPE) on COMMUNITY a few years back, but more and more, it looks like it may actually happen. They're on Season 5 now, and Sony is ready to shop the show around to Hulu or another outlet if NBC decides not to renew them for Season 6. Even more reassuring: this TV GUIDE article that purports rumors that if the movie gets off the ground, Justin Lin, director of three Season 1 episodes (including the legendary original "paintball episode", "Modern Warfare") is being considered to direct. If that BOURNE sequel he's set to do gets in the way? They'll go with one of the other big names who've ventured to Greendale thus far, including Joe and Anthony Russo (CAP 2), Jay Chandrasekhar (SUPER TROOPERS), or Seth Gordon (KING OF KONG, HORRIBLE BOSSES).
Obviously, it's not a guarantee that a COMMUNITY film will ever be greenlit, even with Dan Harmon's insistence that he'll, if necessary, "make it out of clay and duct tape in (his) basement." Having said that, it was near-unthinkable, back when COMMUNITY was seemingly permanently "on the bubble" due to middling ratings, that it'd get to five seasons, but here we are. There's a palpable love for COMMUNITY out there, including among Hollywood talent. People who have plenty better to do, like Brie Larson, Jack Black, Nathan Fillion, and even Paul Williams have popped up on the show, gleefully filling out the weird Greendale universe Dan Harmon has lovingly created. And, I mean, was there seriously more of a demand for a cinematic adaptation of ENTOURAGE than for COMMUNITY: THE MOVIE?! (I'm asking seriously)
As someone who showed his pals "Modern Warfare" as an example of how good COMMUNITY could get back in 2010, I directly credit Justin Lin for that episode's creative success, and would go gaga if he got back in the COMMUNITY game for another half-hour, let alone a feature film. Even if they go with the Russo Brothers (who, let's face it, will probably have their plate full with a certain super-serumed Brooklynite), Chandrasekhar, or Gordon, it'd be awesome for them to get someone savvy on how to make a successful, memorable big-screen comedy. Granted, this is all speculation, and talks probably won't even begin until Season 6 is over and done with, but the idea that these dudes are even on the table should be plenty for fans to get excited for.
Who would all you Abeds out there want to see directing a big-screen COMMUNITY movie?
-Vincent Kim-Zahedi
"Papa Vinyard"
vincentzahedi@gmail.com
Follow Me On Twitter