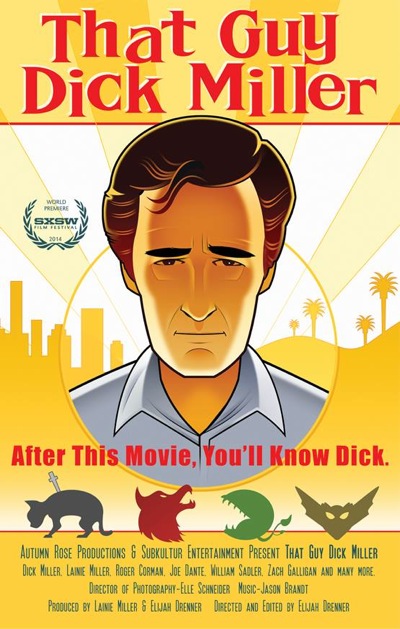 There are movie stars and there are character actors and there is Dick Miller. Since making his big-screen debut fifty-nine years ago in Roger Corman's APACHE WOMAN, Miller has done it all: he's been the lead, the sidekick, the comic relief and the bit player who swipes the movie from the star for one unforgettable scene. Baby boomers remember him best as the Bronx-born backbone of Corman's early oeuvre; Generation X knows him as the good luck charm for Boomer filmmakers who cut their teeth at Corman's New World Pictures in the 1970s. But for most casual moviegoers, he is simply "that guy" who turns up in many of their favorite movies. "Who's Dick Miller?" "Oh, you know! He's that guy who sells guns to Arnold Schwarzenegger in THE TERMINATOR!"
This is ostensibly the premise of Elijah Drenner's documentary THAT GUY DICK MILLER - putting a name to the inimitable, ubiquitous presence. But anyone drawn to the movie is likely to know a lot more about Miller than the average moviegoer, so it doesn't take long for the doc to become a big-hearted celebration of the actor and the legion of films he's enlivened just by straying into frame. Miller makes for a humble, somewhat bashful subject; he banters affectionately with his wife, Lainie, for the filmmakers' benefit, but when it comes to discussing his career, he seems bemused by his longevity. Fortunately, he's engendered a surfeit of goodwill from his directors and costars over the decades, so we're treated to a string of entertaining recollections from the likes of Corman, Joe Dante, John Sayles, Jonathan Kaplan, Mary Woronov, Allan Arkush, Jonathan Haze and many others throughout the film.
Drenner treads lightly on Miller's World War II service (he was still a teenager when he joined the Navy), and briefly touches on the actor's regret that his mother, an aspiring opera singer, died before he made it in movies. Though Miller studied acting as a young man out of the service, he was more interested in writing. But once Haze introduced Miller to Corman, the parts were plentiful, if only because the movies were plentiful; between 1956 and 1957, Miller appeared in nine films (including cult classics IT CONQUERED THE WORLD and NOT OF THIS EARTH). He starred opposite Susan Cabot in SORORITY GIRL and, two years later, landed the lead role of Walter Paisley in A BUCKET OF BLOOD, in which Miller is brilliant as the square sculptor who finds beatnik popularity and critical acclaim when he turns his murder victims into statues. Worried of being typecast, Miller turned down the role of Seymour in the following year's LITTLE SHOP OF HORRORS, leaving it to his friend Haze. While it's possible the momentum of two starring roles in two years might've given Miller's career a healthy bump, he seems unconcerned with what might've been. After all, he still thought he was a writer.
Miller's screenwriting career consists of only three credits, the most memorable being Jerry Lewis's WHICH WAY TO THE FRONT? Miller initially set the World War II comedy in the Pacific Theater, but Lewis shifted it to Europe; in the end Miller received a "story by" credit, and categorizes the experience as one of the "sore spots" of his career. It's easily one of Lewis's worst films, so Miller should at least be relieved that he's not on the hook for the painfully unfunny dialogue.
By the time Drenner gets to the 1970s, he's confronted with the challenge of finding drama in what would ordinarily be the downfall of a showbiz career. But while Miller was largely relegated to character actor parts once Corman's upstart young hires got behind the camera, he seems totally pleased with how it all played out. Kaplan, Dante, Arkush and so on adored Miller; they viewed him as their good luck charm, and had a blast plugging him into all kinds of odd parts. Dante expresses a fondness for Miller's turn as David Carradine's degenerate-gambler brother in Paul Bartel's CANNONBALL!, and suggests that he had the chops to do more than he was given. But as the clips of PIRANHA, CRAZY MAMA, THE HOWLING, ROCK 'N' ROLL HIGH SCHOOL and others pile up, you realize that the true tragedy would've been not having Miller stealing scenes in all of these wonderfully disreputable movies.
Perhaps compensating for the lack of conflict in Miller's life from the '70s onward (the only real bone of contention is Tarantino cutting his Monster Joe character from PULP FICTION), Drenner briefly turns his focus to Dante; there's a wistful yearning for a type of studio moviemaking that has gone out of fashion, and it works thematically because we realize we haven't seen Miller onscreen since Dante's last feature (2009's THE HOLE)*. But the film ends on a hopeful note, with Miller interrupting his retirement speech to take a phone call. It's a casting agent asking if he's available. Of course he is. Dante recently completed BURYING THE EX, and while I don't see Miller's name in the IMDb credits, I have faith that Walter Paisley's got at least one more masterpiece in him.
Faithfully submitted,
Jeremy Smith
*The clips from EXPLORERS are a powerful reminder that Miller is the heart of that film.