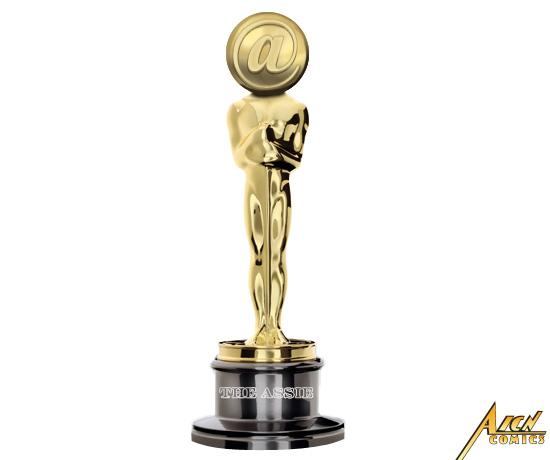 Logo by Kristian Horn
@@@ AICN COMICS @@@
@@@ 10th ANNUAL @$$IE AWARDS! @@@
---
Welcome, all, to the 10th Annual AICN COMICS @$$IE AWARDS, where comics' best and brightest are recognized for stellar performances in comic bookdom. I'm Ambush Bug. There was a time when we could fit all of the @$$ies into one lengthy column, but the @$$Holes' ranks have grown too big for that. Most BEST OF… lists are posted around the first of the year, but we think ours is special, so while those outside of the know celebrate the time of the Oscar, we here at AICN COMICS celebrate the time of the coveted @$$ie Award. For the next week, every day the @$$Holes will present their picks in 12 categories for the best of the best in comics. So sit back, crack the knuckles in your browsing hand, and scroll down as the @$$Holes pick the @$$ies!
And the @$$ie goes to…

(Click title to go directly to the reviewers picks)
Best One-Shot/Annual/Special!
Favorite Super Team!
Best Artist/Art Team!
---
Best One-Shot/Annual/Special!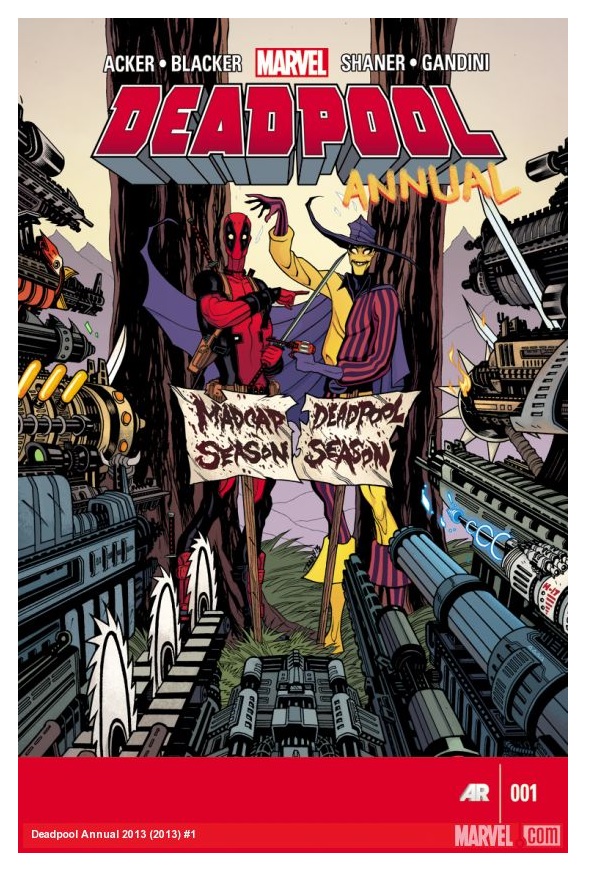 The Kid Marvel
:
Best One-Shot/Annual/Special: DEADPOOL ANNUAL #2 (Marvel Comics)
I only had a few annuals that I collected from my bin for 2013, with my final decision coming down to BATMAN and DEADPOOL. I finally decided on DEADPOOL ANNUAL #2 because it served significant value for the character and his overall story. As most should know, Deadpool has had some voices in his head, most notably his white caption boxes that no one ever had an explanation for. Well, thanks to Ben Blacker and Ben Acker, we were given the explanation of Deadpool actually having another individual, Madcap, fused within Deadpool's brain and being that other voice. Overall, the issue was hilarious and fun; between Deadpool's interactions with other heroes and the writing script, DEADPOOL ANNUAL #1 is my pick for Annual of 2013.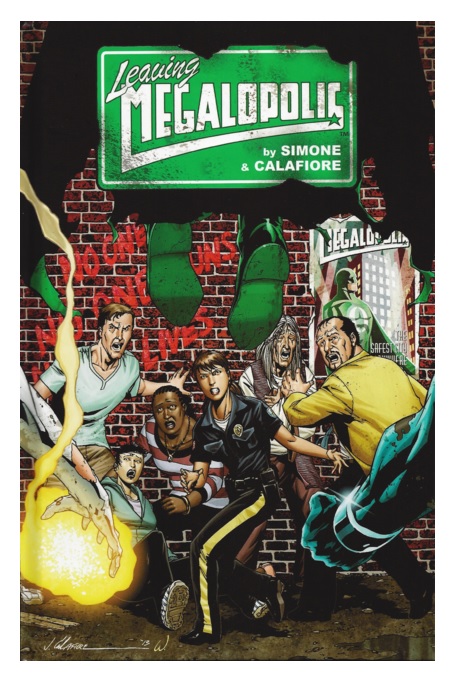 Vroom Socko
:
LEAVING MEGALOPOLIS (Funded via Kickstarter)
This story of a city of superheroes driven homicidally insane is one long gory splendor. Jim Calafiore's artwork is a magnificent ode to blood and violence. And Gail Simone…holy shit, Gail Simone. She hasn't been this unrestrained, this magnificently extreme, or this able to find deep meaning and thought in outrageousness and extreme violence since KILLER PRINCESSES. Find this book. Read this book. It's exceptional.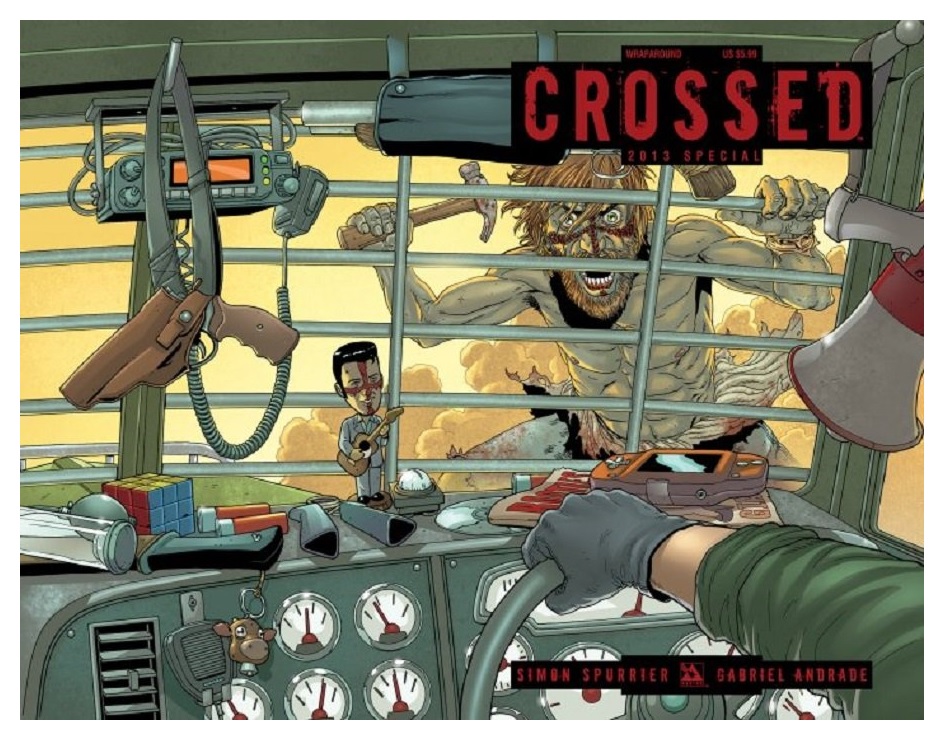 Matt Adler
:
CROSSED 2013 SPECIAL (Avatar Press)
This is always a tough category for me simply because I don't read that many one-shots in the course of the year (for that matter, the industry doesn't really publish that many one-shots these days; seems everything has to be an arc for an eventual collection). However, one that does stand out in my mind was the CROSSED 2013 SPECIAL. I admit to not really following the CROSSED series; the few issues I have read have been for our podcast, and I usually found them to be in the gross-out shock horror vein that doesn't particularly interest me. But this issue was different; Si Spurrier pits human vs. human, a lowlife who thinks he has this post-apocalyptic world all figured out vs. a young couple struggling to survive. Spurrier expertly mixes humor with drama, and tells a tale of revenge and survival that has a lot more meaning than a simple shock horror story (though it has its share of those moments too).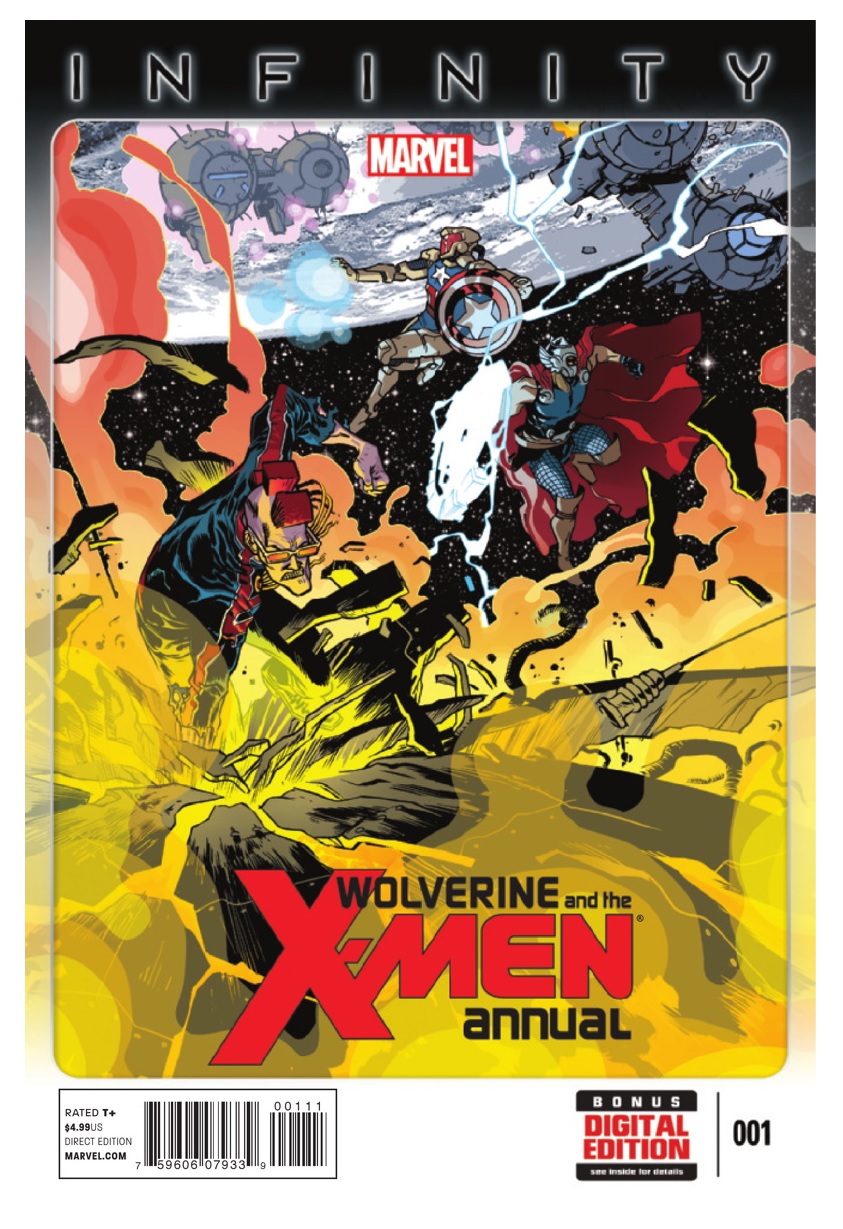 Henry Higgins is My Homeboy
:
WOLVERINE & THE X-MEN ANNUAL #1 (Marvel Comics)
Because it was an extra-length issue of WOLVERINE & THE X-MEN that centered around Kid Gladiator punching aliens with the Avengers. Really, that was all I wanted.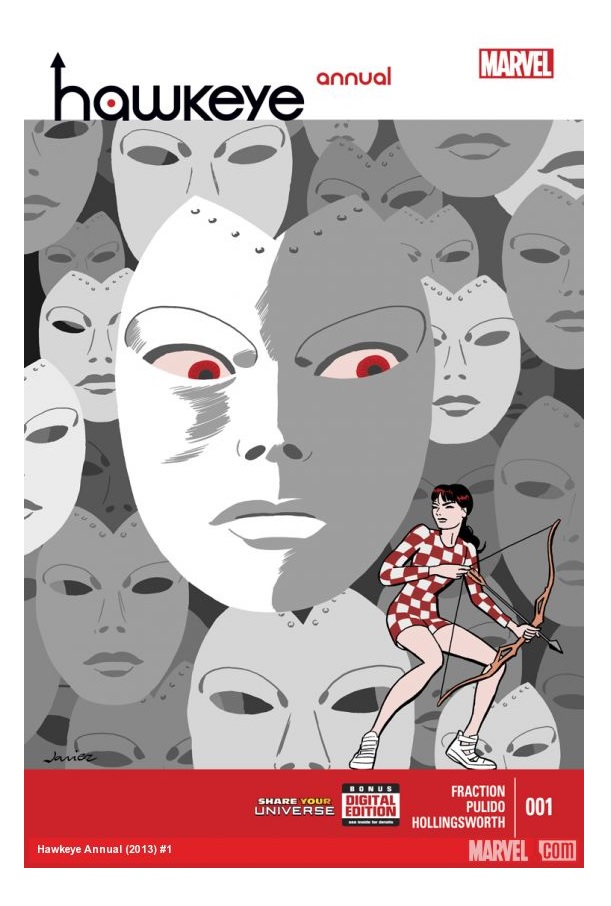 Humphrey Lee
:
HAWKEYE ANNUAL #1 (Marvel Comics)
Despite being wrapped in the shell of a super-slick and stylish action comic, my favorite part of this incredible HAWKEYE run by Matt Fraction and company has been the coming of age tale of the other Hawkeye, Kate Spencer. After ditching her hero namesake as well as her family to head out on to make her mark on the left coast, Kate immediately makes enemies even faster. This issue definitely kept up with the smooth as silk motif the series proper does, but there's a strong motivational tale here of a person just trying to find her place in the world. There's also much hilarity within between the antics Kate commits as she goes head to head with Madame Masque and the internal monologue that Fraction plays with. This annual was just another rompish, playful reminder of why this title is one of the best comics out there today.
Lyzard
:
THE MAN WITH NO LIBIDO OGN (Quiet Hell Comics)
Though I cover mainly indie works, it is still hard to come across a comic that is about real people with real problems instead of supernatural thrillers or action/adventure pieces. Even though there is a fantastical element at the center of the story, the graphic novel doesn't rely on its ridiculous premise to keep the reader's attention. THE MAN WITH NO LIBIDO features characters that anyone (even if they don't want to) can relate with, and though the artwork left something to be desired, the wittiness was compensation enough.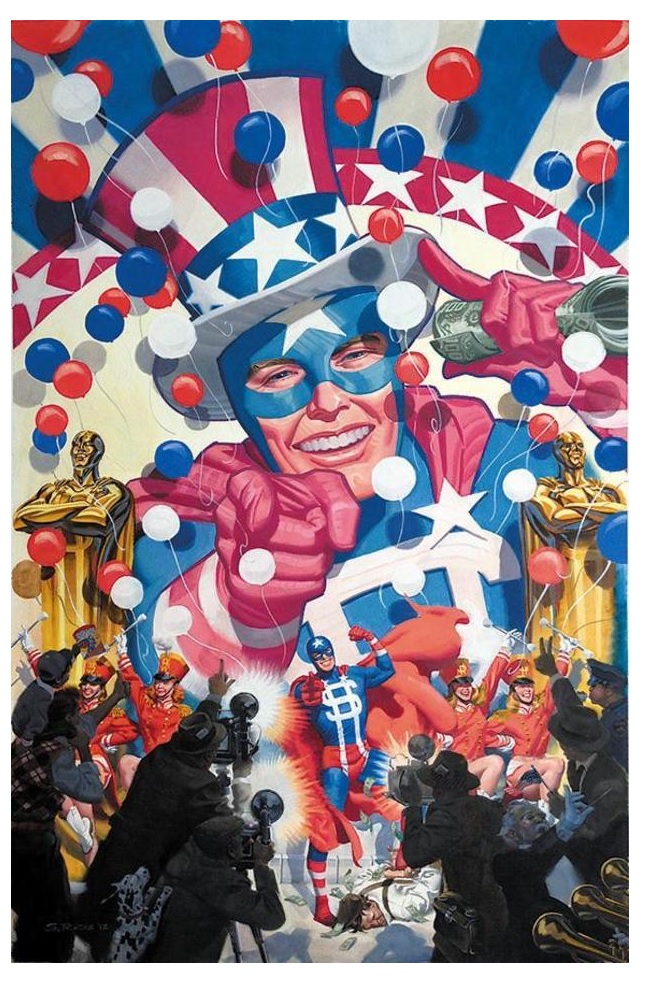 Ambush Bug
:
BEFORE WATCHMEN: DOLLAR BILL #1 ONE-SHOT (DC Comics)
Well, I know if you already disagree with the existence of the BEFORE WATCHMEN concept you're not going to be into this one-shot focusing on one of the more obscure characters from the series. In the original WATCHMEN, Dollar Bill was written off as simply a joke, but in this tale written by Len Wein, he actually is given quite a bit of depth, and while most of the BEFORE WATCHMEN miniseries felt a bit over-long and drawn out, this one felt like just the right amount of time was spent with the material. I also thought, more so than most of the series, DOLLAR BILL felt most like WATCHMEN in tone, as it depicted Dollar Bill as a powerless human character with faults, fighting the good fight but being corrupted by the world around him. The ending of this one-shot is more inspiring than any other story I've read this year, proving that it's good to go out with a bang rather than fade into obscurity as Dollar Bill's legacy as a hero becomes bigger than he ever was. It was one of the last BEFORE WATCHMEN books done and one of the most solid of them all.
---
Favorite Super Team!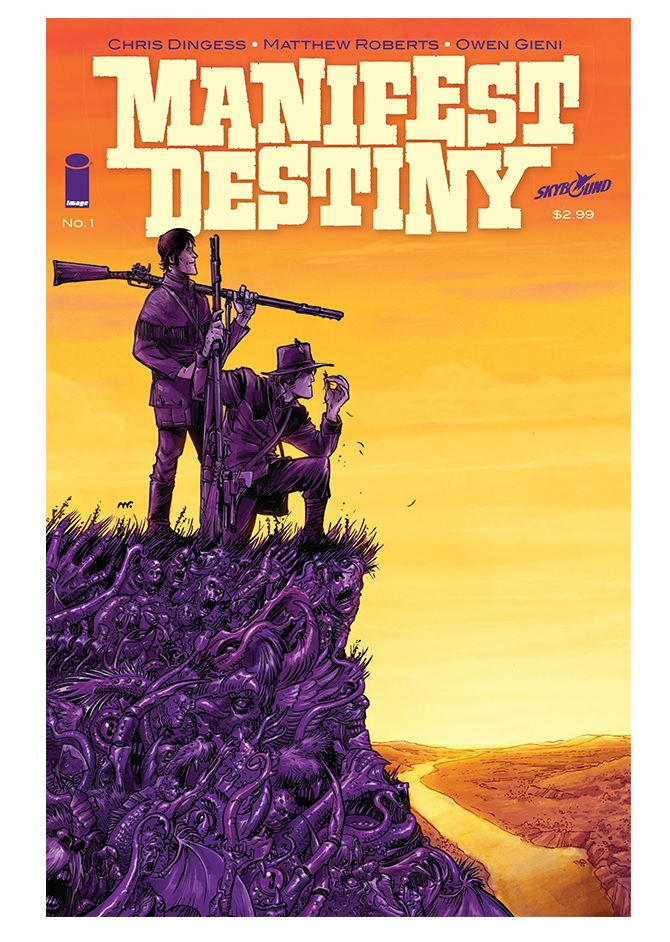 Ambush Bug
:
Lewis & Clark (MANIFEST DESTINY, Image Comics)
I always did love historical adventure and Chris Dingess fills this frontier meets the supernatural thrill-a-minute with all sorts of fun schmelds of history and fantasy. Plopping two well known explorers and giving them tons of character as the bookish Captain Lewis sets out to study the great unknowns across America with his compatriot Lieutenant Clark, who is there to protect the excursion against those same unknowns. Fill the rest of the crew with swarthy criminals who would rather slit Lewis & Clark's throats than help them and introduce all sorts of tree zombies, witches, and bison centaur creatures and this is an adventure you've never read about in schoolbooks. Dingess fills every issue with adventure and Lewis and Clark are proving to a match for every wicked thing he tosses at them.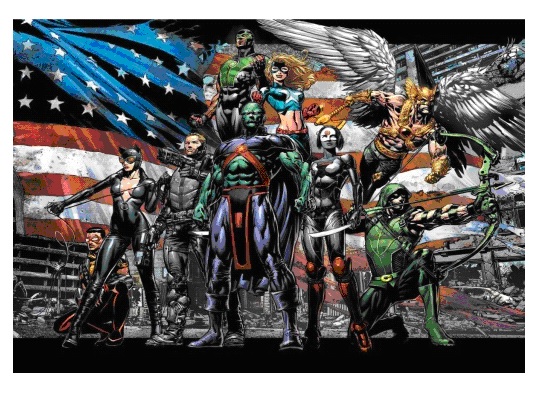 The Kid Marvel
:
Justice League of America (JUSTICE LEAGUE OF AMERICA, DC Comics)
My favorite super hero team for the year of 2013 was definitely the JLA. Before FOREVER EVIL, I really liked the set up of the team being the Anti-Justice League and the overall team dynamics of more vigilante-based heroes than the usual array of superheroes. While FOREVER EVIL has taken a little bit away from the developing story for the JLA, the team as a whole is still very much an entertaining group. I'm a huge fan of Martian Manhunter being written as on par with Superman; it's always annoyed me that Supes is/has been written as god incarnate with no heroes really being his equal. I know at some points it was supposed to be Shazam or formerly Captain Marvel with the magic thing, but with Manhunter it's something I can buy. Besides MM, Hawkman's no sh** given attitude is excellent, Green Arrow always an enjoyable character (I really like how Oliver is being written in his standalone book), and Catwoman is a great addition to team dynamics with her sarcasm and obvious almost villain status. The JLA's combination of dysfunction and character dynamic has been my favorite for 2013 and one of my favorite titles.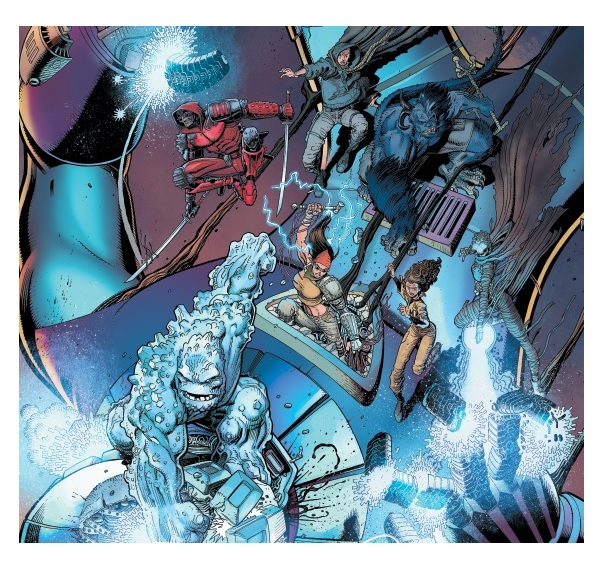 Vroom Socko
:
"Battle of the Atom"--X-Men (ALL NEW X-MEN, Marvel Comics)
'Nuff said.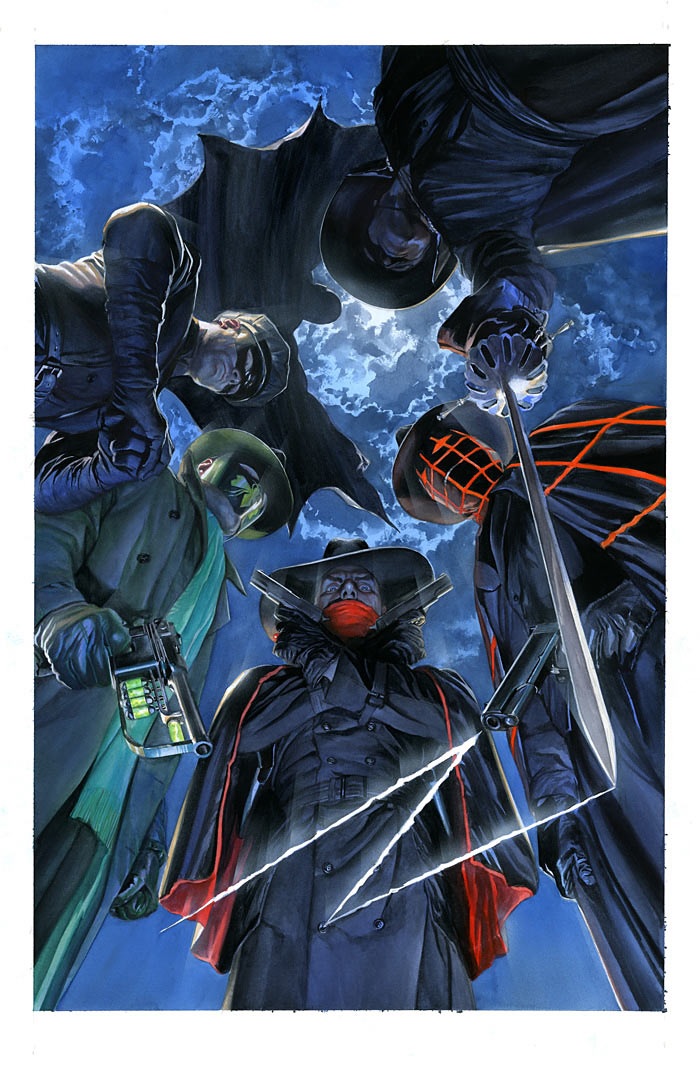 Masked Man
:
MASKS (Dynamite Entertainment)
Believe it or not, the superhero team I liked reading about most in 2013 was the team in Dynamite's MASKS- The Shadow, The Green Hornet, The Spider, (a lot of 'the's), Miss Fury, the Black Bat, (and characters who could be cut) the Black Terror, Zorro, and the Green Lama. If you recall my reviews, I bashed the artist of this series (no not Alex Ross- geez), and I stand by that, but the mix of these (mostly) pulp-heroes was very cool to see. Plus I'll be honest with ya, I wasn't enjoying many of the usual team books. I hope Dynamite can give this group another go around, dropping the characters I mentioned and adding Doc Savage.
Matt Adler
:
The Sinister Six/Five/Four (SUPERIOR FOES OF SPIDER-MAN, Marvel Comics)
What can I say? I have to give it up for this team of lovable losers, who descend from Tom DeFalco and Ron Frenz's original Sinister Syndicate as well as the Danny Fingeroth miniseries DEADLY FOES OF SPIDER-MAN and LETHAL FOES OF SPIDER-MAN. On the surface, it seems like their roster should have made them pretty darn formidable. You've got Speed Demon, who's basically an evil version of The Flash; The Beetle, an armored powerhouse bristling with offensive weaponry; The Shocker, who emits powerful vibratory waves capable of bringing down buildings; Overdrive, who can transform machinery just by thinking about it; and Boomerang, who throws boomerangs. No, seriously, his aim is right up there with Bullseye, and his boomerangs explode and do other cool stuff. They've even had the Rhino (although not in this incarnation) and he's one of Spider-Man's most powerful foes. But I digress. So why can't these guys get their act together? Well, let's face it--we don't really want them to. Not everyone can throw Gwen Stacy off the Brooklyn Bridge; some villains just have to be the losers, and Nick Spencer does a hilarious job of making these guys the butt of the joke while still making us sympathize with them. I'd say more, but I've really got to run. Pew!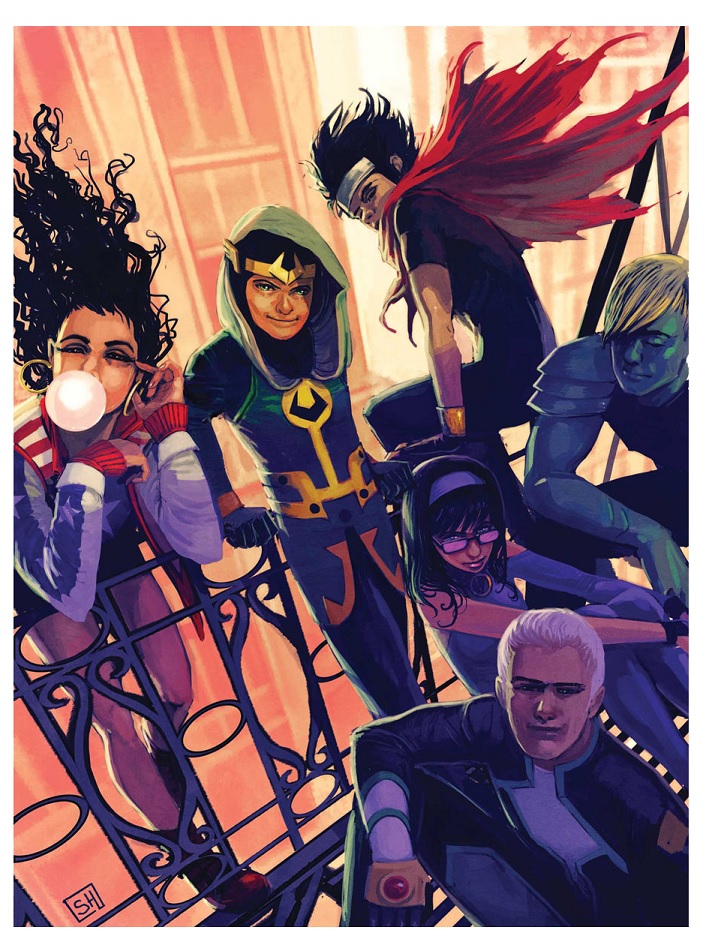 Henry Higgins is My Homeboy
:
Young Avengers (YOUNG AVENGERS, Marvel Comics)
Kate Bishop is awesome, Nor-Varr is reintroduced (again) as the awesome older teen, Billy and Teddy are cute, Kid Loki is great and Miss America is
awesome
. A wonderful title in its own right, the team itself deserves accolades for its reliability, core strength, and just sheer balls to the wall fun.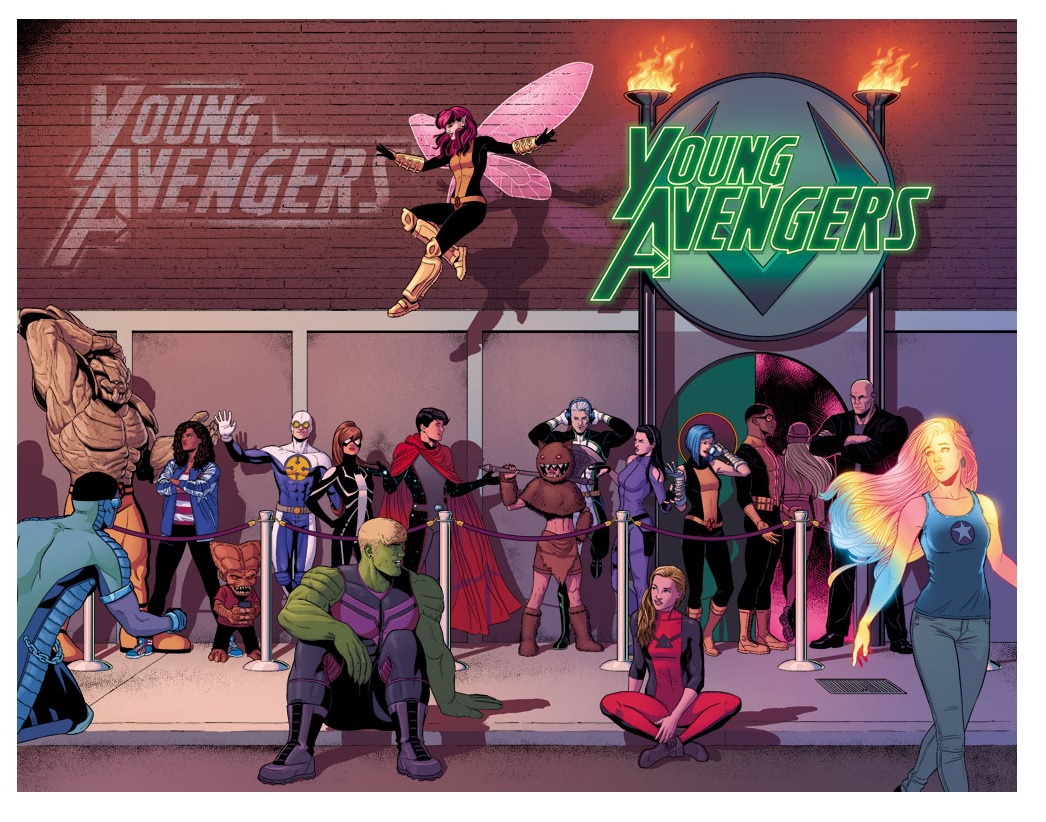 Humphrey Lee
:
Young Avengers (YOUNG AVENGERS, Marvel Comics)
Hey, what do you know? A hip, socially aware team comic that is in no way condescending to the generation it features nor makes the age groups a decade or two removed from it feel out of touch. It also features lots of fun wordplay and great action between the characters, which also see lots of development in their own ways within their predicament and unique personalities. And they all look goddamn fabulous as they whip out snappy one-liners and biting jabs at each other and the baddies they are fighting. The biggest tragedy in comics this year may just be that Gillen and McKelvie most likely won't be joining forces to bring us another round of this wonderful collection of miscreants.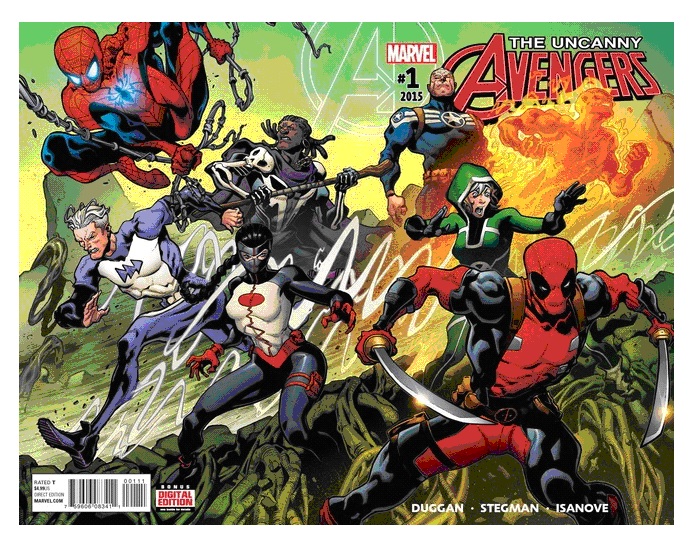 Mighty Mouth
:
Uncanny Avengers (UNCANNY AVENGERS, Marvel Comics)
Well, it's about time Earth's Mightiest Heroes embraced some real diversity. Sure, they have always had women and people of different ethnicity on their roster. But in the Marvel Universe, it's the mutants who remain ever segregated. Lincoln may have freed the slaves, but Captain America integrated the mutants; you've come a long way, baby!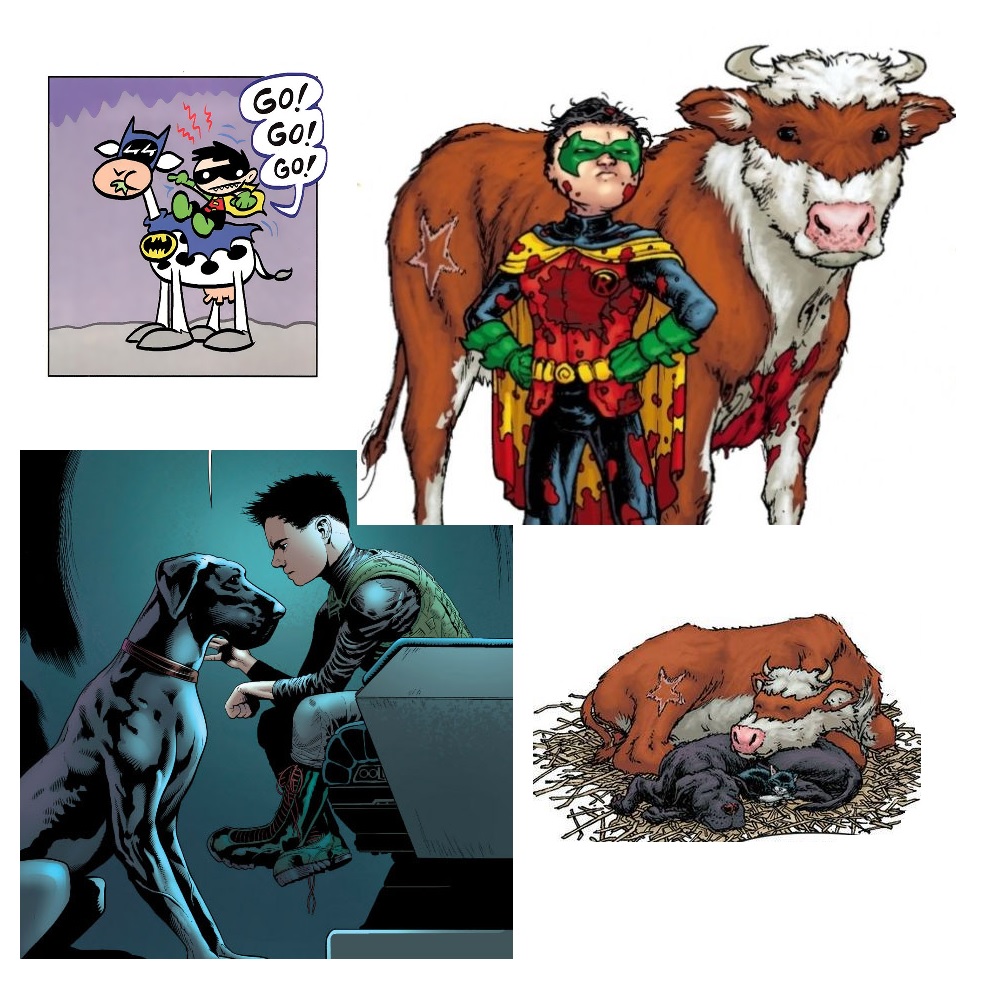 Optimous Douche
:
Robin, Titus and Bat-Cow (BATMAN & ROBIN, DC Comics)
Yup, I'm going to ride this one-trick pony yet again since it's the last year I can. In Tomasi's hands the Bat-Cave truly felt like a home, and it was all thanks to these three. I would have loved to see more of this team-up in the future, but since Bruce isn't doing shit with the animals right now I see them greeting Damian at the pearly gates before we see them assist in crime fighting again. This really could have been the embodiment of childhood joy brought to the page, but as we all know joy is probably a dead emotion for humanity.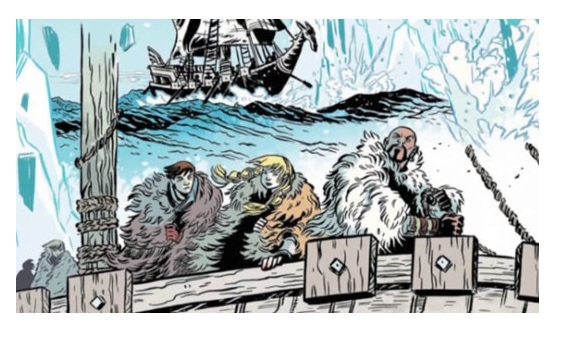 Lyzard
:
The Justice League of Shakespeare (KILL SHAKESPEARE, IDW Publishing)
Juliet's band of Merry Men, the trio of Hamlet, Othello, and Juliet are probably three of the more level-headed heroes in KILL SHAKESPEARE. Odd, because the whole point of the island is to drive everyone mad, and their characters are particularly insane in their original works. Hamlet and Othello may not be stand -ut characters, but they are worthy sidekicks to their fearless leader.
---
Best Artist/Art Team!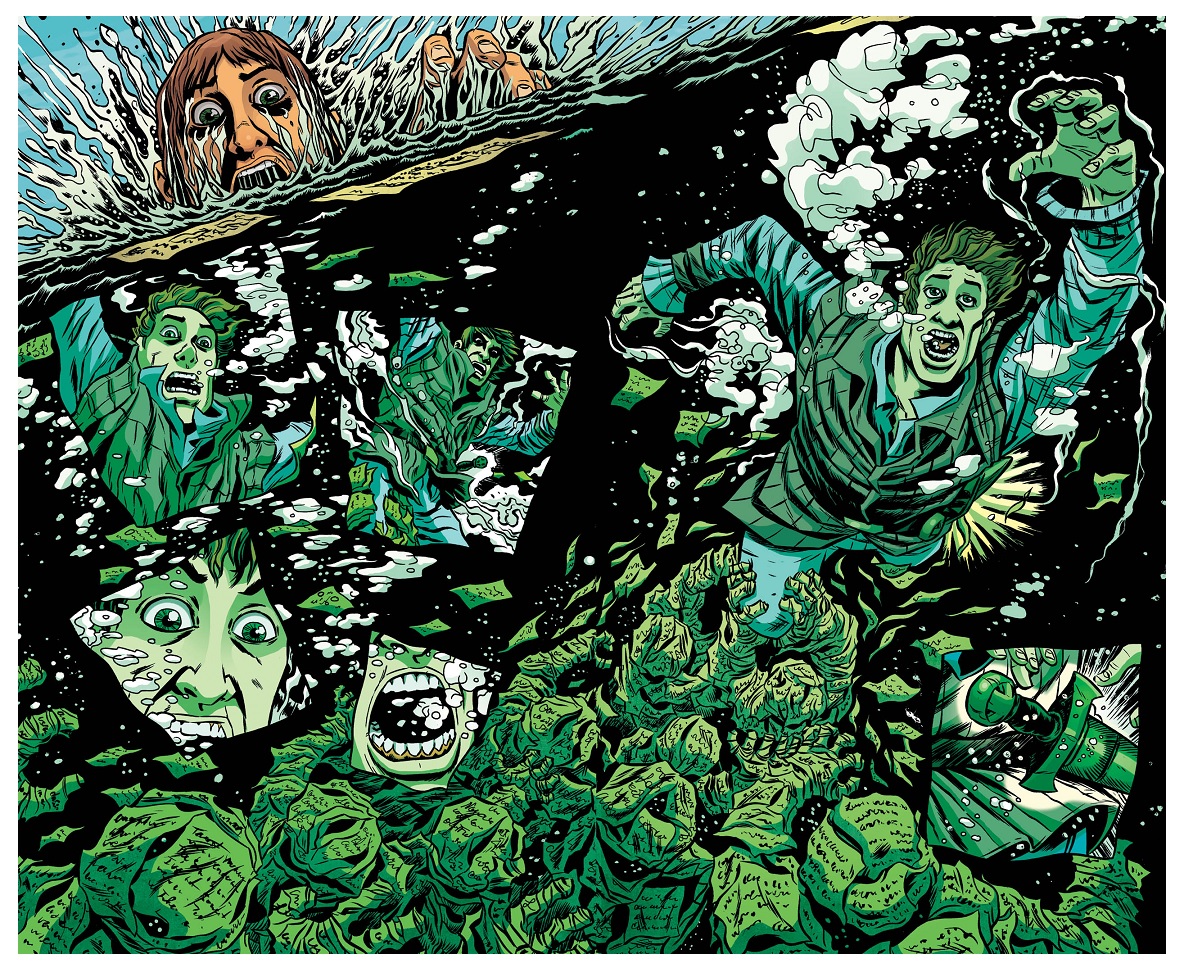 Lyzard
:
Andy Belanger (KILL SHAKESPEARE: THE TIDE OF BLOOD, IDW Publishing)
Belanger's work outshined the writing of the series, which I had previously noted to be my favorite part during the original full-length run. While the conceit of combining Shakespearean dialogue with timely but original writing had begun to wane on me, Belanger's art just got better and better. It is hard to decide between his homage to David Gibbon's mirroring from WATCHMEN in issue #2, his abstract work in issue #4, or his use of two page spreads, which technique showcased Belanger's talents best.

Ambush Bug
:
Geof Darrow (THE SHAOLIN COWBOY, Dark Horse Comics)
No other comic book art compared to the sheer panel-to-panel excellence in execution that was Geof Darrow's THE SHAOLIN COWBOY. Sure, the entire four issues was one long fight scene in which the Cowboy does away with a seemingly endless horde of zombies, but Darrow articulates every movement the Cowboy makes in this arduous battle without the use of words. The sheer amount of detail and effort put into these splashes and large panels is jaw-dropping, and while I usually see a splash and debate about whether or not the image is splash-worthy, every expansive shot of carnage makes me wish the comic were bigger for Darrow to give me more. Darrow's wry wit can be seen in what appears to be somewhat of a statement of the inundation of zombie movies, books, and TV in a culture full of people who are often zombie-like themselves. But whether you want to dissect THE SHAOLIN COWBOY on a thematic level or just feast your eyes on those amazing pages, the art in these pages is comic booking at its best.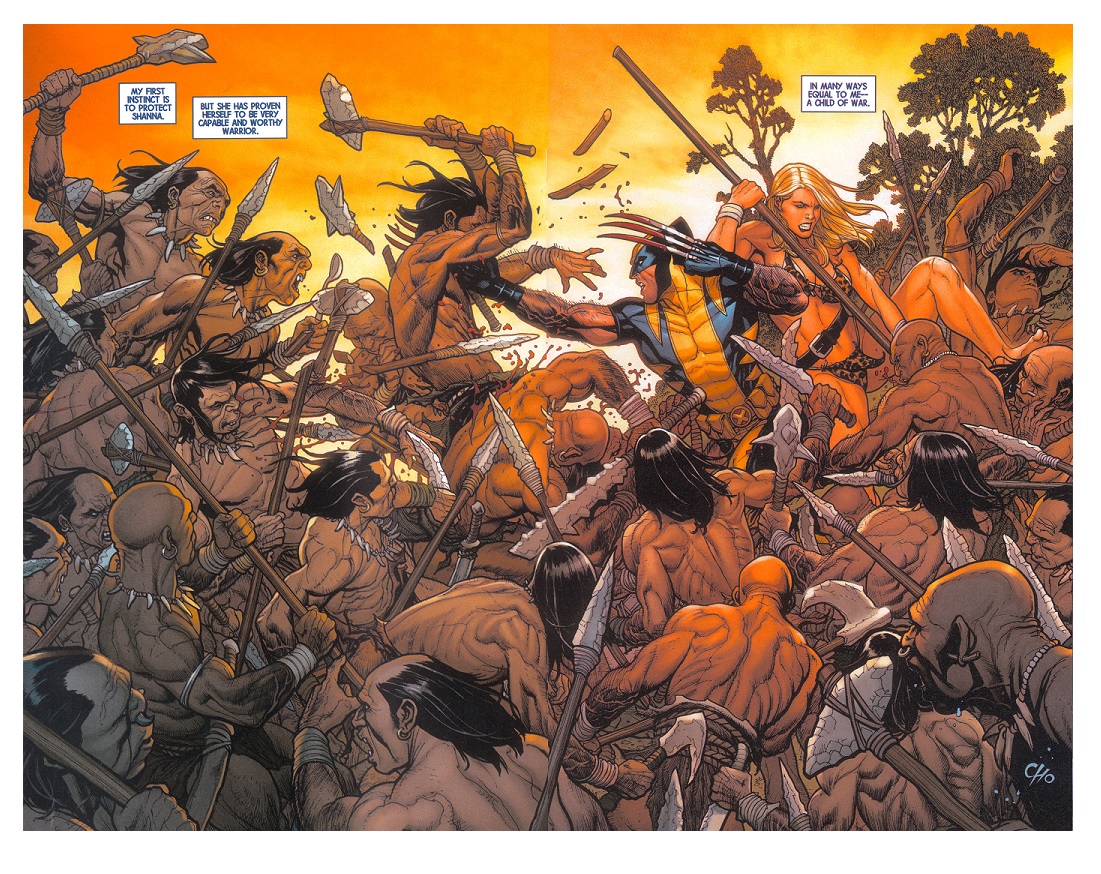 The Kid Marvel
:
Frank Cho (SAVAGE WOLVERINE, Marvel Comics)
Cho's run on SAVAGE WOLVERINE was nothing less than spectacular. Writing aside, because he handled the art and writing workload, Cho's talent as an artist was at the top of the pile for 2013, especially with him providing the art and story for the book. The artwork and designs that Frank Cho created for SAVAGE WOLVERINE were very lifelike and realistic, with amazing background and character pieces. If you go through the five books that Cho worked on for SAVAGE WOLVERINE, his artwork kept the characters and environments grounded while still having the added comic extremes for character physiques. Wolverine, Shanna, and Hulk all had the usual peak physical appearances that comics are known for; however, with the way Frank Cho is able draw and design his characters, they were never too far off from realistic physical possibilities. The colors of the book follow the colors of regular time sequences. When it's night the environment is dark and shades according to the characters; when it's afternoon in the story, Cho takes advantage of these color and time shadess which not all artists do. I was just in love with how aesthetically impressive and realistic Frank Cho's artwork for SAVAGE WOLVERINE was; for me he was the best artist of 2013.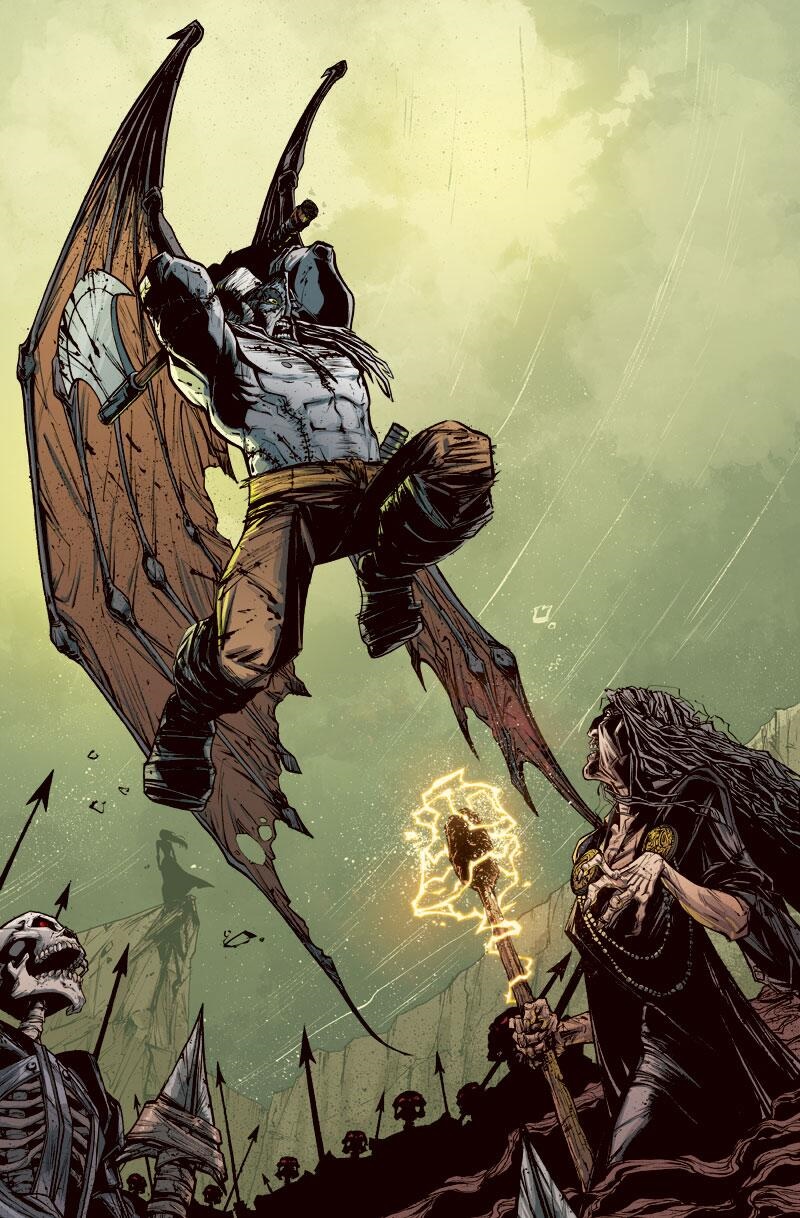 Vroom Socko
:
Joëlle Jones (HELHEIM, Oni Press)
I've been a fan of Joëlle Jones for years, but the reason she's my pick in this category is that she was the year's biggest surprise. I knew she could draw stern, tough men. I knew she could draw beautiful, dangerous women. I knew she could draw amazing environments. But I had no clue she could draw an undead Viking warrior with demon wings grafted to his body beating a monster to death with his bare hands. I had no idea that she had HELHEIM in her. None. I cannot wait to see what else she can draw that will astonish me.
Matt Adler
:
Ed McGuinness (AMAZING X-MEN, Marvel Comics)
AMAZING X-MEN is just a fun series, and the single thing that makes it the most fun is Ed McGuinness' art. The man can draw just about anything, but one thing he draws particularly well is high adventure, which is perfect for a character like Nightcrawler. I, for one, couldn't be happier to see the fuzzy blue elf back, and in the capable hands of McGuinness (and writer Jason Aaron) he's sure to have a bright future.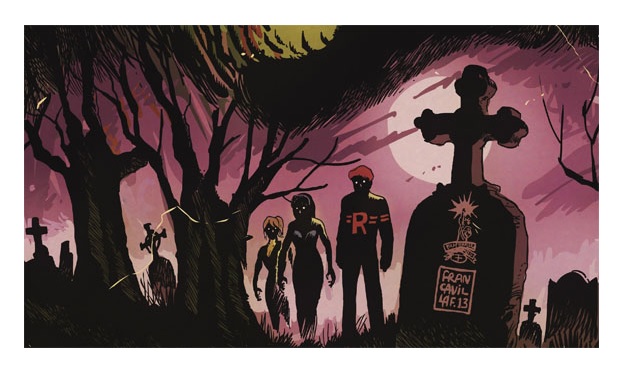 Henry Higgins is My Homeboy
:
Francesco Francavilla (AFTERLIFE WITH ARCHIE, Archie Comics)
AFTERLIFE WITH ARCHIE is able to be both very Archie and very horror-inspired at the same time, and a lot of that is due to the artwork of Francavilla. He somehow manages to make a comic that is instantly recognizable as an Archie comic, but also clearly inspired by EC horror comics. The result is terrifying, hysterical, and incredibly impressive.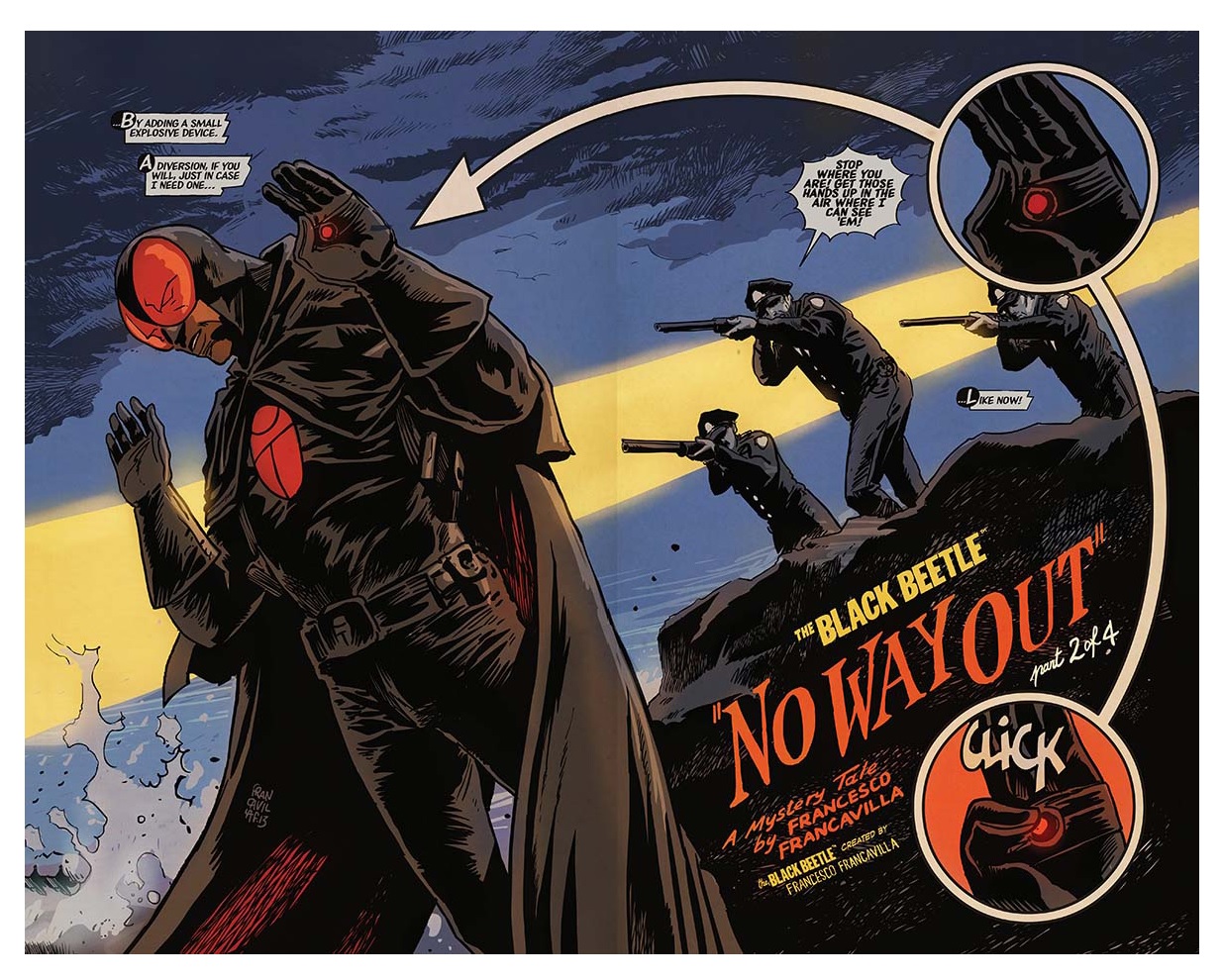 Humphrey Lee
:
Francesco Francavilla (THE BLACK BEETLE, Dark Horse Comics)
What do I love about Francesco Francavilla, besides having a name that lets me show off the one thing I remember about the Italian courses I took when I was younger, i.e. the pronunciation? I love that his art goddamn oozes style and atmosphere like almost no other pencil mover out there. One panel of his work and you're immediately transported to another world, usually one that smells much like mashed-up tree. His line work packs tons of energy, and the shading and coloring absolutely sets a tone that leaves an impression on your brain meat, like Rocky at a butcher's shop. Francavilla has a name like an expensive sports car, but he brings an ageless style that will always command respect for its flawless execution and class.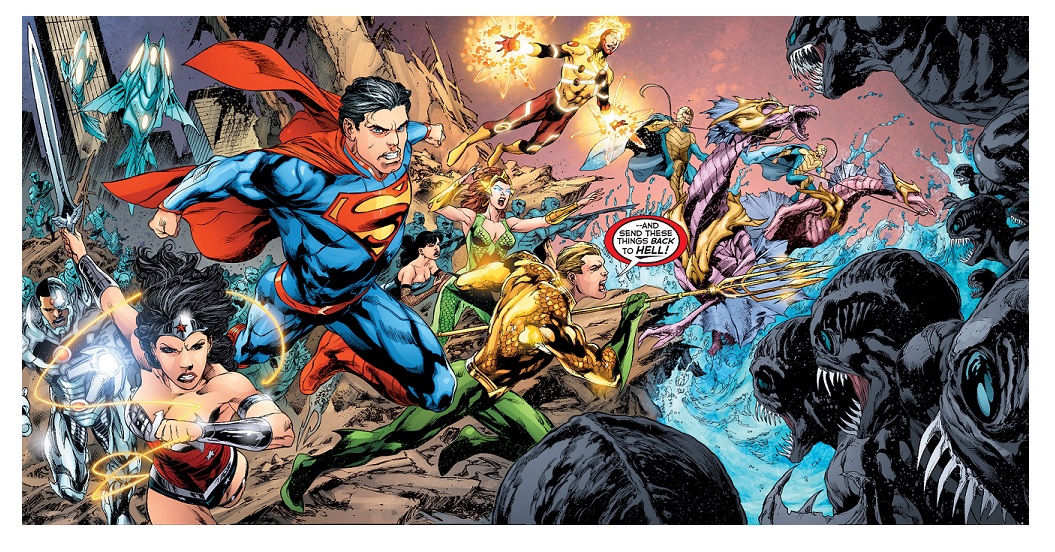 Mighty Mouth
:
Ivan Reis (JUSTICE LEAGUE, DC Comics)
I can't think of any character, male or female, who I wouldn't want to see Reis render. His panels are about as picture-perfect as you can get. From emotional ranges and impeccable anatomy to the impressively realistic backgrounds his characters inhabit, Reis does it all immaculately. Can we just go ahead and call Reis the Anti-Liefeld already?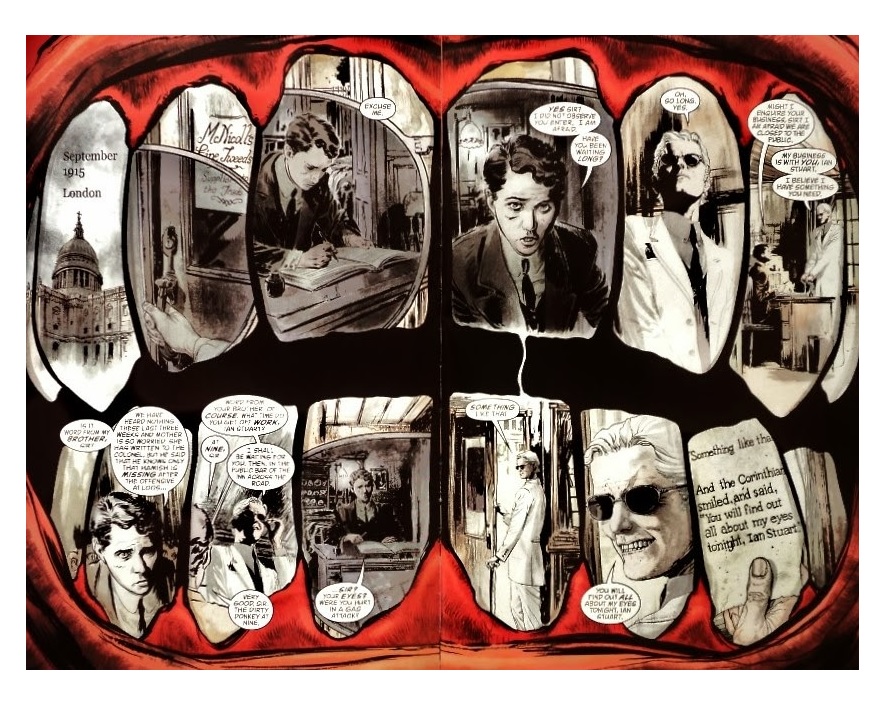 Optimous Douche
:
JH Williams III (SANDMAN OVERTURE, DC Comics)
I am haunted by the beauty and horror of the images in this book. I was in love from page 1 of this book, but as the title progressed and the page structure became looser I was simply awestruck at how orderly the chaos was. Then, when I saw the page layout that used the teeth of a gaping maw to serve as panel delineation, this book artistically transcended to genius.
---
Now it's time to pick your own @$$ies in the Talkbacks. Thirsty for more @$$ie Awards?
Best Single Issue/Single Moment!
Best Miniseries!
Best Publisher!
Look for more tomorrow with picks for…


Favorite Comic Book Movie!
In Memoriam 2013…
See you then!
Look for AICN COMICS REVIEWS every Wednesday, SPOILER ALERT: AICN COMICS/POPTARDS PODCAST every Tuesday, Ambush Bug's AICN HORROR every Friday, and interviews all the days in between! Thanks to the @$$Holes, those in and out of the comic book industry, and especially those of you readers and back-talkers in the Talkbacks! It's been a great year and we look forward to continuing to point out the best and worst in comics each and every week here on AICN!
---
Editing, compiling, imaging, coding, logos & cat-wrangling by Ambush Bug
Proofs, co-edits & common sense provided by Sleazy G
Remember, if you have a comic book you'd like one of the @$$holes to take a look at, click on your favorite reviewer's link and drop us an email.


---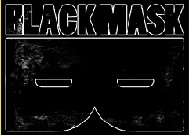 Find out what are BLACK MASK STUDIOS and OCCUPY COMICS here and on Facebook here!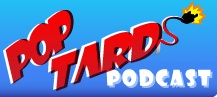 Want more in all things Geek?
Check out PoptardsGo and on Facebook here!



Check out AICN COMICS on Facebook and Comixpedia.org!