Papa Vinyard here, now here's a little somethin' for ya...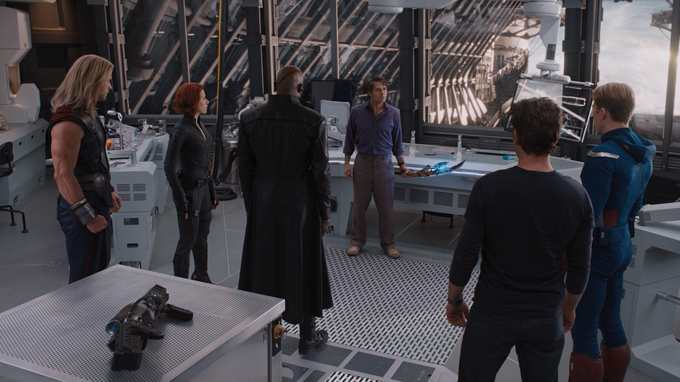 Remember how we had to wait until the release of CAPTAIN AMERICA: THE FIRST AVENGER to get our first real glimpse at the original AVENGERS flick? Well, this time around, Marvel (and Disney) are giving us a peek behind Joss' magisterial curtain almost 14 months before the movie's premiere. EW broke the news today that ABC is going to be airing a one-hour special on March 18th, called MARVEL STUDIOS: ASSEMBLING A UNIVERSE, which will feature some sort of "sneak peek" at Marvel's big, bad sequel, AVENGERS: AGE OF ULTRON. It's also expected to include footage from the other upcoming Marvel projects, such as CAPTAIN AMERICA: THE WINTER SOLDIER, GUARDIANS OF THE GALAXY, and as-yet-unaired episodes of AGENTS OF S.H.I.E.L.D.
Considering that they will have only been filming second unit on AGE OF ULTRON for a month (as you may have seen with that Hulk-smashed set footage), and will be just starting on principal photography, there'll be slim pickings as to what Marvel and Joss will be ready to unveil to the world, but you can be pretty sure that you won't be seeing a fully-rendered, mo-capped Hulk in action (or will you…?).
Promising some AGE OF ULTRON footage is the easiest way in the world for Marvel to get fans to watch their special, but I have to imagine it's not just talk (or even just that logo teaser we've had for over half-a-year now). Just one solid group shot, or something to that effect, would probably be enough to appease fanboy appetites (especially on top of some more GUARDIANS footage), so hopefully, Marvel will have something in the pipeline that amounts to more than a mere cocktease.
You can really see Disney flexing their marketing muscle for these Marvel flicks, at least more than Paramount (and Universal) was doing in the past. This special just became a must-see for countless fans out there, and mostly for a film that has barely begun production yet. Let the marketing bonanza for the sequel to the third-biggest movie of all time begin!
AVENGERS: AGE OF ULTRON begins on May 1st, 2015.
-Vincent Zahedi
"Papa Vinyard"
vincentzahedi@gmail.com
Follow Me On Twitter