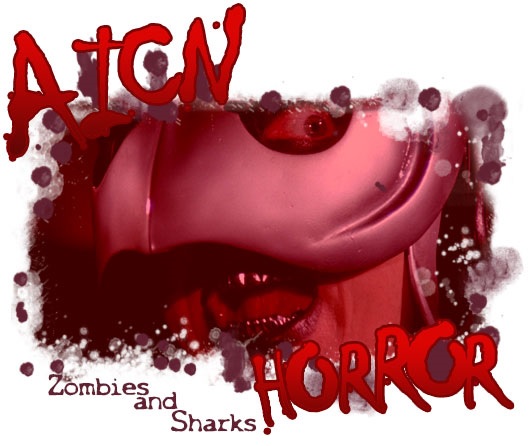 Logo by Kristian Horn
What the &#$% is ZOMBIES & SHARKS?
---
Greetings, all. Ambush Bug here with another AICN HORROR: ZOMBIES & SHARKS column. This time around I bring you Las Vegas aliens, vampire priests, ghosts, serial killers in love, slumber party massacres, non-zombies, cloned patchwork men, and real life horrors.
On with the horror reviews!
Today on AICN HORROR

(Click title to go directly to the feature)
Retro-review: DR JEKYLL & MR HYDE (1920)
Retro-review: THE TWILIGHT ZONE Season One Episodes 19-24 (1960)
Short Cuts: DEDALO Short Film (2013)
I HEART U (2012)
SORORITY PARTY MASSACRE (2012)
THE REVEREND (2013)
UNIDENTIFIED (2013)
HAUNTER (2013)
THE RETURNED (2013)
Advance Review: ARMY OF FRANKENSTEINS (2013)
And finally…Lights Out: The Signal Man!
---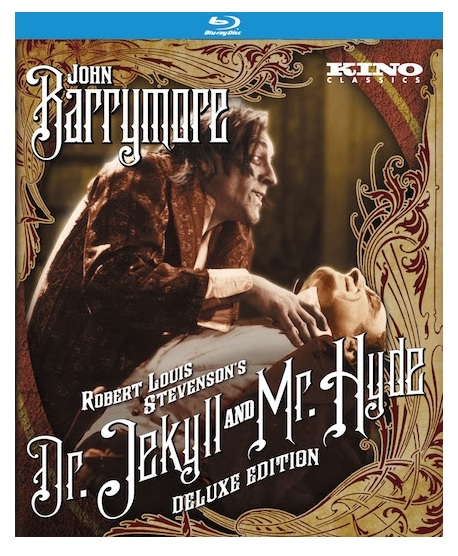 Retro-review: New on BluRay from Kino Lorber!
DR. JEKYLL & MR. HYDE (1920)
Directed by John S. Robertson
Written by Clara S. Beranger (screenplay), Robert Louis Stevenson (novella)
Starring John Barrymore, Nita Naldi, Martha Mansfield, Louis Wolheim
Retro-reviewed by Ambush Bug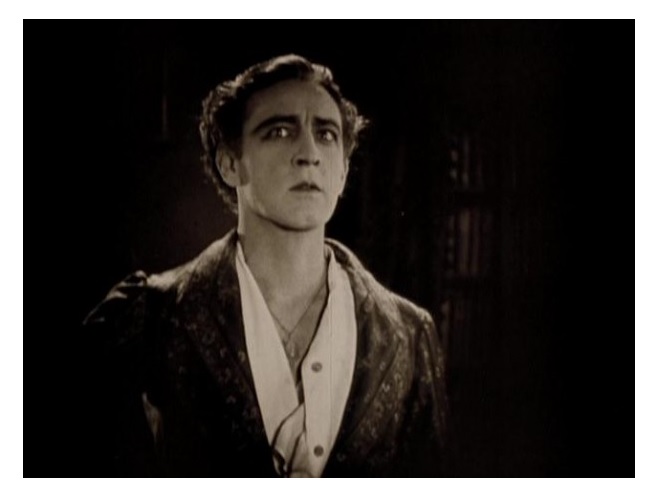 There have been many film adaptations of Robert Louis Stevenson's classic tale of egos and twisted alter egos, but most of the time, when the subject comes up, John S. Robertson's silent version of the tale is the one everyone thinks about. Sure there have been other memorable performances and slightly different takes on the source material, but for my money, I feel it was done best in Robertson's surprisingly sophisticated take on the tale.
John Barrymore plays the lead dual role of the philanthropic to a fault Dr. Henry Jekyll who fails to impress Sir George Carewe (Brandon Hurst) the father of his love interest Millicent (Martha Mansfield). Sir George can't believe a man can be so good and takes Jekyll out on the town to a gambling brothel where Jekyll's inner, more baser desires are awakened when he is seduced by an exotic dancer. Looking at this temptation from a scientific perspective, Jekyll seeks out a scientific explanation leading to the discovery of a method to synthesize one's good and bad sides into two different parts. Using himself as a guinea pig, Henry unleashes the sadistic and perverse Mr. Hyde from his psyche who sets out to act out the desires the good doctor refuses to do.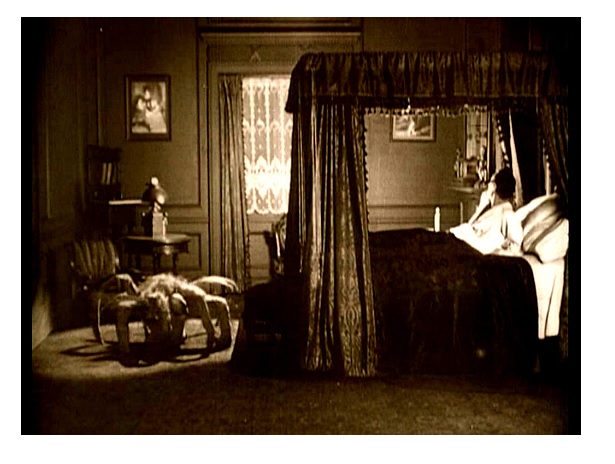 What surprised me the most upon revisiting this film was the sophistication and, dare I say, scandalous material covered. I can imagine audiences being shocked out of their knickers when scenes of prostitution, rape, drug use, and violence played out on the motion picture screen in front of them. These themes are further explored in more modern takes on the material (Anthony Perkins' EDGE OF SANITY comes to mind), but this violence and depravity is front and center here as well.
There are also quite a few moments of sheer terror. I'll get to the transformation scene in a minute, but the scenes where Jekyll struggles with the guilt of the deeds he does as Hyde are equally terrifying. This is exemplified to the most creepiest of levels when Jekyll wakes up in the middle of the night to see a man sized spider with Hyde's face crawling across his floor and up onto his bed. Use of transparent screens and Barrymore in a spider suit and Hyde makeup could be laughable, but Robertson pulls it off and it's an image that is forever seared into my soul as something akin to the most base of nightmares.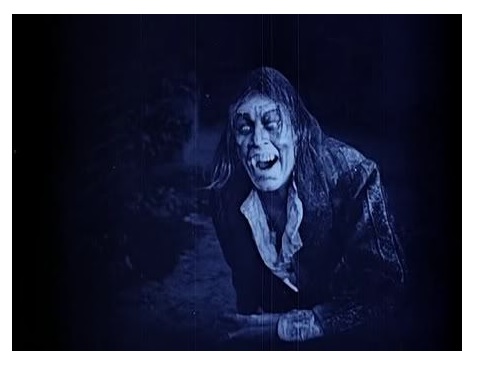 Then there's the transformation scene. While the makeup is effective, it's Barrymore's performance that sets it above and beyond. With very little makeup or fades, Barrymore transforms his entire body into Hyde with contortions, a tear at his collar, and a downward tilt of the head. Sure the finger extensions, greasy wig, and domed head helps with the final metamorphosis, but by then Barrymore has become a completely different character altogether. Combined with the final makeup features, Barrymore becomes one of the most nightmarish monsters in horror history.
DR. JEKYLL & MR. HYDE is one of those classics that I can visit and revisit over and over, but for some reason, this time around I was able to notice nuances I never had before. Maybe it's because this Bluray edition is clearer and cleaner than I've ever seen and makes it all feel like you're watching a brand new film. Additionally, this edition comes with a whole science kit full of extras including;
DR. JEKYLL & MR. HYDE (1912)
Eight years prior to Robertson's version, the Thanhouser version was released starring James Cruze as Jekyll and Hyde. The 12 minute film basically tells the same version of the story, only almost comically truncated to tell the tale of a guy who develops a serum that creates an alternate evil "demon" self for Jekyll. As Hyde, Cruze is rather goofy looking with two very widely spaced buck teeth. Cruze plays Hyde spastically throughout. After taking the potion, Jekyll turns into Hyde in a park and scares a lady. He then retreats to his lab where he trashes the place and downs some poison when the police are called and break in just in time to find his body. All of the more depthy themes of the duality of man are shunned in favor of Cruze making like Chris Kattan's Mr. Peepers Monkey Boy skit on SNL.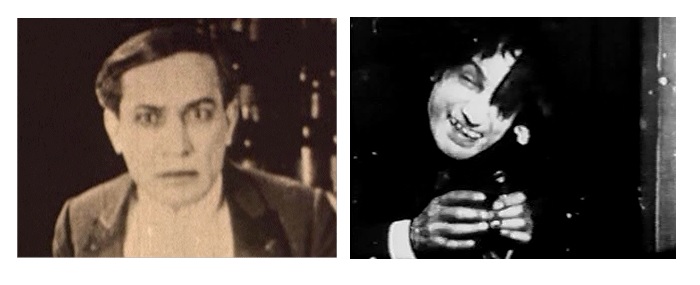 DR. JEKYLL & MR. HYDE (1920) rival version
This rival version was made to cash in on the popularity of Robertson's film. The lost film starred by Sheldon Lewis as Jekyll/Hyde and a 15 minute cut is shown as an extra. Here the kindly doctor turns into Mr. Hyde, robs a lady and knocks her out, stuffs a basement with hay, lights it on fire, and whomps on a lady who tries to stop the blaze. For some reason, this version feels much more brutal than the other versions on this disc, basically because the violence isn't supported with the heavier themes that went on in Robertson's film. Actual scenes of firefighters fighting a building in flames were used. Lewis' Hyde seems more of a creepy thug than Barrymore's lecherous monster. Still, Lewis does a good job lurching around as Hyde and looks more like the Fredric March caveman style Hyde than anything else.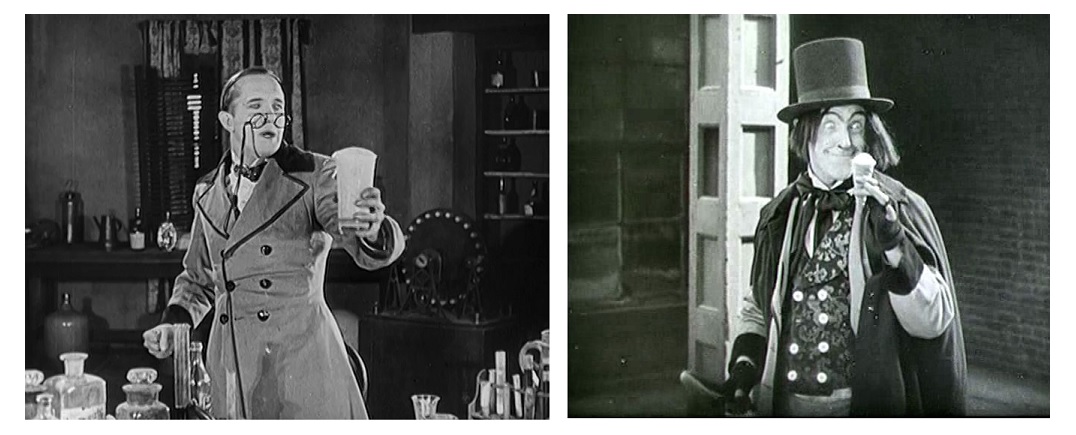 DR. PYCKLE & MR PRIDE (1925)
Last but not least is a slapstick parody of the film starring Stan Laurel as the mad scientist turned monster. Following a lot of the same beats as the Barrymore classic, Laurel's version of course has an explosion in the lab resulting in blackface and the transformation sequence is extensively more elaborate with all sorts of weebling and wobbling and jumping and kicking. Laurel's Hyde looks a lot like 80's comedian Emo Phillips in a top hat. And while this one is most likely not going to inspire any screams, it is kind of fun to see Laurel acting outside of his usual pairing with Ollie Hardy. Instead of murder, rape, and arson, this version of Mr. Hyde shoots spitballs at pedestrians through a straw, scares old ladies with whistles, traps a dude in a Chinese finger trap, steals ice cream cones from kids, and accidentally turns Spot the dog from the Little Rascals shorts into a Hyde-Dog! Fun stuff for any Jekyll & Hyde buff.
Plus there's a rare recording of a narration of the transformation scene of the film and a copy of the musical score for some creepy easy listening. All in all, it's a BluRay rerelease both your good and bad sides will clamor for.
---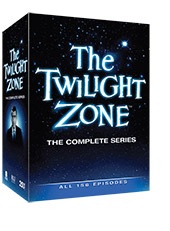 Retro-review: Collecting the entire series in a new Collector's Box Set on DVD from Image Entertainment!
THE TWILIGHT ZONE SEASON ONE (1960)
Episodes 19-24
Retro-reviewed by Ambush Bug
Let's go back to the beginning. I've had a chance to look at the last two seasons of THE TWILIGHT ZONE over the last few months. Now we'll jaunt back to the first season to see where it all began. This was a season where Serling was honing his talent as a storyteller and the series was just beginning to show the signs of being one of the most influential horror/sci fi series of all time. Let's proceed into THE TWILIGHT ZONE Season One…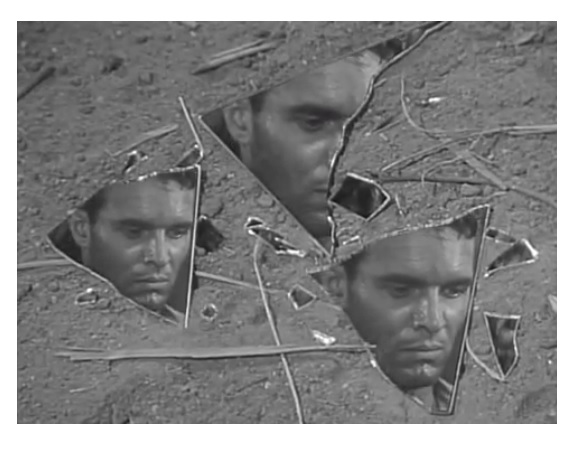 Episode 1.19: The Purple Testament
Directed by Richard L. Bare
Written by Rod Serling
Starring William Reynolds, Dick York, Michael Vandever, Barney Phillips, S. John Launer
While this episode definitely shows Serling's hand in terms of his respect for the armed forces and the weight of armed conflict, it lacks the political slant Serling usually adds to tales like this. The result is a damn fine episode which features all sorts of recognizable faces such as BEWITCHED's Dick York, a young Paul Mazursky, the incomparable Warren Oates, and A STREECAR NAMED DESIRE's Ron Masak. But it's William Reynolds who gives the most stunning performance as a haunted Lieutenant who sees a weird glow on the faces of soldiers who are about to die. This is a soulful tale of the inevitability of death in war and who holds the burden of the responsibility of sending troops into battle. This is just a great episode filled with memorable performances and a heavy but compelling story.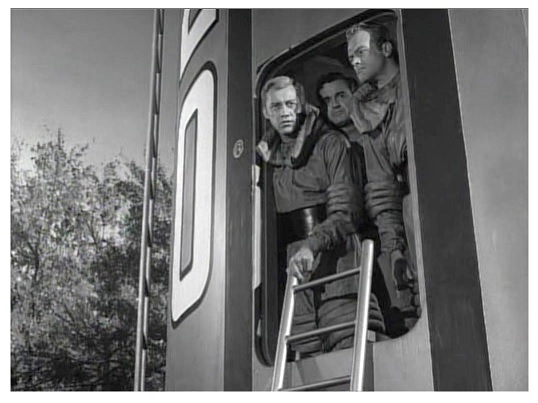 Episode 1.20: Elegy
Directed by Douglas Heyes
Written by Charles Beaumont
Starring Don Dubbins, Kevin Hagen, Jeff Morrow, Cecil Kellaway
I found this episode to be pretty predictable and even though this was the first season of TZ, I'm sure by this point, viewers were able to predict what was going on as well. When three lost astronauts happen upon an asteroid that appears to look just like Earth, though all of the people and even animals appear to be frozen in time and lifeless, they are filled with questions that only a harmless looking old man seems to be able to answer. But the answer isn't what they really want to know. The story is part scifi, part mystery, with an ending that projects itself, at least to me from the beginning. Not the most interesting of episodes, but the puffy coiled suits of the astronauts are fun and I always loved the way TZ defied scientific explanation by making their bottom propelled rockets lower in to land engine first.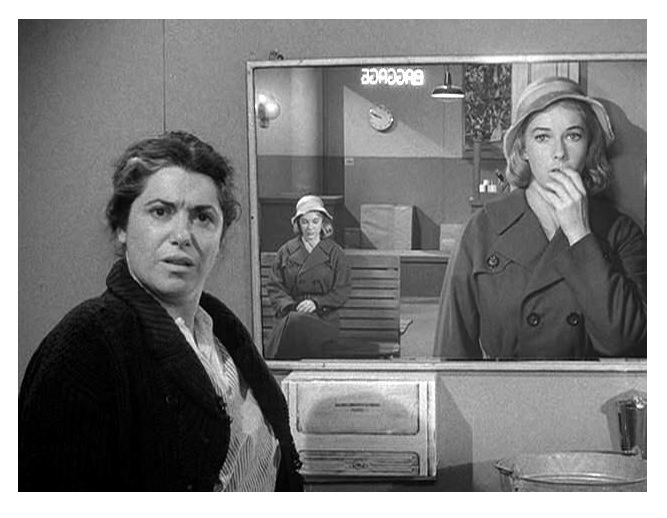 Episode 1.21: Mirror Image
Directed by John Brahm
Written by Rod Serling
Starring Vera Miles, Martin Milner, Joe Hamilton, Naomi Stevens
A haunting tale about doppelgangers and alternate realities as PSYCHO's Vera Miles plays a woman stuck in a bus station for what seems like ages, but may turn out to be eternity. The story starts right off the bat at being unnerving and creepy as Miles exudes just enough paranoia to make everything seem off kilter. The viewer follows her along this manic trip as her luggage appears and disappears and she starts seeing another her in the mirror and in the periphery of her vision. This episode had me from beginning to it's bizarre ending and hits a cerebrally horrific chord that resonated in the spine of this jaded horror fan.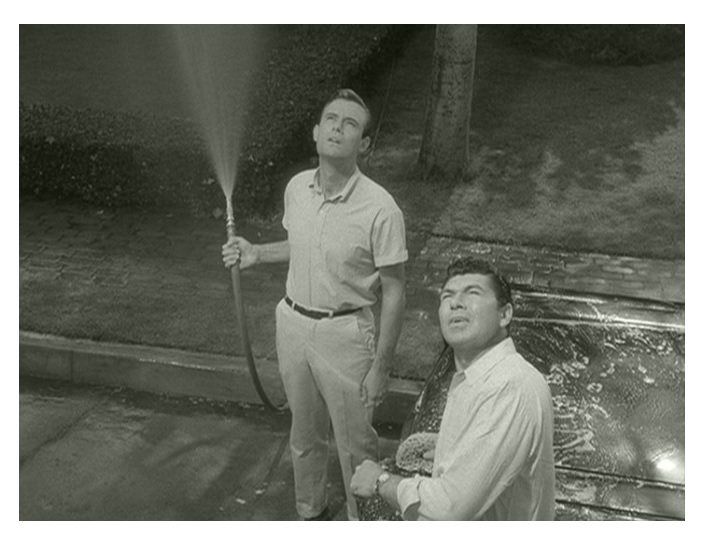 Episode 1.22: The Monsters are Due On Maple Street
Directed by Ron Winston
Written by Rod Serling
Starring Claude Akins, Barry Atwater, Jack Weston, Mary Gregory, Jan Handzlik, Amzie Strickland
One of the better comments on the fragility of society made on TZ. The story is about a typical sunny neighborhood with people playing games, doing yard work, selling ice cream and hotdogs, washing cars, and going about an everyday kind of existence. When an unidentified flying object flies overhead, the block goes into panic mode. Immediately the group begins getting paranoid, accusing each other of being aliens in disguise out to take over the world. Eventually, they start tearing into each other, destroying property, and calling for each other's heads. Sure the final moments might be somewhat of an overkill, but by then the point is already made. Claude Akins tries his damndest to be the voice of reason in a reasonless mob and does a great, yet futile, job with it, but this is a pretty dour look at the state of man, one that highlights how dissenting public opinion can be sugar coated by scifi metaphor.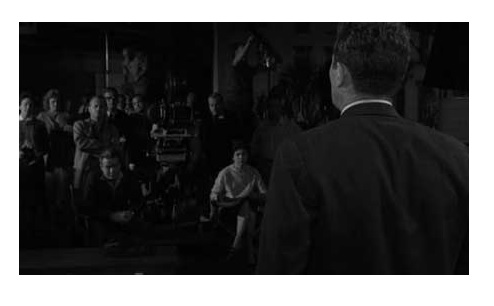 Episode 1.23: A World of Difference
Directed by Ted Post
Written by Richard Matheson
Starring Howard Duff, David White, Eileen Ryan, Frank Maxwell, Gail Kobe, Susan Dorn
I really dug this episode which amps up the paranoia as a man (Howard Duff) realizes that he is the star of a movie about his own life. Film reality and the really real world collide as what Duff believes to be real walls give away to reveal a director and camera crew guiding his life. Duff is great here as a man whose world is turned upside down and sideways where everything he thought was true turns out to be the opposite. This is a fast paced and frantic episode that never lets up until the very end.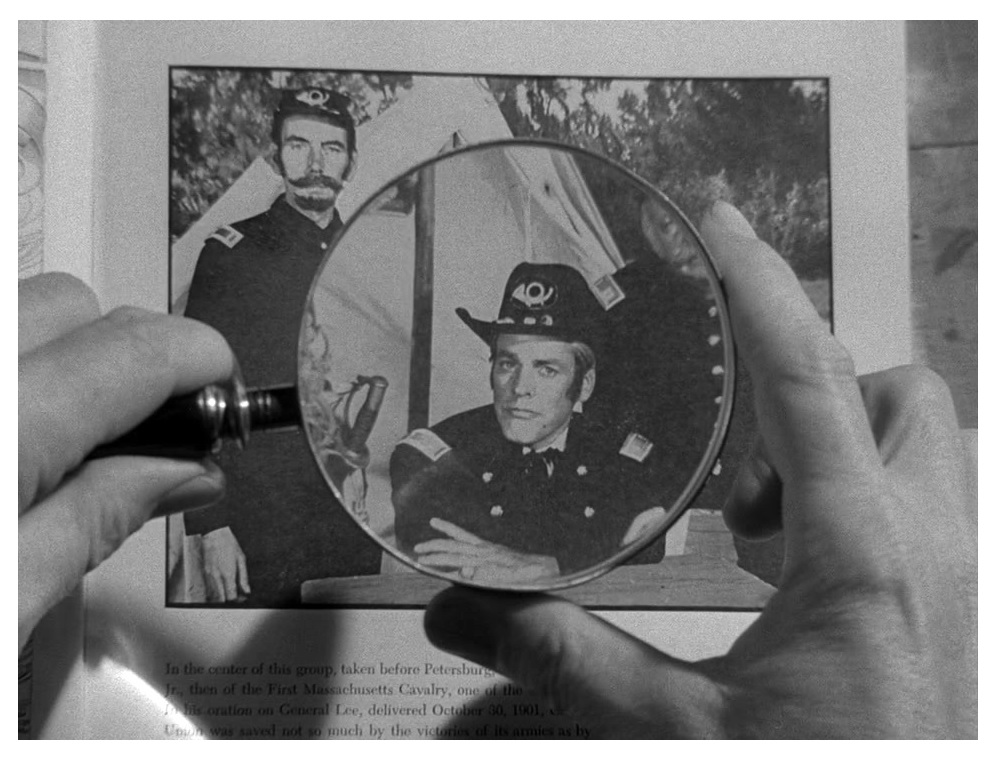 Episode 1.24: Long Live Walter Jameson
Directed by Tony Leader
Written by Charles Beaumont
Starring Kevin McCarthy, Edgar Stehli, Dody Heath, Estelle Winwood
INVASION OF THE BODY SNATCHERS Kevin McCarthy stars as Walter Jameson, a popular college professor who teaches the history of the Civil War as if he himself lived during the time and it turns out he actually did. When a fellow professor (Edgar Stehli) suspects of Walter's immortality, he desperately wishes to know his secret. A theme found in many of TZ's latter episodes, this is another focusing on an elderly person looking back on life and wanting more. This is an especially good one mostly due to McCarthy's distinguished performance and Stehli's pitiful one. Written by Charles Beaumont, one of the most talented writers in the TZ series, this one is both intriguing and heartbreaking all at once. This episode mixes the supernatural with real world emotion and has a twist ending more powerful than most.
Previous TWILIGHT ZONE Episode Reviews!
Season 1: Episodes 1.1-1.6, 1.7-1.12, 1.13-1.18
Season 4: Episodes 4.1-4.5, 4.5-4.8, 4.9-4.13, & 4.14-4.18
Season 5: Episodes 5.1-5.7, 5.8-5.14, 5.15-5.21, 5.22-5.28, & 5.29-5.36


Look for more TWILIGHT ZONE Episode Reviews soon!
---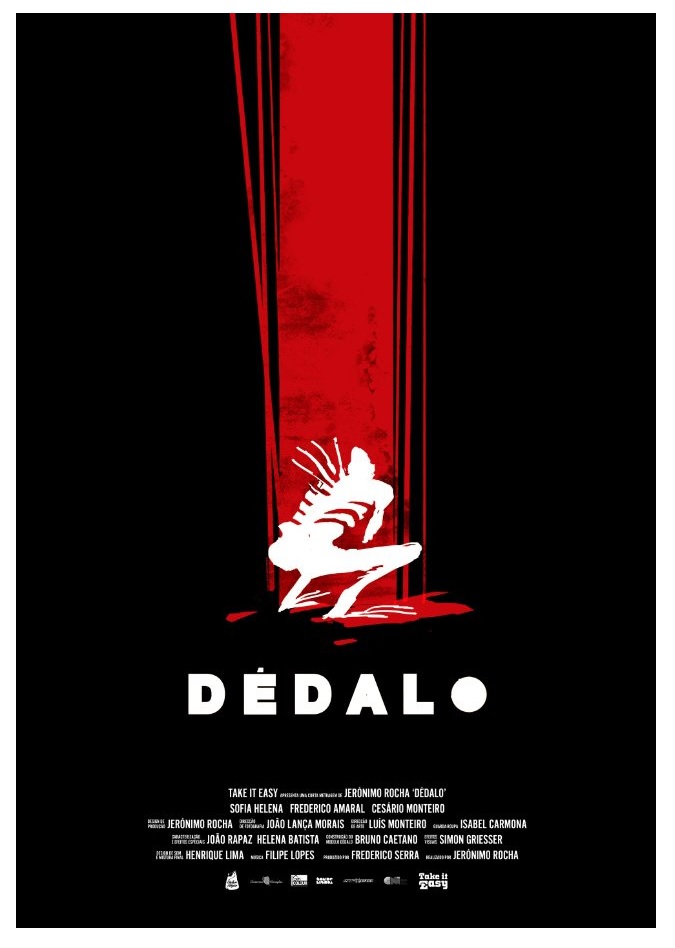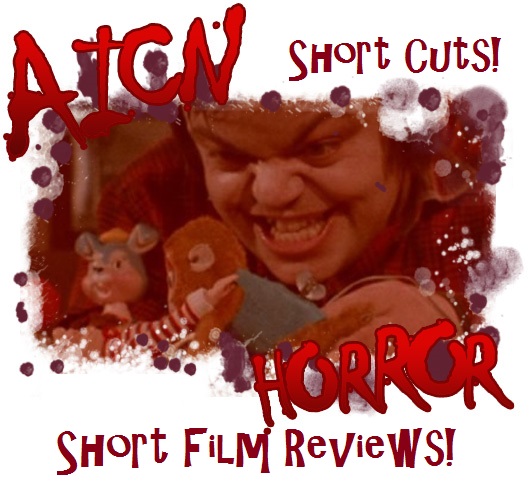 Short film currently playing festivals! To be seen next at the Brussels International Fantastic Film Festival, this next April 10 to 12!
DEDALO (2013)
Directed by Jerónimo Rocha
Written by Jerónimo Rocha
Starring Sofia Helena, Frederico Amaral, Cesário Monteiro
Find out more about this film on Facebook here
Reviewed by Ambush Bug
Touring fests is the short film DEDALO which is a nicely done riff on ALIEN. The film starts midway through the action as a battered officer makes her way through the bowels of an expansive ship. Soon she happens upon an alien feasting on what looks to be a fellow crewmember. As the woman struggles to treat her wounded arm with a med kit around the corner, the alien is alerted of her presence. The rest of the short is a race against time.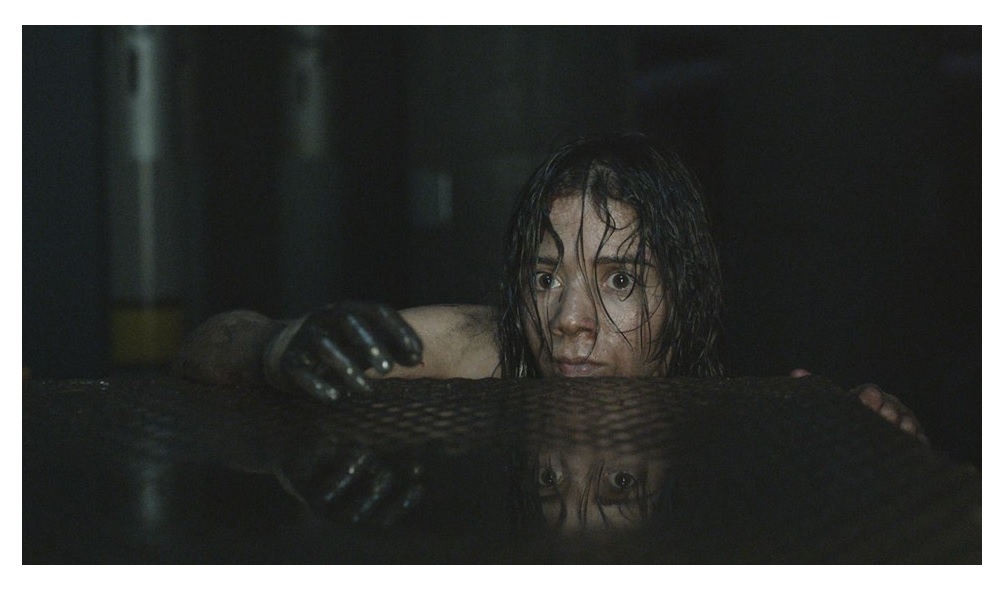 What this short lacks in runtime, it makes up in vision. The story is pretty compact and relies heavily on the fact that we as the viewer have already seen ALIEN and the countless films like it, so we really don't need the setup or anything like that. All it tells us is that this is the lone survivor on the ship against a creepy alien creature that gorges itself on flesh.
The makeup as well is pretty simple. A black stained arm and some kind of high tech gagetry is all there is at play, but the actress (Sofia Helena) sells it that this is a painful wound. The monster itself looks to be a pretty standard man-in-suit, but due to some clever lighting, editing, and sound, the whole thing rings scary as hell.
Sure, the premise is cliché, but director/writer Jerónimo Rocha shows vision and creativity galore in DEDALO. Here's hoping this guy gets some backing to make a full length feature as his talent here shows a whole lot of promise, especially the ending which will definitely get you up out of your seat.
---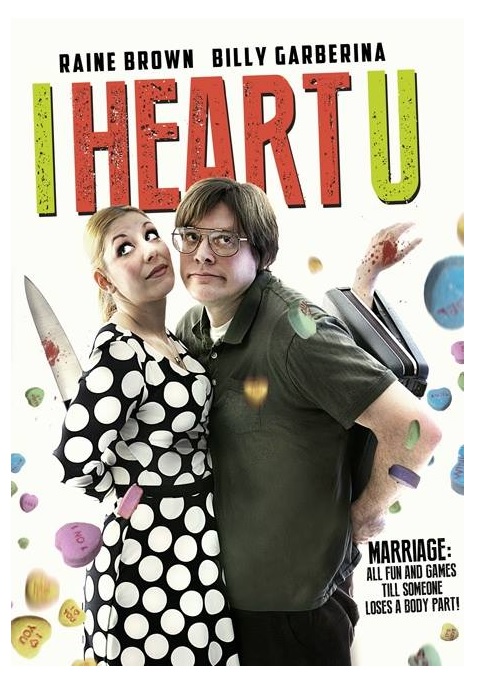 New this week on DVD from Camp Motion Pictures!
I HEART U (2012)
Directed by Billy Garberina
Written by Devin O'Leary
Starring Raine Brown, Billy Garberina, Devin O'Leary, Jeremy Owen, Phil Duran, Alan Rowe Kelly, Jason Whitter
Find out more about this film on Facebook here
Reviewed by Ambush Bug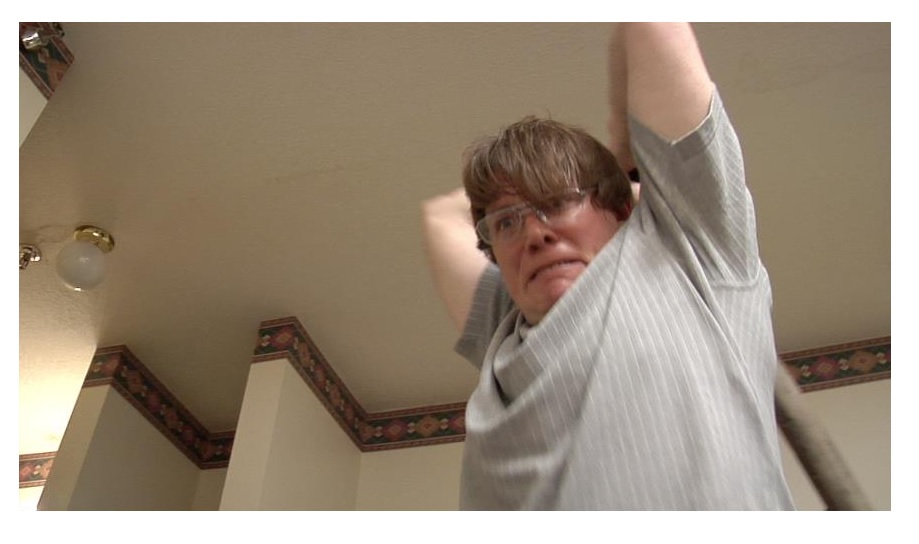 This low budget flick is surprisingly well realized in terms of story despite some typical low budget acting. I HEART U tells the tale of a husband and wife living a mundane existence, but behind each other's backs they are serial killers. Both of the killers start competing for headlines and up the ante until their paths are destined to cross.
Raine Brown and director Billy Garberina play the murderous couple oblivious to one another's bloodlust. Garberina does a decent job here as the nebbish husband. He surely isn't one would suspect as being a serial killer with his nasally voice (which gets rather grating as the movie proceeds) and his resemblance to Jim Carrey. Brown is over the top as the happy homemaker, but is pretty sultry one she unsheathes her blades.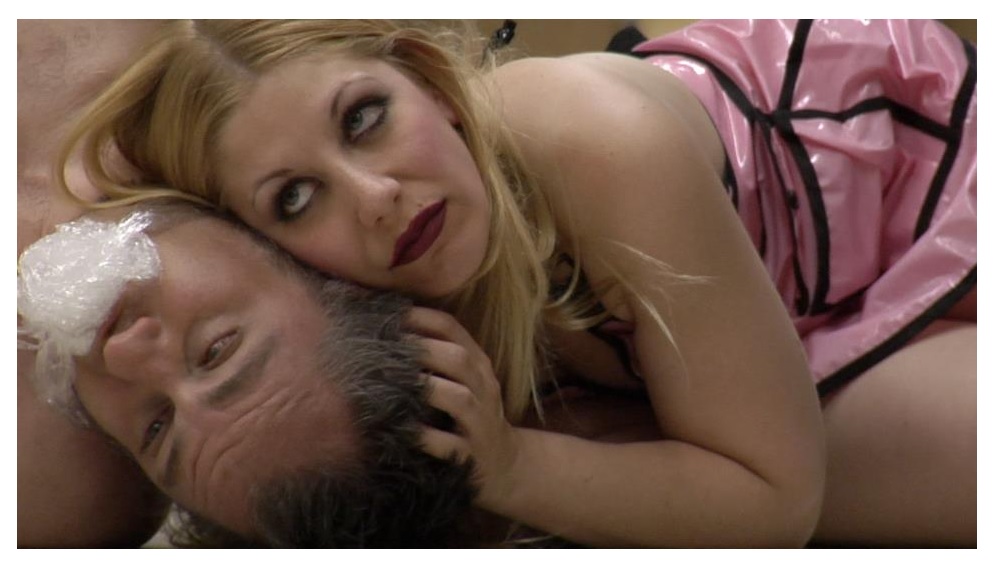 While there's a lot of overacting going on throughout, the methodology behind the minds of this couple are what fascinated me the most here. Writer Devin O'Leary fills this film with psychosis as Garberina kills first because he is sexually frustrated at his on-the-go wife who collapses into bed instead of jumps in for a warm snuggle. Brown's reasons for killing stem from her disappointment in her husband's job. As the killings begin to intensify, everything moves in a manner that psychologically make a whole lot of sense, so I began to ignore the indie roughness of the sound/editing/acting and sat back and enjoyed the story itself.
I HEART U also has a nice amount of gore that looks pretty good onscreen as well. So if you're the type to look past all of the rough edges of indie cinema, there's a pretty sophisticated tale of marital psychosis at work in I HEART U.
---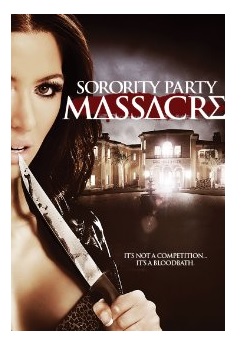 New this week on DVD from Anchor Bay!
SORORITY PARTY MASSACRE (2012)
Directed by Chris W. Freeman, Justin Jones
Written by Chris W. Freeman
Starring Marissa Skell, Eve Mauro, Ed O'Ross, Yvette Yates, Thomas Downey, Casey Fitzgerald, Rebecca Grant, Adrian Kirk, Alison Mei Lan, Amanda Barton, Keith Compton, Richard Moll, Leslie Easterbrook, Louis Mandylor, Kevin, Sorbo, Ron Jeremy
Find out more about this film on Facebook here
Reviewed by Ambush Bug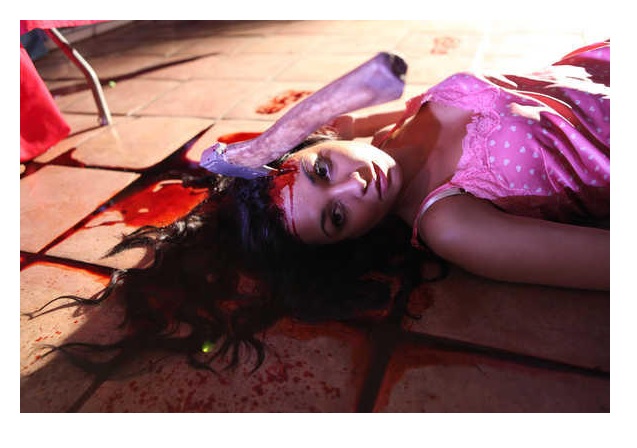 When your film opens with a scene ripped straight from a very popular movie like SCREAM, you're announcing from jump street that there's not a lot of originality going to be happening in the film that follows. Slasher films are notorious for being somewhat interchangeable in terms of plot and story. Getting a bit more specific with the girl party horror films, and I often have difficulty distinguishing one from the next. So when SORORITY PARTY MASSACRE begins with an obscene call with a croaky voice leading to a predictable kill, right from the bat, I was preparing myself for a snoozer.
And while there are some standout scenes (the opening in particular ends with a decent acid bath for the receiver of the obscene phone call which is actually pretty well orchestrated), SORORITY PARTY MASSACRE is pretty run of the mill from start to finish. The film itself seems like it doesn't really want to blaze new ground in the realm of horror, instead it focuses on being a showcase for decent gore effects, a variety of kills, and a bevy of interchangeable female stars who are distinguished by one cliché after another.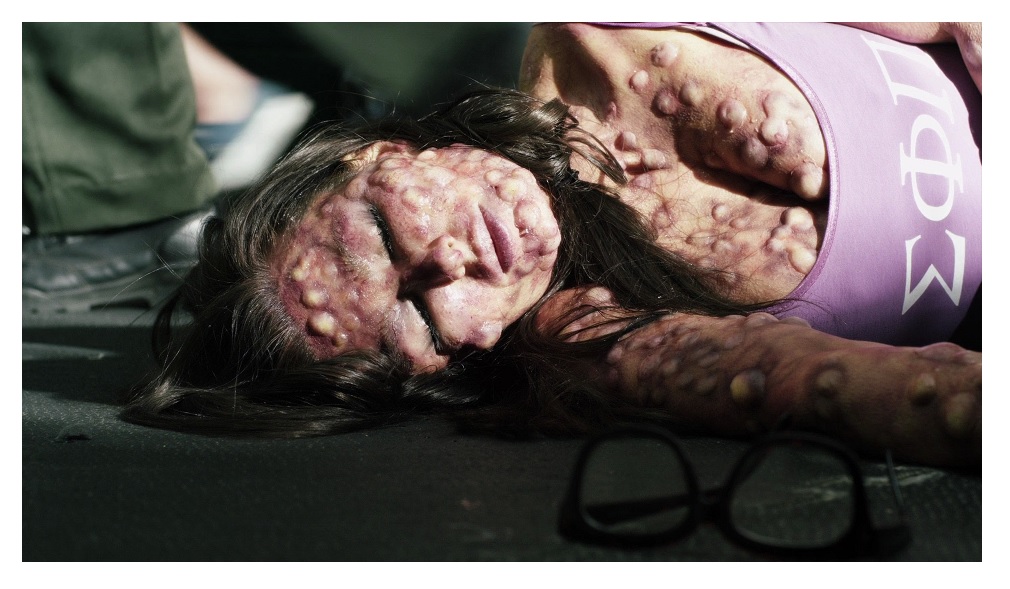 The film itself parades its sorority sisters out as they arrive at a locale where a grant of some sort will be given to the best of the best of the sorority sisters, immediately placing targets and pointed fingers at the girls as to who the killer may be. As they descend off of their boat, the names of the characters are given followed by a barrage of clips that are supposed to distinguish them from one another. One's a lesbian. One's addicted to drugs. One's a nerd. Another's an athlete. I forget which one is which and so will you five seconds after the scene has played.
Among these hotties are a few lawmakers on the case. With some decent comic beats and some extremely amateur sleuthing, they do deduce the killer, but that's not really what this film or you should care about. Hell, there really isn't even a sorority party in this film. What SORORITY PARTY MASSACRE wants you to remember about it is that it's got a bunch of hot babes and some decent make up FX, and if that's all you want in a horror film, then I guess this is the type of film for you. Cameos by Kevin Sorbo, Leslie Easterbrook, and Ron Jeremy are good for a laugh, but for the most part, I didn't have a lot of fun with this sorority party.
---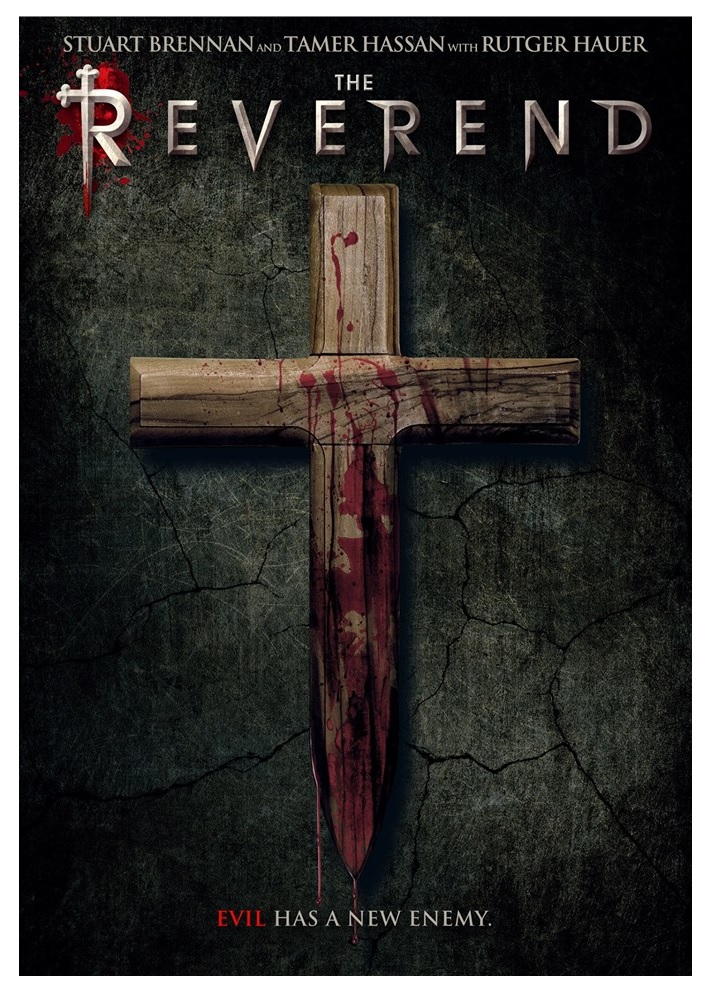 New this week on DVD from Level 33 Entertainment!
THE REVEREND (2011)
aka NEW AWAKENINGS
Directed by Neil Jones
Written by Neil Jones
Starring Stuart Brennan, Tamer Hassan, Rutger Hauer, Doug Bradley, Emily Booth, Simon Phillips, Marcia Do Vales, Shane Richie, Mads Koudal, Dominic Burns
Find out more about this film here and on Facebook here
Reviewed by Ambush Bug
I'm all for new takes on old monsters, but THE REVEREND just kind of fails on all levels here. Sure the premise is a fun one. A priest is bitten by a vampire and cursed to become one himself. The challenge of a man of the cloth thirsting for blood is a good one. But the execution in this film just isn't very good.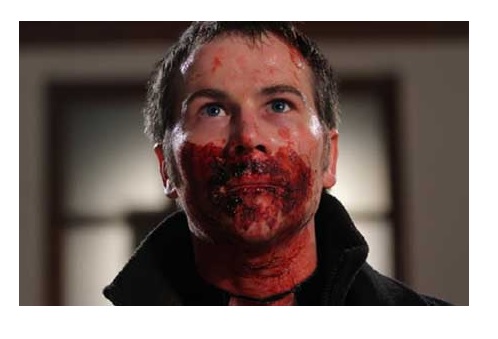 The main problem here is that this film is a plodding one. Scenes drone on long after making their points and the first hour of this film in particular is especially slow as Stuart Brennan contemplates his place in the world after being bitten by a sultry vamp in his new parish. Having recently replaced the old reverend, the Reverend is set with the task to refill the church in the small community. And as the Reverend masters his bloodlust by seeking out criminals and sinners to drink from, the power of his holy word begins to grow as well.
Right off the bat, if you wanted to check this film out because of the names Rutger Hauer and Doug Bradley in the credits, you're going to be sorely disappointed. Both actors only make brief appearances at the beginning and the end. Hauer's role as the head vampire/devil is the most brief as he announces some new reign on earth in the beginning that really doesn't come to much in the rest of the film. Bradley plays a priest from the Vatican who at least shows up after the opening credits. Neither are given much to do or screen time.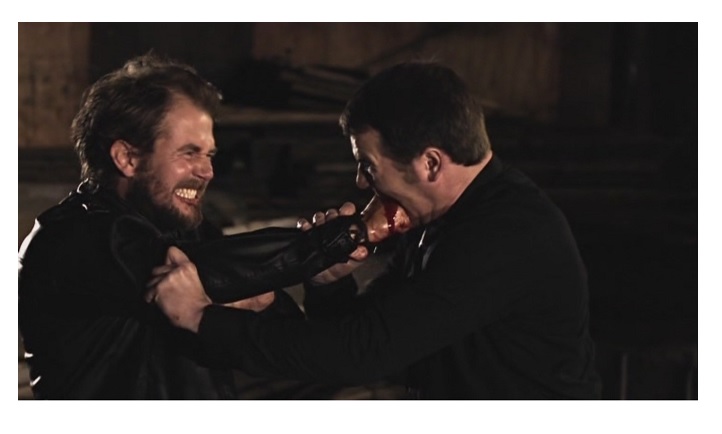 Other than the pacing and misleading credits, the film has trouble really distinguishing what the rules of vampirism really are. I understand from time to time that the rules vary from one vampire film to the next, but the fact that this is a vamp movie that deals with religion; one would think the allergy to crosses might be addressed. But no, this Reverend doesn't even flinch in a church and he even seems to be ok with walking around in the daylight. The lack of these common vampiric aspects isn't really the problem I had with this film; it's that the fact that these things don't bother to be mentioned in the film at all does bother me. The only thing that really makes anyone a vamp in this film is that they have to drink blood and they burst into flame when poked in the heart with a wooden cross spike.
There are some nice gorey moments and Stuart Brennan isn't the worst lead, though somewhat uncharismatic. The villains he tracks and kills are rather run of the mill as are the latter parts of the film which seemingly want to borrow directly from the film SNATCH. And the motivations to satiate the Reverend's bloodlust is a bit contradictory to that whole "Thou shalt not kill" thing, but that's even more exemplary of how the makers of this film seem to not want to be bothered with little details. Seemingly patterned or inspired by a comic book, this film makes the mistake of dumbing down the material to what someone who doesn't really like comics books thinks a comic book should be like. Because of that, THE REVEREND pales in comparison to both comic book and filmic versions of the vampire tale.
---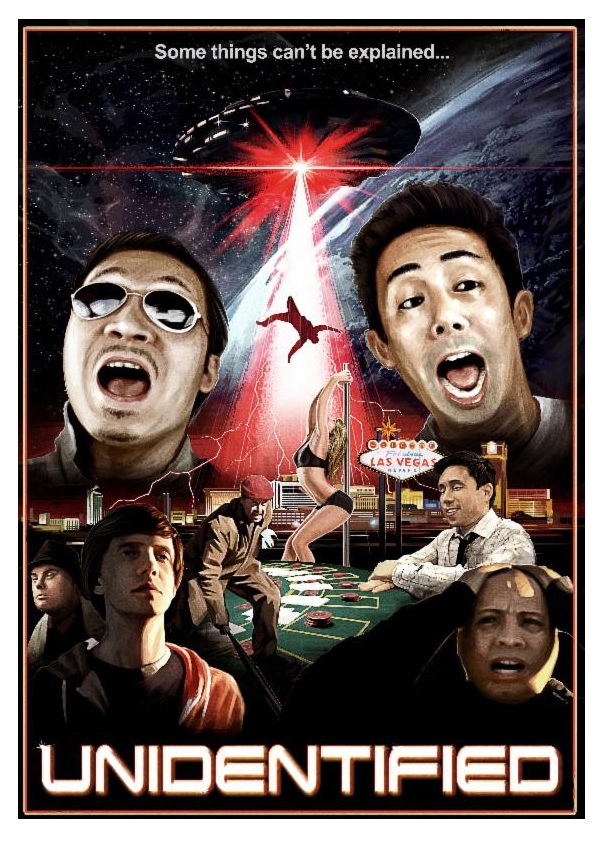 New this week on Digital Download and DVD from Dark Sky Films!
UNIDENTIFIED (2013)
Directed by Jason Richard Miller
Written by Jason Richard Miller (story, screenplay), Eddie Mui (original concept), Parry Shen (story)
Starring Parry Shen, Colton Dunn, Eddie Mui, Eric Artell
Reviewed by Ambush Bug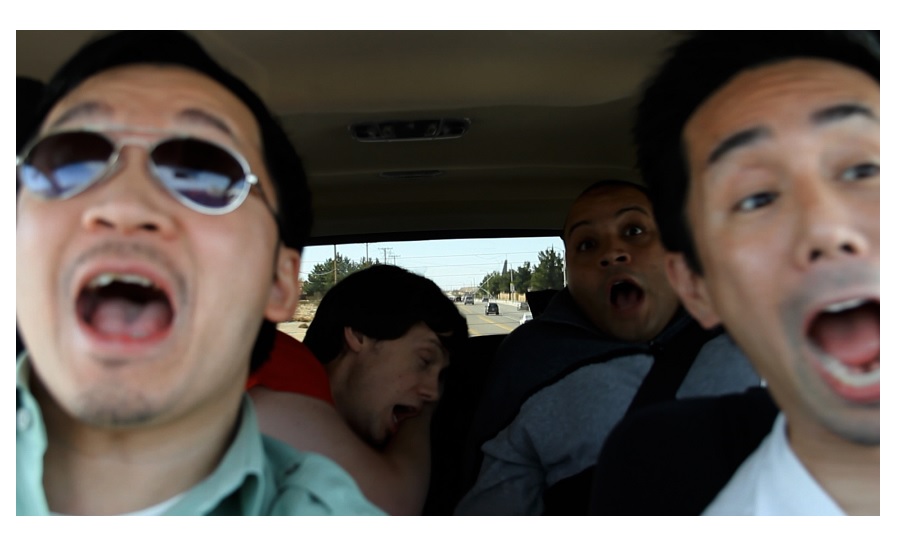 Sure, this is another found footage films and like you all, I am growing wary of these types of films. I held out for a long while before doing so and I admit, when done well, the first person perspective can still be a pretty effective way to scare the crap out of me. The problem is that films of this type seem to follow the same pattern (introduce characters, follow them endlessly for about 45 minutes to an hour, ending with an even more jittery sequence where the shit hits the fan and a camera dropped and running until the battery runs out). My interest in films like this depends on the monster of the day and the effectiveness of the cast. Most of that interest lies on the effectiveness of the cast since the bulk of the time is dedicated to them. Luckily, with UNIDENTIFIED, the cast is just that, pretty damn effective and funny to boot.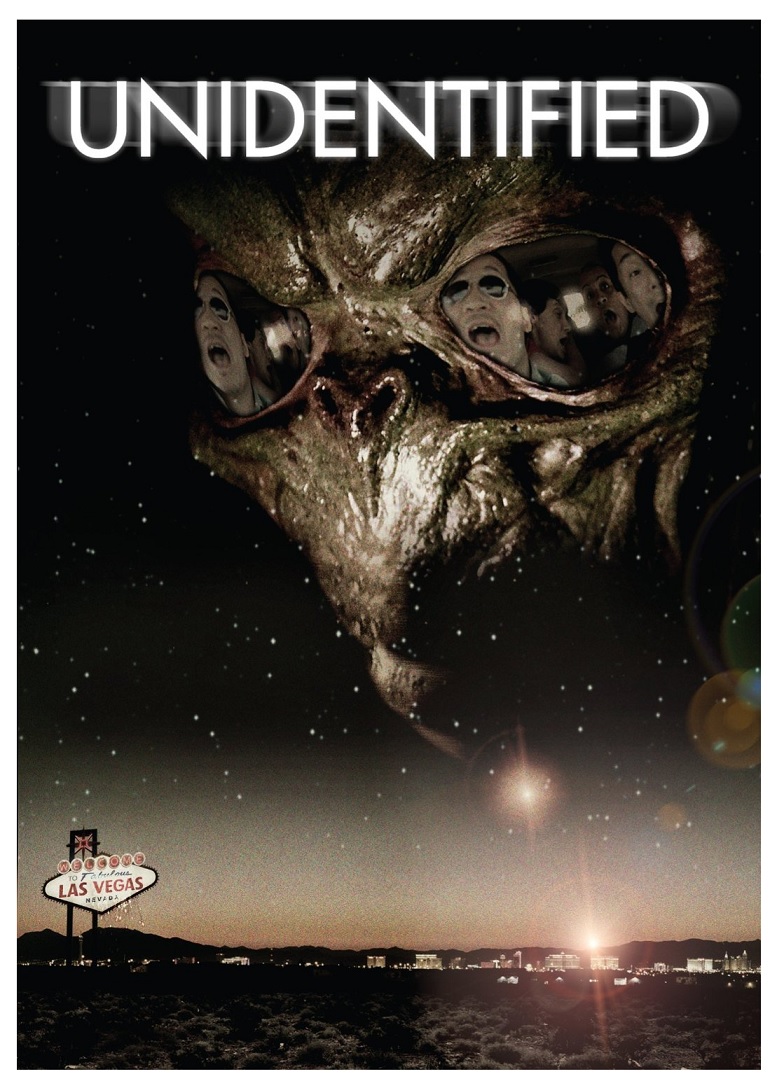 This found footage film by way of HANGOVER follows a quartet of guys going on a weekend mancation to Las Vegas. Playing the uninvited character occupied by Zack Galifianakis is MAD TV's Eric Artell who looks and acts a bit too much like THAT 70'S SHOW's Topher Grace. Artell plays the younger brother of one of the other mancationers wives sent along to keep tabs and make sure nothing too hijinky occurs. The rest of the group is made up of website owner Parry Shen (from the HATCHET series), likable loser Colton Dunn (also from MAD TV), and GONE IN 60 SECONDS' Eddie Mui who plays the aforementioned brother in law who has a gambling problem. None of this has anything to do with the fact that strange lights in the sky and weird happenings are occurring on this trip with increased frequency.
The drama between the four guys is fun enough. All of these guys are decent comedic actors and the arguments and interactions between the four of them sustain what would otherwise be a pretty boring first 45 minutes. The conflicts are both real and fun due to the one-liners and barbs that are tossed about between the four of them. Artell's nerdiness is especially good as his belief in UFO's and Sasquatch and immersion into geek culture of STAR TREK and comic books proves to fill the hour with nice geek out moments since the other three aren't really into that sort of thing. Mui's role is much more dramatic than the rest as his gambling problem is a real thing that weighs heavily on the plot and gives the camera a reason to continue to roll when the crazy starts to happen. Mui wants to cash in on the footage to pay off his debt, putting his friends in danger in the process.
It's a good thing that the cast is so strong in UNIDENTIFIED because the rest of the film is pretty typical for a found footager. There is some nice UFO-centric horror going on with weird lights, weird mind control, and a decent looking alien. I even liked the ending which manages to stop the camera rolling in an original manner. But still, despite the good performances and some nice details here and there, when it comes to found footagers, UNIDENTIFIED's story is the same as the rest.
---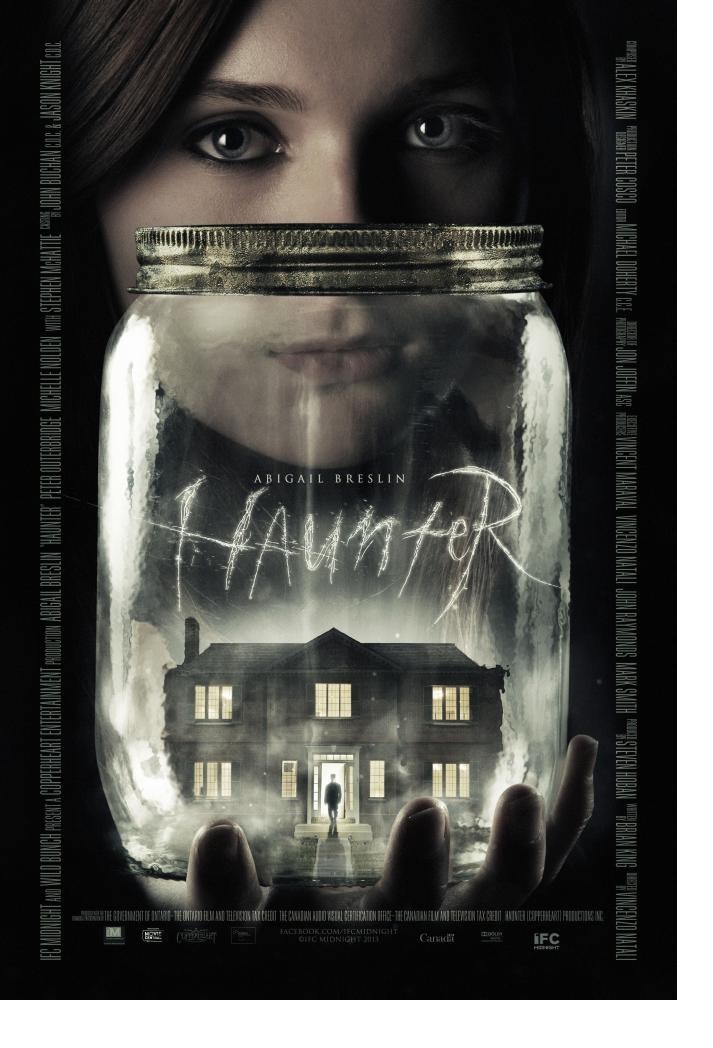 New on DVD from IFC Midnight
HAUNTER (2013)
Directed by Vincenzo Natali
Written by Brian King, Matthew Brian King (screenplay)
Starring Abigail Breslin, Michelle Nolden, Stephen McHattie, Sarah Manninen, David Hewlett, Peter Outerbridge, Samantha Weinstein, Peter DaCunha, Eleanor Zichy, David Knoll, Michelle Coburn
Reviewed by Ambush Bug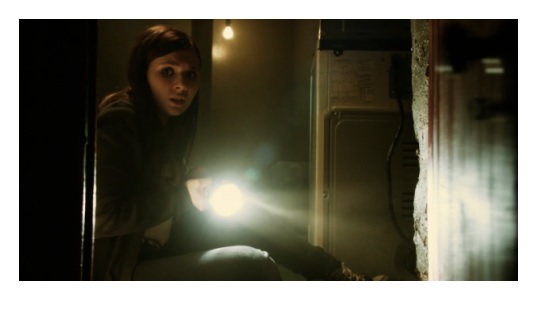 This BEETLEJUICE sans comedy meets GROUNDHOG DAY sans comedy isn't necessarily a bad film, but it is derivative as all get out. Nabbing the "repeater" style ghost motif which lives in a holding pattern and simply reenacts the last day of their lives which was a prominent detail in the HATCHET franchise and injecting a heavy dose of THE OTHERS as the story focuses mainly on the ghosts rather than the occupiers of the haunted house, are more details lifted from other films to make up the supernatural thriller called HAUNTER.
The one thing this film has going for it is the cast; specifically Abigail Breslin and Stephen McHattie. Breslin is growing into a beautiful young woman and seems to have some acting chops to boot as evidenced here as her character is the only one who seems to understand that she is in fact a ghost reliving the last day of her life over and over. The film requires her to go through the gamut of emotions especially in the scenes where she believes she is losing her family. McHattie is devilish as all get out as a mysterious man who keeps appearing when Breslin's Lisa deviates from the repeater routine. While I won't reveal how McHattie fits into the story, he is a force of evil which reflects in every wrinkle of his fascinatingly wicked face.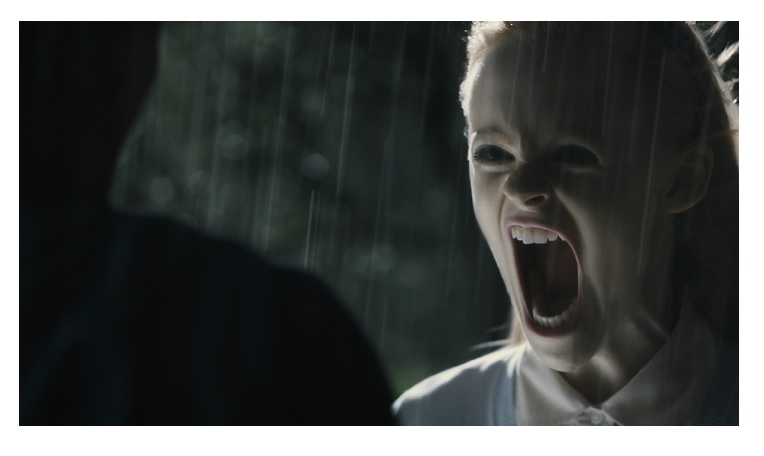 The obvious filmmaking skill associated with the CUBE and SPLICE director Vincenzo Natali are evident with HAUNTER. There's a fantastic opening sequence involving a butterfly floating through a room full of jarred souls and the way this mystery unfolds is pretty intricate and entertaining. The use of otherworldly lights is especially noteworthy here making the supernatural moments all the more so. There are some well constructed scary scenes as Lisa follows the clues of this little twisted mystery.
HAUNTED gets convoluted towards the end as things just for of happen to suit the story rather than following a planned course. Compared to CUBE and SPLICE, this is not one of Natali's best, but it does have some great scenes filled with jolt and some great performances from Breslin and McHattie. It might not be the most original of ghost stories, but despite all of that, it's a decent made one.
---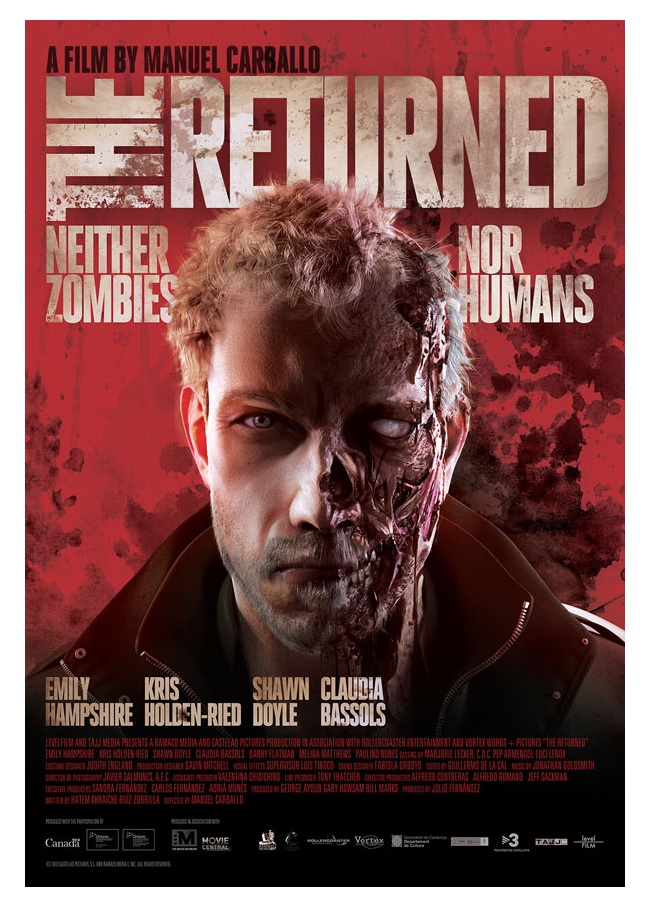 In limited theatrical release and Video On Demand from levelFILM!
THE RETURNED (2013)
Directed by Manuel Carballo
Written by Hatem Khraiche
Starring Kris Holden-Ried, Emily Hampshire, Shawn Doyle, Claudia Bassols, Paulino Nunes, Melina Matthews, Paul Anthony, Barry Flatman, Jamie Lyle, Phil Guerrero, Romy Weltman
Find out more about this film here and on Facebook here
Reviewed by Ambush Bug
While new zombie films seem to be released every week, it seems the only thing that sets them apart is either locale of the zombie infestation or the group of people the films take place in. THE RETURNED (not to be confused with the French television series with the same name) dares venture into territory far beyond the initial outbreak and resulting chaos. Because of that, THE RETURNED is most likely the best zombie film you're going to see all year.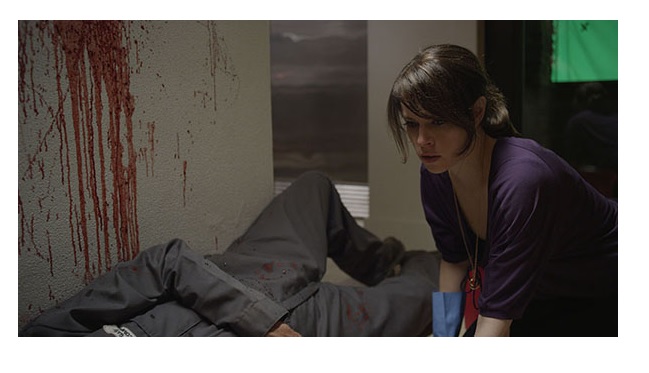 THE RETURNED opens with a horrific dream sequence where a zombie breaks into a home and bites the mother of a young girl. Cut to the present as the girl, Kate (Emily Hampshire) turns out to be a doctor treating a ward marked "Returned Unit." Though the routine she goes about is pretty mundane checking patients from room to room, it's obvious that this is a world not like our own. As we follow her through the hospital, we see her pass the front doors which are crowded with picketers shouting inaudibles at anyone inside. We come to find out that the scenes we are seeing belong to a post-zombie apocalyptic world where a temporary cure for the infestation has been created and those infected can slow down the process and even eliminate the symptoms if a serum is digested on a regular basis. Following Kate home, we realize that her husband Alex (ScyFy's LOST GIRL's Kris Holden-Reid) is one of the infected treated in secret by the serum.
What this film does that no other zombie film seems to be able to do is move past the initial infestation stage zombie films seem to be stuck on. Placing this film in a time where the zombie infestation has been contained and medically treated takes the film to another level of realism as Alex and Kate struggle to keep Alex's symptoms at bay with daily treatments Kate smuggles home from work. On a more global scale, the fear of a new outbreak if one of the infected miss their daily dose causes many to want to just eliminate the Returned along with the zombies. When supplies become limited, the world spins into a panic, forcing Alex and Kate to go to extreme lengths to survive.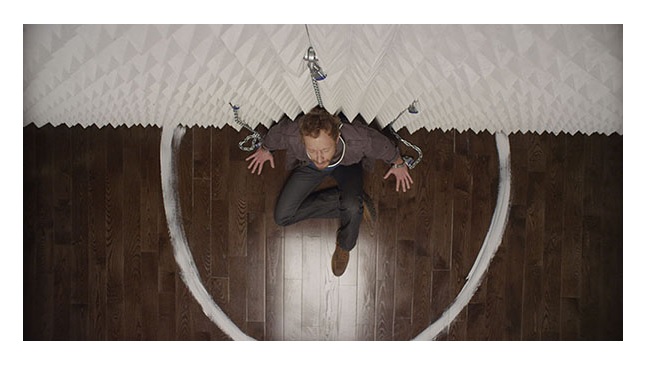 The real world take on zombie-ism is what sets this film apart from the herd. If you accept the fact that zombies are real, the reaction the world has to it in this film is very real and believable from the way the doctors work feverishly to find a cure and to treat the afflicted, to the violent ways fringe Anti-Returned groups invade Returned clinics and protest for elimination of the sick. If you're looking for a metaphor here, I'm sure parallels can be made to both extreme reaction to abortion clinics as well as the way people feel about HIV/AIDS as when the serum is taken, one would not be able to tell who was affected and who wasn't.
The acting is top notch as Holden-Reid & Hampshire's relationship is both believable and dramatic as the serum becomes more scarce. Strong supporting performances from TRUE LOVE's Shawn Doyle and Claudia Bassols as Kate and Alex's most trusted friends are equally good. Director Manuel Carballo also did EXORCISMUS (
reviewed here
) which was another capably made film about the supernatural set to the real world, but THE RETURNED is a huge leap in scale and quality for the director in terms of straight forward and bold storytelling. Filled with twists and turns, false hopes and shattering disappointments, THE RETURNED is a zombie film with soul and power. It's the type of movies that make you realize why zombie films can be such rich material for solid stories. If you're a fan of horror done in bold and interesting ways, seek out THE RETURNED.
---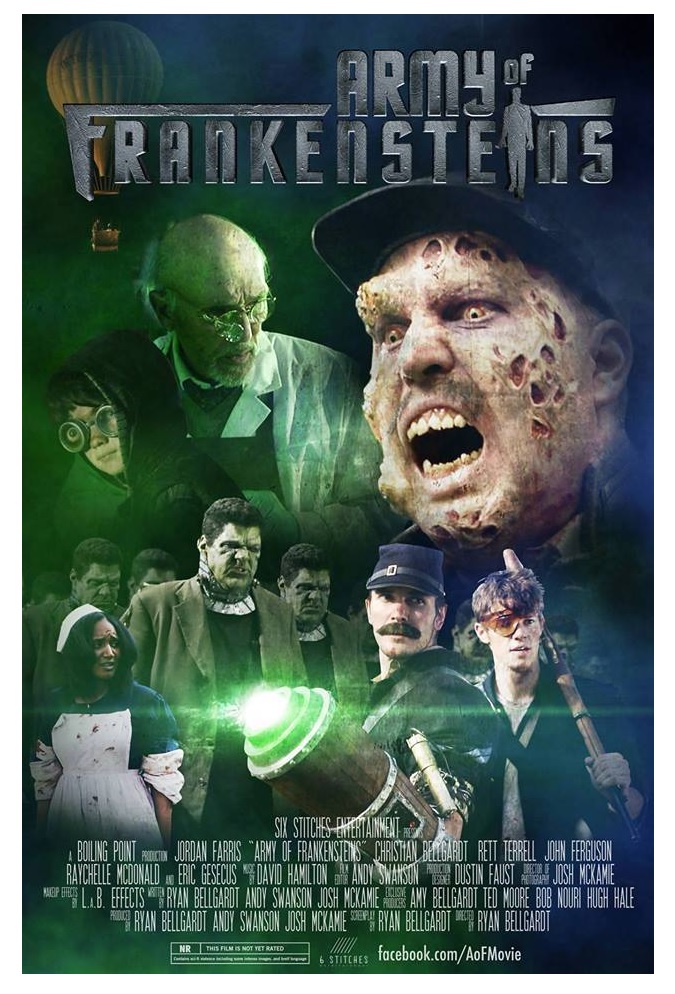 Advance Review!
ARMY OF FRANKENSTEINS (2013)
Directed by Ryan Bellgardt
Written by Ryan Bellgardt, Andrew Swanson, Josh McKamie
Starring John Ferguson, Jordan Farris, Christian Bellgardt, Lucas Ross, Rett Terrell, Raychelle McDonald
Find out more about this film here and on Facebook here
Reviewed by Ambush Bug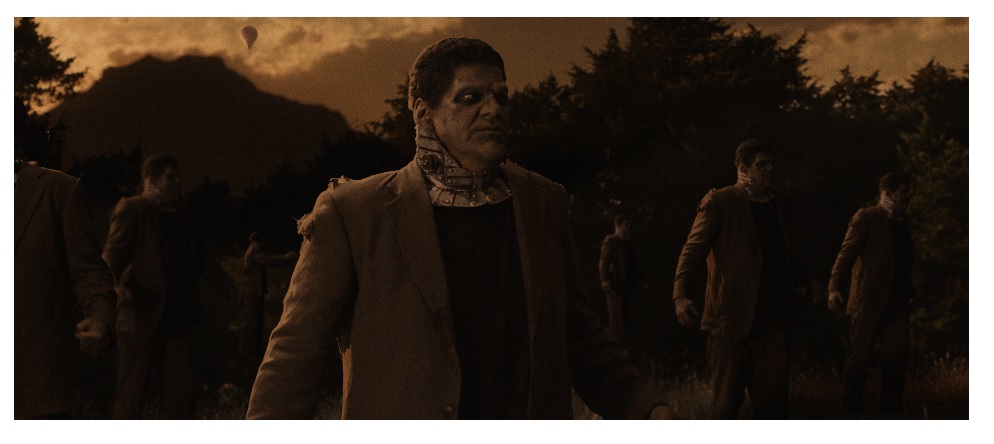 Blending scifi with classical horror, ARMY OF FRANKENSTEINS makes a little go a long way. While some of the acting is a bit stiff, the film is filled with fun ideas making this a film worth seeking out. While shooting on what seems to be mostly green screen backgrounds, director Ryan Bellgardt may not have made the most immersive of films, but has cut corners and still made a pretty expansive one despite what looks to be a tight budget.
ARMY OF FRANKENSTEINS begins in the past in the middle of the Civil War era as both battle weary armies seem to be on their last legs. Out of a foggy battlefield rises a strange figure walking stiffly, yet possessing the power of ten men. Behind him are other large men exhibiting the same behaviors and upon coming into view, it is clear to the army (and anyone who has ever seen a Frankenstein film) that this is not just one, but an army of Frankenstein monsters. Jump to the present and a young man named Alan Jones (Jordan Farris) is having difficulty with his girlfriend after catching her making out with her boss at the grocery store. This seemingly banal happenstance leads Alan to a laboratory straight out of a classic monster movie with a cantankerous old scientist (John Ferguson) and a child assistant named Igor (Christian Bellgardt). Unbeknownst to Alan, he's a key to the past and a descendant of a Civil War hero and when the scientist taps into the time stream Doc Emmett Brown style and sends Alan and Igor back in time to the Civil War era we saw in the opening.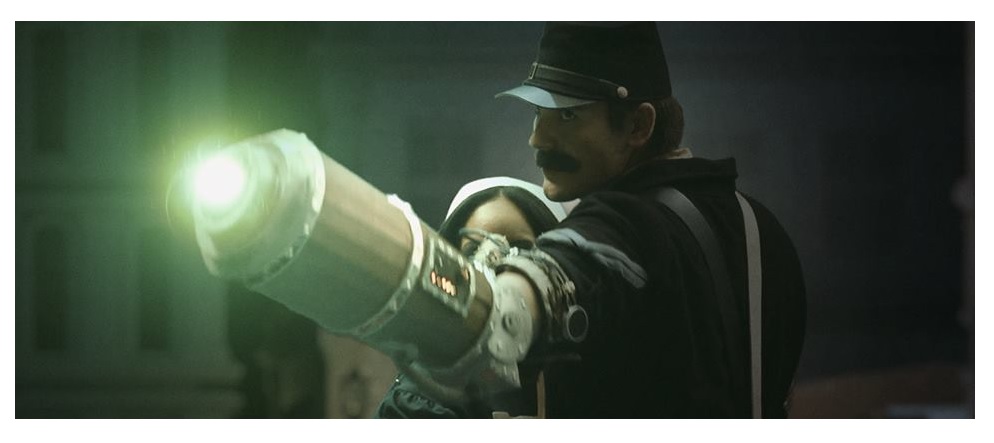 Influenced heavily by BACK TO THE FUTURE, Alan plays a likable normal man caught in an extraordinary situation filled with super science, lumbering undead monsters, and time travel. The story is overly dramatic to an operatic level, but has a old school scifi appeal to it all. Sure the motivations get a little murky and the way everything fits gets a bit loose at times, but writer/director Ryan Bellgardt along with his co-writers Andrew Swanson and Josh McKamie, deliver a tale that would be at home in any old school science fiction comic book with all sorts of twists and turns for our time-lost star and his band of heroes.
The design of the monster itself is rather cliché. I understand why this version of the creature was used, but the Boris Karloff/Herman Munster style design of Frankenstein's monster bolts and all has been used so much, it has lost its imposing feeling through the years. Still seeing an army of them is amazingly fun, especially since they are all clones of the same creature. And while the tech to replicate the same character is a bit rudimentary here, it still rings as very fun.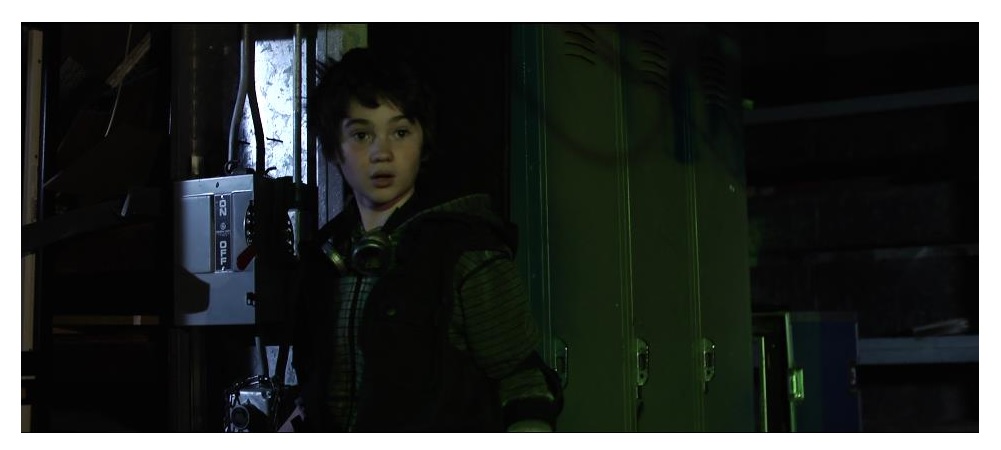 The other highlight of this expansive tale is child actor Christian Bellgardt who plays Igor. Usually when kids are involved in horror films, it's a cringe worthy experience as kids are often taboo to be harmed or the opposite, used as chum to incite some kind of extreme emotional reaction. But here, Bellgardt is the most capable actor on this film and seems to have plopped straight out of an Amblin adventure. Not only is he given all of the scientific knowledge to play way, but he's also given the most bad ass lines to play with. Here's hoping this is the first of many roles for Bellgardt who seems to be a natural as the youthful badass in the lab and on the battlefield.
A film like ARMY OF FRANKENSTEINS always impresses me in that it achieves so much on a low budget. It's very much a love letter to those classic horror films of old, but also plays with time travel themes made popular by BACK TO THE FUTURE. All of which is done in a fun, Saturday morning matinee manner lost to most modern films.
---
And finally…here's another haunting radio play from the classic radio series LIGHTS OUT! This terrifying tale is called THE SIGNAL MAN! Enjoy!


See ya next week, folks!

Ambush Bug is Mark L. Miller, original @$$Hole/wordslinger/writer of wrongs/reviewer/interviewer/editor of AICN COMICS for over 13 years & AICN HORROR for 4. Mark's written THE TINGLERS & WITCHFINDER GENERAL, DEATHSPORT GAMES, NANNY & HANK (soon to be an Uptown 6 Films feature film), Zenescope's GRIMM FAIRY TALES Vol.13, UNLEASHED: WEREWOLVES, and the critically acclaimed THE JUNGLE BOOK and its follow up THE JUNGLE BOOK: LAST OF THE SPECIES. FAMOUS MONSTERS' LUNA: ORDER OF THE WEREWOLF (co-written with Martin Fisher) will be available soon in trade. Mark wrote/provided art for a chapter in Black Mask Studios' OCCUPY COMICS. Follow Ambush Bug on the Twitters @Mark_L_Miller.


---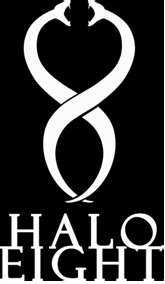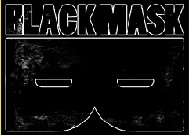 Find out what are BLACK MASK STUDIOS and OCCUPY COMICS here and on Facebook here!


Interested in illustrated films, fringe cinema, and other oddities?
Check out Halo-8 and challenge everything!
---
Find more AICN HORROR including an archive of previous columns on AICN HORROR's Facebook page!