Papa Vinyard here, now here's a little somethin' for ya...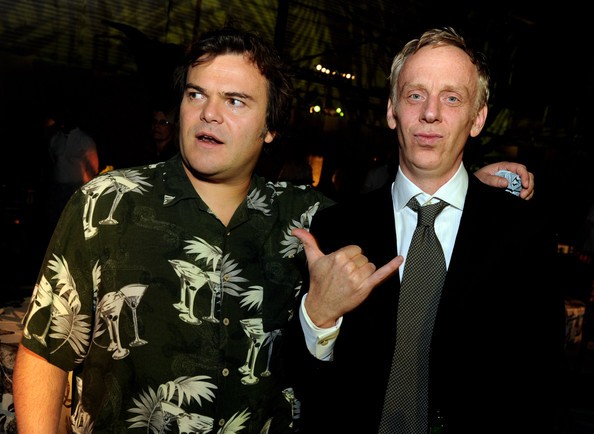 Jack Black and Mike White (with those last names, you'd think they called each other before registering with SAG) cooked up a trilogy of funny, relatively family-friendly comedies a decade or so ago (Jesus…) with ORANGE COUNTY, SCHOOL OF ROCK and NACHO LIBRE, and the two are set to team up once more. THR announced today that Black, White, and James Marsden are set to star in THE D-TRAIN, a high school reunion comedy directed by first-time directors (and YES MAN co-writers) Jarrad Paul and Andrew Mogel.
The film will have Black playing a dorky dude assigned with getting together a reunion for his graduating class. Marsden plays the all-star popular guy who went off and tried (unsuccessfully) to make it big in Hollywood, and Black is tasked with flying out west to try and wrangle him back. White will play Black's only buddy from high school, and Nat Faxon is in talks to pop up in the movie in an as-yet-unspecified role (I could see him playing one of Black's aging high-school bullies quite nicely).
Obviously, these directors are untested (YES MAN wasn't very well-received, and the pair were co-creators on the short-lived Jonah Hill series ALLEN GREGORY), but the cast has a comic energy that makes the premise fairly intriguing. Like a THE BEST OF TIMES executed through the Mike White/Jack Black filter.
Black's hasn't really been doing his typical schtick onscreen for the past few years, and his last two legitimate studio comedies were the low-fi GULLIVER'S TRAVELS and YEAR ONE, but BERNIE and even THE BIG YEAR showed that he's willing to branch out and get laughs using different methods than he's commonly associated with. His chemistry with White, both onscreen and off, has always been great, and the idea of him squaring off against Marsden and Faxon sounds totally promising. I'm hoping that, because the project has a lower budget, Paul, Mogel, Black, and White will want to push things into less comfortable, dare-I-say CHUCK & BUCK territory, but either way, I'm wishing these guys the best on this one.
-Vincent Zahedi
"Papa Vinyard"
vincentzahedi@gmail.com
Follow Me On Twitter