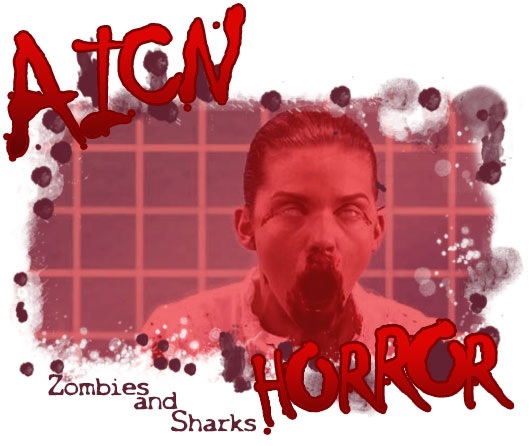 Logo by Kristian Horn
What the &#$% is ZOMBIES & SHARKS?
---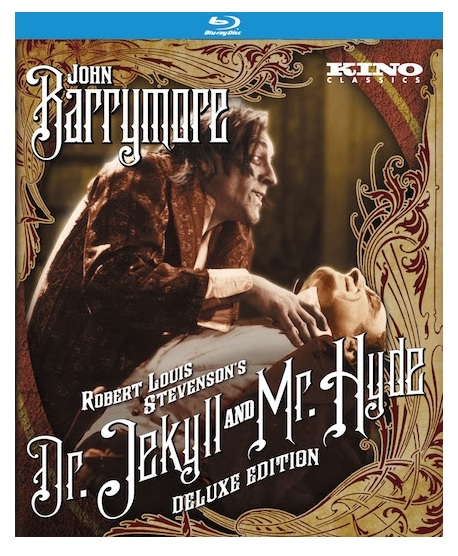 Greetings, all.
Ambush Bug
here with the winners from last week's AICN HORROR: ZOMBIES & SHARKS contest. I'll be reviewing
Kino Lorber's rerelease of DR. JEKYLL & MR. HYDE
soon in my regular weekly column.
This rerelease is chock fill of extras including an earlier 1912 filming of DR. JEKYLL AND MR. HYDE from the Thanhouser studio, starring James Cruze (12 min., courtesy of Film Preservation Associates); a 15 minute cut of the rival 1920 production of DR. JEKYLL AND MR. HYDE, starring Sheldon Lewis and produced by Louis B. Mayer; "Dr. Pyckle and Mr. Pride", a 1925 slapstick parody starring Stan Laurel; and "The Transformation Scene", a rare 1909 audio recording. Plus the film is clearer and more vivid than ever before making it almost a completely new experience to watch. Having seen what Kino Lorber can do with their recent NOSFERATU rerelease (
reviewed here
), I can't wait to see this new version of this classic film.
I asked readers to tell me the first horror movie they ever saw and why that film stuck out to you and promised to choose the five that either thrilled or entertained or even endeared me. Those five would be the proud owners of either the BluRay or the DVD. Here are the winners…
Robert Graff
It's a bit difficult to recall the first horror film I ever saw as I've been watching them probably longer then I should. My earliest recollection is of catching the opening scene of ABBOTT & COSTELLO MEET FRANKENSTEIN on TV and being so petrified by the transformation of Lon Chaney Jr. into the Wolfman that I couldn't bring myself to move from the chair for about an hour. My grandmother (to my parents dismay) continued my horror education by making sure she taped DRACULA (1931), THE INVISIBLE MAN (1933), DR. JEKYLL & MR HYDE (1932) and (of course) THE WOLF MAN (1941) off of PBS for me to watch. Had she not passed away a decade ago, I wonder how she would react to seeing the horror obsession she started so long ago and how it continues to grow even to this day. Thanks Grandma!
Mark Palmer
As a child my parents took us to the movies every Sunday. Back then, it was a free for all - meaning, that you could easily hop from one theater to the other on a whim, for any reason, as many times as you wanted. Nobody cared. One Sunday we visited The Southgate, an early multi-plex, with many different movie selections. Being 12-years-old, I was allowed to choose my own movies, going to them while my parents went to see whatever they wanted to see. On this particular Sunday I was jazzed to see THE OMEN! It had been hyped pretty largely and I was ready! I sat in that darkened theater alone, letting the Rottweilers, the decapitation and the devil's spawn just seep into my psyche! I would never admit it then but...I was scared out of my wits! Funnily enough, my sister and cousin has opted to see THE EXORCIST in another theater. After my traumatizing experience, I needed some distraction and relief, and snuck into their movie and watched the last half of that! WOW! I don't know what kind of crazy effect this experience had on me as this future adult? But, I'll never forget that horror-ridden Sunday when I became so frightened by the son of Satan that I sought refuge only to find myself in the arms of a demon!
Eric Woodsides
The first horror film I remember seeing was at a drive in. My father, having been a horror fan, would take us every weekend to see double features. MANEATER OF HYDRA it was. I can instantly go back to being a 4yo boy, terrified by the carnivorous trees attacking and eating the humans just by thinking about the sucking sound they made. That sound made me lie fetal in the back seat floor in petrified ecstasy. Recently I was able to view the film again since 1968 and the sound that terrified me so now sounds like someone sucking on a too-large jawbreaker. Ah, sweet memories of youth.
Jason Seals
Babysitters, man. If you're not careful, they'll fuck you up. When I was a kid, my babysitter was this girl named Joyce, and she'd always do what all babysitters did in the early 1980's: she'd set me in front of the TV and call her boyfriend to come over. Then the two of them would fade away into another part of the house to do their thing and I'd be left to watch whatever was on TV on a Friday night circa 1983. That's how I got my education. DRACULA was the first horror movie I saw. Not the Lugosi one, though. The 1979 DRACULA with Frank Langella, and Laurence Olivier as Van Helsing. I watched it on our tiny black-and-white TV while Joyce was in another part of the house and the goddamn thing terrified me so badly I literally pissed myself. It was those vampire brides, man. Those creepy, sexy vampire brides got up inside my head and scrambled my 8-year-old brain, and the night ended with poor old Joyce trying in vain to scrub piss outta my dad's easy chair while her horny boyfriend stood sighing in the hallway and I lied on the couch bawling. I recovered from the trauma pretty quickly, though, I guess. I remember spending the next couple weeks scouring the TV Guide, checking to see if they were maybe gonna air DRACULA again some night so I could talk everybody into letting me stay up to watch it. Even though it terrified me, I kinda wanted to see it again. I wanted another look at those vampire brides.
Robert Ferrante
My earliest horror film memory was watching Invasion of the Saucer Men when I was five years old. Seeing it as an adult it plays more like a comedy, but those big heads, giant eyes and needle fingers made quite an impression on me as a child. I have a real fondness for it though because the first time I watched it my parents where going out for the evening and left me with my older brother. He let me stay up later than he was supposed to so I could watch it. Midway through the movie my parents came home and fearing I was in trouble for staying up late I jumped up and hid behind the sofa. Before they could get mad at me my brother told them that I got scared because I thought the saucer men were coming to get me. They were all laughing so hard that I never got in trouble, and thus began my lifelong love of horror.
Thanks for taking part in the contest to all and congrats to those who won! If you didn't nab your own copy of the film at
Kino Lorber's website
. Check out the transformation scene which still blows me away below!
---
Find more AICN HORROR including an archive of previous columns on AICN HORROR's Facebook page!