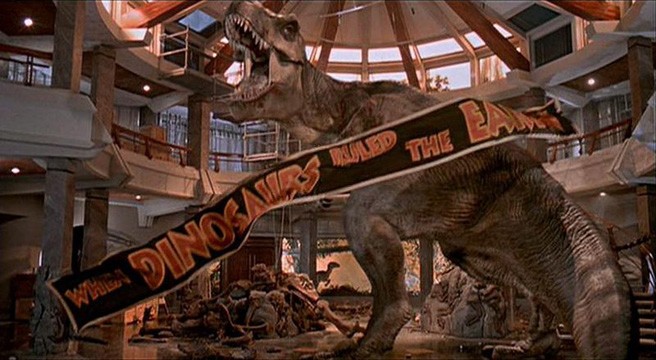 Ahoy, squirts! Quint here. I like this trend of big franchise movies sticking with film. First JJ Abrams announced he's shooting Star Wars on film and now we have Colin Trevorrow announcing that JURASSIC WORLD will not only shot on film, but it'll shoot in both 35mm and 65mm, which means it's likely that there'll be sections done all IMAX style like The Dark Knight.
Trevorrow also announced John Schwartzman will be the cinematographer. Schwartzman shot Benny & Joon, The Rock, Armageddon, Seabiscuit and more recently The Green Hornet and The Amazing Spider-Man.
Here's Trevorrow's original tweet:
Honored to be working with cinematographer John Schwartzman on Jurassic World, shooting this April on 35mm and 65mm film. @Kodak @Panavision

— Colin Trevorrow (@colintrevorrow) February 6, 2014
Shit's getting real, you guys. A new Jurassic Park, a new Star Wars, a new Avengers, a Batman and Superman movie... My geek heart's all a-flutter!
-Eric Vespe
"Quint"
quint@aintitcool.com
Follow Me On Twitter