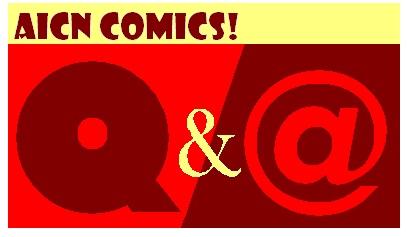 @@@ What the &#$% is AICN COMICS Q&@? @@@
---
Q's by Russ Sheath!

@'s by HALF PAST DANGER's
Stephen Mooney!!!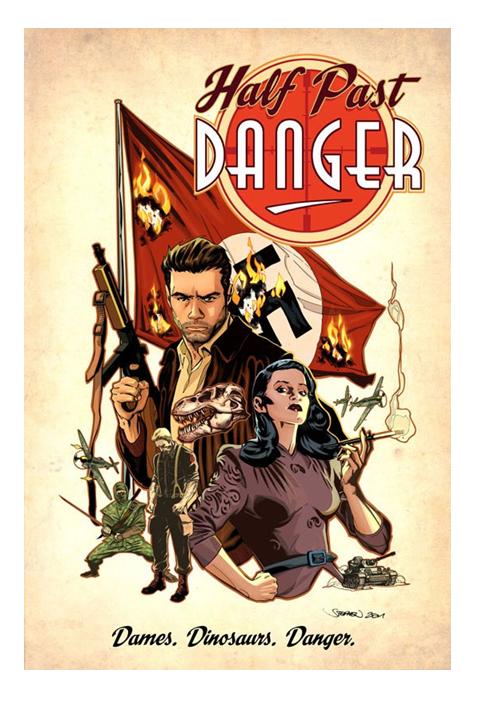 Russ Sheath here. In case you missed the first series, you could do much worse than check out the hardcover edition of HALF PAST DANGER by Stephen Mooney and IDW. A pulp-inspired adventure yarn, HALF PAST DANGER is a labor of love from the writer, artists, letterer and inker behind the underground success. Full of not only the miniseries, but also extras, the hardcover hits shelves this week and I spoke with creator Stephen Mooney about the series and the collected edition.
RUSS SHEATH (RS): For those who may be reading this and who didn't pick up the book, but who will be first in line for the HC, can you give us the quick pitch for HALF PAST DANGER?
STEPHEN MOONEY (SM): Absolutely! Here's the 'back-of-the-dvd' blurb:
DAMES. DINOSAURS. DANGER.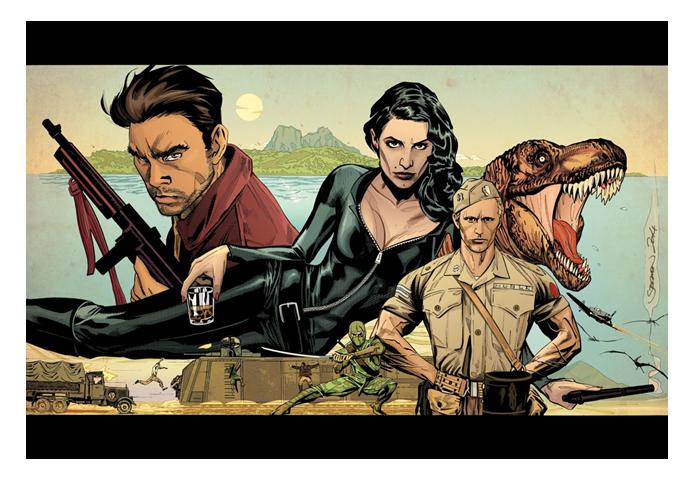 Summer, 1943, and in the midst of a war waged by monsters, Staff Sergeant Tommy 'Irish' Flynn never expected to encounter a real one. But on a remote island in the South Pacific, Flynn and his squad come face-to-fanged-face with creatures long thought dead. As the world falls apart, a unique set of characters come together: an embittered Irishman in a war not his own, a beautiful and enigmatic British agent, a U.S. Marine Captain with incredible resilience and a secret and a mysterious operative from the land of the Rising Sun, all served up in a stew of piping-hot Nazi intrigue. History meets prehistory in this two-fisted race against time…and there ain't no time like HALF PAST DANGER.
RS: How does it feel to have your labour of love, HALF PAST DANGER, completed and compiled as an IDW hardcover?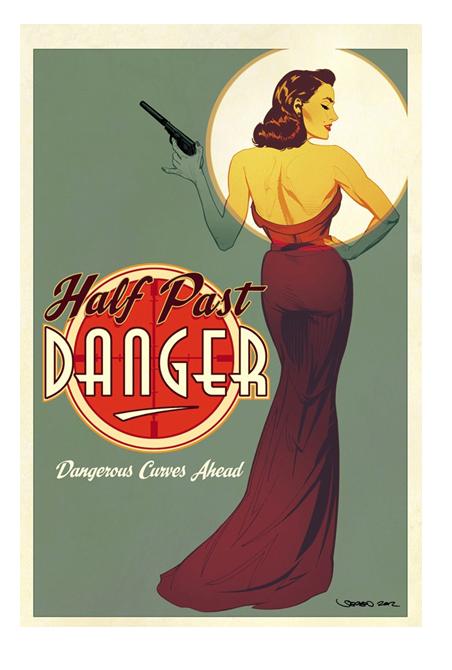 SM: It feels like a relief! I'm utterly relieved that people seemed to dig the book, and that it all went so well. I was terrified going into the whole venture that it would fall flat on its face and then sink without a trace. Nobody knew me as a writer at all, and I'm just so gratified and relieved that so many people took a chance on the book! I also feel a tremendous sense of accomplishment, of course. Writing, drawing, lettering and sometimes colouring your own book and having it come out in a timely fashion and on schedule is no easy task. I gave myself a large amount of lead time on this one, and it was fully required.
RS: When is the book out?
SM: The collected edition hits stores on Wednesday the 29th of January, at time of writing.
RS: What reaction has the book had? Have you had any particularly memorable moments or reactions to the series?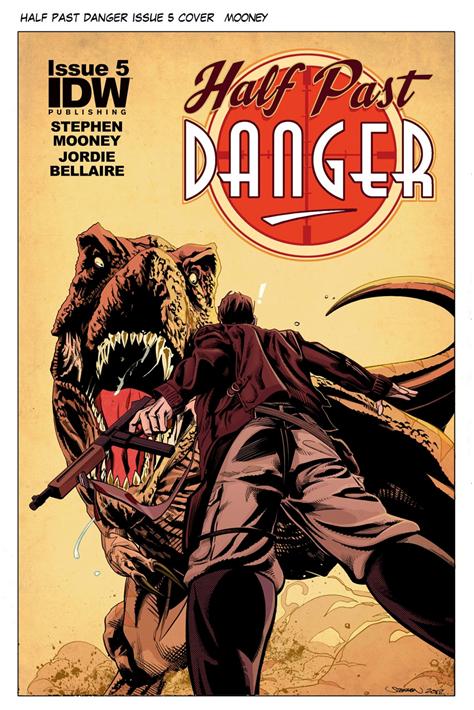 SM: The reaction seems to have been almost universally positive, it seems. It's always lovely and satisfying to have a critical hit that's well-reviewed, but if nobody buys the thing then you just have an honourable failure on your hands. Thankfully, a good few people picked up the first issue, and they must have told their friends because that one went to a second and then third printing, and the second and third issues both received a reprint. So I think word of mouth must have played a significant role, which I'm delighted with, since to me that indicates something that readers are legitimately enjoying and recommending to others.
RS: One of the fun aspects of any hardcover collection are the extras. What can you tell us about what you have in store for HPD?
SM: Yup, there's a pile of extra stuff in there--about fifty pages worth. There's a commentary, cover gallery, sketches, character designs, pencils and also a couple of surprises.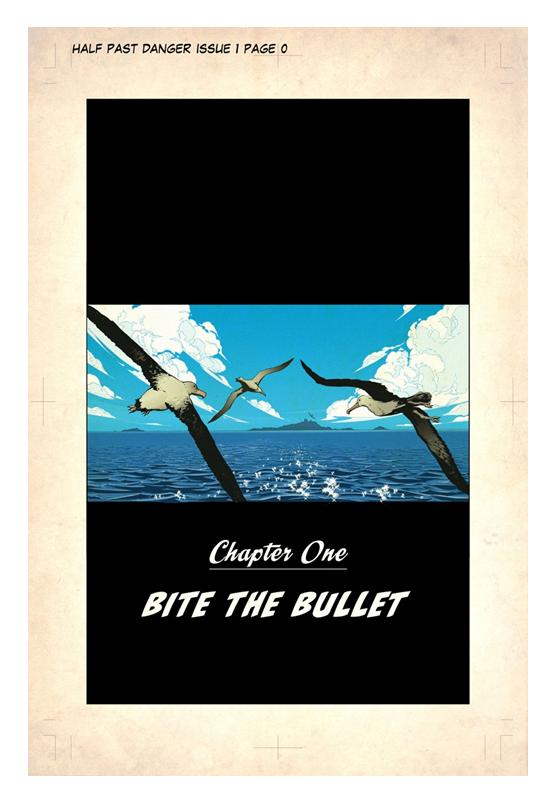 RS: Naturally, talk turns to movies and TV, especially with a project that is so ideal for interpretation as HPD. Have there been any talks about taking the book to Hollywood?
SM: There have been a couple of very preliminary and speculative inquiries, but nothing worth mentioning so far! That stuff is all gravy, but to me HPD is a comic book. Anything else that may or may not happen down the line, so be it. I certainly think the story is a very cinematic one, and I wanted it to read as a Spielbergian-type blockbuster, but that's as far as my cinematic aspirations go for the moment!
RS: You'd assembled quite a roster of talent to help you bring HPD to audiences. Any tips of the hat you want to give to your team of 'Danger Seekers'?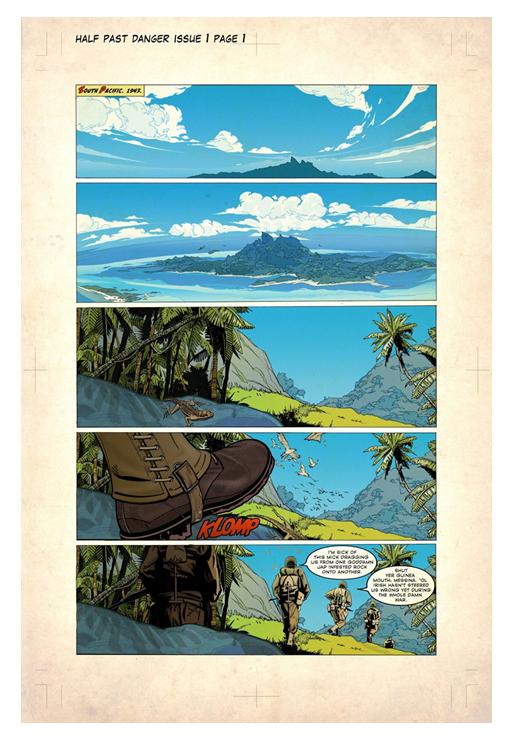 SM: Absolutely. My main two partners in crime were Ireland's favourite celebrity comic book couple, Dec Shalvey and Jordie Bellaire. Dec was pretty much my one-man PR department on this, with the amount of drum-banging he was doing across Twitter and the like to help me get going. Invaluable stuff. Jordie of course was the other main player in the production of the book, with her unbelievably atmospheric colours on issues 2-6. I pretty much owe those guys my firstborn. On the variant covers front, I had high-profile pals like Tommy lee Edwards, Declan Shalvey (him again), Lee Bermejo, Nick Runge, Nick Roche and Rebekah Isaacs pitching in. Amazingly generous people all. I think that their covers contributed hugely to any buzz that the book managed to manufacture. I've also got to mention Chris Ryall, my editor, and all of the other amazing people at IDW who helped nurture the book and assisted massively in the process throughout.
RS: What's next for you? Where can HPD fans next see your work?
SM: At the moment I'm working on various cover gigs for IDW and Dynamite, plus I've just finished up illustrating a Wolverine standalone book for Marvel/Insight Editions. I haven't nailed down what I'm at for the rest of 2014 quite yet, but there are some good options on the table. I've certainly picked up the writing bug, let's just say that.
RS: Any ideas for future chapters of HPD? When might we see further chapters of HALF PAST DANGER? Do you have a sequel in mind?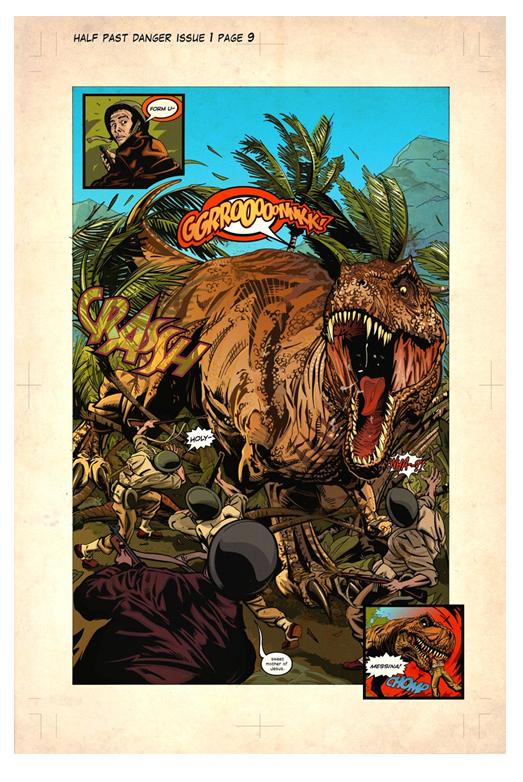 SM: Oh yes. Not only a sequel, but a threequel! From the very beginning I've envisioned HPD as a series of three six-issue stories, a trilogy if you will. The sequel being greenlit by IDW was dependant on how the first one did, of course, but the course seems to be clear now to begin work on HALF PAST DANGER 2. I've already written a large portion of it from the outline for all three that I created initially, and I hope to start drawing it once I clear a few other projects off my slate. I'd say we'll see HPD 2 in 2015. Other than that, I'd just like to say thanks very much for having me, and I hope people enjoy the collection.
RS: Half Past Danger Volume One by Stephen Mooney and IDW Publishing is in comic and books stores this week.
You can follow Russ Sheath's blog Russwords here and @russellsheath on Twitter here.
---
Editing, compiling, imaging, coding, logos & cat-wrangling by Ambush Bug
Proofs, co-edits & common sense provided by Sleazy G
Check out AICN COMICS on Facebook and Comixpedia.org!